University of Oklahoma signs pair of international recruits for 2021
NORMAN — University of Oklahoma head soccer coach Mark Carr announced the addition of two more international prospects to his 2021 signing class on Tuesday.
"We are very excited to secure the international caliber of student-athlete in both Leonie and Muriel," Carr said. "During the recruiting process, we learned that both are incredible, driven young women who are hungry to further their academics and soccer education here in the United States and more so with our project here at OU. Signing two players who have this level of international experience with the German Youth National team is exciting for everyone associated with our program. They will make us better immediately. Both have played for the top women's teams in Germany and have been around top players and trained in a high-performance environment daily. They fit the profile of exactly what we are looking for here at Oklahoma, and they will both be expected to contribute to our team right away."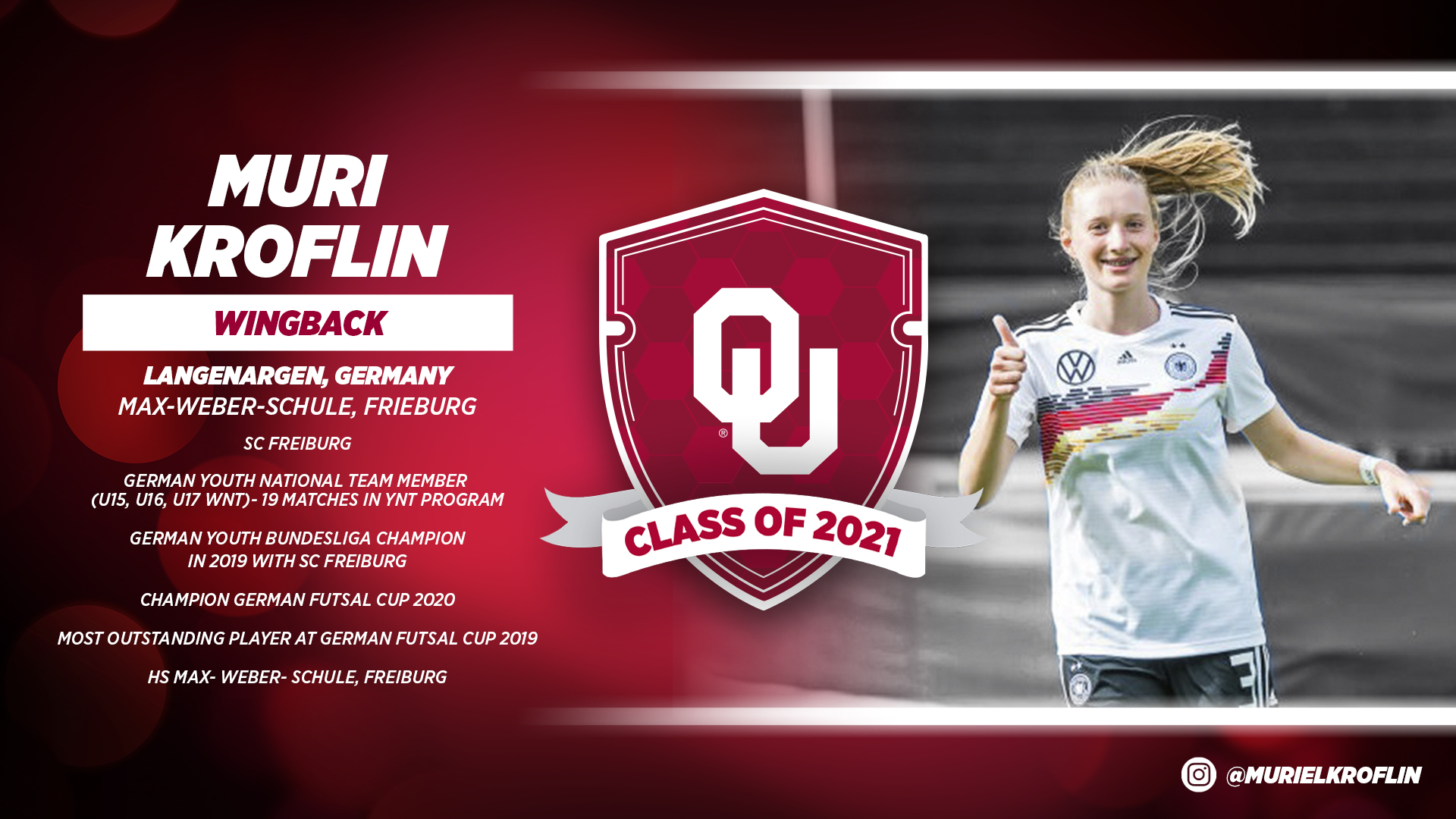 MURIEL KROFLIN
Wingback | Langenargen, Germany
High School: Max-Weber- Schule, Freiburg
National Team: Germany

19 matches for the German Youth National team, playing for U15, U16 and U17 squads.

Club: SC Freiburg

Helped lead Freiburg to the German Youth Bundesliga title in 2019.
Most outstanding player at German Futsal Cup in 2019.

Head Coach Mark Carr on Kroflin: "Muriel will be a great addition to her team. She has been a permanent fixture with the Germany U15, U16 and U17 WNTs, playing over 20 games. On the club side, she has been part of one of the most dominant teams in Germany in SC Freiburg and has played over 30 games for their youth team. She has the capacity to play on either flank and is an attacking-minded player. She is excellent in and out of possession, and she fits the physical profile of how we want to play. She loves to get into the attack, get forward, get crosses off and create chances."

LEONIE WEBER
Forward | Munich, Germany
High School: Wittelsbacher Gymnasium München

Tallied 55 goals over 23 matches for Wittelsbacher.

National Team: Germany

Played in the U17 World Cup Uruguay and has played on the U15, U16, U17 and U19 German National Teams.
Helped guide Bavaria U16 to third at the regional selections tournament.

Club: FC Bayern München II

Led FCB to the league championship in 2019.
Tallied seven goals for the Bavarian club.
Head Coach Mark Carr on Weber: "Leonie has some incredible experiences as a player on the German Youth National team (U16, U17 and U19 level). She plays club soccer with Bayern Munich II and will inject a much-needed attacking threat into our team from the start. She is dynamic, a great 1v1 artist that loves to take players on, create chances and score goals. Inside the final third, she will get the OU fans off their seats. She is dangerous and has one thing on her mind – to get to the goal."