Seton Hall women's soccer welcomes 11-player recruiting class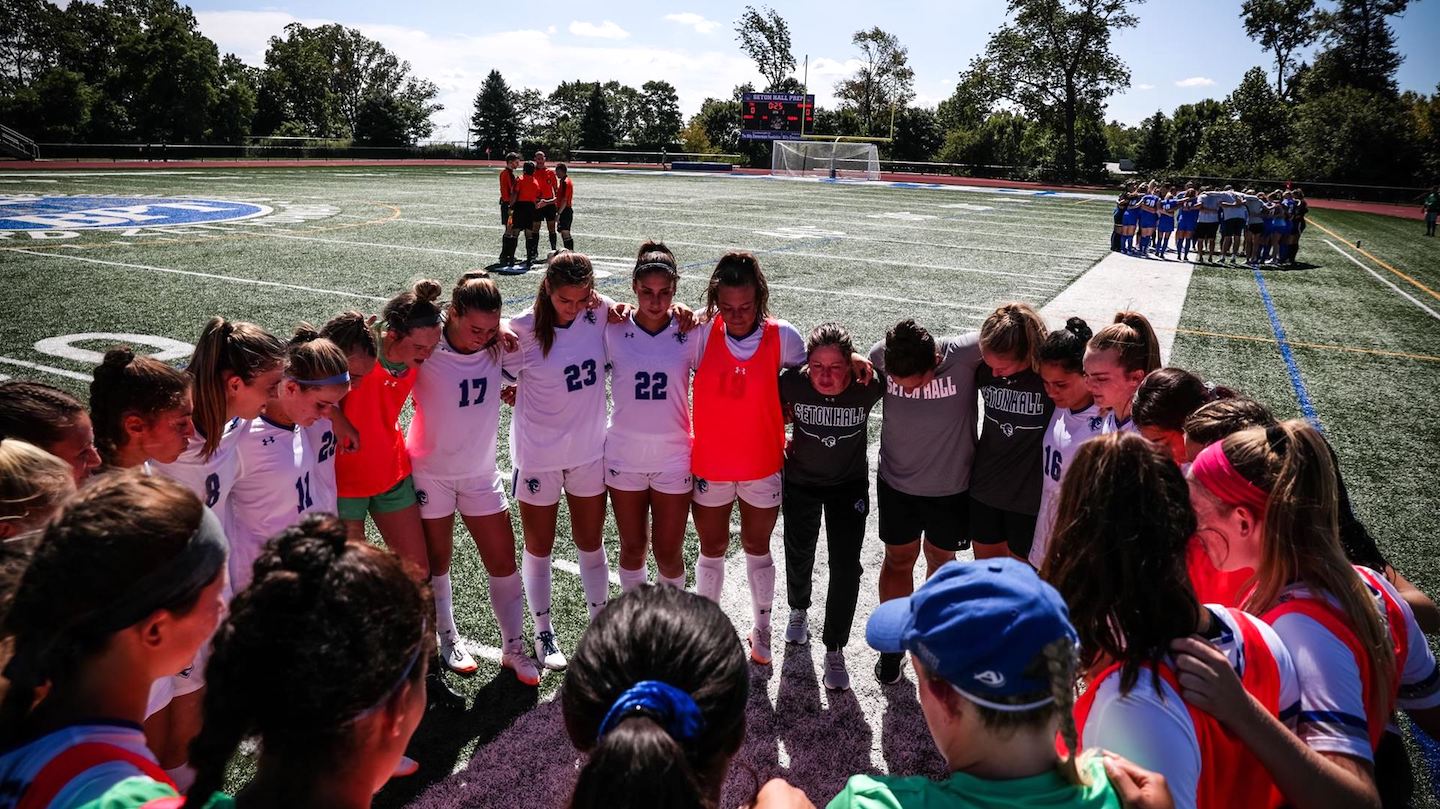 SOUTH ORANGE, N.J. – Seton Hall women's soccer head coach Ciara Crinion has announced the addition of 11 talented student-athletes for the incoming class of 2021.
The 11 new Pirates collectively boast elite experience at the high school, club and national team levels. Six different states and five different countries are represented at the international level in this year's class.
Tatiana Banihashemi | DEF | Oak Park, CA | Oak Park High School
Tatiana Banihashemi joins Seton Hall after a standout career on the West Coast with the LA Breakers and at Oak Park High School. An IMG Academy Top 150: Girls Class of 2021 pick, Banihashemi was a first team all-Coastal Canyon selection at Oak Park and was named a team captain as a senior.
Ella Conger | MID | Maple Grove, MN | Maple Grove High School
Ella Conger played at Maple Grove High School in Minnesota and was the captain of her club team – Salvo Soccer Club. She played a key role on sectional and state championship teams at Maple Grove where she scored four goals and tallied three assists as a senior.
Rachel Gerrie | DEF | Littleton, CO | Chatfield High School
Rachel Gerrie joins the program out of Chatfield High School in Littleton, Colo. A team captain as a senior, Gerrie was named all-conference as a sophomore where she registered 11 assists, two goals and helped lead her team to a conference championship. She was also named to the Elite Club National League select team in 2019.
Phoebe Hampson | DEF/MID | Cheshire, England | Lymm High School
A defender/midfielder with multiple caps for the Welsh National Team, Phoebe Hampson is currently playing for Everton's WSL Academy. She was a key piece on Everton's squad that placed second in the academy league in 2019-20 and the 2018-19 team that reached the semifinals of the FA Youth Cup. Hampson has played in 11 games for Wales' U15, U17 and U19 teams and most recently competed in the U19 European Championship.
Caroline Lipton | DEF | Alexandria, VA | St. Stephen's and St. Agnes
Caroline Lipton was two-time All-ISL Conference selection at left back for St. Stephen's and St. Agnes. She led her team with eight goals and 10 assists as St. Stephen's and St. Agnes advanced to the finals of the Northern Virginia state tournament for the first time in school history. As a freshman, Lipton started in 29 of 30 games for U.S. Soccer's Virginia Development Academy team.
Sophie Liston | FWD | Limerick, Ireland | Scoil Mhuire Agus Íde
A forward with 26 caps for the Republic of Ireland National Team at the U15, U16, U17 and U19 levels, Sophie Liston will arrive on campus in South Orange as one of the top young players in Ireland. She currently plays with Cork City FC in the Women's National League – Ireland's top division – and has twice played in the All Ireland Cup final. In 2018, Liston was named Limerick Sportsperson of the Year.
Cara Milne-Redhead | MID | Clitheroe, England | Clitheroe Royal Grammar School
An accomplished midfielder with extensive national team and WSL Academy experience, Cara Milne-Redhead most recently suited up for Manchester City – where she scored in her debut – and she previously helped lead Manchester United to back-to-back FA U16 titles. For Burnley FC, she scored 51 goals in 17 games. Milne-Redhead has scored a goal and registered eight caps over the U15, U16 and U17 levels for the Scottish National Team. She made her debut for the Scotland U17s when she was 14 years old and has played for Scotland at the U15, U16 and U17 European qualifiers.
Anna Prawer | GK | London, England | Graveney School
Anna Prawer comes to South Orange from London where she played for Chelsea FC's WSL Academy. Prawer's play between the pipes helped lead Chelsea to the semifinals of the FA Youth Cup and she's also been in four training camps with the English National Team, most recently in January 2020.
Chiara Pucci | DEF | Munich, Germany
Chiara Pucci will arrive at Seton Hall with playing experience at the top levels of soccer in both Germany and Italy. She won a German championship with FC Bayern Munich and she currently plays with FC Ingolstadt. Pucci has capped with Italy's U16, U17 and U19 National Teams. She helped Italy's U17 squad qualify for the European Championships and helped lead the U16s to a finals appearance against the United States in the 8 Nation's Cup.
Natalie Tavana | MID | Middletown, CT | Mercy High School
One of the top players in New England in the class of 2021, Natalie Tavana will arrive at Seton Hall after a standout academy career with Oakwood Soccer Club. She registered consecutive seasons of 20-plus goals as she helped Oakwood qualify for the U.S. Soccer Girls' Development Academy Playoffs in 2018 and 2019. A team captain, Tavana was a top 10 goal scorer among development academies nationally in 2019.
Julia Wilbekaitis | GK | Chalfont, PA | Springside Chestnut Hill Academy
Julia Wilbekaitis joins the Pirates after an accomplished career in goal at Springside Chestnut Hill Academy and with the Philadelphia Ukrainian Nationals. She allowed only one goal in her shortened five-game senior season and was an all-league selection as a junior in the fall of 2019 after allowing only nine goals in 22 games. Wilbekaitis was a part of Springside Chestnut Hill's first PAISAA state championship team in 2017.