Clemson and Duke women's soccer standouts named ACC Players of the Week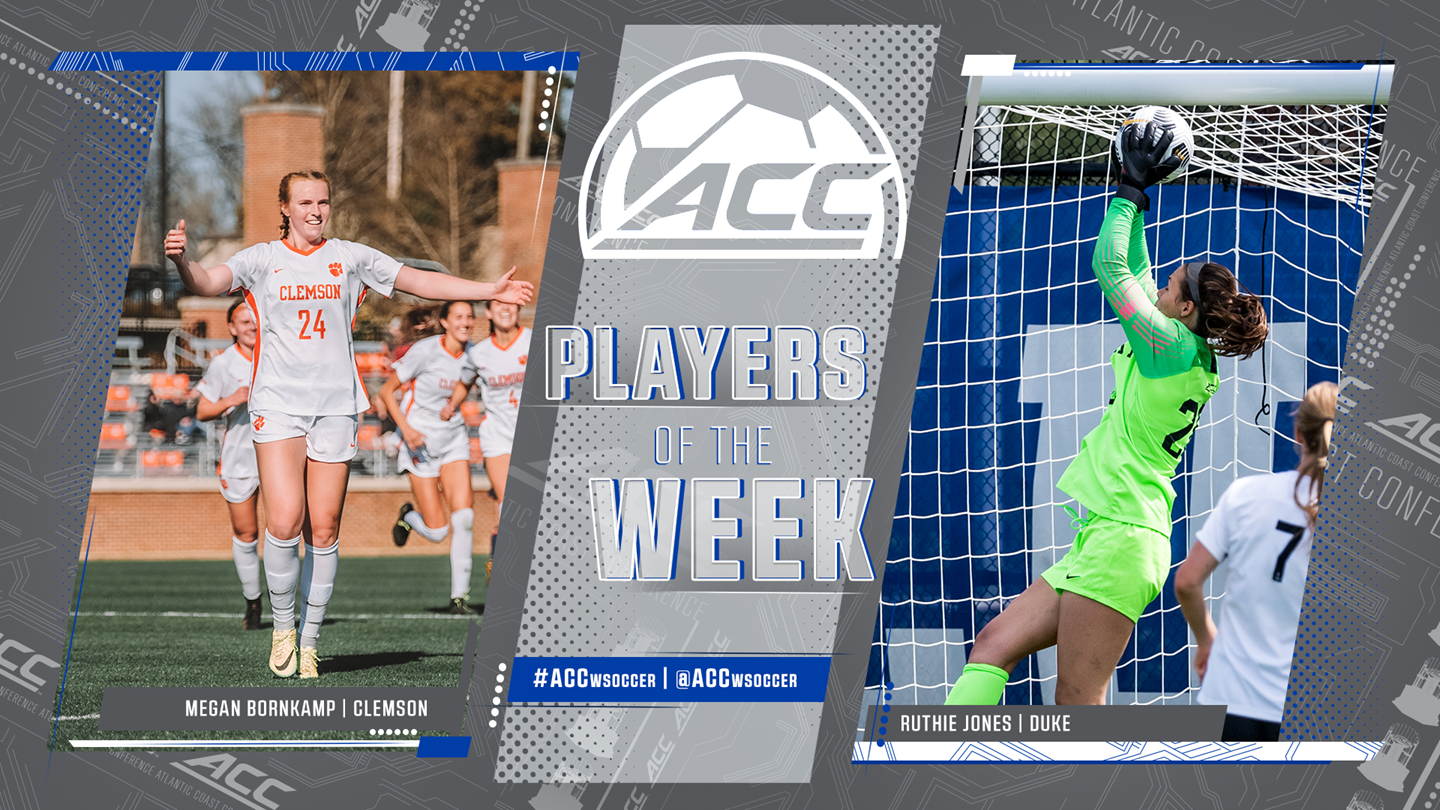 GREENSBORO, N.C. – Clemson freshman midfielder Megan Bornkamp has been named the Atlantic Coast Conference Women's Soccer Offensive Player of the Week, while Duke sophomore goalkeeper Ruthie Jones collected ACC Defensive Player of the Week honors.
Bornkamp is the third Clemson player to earn offensive player of the week honors and Jones is the third Duke player to earn defensive player of the week laurels.
Bornkamp led the eighth-ranked Tigers to a 2-1 win against rival No. 11 South Carolina in Columbia on Saturday. She scored both Clemson goals, finding the back of the net in the 71st minute and again in the 81st minute.
It marked her second brace of the season and her team-leading fourth game-winning goal. The Mooresville, North Carolina, native leads the Tigers with eight goals on the year, which are the most by an ACC freshman.
Jones' stellar play in goal helped No. 7 Duke earn a scoreless draw against 14th-ranked Vanderbilt on Sunday in Durham. She made two crucial saves for the Blue Devils, highlighted by preventing a scoring opportunity for the Commodores in the first overtime period.
Hailing from Charlotte, North Carolina, Jones directed a Duke back line that allowed just five Vanderbilt shots in 110 minutes of game action and only two shots on goal. She recorded her 10th clean sheet and has not allowed a goal in four of the Blue Devils' five spring matches.
ACC women's soccer regular-season play wraps up on Saturday with seven league teams in action and the NCAA Selection Show is set for Monday, April 19.
ACC Women's Soccer Offensive Players of the Week
9/15 – Marykate McGuire, Jr., F, Duke
9/22 – Caroline Conti, So., M, Clemson
9/29 – Izzy Brown, So., F, North Carolina
10/06 – Emina Ekic, Sr., M, Louisville
10/13 – Amanda West, So., F, Pitt
10/20 – Clara Robbins, Sr., M, Florida State; Alexa Spaanstra, Jr., F, Virginia
10/27 – Jenna Bike, Gr., F, Boston College; Emily Gray, Jr., M, Virginia Tech
11/3 – Tori Powell, Fr., F, Virginia Tech
3/3 – Caroline Conti, So., F, Clemson
3/9 – Landy Mertz, So., F, Pitt
3/16 – Selena Fortich, Jr., D, Miami
3/23 – Maliah Morris, So., F, Clemson
3/30 – Brianna Pinto, Jr., M, North Carolina
4/6 – Amanda West, So., F, Pitt
4/13 – Megan Bornkamp, Fr., M, Clemson
ACC Women's Soccer Defensive Players of the Week
9/15 – Kate McKay, Jr., D, Pitt
9/22 – Hensley Hancuff, Jr., GK, Clemson
9/29 – Maycee Bell, So., D, North Carolina; Claire Constant, Jr., D, Virginia
10/06 – Alia Skinner, Fr., GK, Virginia Tech
10/13 – Caitlin Cosme, Sr., D, Duke
10/20 – Kaitlyn Parks, R-Fr., GK, Wake Forest
10/27 – Mattie Interian, Jr., GK, Notre Dame
11/3 – Cristina Roque, Fr., GK, Florida State
3/3 – Talia Staude, So., D, Virginia
3/9 – Caitlin Cosme, Sr., D, Duke
3/16 – Melissa Dagenais, So., GK, Miami
3/23 – Kaitlyn Parks, R-Fr., GK, Wake Forest
3/30 – Kaitlyn Parks, R-Fr., GK, Wake Forest
4/6 – Mia Gyau, Sr., D, Duke
4/13 – Ruthie Jones, So., GK, Duke