UMass women's soccer unveils 10-player recruiting class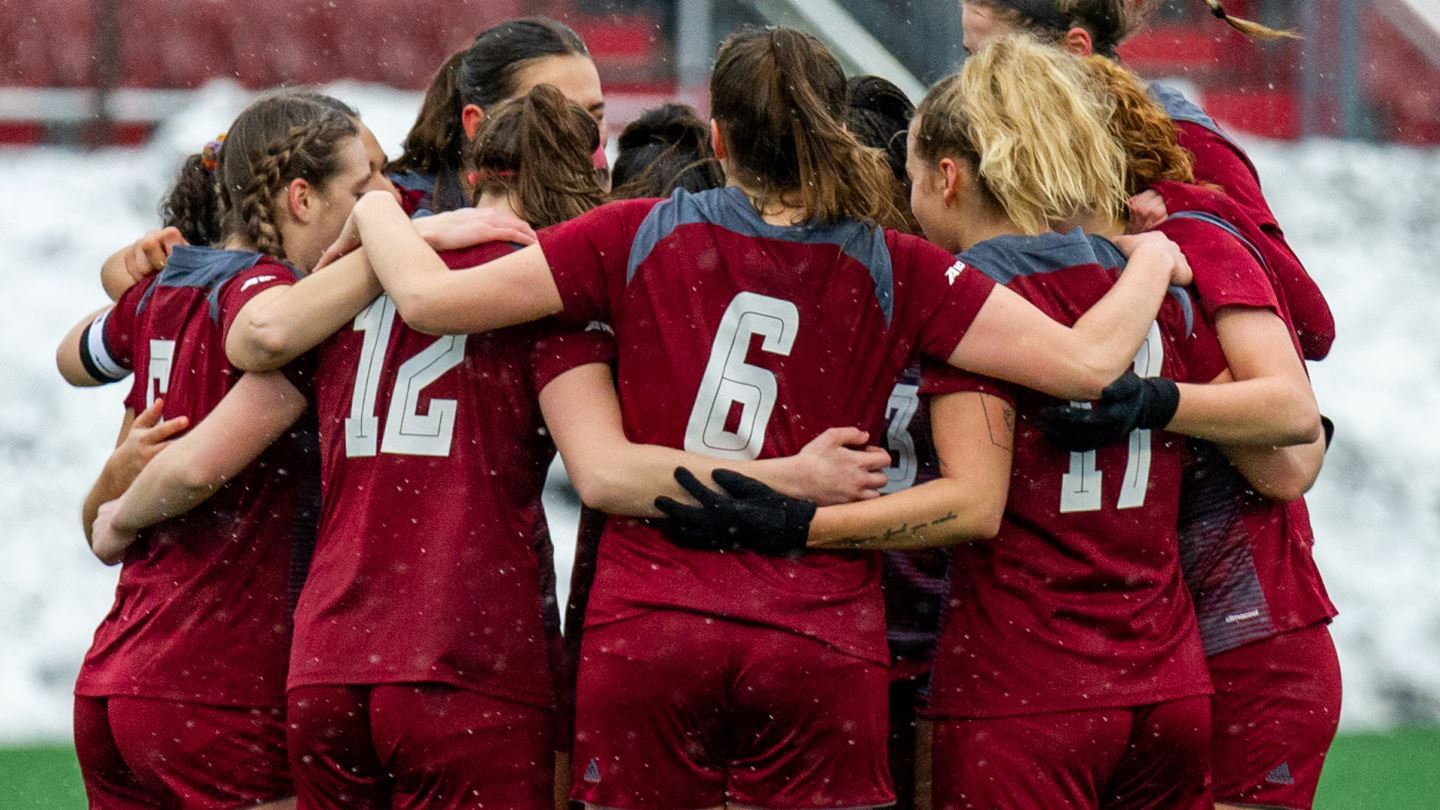 AMHERST, Mass. – University of Massachusetts women's soccer head coach Jason Dowiak unveiled the program's 2021 signing class on Tuesday.
Juliana Ryan comes to Amherst out of Staten Island, N.Y., a center back out of PDA ECNL. Ryan was named to the ECNL Players to Watch list, and the ECNL Selection Program.
Her team reached the ECNL Nationals Semifinals in San Diego in 2019. She was also a member of the National Honor's Society, on her school's honor roll every semester and plans to pursue a degree in Kinesiology.
"I chose UMass because it feels like a second home and it just felt right when I visited," Ryan said. "I could see myself going here and creating lifelong memories. Everyone that I met was extremely nice and Massachusetts itself is a gorgeous place."
Sarah DeFreitas joins UMass from Oyster Bay, N.Y. A center back out of East Meadow Soccer Club, she was a two-time FC Fury Defensive Player of the Year and was her FC Fury team captain. In high school soccer, she was named a Newsday Long Island Top 100 Girls High School Soccer Player in 2019, selected as All League by the Catholic High School Athletic Association (CHSAA) in 2019 and 2020 chosen by the Catholic High School Athletic Association (CHSAA) as a top performer. In 2020 she was Kellenberg Varsity team captain.
"After having my official visit, I chose UMass because of the great coaching staff and players I met," DeFreitas said. "I knew I wanted to play for them because of their strong desire to win and of the competitive environment. I was also impressed with the various academic curriculums that are offered."
The Minutewomen also signed Ashley Lamond out of Tappan, N.Y. She also played for PDA ECNL. She was awarded Girls ECNL Monthly Standouts in December. Her and Ryan were teammates as they reached the ECNL national semi-finals in San Diego in 2019. Her high school accolades include: 4 Year Varsity Player, 2017 All Big North – United Division Second Team, 2018 BCWA Girls All County, 2018 Big North All League – 1st Team, 2019 Big North All League-1st Team, 2019 BCWCA All County, 2019 NJGSCA All-State Honors, 2020 All League – 1st team, 2020 BCWCA All County, 2020 Top Midfielders to watch in NJ and was a 2020 Team Captain.
"I'm looking forward to being a member of the UMass women's soccer team and meeting all my new teammates. Lamond said.
The coaching staff scanned the local terrain and picked up two of western Massachusetts' best in Chandler Pedolzky, a forward from NEFC West out of Westfield, Mass. She has a long list of high school accolades including Post and Pre Super-7 all 4 years, All-State for all four years, All-Western Mass for all four years, All-Region her junior and senior year, and was awarded an All-American her senior year. She is also a part of the 100-point club and finished her high school career with 84 goals and 30 assists.
"When I first toured UMass It instantly felt like home," Pedolzky said. "I've always been a homebody and the fact that it's still close to my family and community is a great feature for me. On top of that, I loved the campus, the coaches, the soccer program, and the various amounts of opportunities that I can create at UMass; both academically and athletically. I've always wanted to study business and what better place to do that then at the Isenberg School of Management, where this program is highly ranked and one of the best throughout the county. I personally believe that I will flourish at UMass, as it will provide me with endless possibilities and will help me continue to succeed in life. I can't wait to soon call it my home for the next four years."
Rose Gevanthor also comes from NEFC West as a center midfielder. She has been a stud throughout her high school career at Longmeadow High. Gevanthor was three-year starter on varsity, captain senior year, 2020 All-League, 2020 First-Team All-Western Mass, 2020 nominee for all-state. She was also a part of National NTC/PDP/ECNL National Camp/ODP/Region Team. She played ODP in 2017 and 2018.
"I'm really looking forward to being able to play soccer and that I get to experience this with some amazing women that are all on the same journey together," Gevanthor said. "I am super excited as well to be able to learn more about myself and figure out what I'm passionate about. It's not every day that people get the opportunity to play their sport and further their academics in college and I'm thrilled that I get to."
The coaching staff also picked up two additional local Massachusetts women in goalkeeper Katie Russell and center midfielder, Kelly Pease. Russell and Pease both join the program from FC Stars. Russell was All League (twice) and All State (twice) for her high school team, Minnechaug Regional. She also was a part of National Team, NTC/PDP/ECNL National Camp/ODP/Region Team. Her ECNL team were League Champions.
"I'm mostly looking forward to succeeding both athletically and academically, and becoming part of the UMass family," Rusell said. "I can't wait to be close with the team and coaches, and I am excited to meet new people and learn new things. I chose UMass because the coaches really stood out to me. Right away I felt a connection with them, and I knew that they were the coaches I wanted to further my soccer career with. Also, I've heard many good things about the school, and each time I toured it I started to love it myself. UMass has so many things to offer, and because I'm not really sure what I want to major in, I feel most comfortable here because of all of the options I have to choose from."
Pease's club team was Massachusetts NPL Champions (2016, 2018, 2019, NPL National Finalists (2018), NPL National Semi-Finalist (2016, 2019), Mid-Atlantic Regional Champions (2018, 2019) and Massachusetts State Cup Finalists (2018, 2019). She also had an impressive high school run being on varsity all 4 years, Senior Captain, Bay State All Star (2019, 2020) Eastern Mass 1st Team All Star (2019, 2020), All State All Star (2019, 2020), All New England (2020), Boston Globe All Star (2020), Honorable Mention for Boston Globe All Scholastic (2020), MetroWest Daily News All Star (2020), Boston Herald All Scholastic (2020).
"I have three older brothers who all went to UMass so I've been visiting the school for years," Pease said. "I chose UMass because I've realized how comfortable I feel on campus and I know how great the education is (not to mention the food). Being able to play soccer there made the decision a no brainer."
The coaching staff took a trip south to Pennsylvania and found a talented forward out of Steel United in Philadelphia, Pa. Maya Masotti Russell was All-State, MVP of Central League, three-time All-Central League First Team, three-time All-Mainline First team, voted MVP for team, Coaches Award, and her high school team was Central League Champions. She was also National Team, NTC/PDP/ECNL National Camp/ODP/Region Team) and ODP regional team 2019/2020.
"I am most excited to be a part of a new community of people, classes, and experiences," Masotti said. "I love putting myself in a new environment and I am looking forward to doing so once I get to UMass."
UMass also added a New Hampshire native, Macy Graves out of GPS NH NPL and Hempstead, N.H. She was team captain, Club Team's National and Regional Teams, Jeni Plender Scholarship Recipient for her club team. In high school she was Athlete of the Week four times, 2020 Coaches Award, All State HM 2017, All State Second Team (2018, 2019), All State First Team 2020, Lions Cup Selection. In the classroom she was just as impressive, being High Honors 2017-2020, Scholar-Athlete Award 2017-2020, Foreign Language Honor Society (FLHS), National Honor Society (NHS), Stonehill College Book Award.
"I chose UMass because it is big and full of adventures, while still feeling like home," Graves said. "There is a plethora of quality academics for me to discover, as well as spirited students and astounding athletics."
Bella Recinos, a midfielder out of Montverde Academy and Longwood, Fla. comes to Amherst after representing the El Salvador National Team. She has also been a part of PDP, National Training centers (U.S), Orlando Pride DA 2017-2018, Orlando City ECNL 2014-current. She was Summa Cum Lade 2017-current, and plans to major in Pre-Med with a minor in Political Science.
"UMass has an extensive amount of options it presents to me," Recinos said. "From the athletic programs to academics. UMass has to offer the best of both worlds and a chance to further achieve my dreams."