Nine ECNL and Girls Academy players sign with Colgate University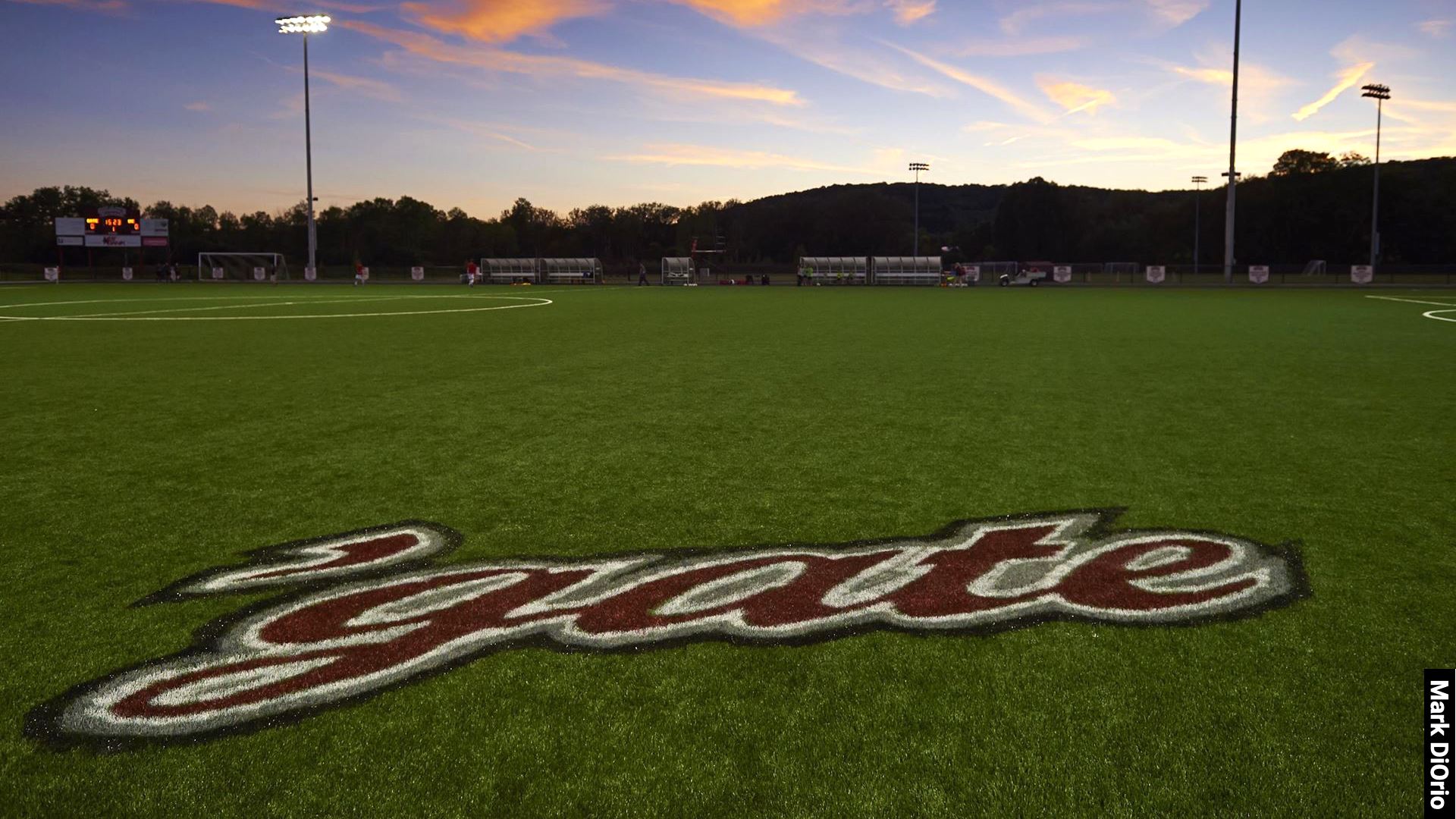 HAMILTON – Colgate University women's soccer head coach Lyndse Hokanson has announced the addition of nine student-athletes for the class of 2025.
Hailing from seven states and two countries, the class includes players from top-level Elite Club National League (ECNL) and Girls Academy teams from across the geographic landscape. The group includes several All-State honorees as well as accomplished scholars and community leaders.
With three midfielders, three forwards, two defenders, and a goalkeeper, the nine signees mark the first recruiting class under Hokanson and her staff.
"In a period of time that has been challenging for programs and student-athletes across the country, we could not be more excited about the 9 young women who will be joining us in the fall of 2021," Hokanson said.
"They trusted the process, were very intentional about what they were looking for, and are embarking upon this journey with us at Colgate with a very clear vision in mind," Hokanson said. "We know that not only will this group be helping us continue to raise the bar on the field, but perhaps equally exciting is the group of human beings that are joining us here, who will maintain the tradition of excellence that is Colgate Women's Soccer off the field and in the community."
The nine incoming freshmen are listed below in alphabetical order:
Olivia Anderson
Defender
Danvers, Mass.
FC Stars ECNL
Before Colgate
Anderson was a three-time Eastern Massachusetts All-Star (2018-20) and two-time All-State selection as a defender at Danvers High School…named the team's Defensive Player of the Year three years in a row and Most Valuable Player in 2019 and 2020…tallied seven goals during her high school career…helped lead Danvers to four consecutive conference championships and a state title in 2017…played club soccer for FC Stars of the Northeast Conference from 2017-2021, where she helped the team to a second place finish in the 2019 playoffs…member of National Honor Society.
Personal
Born: Olivia Grace Anderson in Salem, Mass.
Family: Daughter of David and Nicole Anderson…has one sister Eliana.
On Choosing Colgate
"The environment at Colgate is incredible. Everyone is welcoming and enthusiastic. The campus is beautiful and has a home-like feeling."
Coach Hokanson on Olivia
"Liv has been a staple in every backline she has been a part of, and we know that she can provide that same stability, quality, and toughness here for us. On top of that, she has seen success and knows what it means to put the team first in striving toward that success, and we know she will bring that championship mentality here too."
Paige Foa
Forward
Centennial, Colo.
Colorado Rush Academy
Before Colgate
A forward out of Centennial, Colo., Foa had a strong career on the club circuit for the Colorado Rush of the Centennial League…led the team to a Colorado Soccer Association championship in 2020…netted 16 points and four goals for the Rush…posted 10 points as a product of four goals and two assists in 2021…selected on the Colorado Rush DA team and has been a two-time selection on the DA Team of the Week…also competed in cross country at Arapahoe High School.
Personal
Born: Paige Elizabeth Foa in Centennial, Colo.
Family: Daughter of Jason and Kory Foa…has one brother Wesley and a sister Maggie.
On Choosing Colgate
"I chose Colgate because of the combination of prestigious academics and competitive soccer. After speaking to the coaches it was obvious that the team has a great culture and that Colgate is an environment where athletes are encouraged to be the best version of themselves in the classroom, on the field, and in life."
Coach Hokanson on Paige
"We feel as though Paige is a versatile athlete who will cause problems in any position along the front line. She works hard to make opposing teams uncomfortable on both sides of the ball, and we look forward to her doing the same in the Patriot League. "
Lilly Frick
Defender
Rumson, N.J.
Cedar Stars Academy
Before Colgate
A defender from Rumson, N.J., Frick was a two-time Top Drawer Soccer nationally-ranked recruit…guided her squad to a 2020 state championship behind a 14-1 record…anchored the back line to seven defensive shutouts and finished the season with three assists…played five seasons for Cedar Stars Academy of the US Soccer Developmental Academy (USSDA) and Girls Academy…was a part of the inaugural season of the USSDA and led the team to a 2018-19 quarterfinal appearance…invited to play in three national showcases…earned Honor Roll distinction all four years in high school and represented Rumson-Fair Haven High School virtually at the 2019 United Nations Climate Change Conference.
Personal
Born: Lilly Amelia Frick in Ambler, Pa.
Family: Daughter of Richard and Melanie Frick…has one sister Carter.
On Choosing Colgate
"I wanted to play high level Division I soccer, but also get one of the best educations that a university can provide. I chose Colgate because of its academics, beautiful campus, and the opportunities that graduating from a standout university will provide for my career and the rest of my life. Also, the inspiration and passion I saw from three female coaches is something I have never experienced and gives me a great sense of empowerment."
Coach Hokanson on Lilly
"Lilly is athletic and savvy enough to play anywhere along the backline and to do it at a very high level. We know that she has all the tools to get the job done, coupled with a mentality and work rate that will no doubt translate to the college game."

Jordan Juetten
Midfielder
Shrewsbury, Mass.
FC Stars ECNL
Before Colgate
Juetten has left her mark as the all-time assists leader at Shrewsbury High School…amassed 68 total points behind 22 goals and 24 assists…netted 17 goals and dished 15 assists during her junior campaign in which she garnered Midland Wachusett A All-Star First Team, Central Massachusetts All-Star, Massachusetts All-State All-Star, and Team MVP honors…tallied five goals and nine assists as a captain for her senior season…competed on the club circuit for the FC Stars…helped lead the team to an ECNL Northeast League finals appearance in 2019…member of National Honor Society.
Personal
Born: Jordan Catherine Juetten in Pittsburgh, Pa.
Family: Daughter of Thomas Juetten and Christine Borosky…has one brother Joey.
On Choosing Colgate
"When I began my collegiate search I knew I wanted to play competitive Division 1 soccer, but equally as important to me was attending a rigorous academic university. I was able to find just that at Colgate. I was drawn to the immediate sense of community when I stepped on campus and of course the backdrop was stunning."
Coach Hokanson on Jordan
"Jordie has been an integral part of the midfield units for both her club and high school team, and has shown what great leadership and competitive excellence look like as an important cog in those machines. Her ability on and off the ball and willingness to do the work that comes with the center of the pitch are definitely exciting as we think about what she'll be able to contribute here."
Julia Lombardo
Midfielder
Westport, Conn.
Connecticut FC ECNL
Before Colgate
Lombardo compiled 46 goals and 51 assists for Staples High School and St. Luke's School…candidate for the High School All-American game in 2020…guided her team to the FAA Soccer Championship and New England Preparatory School Athletic Conference (NEPSAC) finals as a key midfielder in 2019…a two-time All-State selection, Lombardo earned All-New England Region honors in 2019…two-year All-NEPSAC honoree and US Soccer Training Invitee from 2015-18…competed on the club circuit for Connecticut FC of the ECNL Northeast Conference…advanced to the national quarterfinals and ranked third in the nation in 2018…made the national playoffs three times…earned the 2018 President's Education Awards Program for Outstanding Academic Excellence and 2019 Distinction in Science Award St. Luke's School.
Personal
Born: Julia Haley Lombardo in Westport, Conn.
Family: Daughter of Keith and Nicole Lombardo…has two brothers Luca and Matteo…uncle Noah Zamansky graduated from Colgate in 1996.
On Choosing Colgate
"Colgate has always had a special place in my heart. I also want to compete at a high level and know that the Patriot League, as well as the talented, competitive nature within the Colgate women's soccer team, is a perfect environment for me to push myself and continue my career."
Coach Hokanson on Julia
"Julia is yet another player in this class who comes from a team that is accustomed to success, and who played a big part in that success. We are excited about Julia's engine and all of the ways she has been able to contribute to every team that she has been a part of through her ability to score goals and set up teammates to score too."
Demi Maroudas
Forward
Niagara-on-the-Lake, Ontario
WNY Flash Academy
Before Colgate
Maroudas helped lead Eden High School to a pair of Zone 4 semifinal appearances in 2018 and 2019 as a forward…played six years of club soccer for the Western New York Flash of the ECNL where she helped guide the squad to back-to-back Ohio Valley Conference championships in 2018 and 2019…reached the ECNL national quarterfinals in 2018 and won the New York State West championship in 2016…also competed in cross and country and track and field at Eden High School.
Personal
Born: Demi Alexia Maroudas in Hamilton, Ontario.
Family: Daughter of Andy and Dora Maroudas…has one brother Ethan.
On Choosing Colgate
"I chose Colgate because of the university's high academic standard, the beautiful campus, and the amazing soccer program and coaching staff."
Coach Hokanson on Demi
"Demi has faced a ton of adversity through this time of COVID, being separated from her team as the borders closed for a long period of time. It is the way she has responded to that adversity, and carried on with purpose and intention, working hard despite the circumstances that indicate to us she has a bright future ahead. We are excited to see the ways she will add a dynamic nature to our forward group."
Alli Popham
Goalkeeper
Middletown, Del.
Penn Fusion Soccer Academy ECNL
Before Colgate
Named a three-star recruit and regional team selection by Top Drawer Soccer, Popham has played two seasons of club soccer for the Penn Fusion of the Elite Clubs National League (ECNL)…compiled a 25-7-4 record as a goalkeeper for the Fusion…helped lead her squad to a second place finish in the Atlantic Division and advanced to the US Soccer Development Academy (USSDA) semifinals in 2019-20…posted a 20-4-3 record in goal en route to a first place finish in the Atlantic Division in 2018…led Ursuline Academy to the state quarterfinals as a freshman in 2018, compiling seven shutouts with a 0.79 goals-against average to earn All-Catholic Conference First Team honors.
Personal
Born: Alexandra Suzanne Popham in Newark, Del.
Family: Daughter of Jim and Andrea Pielert-Popham…has one sister Emma.
On Choosing Colgate
"I chose to attend Colgate because I really connected with the coaches and I was excited for the opportunity to play for a coaching staff that has been very successful. Colgate has a great academic reputation and a history of success in women's soccer that I want to be a part of."
Coach Hokanson on Alli
"The amount of growth Alli has seen over the last few years through a commitment to her craft and investment in herself in a high-level, well-coached training environment allowed us a glimpse at just how high her ceiling is and how bright her future can be. Her ability to control her box, her shot-stopping and overall presence in goal are the kinds of things that translate well for goalkeepers to the college game and we are excited to continue to witness Alli's trajectory in the position in her time here with us."
Cara Schmidlein
Forward
Waltham, Mass.
FC Stars ECNL
Before Colgate
Schmidlein played four varsity seasons at The Rivers School of the Independent School League (ISL) and New England Preparatory School Athletic Council (NEPSAC)…two-year captain …garnered All-NEPSAC honors and was named a New England Junior All-Star as a forward in 2019…ISL All-League honoree in 2018 and earned honorable mention in 2019…helped lead The Rivers School to a NEPSAC championship in 2019…played five seasons the club circuit for Global Premier Soccer…named to the GPS National Team in each season…league's top scorer in 2018 and named the Player of the Year in 2015…also played hockey and lacrosse at The Rivers School.
Personal
Born: Caralyn Elisabeth Schmidlein in Waltham, Mass.
Family: Daughter of Jim and Marion Schmidlein…has three brothers James, Nolan, and William, and one sister Laura.
On Choosing Colgate
"I chose Colgate because it offers a high level of academics, athletics, and arts. I fell in love with the beautiful campus and Colgate's women's soccer team!"
Coach Hokanson on Cara
"Cara is a force to be reckoned with and scores goals for fun. She has athleticism, strength, and versatility that make her a handful for opposing backlines. Beyond that, she is a clinical finisher in and around goal and the kind of striker you want on the ball when the game is on the line."
Sophie Wand
Midfielder
Portland, Ore.
Crossfire United ECNL
Before Colgate
A standout midfielder at Catlin Gabel School, Wand led the OSAA Lewis & Clark League with 54 points on 18 goals and 18 assists in 2018…in three varsity seasons Wand has compiled 82 points with 41 goals and 43 assists…two-time Oregon 3A Player of the Year and First Team All-State honoree (2018, 2019)…guided Catlin Gabel to the Oregon 3A state championship in 2019…garnered All-State Second Team honors in 2017…played club soccer for Crossfire United ECNL of the Northwest Conference from 2018-2021…helped lead the team to back-to-back ECNL Northwest conference titles in 2018 and 2019…Wand has been a two-time selection on the Oregon ODP team.
Personal
Born: Sophie Dale Wand in Portand, Ore.
Family: Daughter of Jordan and Gina Wand…has one sister Lily.
On Choosing Colgate
"I chose Colgate because of the combination of competitive soccer, excellent academics, amazing coaching staff, and the fantastic school culture. I immediately felt a connection to the coaches and their ideas about the program are in line with my aspirations for college soccer."
Coach Hokanson on Sophie
"Soph has such a great mind for the game and is one of those players who makes the people around her better. She has a clear sense of her strengths and uses them well, and can provide a lot of dimension in the midfield as a distributor and a scorer. We are excited for Soph to bring those tools here to Colgate and our midfield unit."