Family of 15-year-old soccer prodigy Olivia Moultrie challenges NWSL on age restriction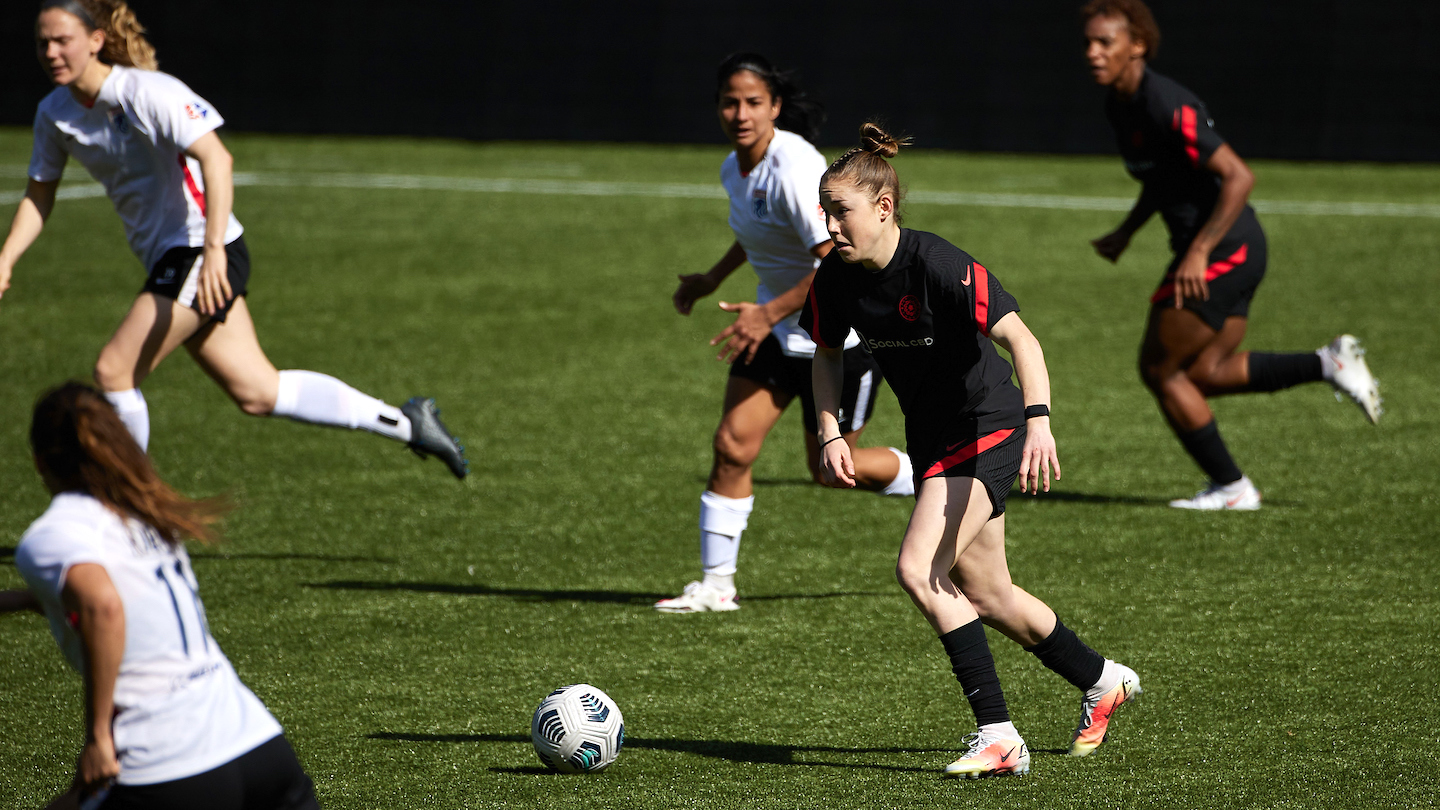 By Adam Schwager
SoccerWire Staff Writer
From committing to UNC at age 11, to signing with Nike and the Wasserman Group while joining the NWSL's Portland Thorns academy program at age 13, Olivia Moultrie is no stranger to breaking the age barriers of youth soccer.
Now age 15, Moultrie wishes to become the youngest player in the NWSL, despite the league's current age restrictions that would prevent her from competing until she turns 18.
As was first reported by The Orgeonian, Olivia's father K.C. Moultrie and her lawyers have filed a lawsuit against the league in Portland's U.S. District Court, claiming that the NWSL's age requirement violates the Sherman Antitrust Act. In their filings, they request a temporary restraining order and for a judge to deem the rule unlawful before May 15, the opening of the NWSL regular season.
The lawsuit contends that because an age limit was not collectively bargained for (there is currently no collective bargaining agreement between the NWSL and their players), such a rule violates antitrust laws and has been previously litigated in football and hockey. They also point to Major League Soccer, which has no age restrictions and a history of individuals playing at ages as young as Moultrie is currently. In fact, MLS has had multiple 14-year olds sign contracts throughout the league's history.
"Ms. Moultrie would be eligible to play in MLS if she were male, would be able to play in France if she were French, etc., stretching throughout most of the international soccer world," Moultrie's lawyers claim. "Ms. Moultrie is in the wrong country, and the wrong gender, to take advantage of her soccer precocity. And illegally so."
Due to FIFA rules, despite Moultrie not being allowed to play anywhere professionally in the United States, she is also not permitted to go abroad to join another club professionally. This restriction, according to Moultrie's side, hampers her development as a soccer player compared to her international peers.
Last month, Paul Tenorio of The Athletic interviewed adjunct law professor at the University of San Diego who argues that the case laid out by Moultrie's lawyers checks out. Simon wrote a letter on the behalf of Moultrie and sent it to the NWSL telling them they were in violation of antitrust laws and that she should be allowed to play. In response, the NWSL claims that they are a single entity rather than a group of individual teams, which means they could not conspire against each other for antitrust purposes.
In Tenorio's article, Simon stated: "the best possible thing to happen for Olivia would be for the league to say, 'We are sorry, we see it raises antitrust problems, we're out of step with international leagues and we don't want to be the only pro soccer league that has an age limit, so we're withdrawing the rule and Olivia can play as long as any team wants her."
To Simon's point, the NWSL has not yet attempted to give a rationale for why the rule exists, only commenting that it has existed since the league's inception and that they believe the rule is legal.
Moultrie signed with the Thorns back in 2019, and has trained with the senior team. She appeared in a preseason match, but thus far has not been allowed to compete in the NWSL. In 2019 she also signed a nine-year Nike contract, making her the youngest team sport athlete ever signed onto the prolific brand. Moultrie's suit lists many high-profile supporters, including Portland Thorns teammates Becky Sauerbrunn and Lindsay Horan, both of whom compete on the U.S. Women's National Team.