Portland Thorns FC captures 2021 NWSL Challenge Cup Championship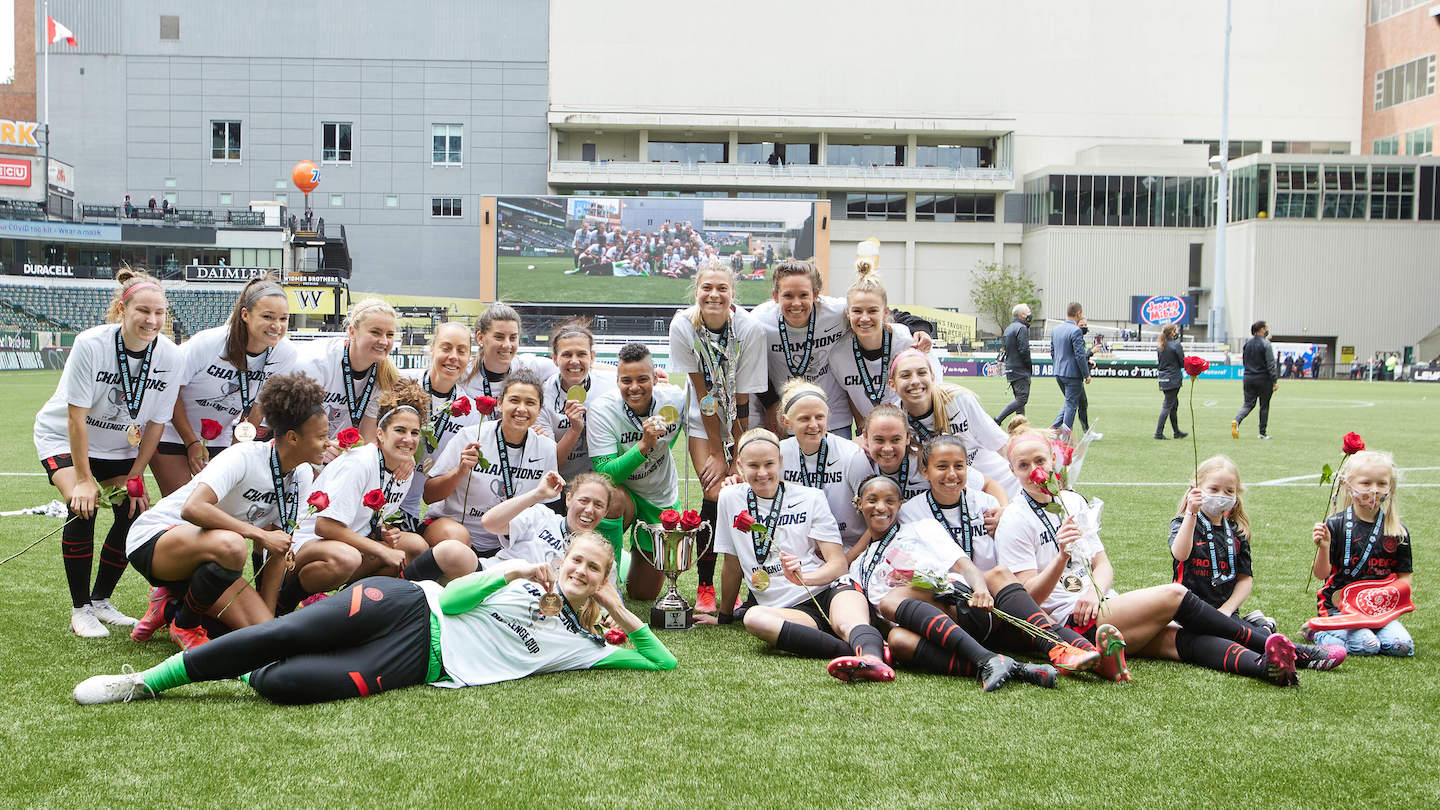 PORTLAND, Ore. – Tied 1-1 at the end of regulation, Portland Thorns FC claimed their fourth trophy in nine seasons with a dramatic 6-5 win on penalty kicks against NJ/NY Gotham FC to win the NWSL Challenge Cup Championship at Providence Park on Saturday afternoon.
Adrianna Franch saved Naho Kawasumi's penalty kick in the seventh round to help Portland secure the title, earning NWSL Challenge Cup Championship MVP honors, while Morgan Weaver scored the decisive penalty kick in the shootout for Thorns FC.
2021 Challenge Cup Final Champs
Portland posted an unbeaten record in the 2021 NWSL Challenge Cup with a mark of 3-0-2 and was the only team to score in every match. Thorns FC opened the tournament with a 2-1 win over KC on April 9, won on the road at Chicago on April 15 and added a third straight win, posting a 2-0 victory over OL Reign on April 21, before rounding out West Division play with a 1-1 draw against Houston on May 2. Notably, Thorns FC scored seven goals in the tournament, while conceding just three during that span. Portland had six different goal scorers: Rocky Rodríguez, Tyler Lussi, Morgan Weaver, Lindsey Horan, Simone Charley and Christine Sinclair.
Sinclair Top Scorer In NWSL
With her goal against Gotham FC, Sinclair tallied her 60th goal across all competitions in NWSL play, which is the most amongst active players in the league. Sinclair has tallied 49 regular-season goals, three in the playoffs, two goals in Challenge Cup action and recorded six goals in the NWSL Fall series.
Thorns FC Against NJ/NY Gotham FC
With the result, Thorns FC are unbeaten in their last seven matches against Gotham FC, posting a record of 3-0-4. With her goal, Sinclair has scored five goals and added two assists in 15 career matches across all competitions against Gotham FC.

Goal-Scoring Plays
POR – Christine Sinclair, 8th minute: After picking up a loose ball in the midfield, Sinclair drove forward and unleashed a curling shot from the top of the 18-yard box into the lower left corner.
NJNY – Carli Lloyd (Imani Dorsey), 61st minute: Imani Dorsey dribbled down the left wing and delivered a cross into the box to Carli Lloyd, whose header was redirected into the back of the net.
Notes:
The penalty kick shootout was the first shootout in the history of Thorns FC. It was just the second time an NWSL trophy was awarded after a penalty-kick shootout, joining the 2016 NWSL Championship.
Portland is unbeaten in its last nine matches (6-0-3), dating back to a 3-0 win over Utah Royals FC in the NWSL Fall Series on Sept. 20, 2020.
Across those nine matches, Thorns FC have outscored their opponents 17-5.
Thorns FC are unbeaten in 2021 (3-0-2), including a 2-0-1 at Providence Park this year.
Adrianna Franch was named the NWSL Challenge Cup Championship MVP after saving Naho Kawasumi's penalty kick in the seventh round of the penalty-kick shootout.
Christine Sinclair tallied her second goal of the Challenge Cup this season.
Sinclair finished the match with a game-high seven chances created.
The goal marked Sinclair's 60th goal across all competitions in NWSL play, which is the most amongst active players in the league.
Lindsay Horan set a club record with 12 shots in the match. The previous most shots attempted by a Thorns FC player occurred on Aug. 11, 2014 at the Boston Breakers
Next Game
Thorns FC open up the 2021 NWSL regular season, playing host to the Chicago Red Stars on Sunday, May 16, at Providence Park; kickoff is set for 4 p.m. (Pacific) and features a live stream on Twitch.
Portland Thorns FC vs. NJ/NY Gotham FC- 2021 NWSL Challenge Cup Championship
May 8, 2021 – Providence Park (Portland, Ore.)
Goals by Half                 1          2          F          PKs
Portland Thorns FC       1          0         1             (6)
Gotham FC                   0          1         1             (5)
Scoring Summary:
POR: Sinclair, 8
NJNY: Lloyd (Dorsey), 61
Shootout Summary
1 NJNY: Long – Goal
1 POR: Sinclair – Goal
2 NJNY: Lloyd – Goal
2 POR: Klingenberg – Miss
3 NJNY: Cudjoe – Miss
3 POR: Horan – Goal
4 NJNY: Freeman – Goal
4 POR: Rodriguez – Goal
5 NJNY: Onumonu – Goal
5 POR: Dunn – Goal
6 NJNY: Viens – Goal
6 POR: Sauerbrunn– Goal
7 NJNY: Kawasumi– Saved
7 POR: Weaver– Goal
Misconduct Summary:
NJ/NY: Lewandowski (caution), 38
POR: Charley (caution), 79
Lineups:
POR: GK Franch, D Kuikka (Westphal, 68), D Hubly, D Sauerbrunn, D Klingenberg, M Salem (Rodriguez, 68), M Horan, M Dunn, F Sinclair (c), F Smith (Weaver, 76), F Charley
Substitutes Not Used: GK Bixby, D Nally, D Pogarch, M Boureille, F Everett
TOTAL SHOTS: 26 (Horan, 12); SHOTS ON GOAL: 7 (three players tied, 2); FOULS: 8 (Smith, Horan, 2); OFFSIDES: 3; CORNER KICKS: 12; SAVES: 0
NJ/NY: GK Haracic, D Dorsey, D Lewandowski (Johnson, 45), D Dydasco (Flores, 82), D Freeman, M Long, M Cudjoe, M Kawasumi, F Purce (Onumonu, 73), F Lloyd ©, F Monaghan (Viens, 73)
Substitutes Not Used: GK Sheridan, GK McGlynn, D Skroski, M Baxter, M Richardson
TOTAL SHOTS: 8 (Lloyd, 3); SHOTS ON GOAL: 1 (Lloyd, 1); FOULS: 9 (Lloyd, 2); OFFSIDES: 1; CORNER KICKS: 9; SAVES: 6
Referee: Natalie Simon
Assistant Referees: Brooke Mayo, Deleana Quan
4th Official: Karen Callado
Weather: Cloudy, 63 degrees
All statistics contained in this box score are unofficial