University of Maryland adds pair of transfers to 2023 women's soccer roster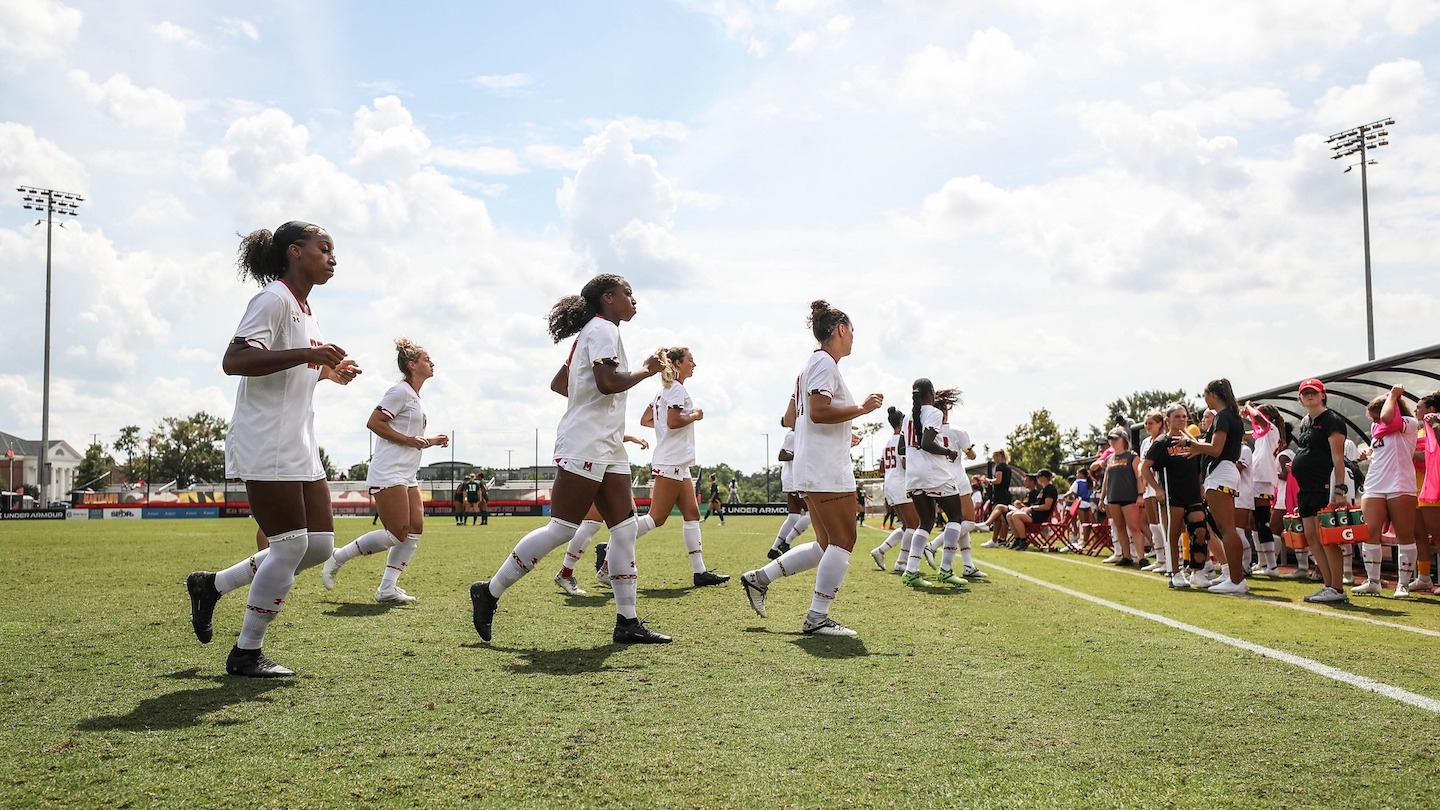 COLLEGE PARK, Md. – University of Maryland women's soccer head coach Meghan Ryan Nemzer is welcoming Caroline Koutsos and Gianna Lucchesi to the 2023 Terrapin roster.
Koutsos will be joining the Terps after beginning her career at UMBC, while Lucchesi will be coming to Maryland after playing three seasons at Richmond.
Koutsos looks to bring her versatile skill set to Maryland after a successful 2022 season, appearing and starting in all 17 games for the Golden Retrievers where she led the team in shots. Lucchesi played a big role in Richmond's defensive success last season, leading the team to seven shutouts on the year.
The duo of new Terps will be joining the Terps along with a decorated incoming freshman class, consisting of two Top-60 prospects in the nation and a Top-25 prospect goalkeeper. This class also includes multiple players that have represented their country at the international level including the United States, Puerto Rican and Jamaican Youth National teams.
More Information on these new Terps can be found below.
CAROLINE KOUTSOS
BOYDS, MD
OUR LADY OF GOOD COUNSEL / UMBC
OUTSIDE BACK
As a Junior at UMBC (Fall 2021)… Named team's Most Valuable Athlete and earned entrance into Chi Sigma Alpha…Moved from defense an attacking midfield position and responded by scoring three goals…One of only three Retrievers to start all 17 games and led the team with 26 shots on target…Ranked fourth in America East in shots on goal (1.53 per game)…Tallied the team's first goal of the season in the opening 3-1 win over Robert Morris…Also hit the net in games at Mount St. Mary's and Wagner…Played all 110 minutes in scoreless overtime draw versus NJIT.
As a Sophomore at UMBC (Spring 2021)…Started all six games for UMBC….Helped anchor a defense that shut out Towson and NJIT.
As a Freshman at UMBC (Fall 2019)…Made her collegiate debut against NJIT…Appeared and started in 15 games…Recorded one assist in the win over Mount St. Mary's…Tallied 2 shots on goal.
Prior to College… Helped the Falcons to a WCAC Championship in 2018….Played on a backline that gave up 13 goals over 19 games, including 11 shutouts…Earned the Our Lady of Good Counsel Varsity Soccer Coaches Award in 2018….Was named a Washington Catholic Athletic Conference All-Conference Honorable Mention….Won the Maryland State Cup (2018), Disney College Showcase (2017), and VisitRaleigh CASL (2017).
Personal…Daughter of James and Jennifer Koutsos…Has two brothers Jackson and Will and a sister Georgia…Intends to major in journalism.
Why Maryland?: "I decided to come to Maryland because it is an extremely accomplished academic institution. Maryland is also very competitive athletically, and I resonate with the coaches' vision for excellence and teamwork."
Head coach Meg Nemzer: "Caroline will join us in Spring 2023 as a mid-year graduate transfer. She brings a wealth of collegiate experience as a player and a leader. We are excited to bring in this Maryland local who has an abundance of Maryland Pride that will be invaluable to our program in 2023!"
GIANNA LUCCHESI
HAMILTON SQUARE, NJ
THE PENNINGTON SCHOOL / RICHMOND
CENTER BACK
As a Junior at Richmond (Fall 2021)….Helped the Spiders post seven shutouts on the year, five of those in conference play….Anchored the back line all season and played the full time in eight games, averaging over 84 minutes per game throughout the year…Appeared in 15 games with 14 starts for the Spiders.
As a Sophomore at Richmond (Spring 2021)….Played in all eight games, starting seven….Led the team with 703 minutes as a defender…Took a shot against George Mason and VCU…Anchored the back line in a 2-0 shutout win at George Washington, first road win at GW since 2012….Was part of the defense that held George Mason to one goal in 110 minutes (1-1 tie in double-overtime).
As a Freshman at Richmond (Fall 2019)….Appeared in 14 games, starting 14 as a defender…Finished sixth on the team in minutes played (1,138)…Helped Richmond's defense earn shutouts against American, Hampton, Fordham and VCU….Played a season-high 110 minutes twice at ECU (Aug. 25) and at Coastal Carolina (Sept. 15)….Took a shot on goal at Towson on Sept. 19…Played the full 90 minutes or more in seven games, including eight in a row.
Prior to College…Named to the United Soccer Coaches Scholar All-American team…Nominated for NJ Gatorade Player of the Year 2019…2018 All-American by Top Drawer Soccer….The Brigid Kilfoyle '91 Memorial Award for the Senior Female Making the Greatest Contribution to Pennington Athletics…Red Raider Coach's Award…Was a four-year letter winner and was named team captain in 2018…Was one of 20 players to be chosen to play for the East squad in the 6th annual High School All-American game on Dec. 1…Was a two-time Mercer "33" selection – top 33 soccer players in Mercer County and a first team NJ All-Area selection in 2017….Was a 2018 Top Drawer Soccer All-American nominee and has scored 14 career goals as a defender…Helped her team win four NJ State Prep A championships.
Personal…Daughter of Frank and Robyn Lucchesi…Brother, Frank Jr, played football at Muhlenberg.
Why Maryland?: "I chose to come to Maryland because of the high academic standards and Maryland also has my intended graduate program. Another huge part of my decision was the welcoming aura I had felt from the coaching staff. They had made me immediately feel like Maryland could be my home away from home for the next year. I also had a great connection with the team and it was a program I knew I could really be an integral part of."
Head coach Meg Nemzer: "Gi will be a great addition to our roster next Fall on and off the field! She is a commanding center back that will bring an infectious personality and energy to our group. She also comes with experience in leadership roles from her time as a captain and leader at her prior school."