Elon University solidifies strong 2023 women's soccer recruiting class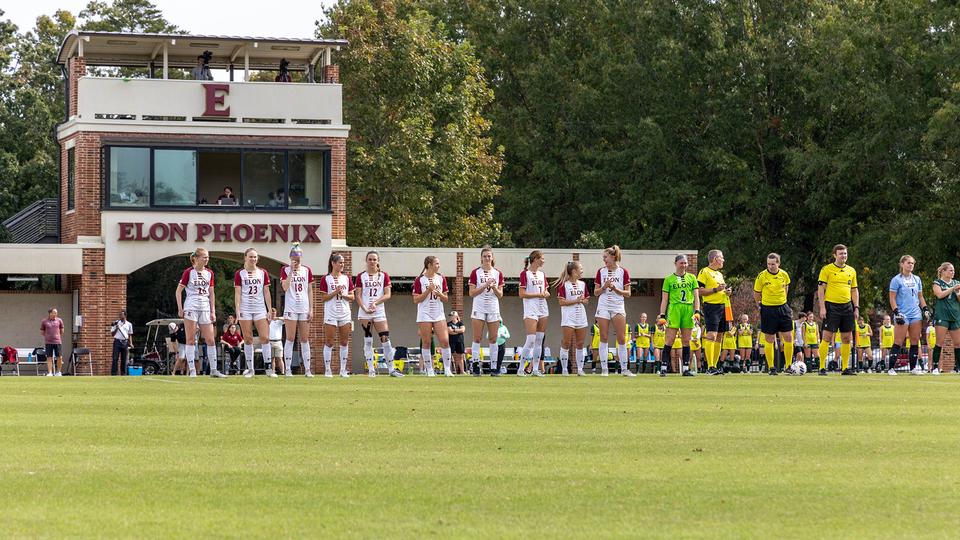 ELON, N.C. — The Elon women's soccer program has received a boost to its 2023 squad with the signing of nine players to National Letters of Intent, as announced by head coach Neil Payne.
"We're very excited about our '23 class," Payne said. "This group is loaded with talent, and all come from successful clubs across the country. Each and every player brings a specialty unique to them, and they will all fill a specific need in certain areas of the field for us.  We look forward to seeing them integrate into an already young and talented squad, and we're particularly excited to see their game develop over the next four seasons."
See below for information on each member of Elon's signing class.
Maddy Baird
5-8 • Forward/Midfielder • Mason, Ohio
William Mason High School • Ohio Elite ECNL
Helped her Ohio Elite ECNL U17 team to a third-place finish at nationals in 2021
Four-time first-team All-Green Meadows Conference selection
Four-time first-team all-region selection
Cincinnati Enquirer first-team All-Star in 2019, 2020 and 2021
Helped William Mason High School to the regional semifinals in 2020 and 2021
Grace Gelhaus
5-7 • Forward/Midfielder • Woodstock, Conn.
Woodstock Academy • FC Stars of Massachusetts ECNL
Four-year letterwinner under coach Dennis Snelling at Woodstock Academy
2022 Eastern Connecticut Conference MVP
Three-time all-state selection
Helped Woodstock Academy to the 2022 Eastern Connecticut Conference championship
Jordan Green
5-4 • Midfielder • St. Petersburg, Fla.
Land O' Lakes High School • Tampa Bay United ECNL
2021 USYNT ID Camp Invitee
Pursued MLS NEXT training as a junior and senior
Tallied 36 goals and 38 assists as a freshman and sophomore at Land O' Lakes High School
Land O' Lakes Offensive Player of the Year as a freshman and sophomore
Sunshine Athletic Conference Offensive Player of the Year as a sophomore
Made the United Soccer Coaches all-state team as a sophomore
Made the Florida Athletic Coaches Association 5A all-state team as a sophomore
Two-time first-team All-SAC selection
Two-time Florida Athletic Coaches Association 5A All-Academic selection
Helped Land O' Lakes to the 5A state semifinals as a freshman and sophomore
Gabby Hoschek
5-6 • Midfielder • Raleigh, N.C.
Crossroads Flex High School • NC Courage ECNL Academy
Competed on the NC Courage ECNL team for three years and played up a year
Competed in ECNL Showcase Nationals in 2018, 2019 and 2020
Started every match this season for her USL W-League team, Wake FC, tallying four goals and two assists.
Also served as co-captain with Wake FC this season
Trains with the North Carolina FC Boys Academy in the offseason
Morgan Juran
5-7 • Defender • Littleton, Colo.
Columbine High School • Real Colorado ECNL
2022 ECNL national champion
Member of one of the top-ranked 2005 teams over the last five years in ECNL and U.S. Soccer Development Academy
Participated in U17 U.S. Women's National Team Camp in October 2021 and the team's virtual camp in March 2021
Ranked by Top Drawer Soccer as the No. 58 overall recruit and the No. 6 recruit in the Rocky Mountains and Southwest region in the Class of 2023
Participated in U.S. Youth National Talent Identification Centers from 2019-2022. Member of state ODP teams and a regional camp participant
Selected by Top Drawer Soccer as one of the ECNL Girls South Carolina Best XI at the December 4-6, 2020, showcase
Coached by Lorne Donaldson, April Kater and Lyle LeBere at Real Colorado
Won two state cup championships and was selected to be a member of a 2004/2005 travel team that played in England against Premier League clubs
Two-year letterwinner under Brian Todd at Columbine High School
Earned first-team all-conference honors in 2021
Earned second-team all-conference and first-team academic all-state honors in 2022
National Honor Society member
Lauren McCauley
5-6 • F/M • Mountainside, N.J.
Governor Livingston High School • STA
Participated in 2020 ODP National Training Camp
Represented the U.S. on the ODP National Team in Amsterdam in 2020
Picked from ODP regional team to play in Iceland
Captain of ODP regional team
Four-year letterwinner under coach Micheal Roof at Governor Livingston High School
Earned 2022 conference MVP honors
Iliana Pardo
5-5 • Defender/Midfielder • Raleigh, N.C.
Leesville Road High School • NC Courage ECNL Academy
Started for the U20 Puerto Rico National Team at the 2022 CONCACAF Championships
Participated in the U17 Puerto Rico National Team Camp at the Olympic Training Center in Salinas, Puerto Rico, in 2021
Tabbed to U15 Puerto Rico National Team in 2020
Second-team ECNL Mid-Atlantic all-conference selection in 2020-21
2021 USYS South Region ODP team
Top Drawer Soccer Weekend Standout, Oct. 2-3 and Nov. 13-14, 2021
Earned all-conference and academic all-conference honors as a freshman and sophomore at Leesville Road High School
Alexis Pierce
5-7 • Defender/Midfielder • Glen Allen, Va.
Deep Run High School • Richmond United ECNL
Helped her club team, Richmond United, to third- and seventh-place showings at nationals
ECNL all-conference selection
Four-year letterwinner under coach Steven Chapman at Deep Run High School
Two-time Deep Run team MVP
Earned first-team all-district, all-region, all-metro, and all-state honors
Helped Deep Run to a regional championship and the state semifinals in 2022
Father, Shane, played baseball at VCU
Uncle, Paul Scaletta, played golf at VCU and on several tours, including the PGA Tour. His professional highlights include competing in the 2012 PGA Championship and twice earning South Florida PGA Player of the Year honors.
Ava Werner
5-5 • Defender • Boulder, Colo.
Boulder High School • Colorado Rush Girls Academy
Helped the Colorado Rush to Girls Academy Mountain West Conference titles in 2021 and 2022
Helped the U19 Colorado Rush reach the 2022 GA playoff semifinals
Four-year letterwinner under coach Carlos Real at Boulder High School
Two-time team captain