Wisconsin women's soccer signs nine new Badgers for the class of 2023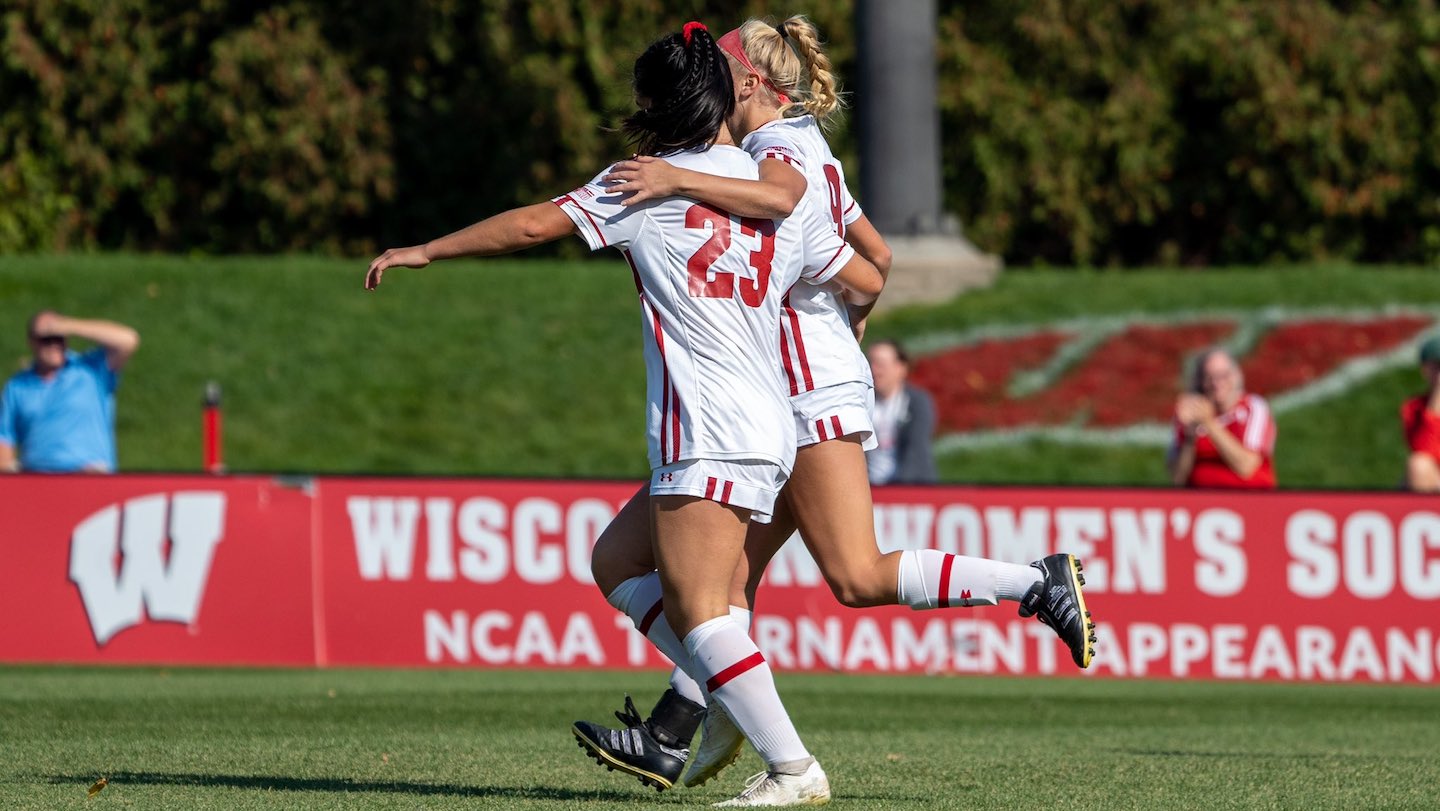 MADISON, Wis. – The University of Wisconsin women's soccer program has added nine new players to the team for the recruiting class of 2023.
Head coach Paula Wilkins has brought in players from both within and outside of the country to carry on the success of the program's storied tradition.
Joining the Badgers in 2023 are Delaney Cox (Madison, Wisconsin), Mira Issar (Glenview, Illinois), Ella Ottey (Toronto, Canada), Taylor Gordon (Eagle, Wisconsin), Megan Cornell (Waterford, Wisconsin), Brooke Nelson (Memomonee Falls, Wisconsin), Hailey Bauman (Ann Arbor, Michigan), Erin Connolly (Clayton, Missouri) and Sarah Rosenbaum (Fredericksburg, Virginia).
See below for more information on each of the incoming recruits.
Delaney Cox
5-5, Forward/Midfield
Hometown: Madison, Wis.
Highschool: Vel Philips Memorial
15 goals and 9 assists in 18 games in high school season played coming off ACL (2022)
1st team All-Conference, 1st team All-Area, and All-State Honorable Mention (2022)
National Champion with SC Wave GA (2022)
ODP London invite (2020)
Wisconsin Fire State Team (2017)
ODP State Team (2018- 2019)
Attended Regional ODP Camp June (2018-2019)
ODP International Team (2020)
Varsity Cross Country in 9th Grade
President of Letters of Love club and member of Key Club
National Honor Society (2021-2023)
Cox on expectations for first season at UW: "I expect to take a big leap forward as a player under this coaching staff and playing against competition day in and day out at practice. Competition brings out the best in me!"
Mira Issar
5-7, Goalkeeper
Hometown: Glenview, Ill.
Highschool: Glenbrook South 
FC United DA/GA team (2018-2023)
Youth National Team ID Camp (2018-2020)
Illinois State Cup Winners (2017)
Competed in Basketball in 9th Grade
Honor roll (2019-2023)
National Honor Society (2021-2023)
Member of Key Club and Interact Club (volunteer)
Women in Business club through high school
Issar on expectations for first season at UW: " I am hoping to get to know my teammates and improve my skills training with Tim."
Ella Ottey
5-7, Fullback
Hometown: Toronto, Canada
Highschool: Bill Crothers Secondary School
Selected to Canada Soccer National Development Program
Canadian U17 National Team (2021 and 2022)
Canada Senior WNT Camp in Brazil (Nov. 2022)
U17 World Cup in India (Oct. 2022)
U17 Concacaf Championship in Dominican Republic ( April 2022)
U20 National Camp (Aug. 2022)
League 1 Ontario Women's Championship Team (2022)
Ontario Provincial Team (2018-2019)
Honor Roll (Grades 9-12)
4.0 GPA
Ottey on expectations for first season at UW: " I am looking to continue to improve and develop my game in a competitive environment and contribute to the team's successes."
Taylor Gordon
5-8, Forward
Hometown: Eagle, Wis.
Highschool: Waterford Union 
2x first team All-Conference (2021, 2022)
Conference Player of The Year (2021)
All-Area Player of the Year (2022)
2x team MVP, 1x Offensive Player of the Year
1st team All-State (2022), 2nd team All-State (2021)
United Soccer Coaches All-American Team (2022)
ODP London Invite (2020)
U16 ODP Costa Rica Team (2019)
ODP State team (2019-2022), ODP Regional Team (2019-2022)
National ODP team (2022)
National Honor Society President (2022)
Gordon on expectations for first season at UW: "I am expecting our team to make it to the conference championship and qualify for the NCAA tournament."
Megan Cornell
5-8, Centerback
Hometown: Waterford, Wis.
Highschool: Waterford Union
2x first team All-Conference
2x first team All-County
2x Regional champion
Lettered in basketball, winning All-Conference honorable mention
National ECNL playoffs (June 2022)
2nd team All-Midwest ECNL Conference (u17)
Mentored youth soccer players (FC Wisconsin)
Honor Roll student all semesters
History department award
Cornell on expectations for first season at UW: "To make an impact on the program."
Brooke Nelson 
5-9, Goalkeeper
Hometown: Menomonee Falls, Wis.
Highschool: Sussex Hamilton
1st team All-Conference (2022)
2x team Captain (2022-2023)
Spanish National Honor Society
Dean's list
Spanish Club Vice President (2022)
Top soccer buddy community service leader
Nelson on expectations for first season at UW: "Getting to know all of the girls on the team and improving as a player."
Hailey Baumann
5-11, Centerback
Hometown: South Lyon, Mich.
Highschool: St. Catherine of Siena Academy
ID2/ECNL Portland National Training Camp National Selection Team (2019)
U15 Girls YNT Camp Kansas CIty (2019)
International Champions Cup Midwest All-Star Team (2019)
U18 USYNT Training Camp Chula Vista and Virtual camp (2021)
USYNT Regional ID Camp (2021)
ECNL First Team All Conference Midwest (2021)
ECNL New Jersey National Selection Game (2022)
2022 ECNL First Team All Conference Midwest
2022 ECNL Phoenix National Selection Game
National Honor Society (2021-2023)
Ascension Providence Hospital volunteer
Baumann on expectations for first season at UW: "I'm expecting to be challenged a lot, grow as both a player and a person, and have fun!"
Sarah Rosenbaum
5-9, Forward
Hometown: Fredericksburg, Va.
Highschool: Massaponax
International Champions Cup Futures East-Allstar Roster (2019)
Named to ECNL playoffs best 11
U.S. U17 Women's National Team Provisional Roster (2022)
U.S. U17 Women's National Team virtual camp
3rd place finish in ECNL playoffs (2021)
2x ECNL Mid-Atlantic First Team (2022-2023)
Washington Spirit ADP (2021-2022)
Distinguished Honor Graduate
AP Scholar with honors
Rosenbaum on expectations for first season at UW: "I'm expecting to learn and develop my soccer abilities and work hard with my new teammates to achieve our goals."
Erin Connolly
Midfield
Hometown: Clayton, Mo.
High School: Clayton
ECNL National Training Camp (2022)
ECNL Player of the Year (2021)
ECNL All American (2021)
ECNL Midwest Conference Player of the Year (2021)
ECNL Midwest First Team (2022)
ECNL National Selection Game San Diego (2021)
Crown Award from Columbia University to honor top student publications for overall excellence
Peacemaker from the National Scholastic Press Association
Connolly on expectations for first season at UW: "I am expecting to learn and adapt to the college playing style. I am super excited to learn from the best and soak in as much as I can. I really hope to take my basis of the game and transform to the best player I can be."