Georgetown women's soccer announces signing of six incoming Hoyas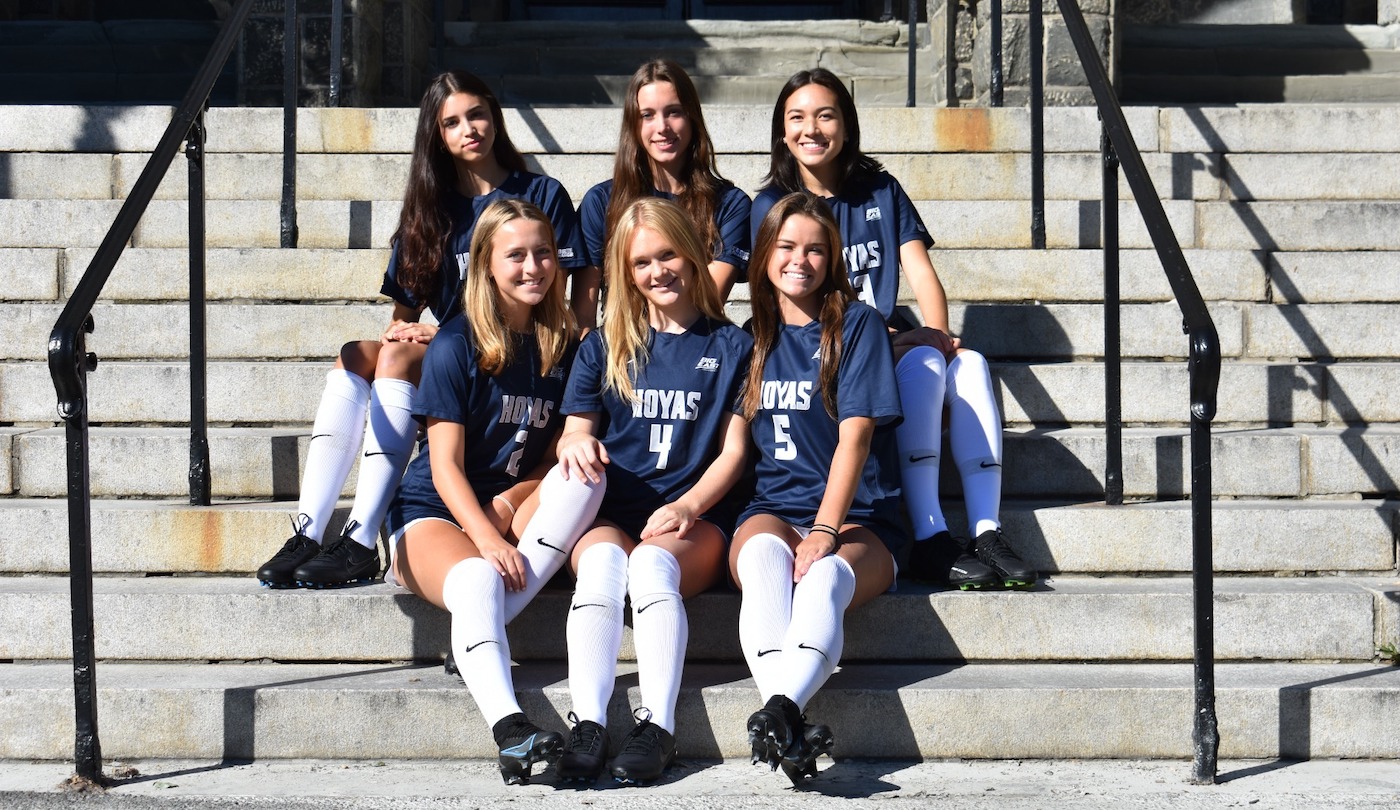 WASHINGTON – The Georgetown University women's soccer team has welcomed six incoming freshmen to the class of 2027.
The high school seniors signed their National Letters of Intent this week to officially declare their intention of attending and playing soccer for Georgetown University in 2023.
"My staff and I are excited to welcome this group to The Hilltop next fall," said Head Coach Dave Nolan. "Every year we look for student-athletes with the ability to compete at the highest level, have the aptitude to survive at one of the Nation's best academic schools and be persons with impeccable character. This is the foundation of all our successes here, and the six young people we are bringing in possess all of these qualities. We have strengthened in certain key areas on the field to help us continue to compete for BIG EAST and national championships."
See below for a look at the signing class:

Izzy Boodell
Hometown: Scarsdale, N.Y.
High School: Edgemont HS, Scarsdale N.Y.
Position: Defender
Club Team: World Class ECNL 04/05
Accolades:
2022 ECNL New England All-Conference Team
2022/21 High School two-time MVP and Team Captain
2022 High School All-State nomination
Why I chose Georgetown: "I've always wanted to play college soccer. I chose Georgetown because of the academic rigor and the ability to play at a high level surrounded by like-minded student-athletes who not only match my aspirations, but also build upon them. I am so grateful for the opportunity to join the Georgetown Community!"
Coach on Izzy: "Izzy is a tough, athletic center back with good defensive instincts. She will also help with set pieces on both ends of the field. She is a real competitor and we are very excited to welcome her to Georgetown."
Evelyn Casadaban
Hometown: Arlington, Va.
High School: Yorktown HS, Arlington Va.
Position: Defender
Club Team: Virginia Union ECNL 04/05
Accolades:
2022 ECNL Mid-Atlantic All Conference Team
2020-2022 McLean ECNL Team Captain
2022 State HS Champion
2022 HS All-District, Region, State, and Met Team
Why I chose Georgetown: "I chose Georgetown because it presents an unmatched level of opportunity that stems from its top-tier academics and soccer program in an incredible city. I am thrilled to be a part of a program where each player is held to the highest standards in all aspects of their life. Georgetown will ensure that I am pushed to be the best player and person I can possibly be through its elite coaches, motivated players, and inspirational environment. Hoya Saxa!"
Coach on Evelyn: "Evelyn is a versatile left-sided defender with a great attacking instinct. She is tough in the tackle but loves to get forward to start and join attacks. We are happy to welcome her to the Hilltop."
Kaya Hanson
Hometown: Seattle, Wash.
High School: Bishop Blanchet HS, Seattle, Wash.
Position: Defender
Club Team: Seattle Utd. ECNL 04/05
Accolades:
2021 US National Training/Identification Centers
2021 All-Metro Selection
2022 ECNL National Showcase Game – Ariz.
Why I chose Georgetown: "Georgetown University is a place that offers the highest academic opportunities and a soccer program with top tier coaches and players that will challenge me as a student-athlete. It has been my dream university ever since I first visited the campus and the dynamic city when I was younger. I knew this was the right place for me. The coaches, players, and culture created at Georgetown make me excited for the next four years to come!"
Coach on Kaya: "Kaya is a solid, versatile central player who can play in Midfield or along the backline. She has a calm disposition on the field and will complement those other players in these positions. We are very excited to bring her to Georgetown."

Katie Keefe
Hometown: Basking Ridge, N.J.
High School: Ridge HS, Basking Ridge, N.J.
Position: Defender
Club Team: PDA Blue ECNL 04/05
Accolades:
2022 HS Soccer Team Captain
2021 NJ.Com HS Soccer All State Team
2021 All Conference Team (Skyland Conference N.J.)
2021 NJGCSA All State Team
2021 PDA Club Team Captain
2020 ECNL New England All-Regional Team
Why I chose Georgetown: "When I first visited Georgetown many years ago, I immediately knew that it was a place that would be a good fit for me. The program not only competes at the highest level of Division I soccer but also has rigorous academic opportunities and great people. I have been lucky enough to know a few people who attended Georgetown and absolutely loved it. I am so excited to be a part of the unique community in such a beautiful location. Hoya Saxa!"
Coach on Katie: "Katie is another versatile player who can play at the back or in midfield. A real competitor she also has some strong leadership qualities. We are looking forward to adding her to our group next fall."

Liv Villella
Hometown: Cold Spring, N.Y.
High School: Haldane HS, Cold Spring, N.Y.
Position: Defender
Club Team: World Class ECNL 04/05
Accolades:
ECNL All-Conference Team 2019-2022
2019 All League Player
Why I chose Georgetown: "Georgetown was the best fit for me because of the harmonious balance of the elite academics, and the rigorous, yet nurturing soccer program. The opportunity to be educated at one of the top-ranked universities located in such a stimulating city is an immense privilege. The coaches, players and alumni have cultivated a supportive, challenging and inspiring environment. I am so incredibly humbled and excited to join this phenomenal program. Hoya Saxa!"
Coach on Liv: "Liv is a very versatile defender who can play anywhere along the backline. She has great size but also has the technical ability to play out from the back. She will be a great addition to our program."

Maya Wiese
Home Town: Bethesda, Md.
High School: Walt Whitman HS, Bethesda, Md.
Position: Midfield
Club Team: Virginia Union ECNL 04/05
Accolades:
2021 High school 4A State Champion
2022 #1 ranked High School team in Maryland
High school team captain
Starting center midfielder for Virginia Union ECNL
Why I chose Georgetown: "I grew up going to Georgetown games and was always inspired by the level of support and tight-knit team culture fostered by the players and Coach Nolan. I look up to the players as role models and spending time on campus made me so excited about the school and the team. Georgetown will challenge me to be a better player, student, and person, and will surround me with amazing people throughout the next four years. I couldn't be more excited to be a part of this incredible program!"
Coach on Maya: "Maya is a very technical Central Midfielder with good soccer instincts. She is a very good passer and will help us move the ball from back to front. She will fit in nicely with how we like to play."