Mississippi State inks five class of 2023 Bulldogs to National Letters of Intent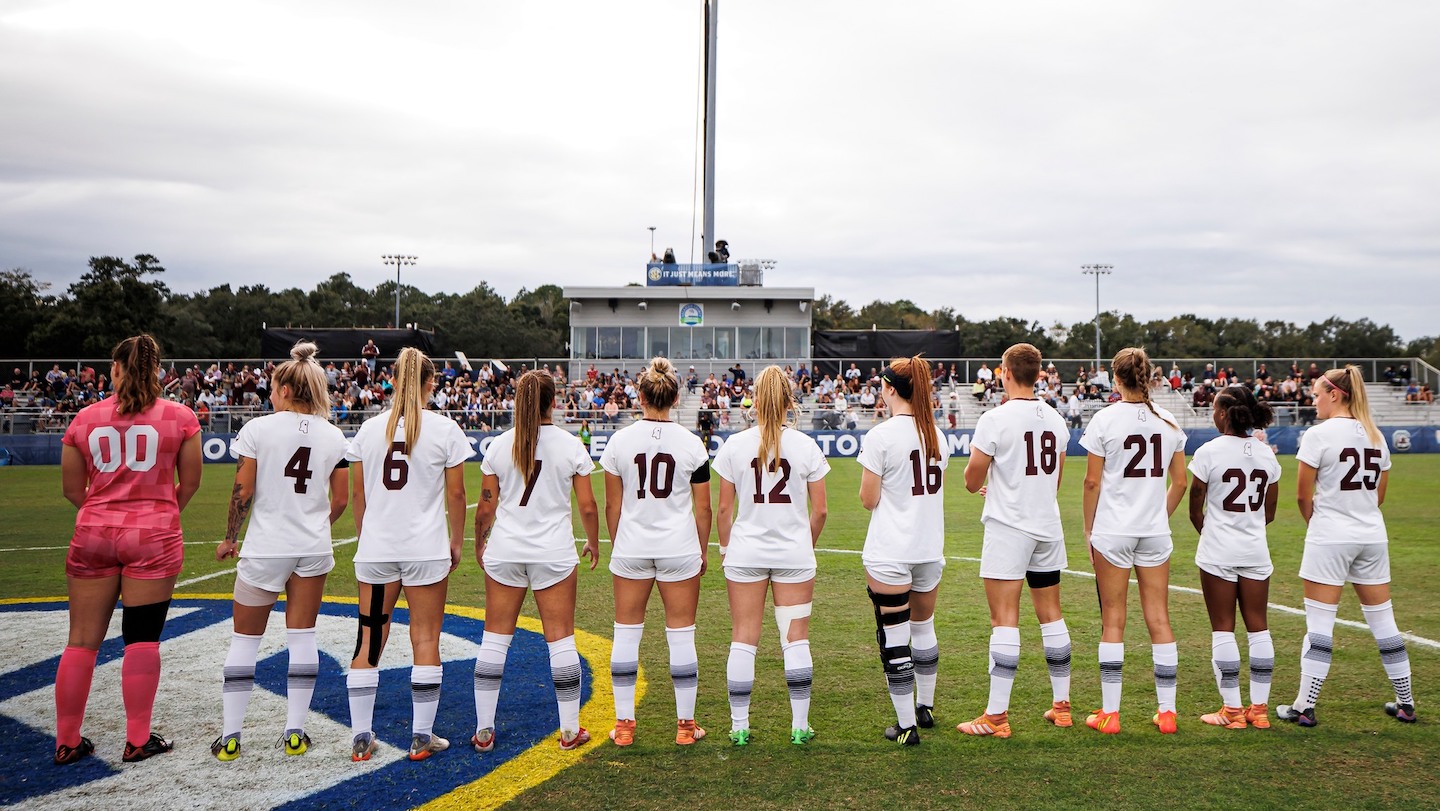 STARKVILLE – Head coach James Armstrong and the Mississippi State soccer program have announced the addition of five new Bulldogs who signed their National Letters of Intent.
Every line of State's formation will welcome at least one new face from the 2023 signing class – in goal, attacking, defending, as well as added depth to MSU's already experienced midfield. Three states are represented in the signing class as two will arrive from Texas and one each from Mississippi and South Carolina.
"We are thrilled to announce the signing of these five players," Armstrong said. "Throughout the entire process, the character shown by each of them demonstrated true excitement for Mississippi State and the future of our soccer program."
"They are all extremely driven, competitive and talented. Positionally, the recruitment of these five adds depth to every line," Armstrong added. "We are excited to see them continue the trend of freshmen coming in and making an immediate impact on the national level. A special thanks to my staff for all of the countless hours they have spent scouting the country to find the very best."
The 2023 Bulldog Soccer Signing Class:
Katelyn Carroll – Goalkeeper – Charlotte Independence SC – Fort Mill, S.C. – 5'7″
A product of Nation Ford High School and Charlotte Independence Soccer Club, Carroll joins the Bulldogs having been invited to the U.S. Soccer Training Center. This season with CISC, she was chosen to play in the ECNL Florida National Selection Game. During her high school career, Carroll logged 245 saves and added two assists to her stat sheet. During her junior season (2021), she was named the United Soccer Coaches South Carolina Player of the Week.
ARMSTRONG'S ANALYSIS: "Katelyn is a natural leader who provides the necessary information to command her box. She has the ability to make the big save, has excellent distribution and is very comfortable dealing with balls out of the air. She is a tireless worker who strives to improve every single day."
Kaylie Smith – Midfielder– Classics Elite – Corpus Christi, Texas – 5'3″
A product of Calallen High School and Classics Elite, Smith joins State after having served as a captain in both the club and high school circuit – Texas Conference u16 Second Team (2020-21) and varsity captain her junior year (2021-22). With Classics Elite, Smith scored six goals and was a back-to-back North American Cup qualifier (2020-21, 2021-22). During her three years at Calallen, Smith amassed a total of 132 goals and 59 assists.
ARMSTRONG'S ANALYSIS: Kaylie is an incredibly competitive player who covers so much ground to win the ball back for her team. She is able to keep it simple when circulating possession or driving forward and taking players on. She is a natural leader in all of the environments we have seen her compete in.
Kelsey Clay – Defender – Alabama FC ECNL – Madison, Miss. – 5'3″
A product of Jackson Preparatory School and Alabama FC ECNL, Clay joins State after having recently competed at Nationals with AFC earlier this year. In her high school career, she was a three-time MAIS D1 state champion (2019, '20, '22). During those same seasons, Clay was an All-Conference selection recipient. Clay recorded nine goals and 14 assists on her high school team.
ARMSTRONG'S ANALYSIS: Kelsey is a great athlete who will bring depth and quality to our backline. She is tenacious in the tackle and reads the game well. Her fitness levels and technical efficiency allows her to attack out of the back.
McKinnan Braswell – Forward/Midfielder – D'Feeters Kicks Soccer Club – North Richland Hills, Texas – 5'4″
A product of Birdville High School and D'Feeters Kicks Soccer Club, Braswell joins the Maroon and White as a member of the 2021-22 ECNL semifinalist team with DKSC. In her two seasons with DKSC, the Texas native racked up a total of 25 goals and 16 assists. As a member of her high school team, Braswell ended her freshman season (2020, COVID Year) as the leading goal scorer, amassing 16 goals across 19 games played. Two years later, as a junior, she ended the campaign having recorded the most points (27) on her team with eight goals and 11 assists. Braswell became the only freshman to receive an All-State award (Second Team) in the 5A Division.
ARMSTRONG'S ANALYSIS: McKinnan is an incredibly intelligent soccer player who always provides a threat going forward. She is someone who has an amazing final ball but can also score a variety of goals from any situation. McKinnan has the versatility to play central or wide, and another player who competes for everything when on the field.
Morgan English – Forward – Lobos Rush – Jackson, Tenn. – 5'6″
A product of University School of Jackson and Lobos Rush, English joins the Maroon and White as a four-time leading goal scorer for the 04 Lady Lobos Rush Premier team (2019-22). English and her high school squad became back-to-back TSSAA DII-A Tennessee state champions (2021-22) and was the leading goal scorer for USJ. She has also competed with MS Rush in an international friendly against Manchester United where she scored the opening goal. English racked up 174 goals for her high school team.
ARMSTRONG'S ANALYSIS: Morgan is a natural goal scorer who has set records everywhere she has been. She is an incredible athlete who loves to be the go-to person for her team. She has the versatility to play central or wide and will work tirelessly in either spot.