University of Florida adds seven future Gators during November signing period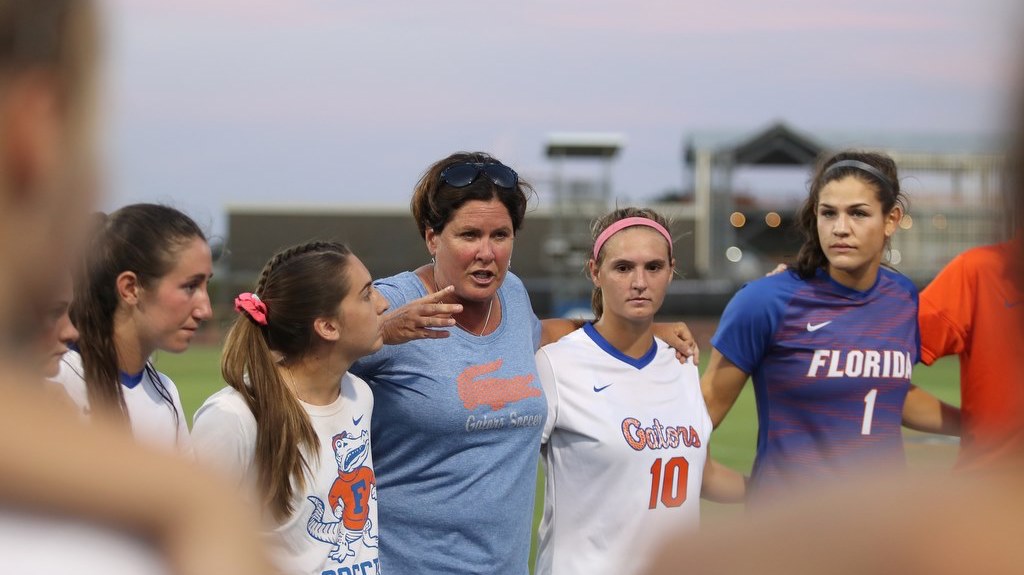 GAINESVILLE, Fla. – The University of Florida soccer team revealed a signing class featuring recruits from five different states and the program's first player from Puerto Rico. Florida head coach Becky Burleigh announced the seven who signed with the Gators during the November signing period.
The class includes players with international experience, members of state club champion teams who also played at regional or national U.S. Player Development Academy or ODP events.
"Really excited to welcome the 2021 class to Gainesville," Burleigh said. "We have a great group of not just players, but people who really fill some needs that we have on our roster."
Florida Soccer Signees (enrolling for 2021 season)
Name
Hometown
Position
High School
Club
Maddy Pirrello
Harrison, N.Y.
F
Harrison H.S.
New York SC
Oakley Rasmussen
Millville, Utah
MF
Ridgeline H.S.
La Roca FC
Amaya Simoni-Walters
Seattle, Wash.
D
Lakeside H.S.
Crossfire Premier
Riley Thompson
Collinsville, Miss.
F/MF
IMG Academy
IMG Academy
JLo Varada
San Juan, Puerto Rico
GK
IMG Academy
IMG Academy
Sophie White
Herriman, Utah
F
Mountain Ridge H.S.
La Roca FC
Madison Young
Ft. Lauderdale, Fla.
D
Cardinal Gibbons H.S.
Weston FC
Maddy Pirrello 
Position: Forward
Twitter: maddypirrello
Instagram: maddypirrello
High School: Harrison High School
Hometown: Harrison, N.Y.
Club Team: NYSC GA (Coaches: Anthony Ferarro, Christian Gonzalez)
Club
Fun Fact: Will be third generation on maternal side to participate in NCAA Division I athletics. Of the five relatives to play D1 athletics, only mother played soccer (Catholic University)
Becky Burleigh says: "We like Maddy's feistiness. She's a forward who is really busy quick, got good pace and is able to assist as well as score."
Oakley Rasmussen
Position: Midfielder
Instagram: oakley.rasmussen
High School: Ridgeline High School (Coach: Mark Tureson )
Hometown: Millville, Utah
Club Team: La Roca FC U18/19 ECNL (Coach: Adolfo Ovalle)
High School

Member of Ridgeline's 2020 4A Utah High School Athletic Association (UHSAA) championship team. Provided two assists in 3-2 win in title match – including on game-winning goal in the 86th minute.
Only played high school soccer as a senior due to Development Academy commitments

 Club

2016 and 2020 State Cup champions
La Roca advanced to 2018 and 2019 U.S. Development Academy playoffs and participated in multiple DA Showcases
Invited to 2016 id2 National Training Camp
Four-year member of Utah Olympic Development Program.
Becky Burleigh says: "Next up is Oakley Rasmussen. She's from La Rocca football club in Utah and were fortunate enough to have two players sign from that club which we really respect. I love the way that they develop their players. Oakley is a player who really reminds me a lot of a Gator fan favorite from the past, Meggie Dougherty Howard. She may be an understated player but really does a lot of the small things that help our midfield go. We're very excited to welcome her."
Amaya Simoni-Walters
Position: Defender
High School: Lakeside High School (Coach: Derrek Falor)
Hometown: Seattle, Wash.
Club Team: 03 Crossfire Premier ECNL (Coach: Justi Baumgardt)
High School
Club
Fun Fact: Parents played collegiate tennis – Jane Simoni (Princeton) and Karina Walters (UCLA) 
Becky Burleigh says: "Amaya Simoni-Walters is another player who has some versatility. We expect her to be able to play anywhere in the backline for us as well as potentially in the midfield. She's really composed, very technical and fits us very well. Also excited that both of her parents played collegiate athletics; both were tennis players at a pretty high level."
Riley Thompson 
Position: Forward/Midfielder
Twitter: @rileythompsonn3
High School: IMG Academy
Hometown: Collinsville, Miss.
Club Team: IMG Academy (Coach: Miguel Rodriques)
High School:
Club:
Becky Burleigh says: "Riley Thompson is from Mississippi but played most of her high school career at IMG in Florida. Riley's been the leading scorer basically on every team that she's played on. She's really, really scrappy. She's willing to work hard, willing to sacrifice her body and is someone who will definitely take a shot. Very excited to see her play at the collegiate level."
JLo Varada
Position: Goalkeeper
High School: IMG Academy
Hometown: San Juan, Puerto Rico
Club Team: IMG DPL U19 Premier (Coach: Matt Paton)
International:

Made Puerto Rico Senior National Team debut in 5-0 win over Aruba on May 11, 2018, in Group A play at CONCACAF Caribbean qualifier
Becky Burleigh says: "JLo played her high school years also at IMG Academy, but on a different team than Riley. JLo has some international experience having played for Puerto Rico in CONCACAF qualifying. I'm really excited about JLo's upside. She's got great feet, she's got really good range and she's also one of the most appreciative people I know. I'm excited about working with her."
Sophie White
Position: Forward
High School: Mountain Ridge High School (Coach: Eric Arthur)
Hometown: Herriman, Utah
Club Team: La Roca FC U18/19 ECNL (Coach: Adolfo Ovalle)
High School:
Club:

Five-year captain of La Roca FC ECNL U18/19
La Roca advanced to 2018 and 2019 U.S. Development Academy playoffs and participated in multiple DA Showcases
2014 and 2015 State Cup champions; 2016 and 2017 semifinalist
La Roca three-time winners of Vegas Player Showcase and made six Surf Cup appearances
Competed in Far West Desert Premier League (DPL) – runner-up in 2016 & 2017 and 2016 & 2017 Region IV quarterfinalist
Received eight invitations to U.S. Training Center (2016-17)
Three-year member of Utah Olympic Development Program (ODP). Captain of travel team that reached 2017 semifinals

Fun Fact: Owns a 4.0 grade point average and aspires to pursue a career in sports medicine.
Becky Burleigh says: "The second player from La Rocca FC is Sophie White. She and Oakley [Rasmussen] connect really well with each other on the field so were excited to have that continue at UF. Sophie in her own right is just a very, very busy forward who's willing to press, willing to have a really high work rate and can score goals."
Madison Young  
Position: Defender
Instagram: Maddieyouung
High School: Cardinal Gibbons High School (Coach: Margo Flack)
Hometown: Ft. Lauderdale, Fla.
Club Team: Weston FC (Coach: Jerome Samuels)
High School:

Cardinal Gibbons was runner-up in 2019 2A Florida High School Athletic Association state championships; played with team until injury in December 2018

Club

Played for Weston FC the last two seasons
Part of South Florida Football Academy ECNL for three years
Missed 2019 season recovering from injury

Fun Fact: Can solve a Rubik's Cube
Becky Burleigh says: "Madison Young is from the state of Florida so we've had our eye on her for quite some time. She's a very, very composed player who can play anywhere in the midfield or anywhere in the backline. She struggled with a few injuries as a high school player but is now full speed and ready to go. Great athlete. Looking forward to the composure that she's going to bring to our team."