Stanford adds Melissa Charloe from the University of Kentucky to coaching staff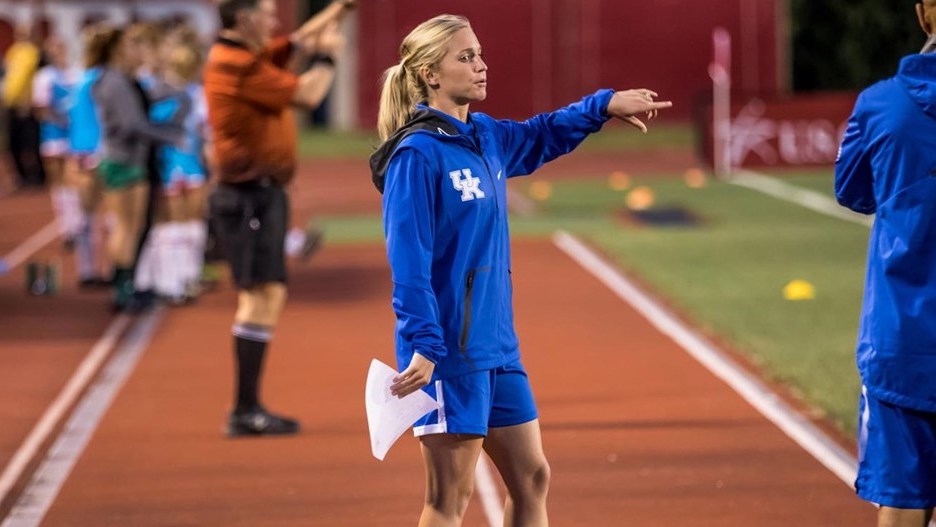 STANFORD, Calif. – Stanford University's Knowles Family Director of Women's Soccer Paul Ratcliffe announced on Monday the hiring of Melissa Charloe as an assistant coach.
"I am excited to announce the addition of Melissa Charloe to our staff," Ratcliffe said. "After interviewing Melissa, I was impressed with her vision for Stanford women's soccer and how she could contribute to our staff and help us continue to compete for championships. During Melissa's playing career, she showed great leadership. She was a captain at Penn State during her college career and for the US Women's U17 National Team prior to college. Melissa is ready to use her leadership skills and knowledge of the game to help our student athletes achieve excellence in the classroom, on the field and beyond college."
Charloe has served as a head coach with MVLA Soccer Club since June 2019. Prior to her time with MVLA, she spent two seasons as an assistant coach at Kentucky. While at Kentucky, Charloe specifically worked with midfielders while aiding in recruiting and preparing and delivering scouting reports and film sessions.
Charloe joined Kentucky after a two-year stint as an assistant coach with Metropolitan State University at Denver, where she helped guide the RoadRunners to winning seasons in each of her two seasons in the Rockies. Assuming all head coaching duties, Charloe served as Interim Head Coach during the 2015 season at MSU Denver.
Competing at the highest levels of the game, Charloe began her collegiate career at North Carolina – where she tallied four points in 15 appearances to help the Tar Heels to the 2006 NCAA College Cup Championship her freshman season. She then transferred to Penn State where she played the remaining three years of her college career from 2007-09.
In her time with the Nittany Lions, Penn State advanced to the NCAA Tournament all three seasons, including an appearance in the Sweet 16 her first year with the program in 2007. She played in 68 matches overall for Penn State, earning 55 starts, scoring two goals and tallying eight assists.
Following her collegiate career, Charloe played professionally for one season in Madrid for Torrejon FC.
Charloe also has extensive work with U.S. Soccer and the developmental program, having played for the United States Women's National Team at the U-14 (2002), U-16 (2003-04) and U-17 (2004-05) levels. Charloe helped carry the U-16s to the 2003 Ballymena International Tournament Championship and led the Sereno White club team from 1997-2006 serving as a team captain.
Prior to joining the RoadRunners in Denver as an assistant coach, Charloe served as an elementary teacher for low-income communities. She graduated from Penn State in 2010 with a bachelor's degree in communication arts and sciences and a minor in Spanish before spending two years in the Teach For America program.
A native of Cave Creek, Arizona, Melissa married Kevin Charloe in 2013.
"I am honored to be joining such an incredible program," Charloe said upon being hired. "The Stanford women's soccer team has had such strong success while playing an impressive style of soccer. I'm looking forward to working with Coach Ratcliffe and the staff to help the student-athletes be able to continue the steep tradition they have created."