Boston University women's soccer hires Jessica Clinton as associate head coach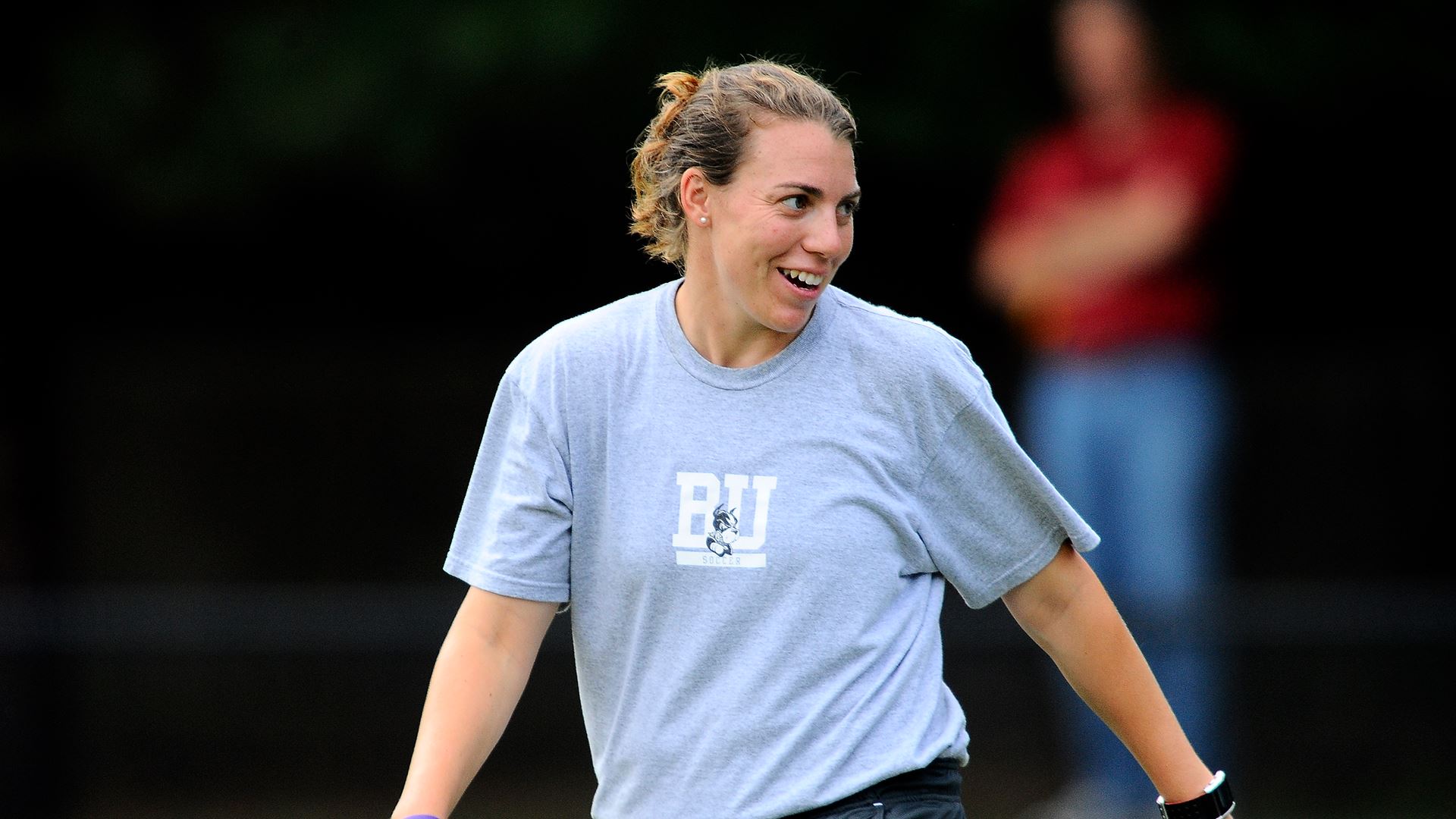 BOSTON – The Boston University women's soccer program has announced that Jessica Clinton (SHA '04), one of the most decorated goalkeepers in team history, has rejoined the coaching staff as the Associate Head Coach ahead of the 2022 season.
Clinton arrives to take over for Kelly Lawrence, who departed the program last month to take a position at Penn State.
"We are thrilled to welcome Jessica back to BU Women's Soccer," said Head Coach Nancy Feldman. "She will bring her love of Boston University and the program, and her interest in building relationships with our current student-athletes. Having been a head coach for the last eight years, her wealth of experience and knowledge will serve to elevate and enhance the way we teach and lead our current players while simultaneously identify and recruit the next generation of Terriers."
Most recently, Clinton was the head coach at Fordham for eight seasons. During her tenure, she guided the Rams to four appearances in the A-10 Championships in 2015, 2016, 2018, and 2019. During that 2015 run, Fordham was its second-highest win total in program history with 13, reaching the A-10 title game and finishing the year 10th in the NSCAA Mid-Atlantic Regional Rankings.
This marks Clinton's second stint with the Terriers as a coach. She was an assistant from 2008-12, then was promoted to associate head coach in 2013. In that span, BU won six consecutive conference regular season titles (five in the America East, and one in the Patriot League). The Terriers won the conference tournament championship in five seasons, and reached the second round of the NCAA Tournament in 2011 and 2013. BU earned a program-record 19 wins in 2011, and was ranked 25th in the nation entering the 2013 NCAA Tournament.
"First of all, I'm grateful to Nancy Feldman allowing me the opportunity to come back to a place that I call home," said Clinton. "This program has provided me great memories, including winning many championships on Nickerson Field. I am very much looking forward to building relationships with the current group of players, identifying and cultivating a strong group of future Terriers and continuing to connect with all our alumnae."
Before her coaching career with the Terriers, Clinton was an assistant coach at St. John's from 2007-08.
Clinton graduated from BU in 2004 with a degree in hospitality administration following a collegiate career where she won three America East championships. She was named the America East Goalkeeper of the Year in 2003, and racked up All-Conference First Team accolades in 2001 and 2003 as well. In her senior year, she earned a spot on the NSCAA All-Northeast Region Team.
In the Terrier annals, Clinton still holds the top spot across three statistical categories. She has the three top totals for saves in a single season, with 98 in 2001 and 2002. In her career, she's registered 312 saves and over 21 shutouts, most by a Terrier in program history.
"Jess has always been a student of the game and continues to look for innovative ways to improve," remarked Feldman. "We are excited to have her bring her positive and infectious energy to our team environment."
The Boston University women's soccer program recently finished its 27th season with its 14th conference regular season championship, reaching the Patriot League championship game. Eight Terriers garnered All-Patriot League accolades, highlighted by Feldman and senior Jenna Oldham winning PL Coach of the Year and Defensive Player of the Year, respectively.