Belmont men's soccer signs two transfers and two freshmen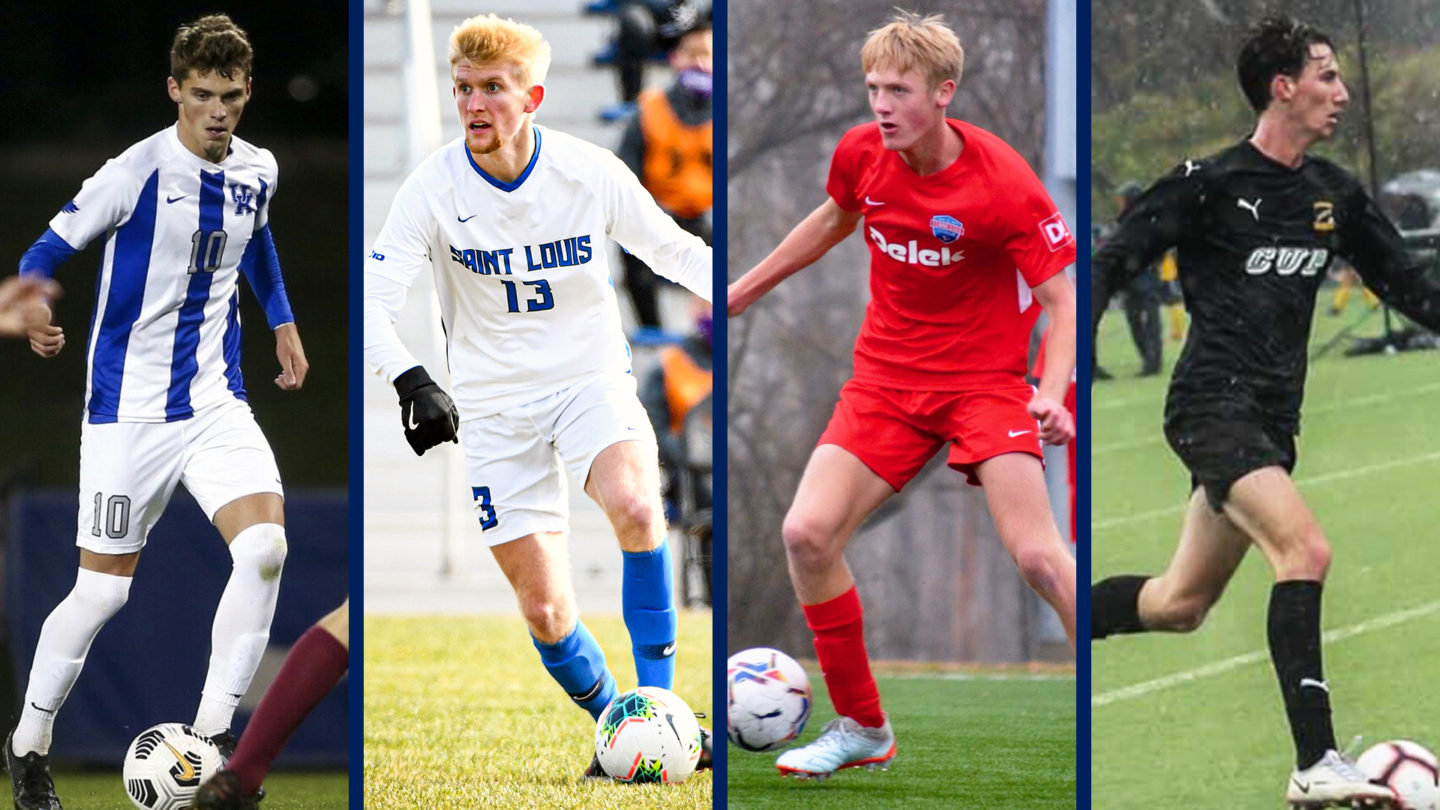 NASHVILLE, Tenn. – Fresh off its most successful season to date, the Belmont University men's soccer team is already working toward its 2022 fall campaign and has begun the process by adding four newcomers.
Head coach David Costa has announced the addition of Jansen Wilson, Sam Rowan, Riley Clothier and Brock Kiper to the Bruins' 2022 signing class.
Midfielders Wilson and Rowan are both spring semester transfers and have already begun winter training in the Music City. Defender Clothier and forward Kiper will join the team for Belmont's late-summer preseason training.
The four newcomers bring a plethora of talent to an already deep and experienced Bruin squad with transfers Wilson and Rowan combining for four NCAA second round appearances and a NCAA Championship quarterfinal run. Freshmen Clothier and Kiper will arrive in Nashville following heavily decorated varsity and club soccer careers.
"We are very excited to add these student-athletes to our program," said coach Costa. "Each individual in this group displays the character, discipline, and ability to help Belmont pursue championships as we join the Missouri Valley Conference. We look forward to having them on campus while continuing to add to this class in the coming months."
A native of Elizabethtown, Kentucky, Wilson brings three seasons of collegiate playing experience with him after spending two-and-a-half years at Conference USA member the University of Kentucky. Aiding the Wildcats to three-straight NCAA Championship second round appearances and back-to-back NCAA round of 16 tournament runs, Wilson was a member of three different top-25 teams during his time in Lexington, Kentucky. This past fall, Wilson helped Kentucky to the C-USA Championship title and a NCAA Championship third round appearance where the Wildcats lost to eventual national champion Clemson by a single goal.
The midfielder made three starts during the 2021 season and assisted on a goal while seeing action in 10 different matches. As a sophomore in 2020, Wilson scored a goal in a win at Florida Atlantic and logged 330 minutes on the pitch across 10 matches. The Wildcats reached the NCAA Championship round of 16 Wilson's sophomore campaign as well. As a freshman in 2019, Wilson started nine of 21 matches played in, scored a trio of goals including the game-winner in the 50th minute of a win over UAB, and notched an assist. His 29 shots were the third-most on the team and he tallied nine shots on target.
A two-time C-USA Commissioner's Honor Roll member, Wilson was placed on both the Southeast Conference First Year Academic Honor Roll and the 2020 SEC Fall Academic Honor Roll. He was Kentucky men's soccer's SAAC (Student-Athlete Advisory Committee) representative and made the university's Dean's List.
While starring at Elizabethtown High School, Wilson competed for Javanon FC where he was a three-time state and regional champion and a national semifinalist. Forgoing his senior prep season, Wilson enrolled in the Columbus Crew SC Academy of the U.S. Soccer Development Academy. Named 2017 Kentucky High School Gatorade Player of the Year and Kentucky Youth Player of the Year, Wilson was a two-time all-state performer. Team captain of both Javanon FC and Elizabethtown, Wilson was placed on the Midwest Regional All-Tournament Team.
"Belmont is a prestigious university that will provide me with opportunities to succeed both on and off the field," commented Wilson. "During my visit, I immediately felt supported and valued, making my decision very easy. The culture of the soccer team was something that I wanted to be a part of. Belmont has an amazing soccer program and I'm excited to get to work."
Rowan, who hails from Wentzville, Missouri, spent the previous three seasons at Atlantic 10 Conference member Saint Louis University where he helped the Billikens to an A-10 Championship title and a NCAA Championship quarterfinal appearance this past fall. Aiding Saint Louis to an impressive 16-1-4 record and an A-10 regular season crown, Rowan saw action in seven different matches.
Playing in 11 matches and making four starts during the Billikens' unique 2020 spring campaign, Rowan registered an assist in his collegiate debut against Kansas City and assisted on the game-winning goal at Butler. He finished with five shots on the year with one on target after redshirting as a true freshman in 2019.
Rowan enjoyed a successful prep career at Holt High School where he was a four-time all-conference selection and two-time all-state performer. A three-time state champion with St. Louis Scott Gallagher SC, Rowan was the top scorer at the Region II Championships and was named to the US Youth Soccer (USYS) First XI. Tabbed team captain at both Holt HS and St. Louis Scott Gallagher, Rowan was chosen as conference player of the year as a senior. He totaled 50 goals and 43 assists throughout his prep career, leading Holt to a pair of district titles and a sectional championship. Rowan was an academic all-conference member in both soccer and basketball during his time as a varsity student-athlete.
"There were many things that piqued my interest at Belmont," spoke Rowan. "I not only love the opportunities Belmont has to offer on the field but also off the field. The coaching staff and I have very similar goals and I can tell that this is a team and culture that I will fit well into."
A 6-foot-3 defender from Murfreesboro, Tennessee, Clothier competes at Oakland High School and plays for Tennessee Soccer Club of the ECNL (Elite Clubs National League). Leading Oakland HS to a TSSAA (Tennessee Secondary School Athletic Association) state semifinal appearance as a junior, Clothier is a four-year starter and two-time all-state selection. As a freshman, Clothier aided Oakland to a state tournament quarterfinal run and was one of two freshmen to land a spot on the THSSCA (Tennessee High School Soccer Coaches Association) DI-AAA All-State Team. Named 2021 District 7-AAA Defender of the Year, Clothier was a nominee for Tennessean Middle Tennessee Male Player of the Year. He was chosen as District 7-AAA Freshman of the Year and is also an all-area first team and all-region first team performer.
Tennessee Soccer Club captain in 2021-22, Clothier helped the team qualify for the 2020-21 ECNL National Champion's League where they made the round of 16 group. For his efforts, Clothier was selected as an ECNL Southeast All-Conference First Team defender.
"I chose Belmont because of the culture and goals of the coaches and players," said Clothier. "They make everything personal and always want what is best of you. The school is amazing as well and it's close to home."
Kiper, a native of Mason, Ohio, is a high school All-American who was outstanding at Archbishop Moeller High School and competes for Cincinnati United Premier. The 6-foot-5 forward was tabbed MVP of the All-American game following his senior season this past fall and is the reigning Southwest Ohio District Player of the Year. A first-team all-state selection and two-time All-Southwest Ohio First Team pick, Kiper led Archbishop Moeller HS to an Ohio High School Athletic Association (OHSAA) sectional championship and district title match appearance.
The 2021 Greater Catholic League Player of the Year, Kiper is a two-time GCL First Team member who helped Cincinnati United Premier to three state cup championships and a Midwest Regional finalist trophy.
"When I first stepped foot on campus for a tour I was immediately impressed by the facilities and the beauty of Belmont," Kiper stated. "The business school and the opportunities for internships in the Nashville are unique and exciting. After witnessing the culture and passion created by the coaching staff, I knew this was the pace for me."
Belmont went 13-5-1 overall in 2021 and reached its second consecutive Southern Conference Championship title match after setting the single-season program record for wins, shutouts (9), consecutive shutouts (4) and consecutive victories (6). Completing their first undefeated home slate, the Bruins received a vote in the final United Soccer Coaches Top 25 Poll of the regular season for the first time in school history. Belmont ended the fall ranked No. 9 in the ultra-competitive South Region, also a program first.