University of Maryland men's soccer signs eight class of 2022 recruits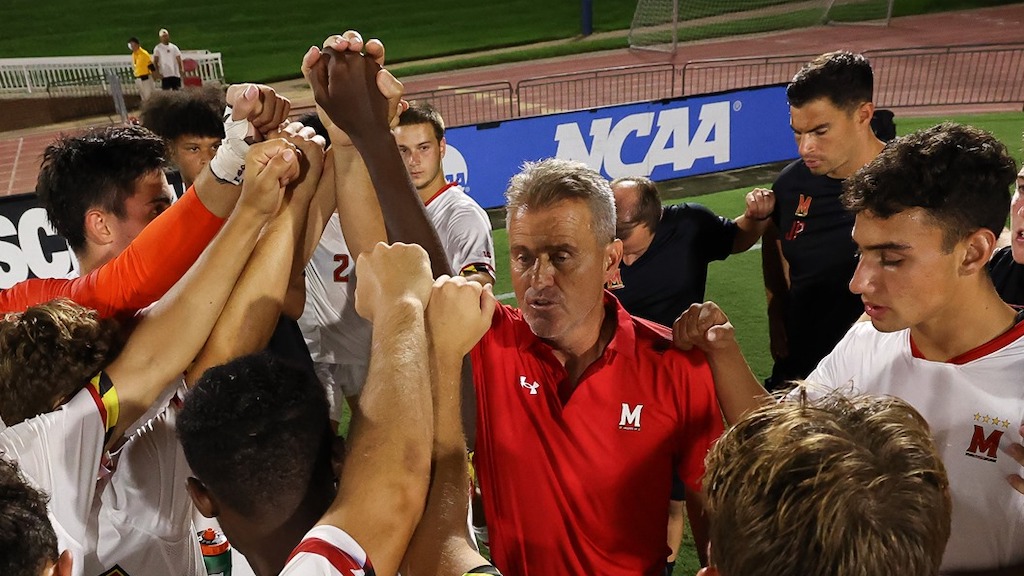 COLLEGE PARK, Md. – University of Maryland men's soccer head coach Sasho Cirovski has announced the signing of eight players for the 2022 season.
"I'm excited to officially welcome our new signees to Maryland," Cirovski said. "Our 2022 class has all the attributes we look for in our players, skill and drive on the field and great work ethic off it. This class has a distinct local flavor that highlights the quality of soccer in our region. Our fans will enjoy watching them as Terps."
Signees Matias De Jesus, Albi Ndrenika and Brian St. Martin will enroll early and join the Terps for the 2022 spring season. Information on all signees can be found below.
MATIAS DE JESUS
TOWSON, MD.
BALTIMORE CELTIC // LOYOLA BLAKEFIELD
MIDFIELD
Before Maryland: Played for Loyola Blakefield under coach Lee Tschantret…did not play his senior season after sustaining an injury…All-Catholic League first team selection…scored five goals and five assists…played for Baltimore Celtic under coach Mike St. Martin…three-time National League Champions…three-time national qualifiers…2021 Maryland State Cup Champions…2018 and 2019 Maryland State Cup finalist…2019 Regional finalist…son of Marcelo and Barbara…mother played squash and Dartmouth…brother Nicholas attends Maryland.
Head coach Sasho Cirovski: "Matias is a technical and intelligent player that can play in any of the midfield positions. He is a player who has a knack for delivering on set pieces and can score and provide in the run of play."
Why did you come to Maryland? "It has a great soccer program and I love the campus!"
MACK DEVRIES
MECHANICSBURG, PA.
PA CLASSICS
CENTER BACK
Before Maryland: Played club soccer for PA Classics under coach Steve Klein…ranked 102nd in the Top Drawer Soccer/IMG Top-200…captained his sides from 2016-2022…invited to youth regional ID centers in three seasons…selected to play for Capelli Sport USA in the Capelli Sport Cup in Denmark in 2021…son of Todd and Marnie DeVries…father played college soccer at Penn State in 1990…has a twin sister, Kate.
Head coach Sasho Cirovski: "Mack is a physical and technical left footed central defender. He is a natural leader who is comfortable playing out of the back. He has great range in his passing and is very strong in the air and takes pride in his set pieces. He brings an extremely competitive intensity to his defending duels."
Why did you come to Maryland? "I decided to come to Maryland because I fell in love with the campus the moment I stepped foot on it, it's a top academic institution where I can get a great degree, and it has an elite soccer program with elite facilities, players and coaches."
COLIN GRIFFITH
STROUDSBURG, PA.
PDA
FORWARD
Before Maryland: Played club soccer for Players Development Academy (PDA) under coach Sam Nellins…scored 15 goals in 12 matches in U-19…Top Drawer Soccer showcase standout (U-19)…Top Drawer Soccer MLS Next Fest Showcase Best XI (U-19)…made the MLS Next U-17 finals and was the top goal scorer on that squad…has represented the youth national teams of Barbados and appeared at the 2019 CONCACAF Boys Under-15 Championship…son of Steve and Kristy Griffith…brother Nigel plays soccer for St. John's…also has a sister, Elena.
Head coach Sasho Cirovski: "Colin is a gifted goal scoring striker that can also play the role of provider. He has a great feel of how to create space for himself and his teammates. On his top ranked PDA team, he has consistently scored important goals in big games. What sets him apart is his balance, speed and guile on the ball, which poses a consistent threat for opposing defenses."
Why did you come to Maryland? "I chose to come to Maryland because of their excellent coaching staff, as well as their ability to develop players to compete at the next level."
ETHAN GREGORY
OAKTON, VA.
BRADDOCK ROAD YOUTH CLUB/OAKTON HS
FORWARD
Before Maryland: Played for Oakton High School under coach Ralph Perkins…first-team all-district, region and state…also a three-time district champion in track…played club soccer for Braddock Road Youth Club under coach Brian Welsh…son of James and Michelle Gregory…father played college football at Bethany College…brother Spencer plays soccer at William and Mary.
Head coach Sasho Cirovski: "Ethan was a standout at our summer camp in 2021 and we immediately knew we wanted him to be a Terp. He is comfortable centrally or in wide areas so he can play anywhere along the front line. His athleticism and goal scoring ability, along with his contagious personality and positive work ethic are evident every time he steps on the field."
Why did you come to Maryland? "It has been my dream school since elementary school. The soccer program and coaching staff provides the best support and opportunity for growth."
ALBI NDRENIKA
OLNEY, MD.
BALTIMORE ARMOUR
MIDFIELD
Before Maryland: Played for Baltimore Armour for coach Mike Lookingland…captained his sides for Armour…won the 2021 Dallas Cup, scoring eight goals…invited to multiple US National Team training centers…scored eight goals and had six assists in his last season wth Armour…helped Armour top its group at the 2021 MLS NEXT Fest in California…ranked 127th in the Top Drawer Soccer/IMG Top-200…son of Irakli and Migena Ndrenika…brother Joni plays soccer at Frostburg State University.
Head coach Sasho Cirovski: "Albi is a skillful and tenacious central midfielder. At Baltimore Armour, he showed his advanced feel for the game, combined with his high-level skill set, which made players around him better. He has a strong shot and a creative flair, which causes him to be a dual threat as both a scorer and a passer."
Why did you come to Maryland? "The proximity to home and familiarity really helped in the recruiting process. Growing up watching them dominate the college game and win trophies definitely made this a top pick and an easy choice for me when they approached. I believe Maryland has the most pro-like environment and it is a great place to push yourself and excel."
MAX RILEY
MACCLESFIELD, ENGLAND
BETHESDA SC/URBANA HS
FORWARD
Before Maryland: Played club soccer for Bethesda Soccer Club under coach Derek Biss…captained sides at the U-16, U-17 and U-19 levels…played high school soccer at Urbana in 2018 under coach Scott Schartner…scored 15 goals and notched 17 assists…helped Urbana go 17-2 and advance to the Maryland State Championship game…son of Jonathan and Clare Riley…has two younger siblings: Sam and Frankie.
Head coach Sasho Cirovski: "Max is a versatile, clever and aggressive player. He can play any of the midfield or forward positions due to his high soccer intelligence. His gifted left foot allows him to play with flair, while his strong physical presence gives him the ability to be productive and compete in different roles on the field."
Why did you come to Maryland? "It felt like the best place for me to get the best education and play the best football possible."
MIKAH SEGER
INDIAN HEAD, MD.
BALTIMORE CELTIC/HENRY E. LACKEY HS
GOALKEEPER
Before Maryland: Played for Henry E. Lackey HS under coach Jonathan Juracko…recorded 223 saves, 12 clean sheets, four PK saves, six goals and 11 assists for the Chargers…named to the 2021 High School All-American Game…2021 Southern Maryland Athletic Conference Player of the Year…2021 Washington Post First-Team All-Metro…2021 All-State Honorable Mention…2021 All-Conference First-Team…led the state of Maryland in saves in 2019….played for Baltimore Celtic under coach Dan Louisignau…called up to the USA U-15 Boys National Team in 2018…son of Billy and Brenda Seger…has four siblings: Jeremiah, Judah, Uriah and Zekeriah.
Head coach Sasho Cirovski: "Mikah is a dominant presence on the field as a goalkeeper. He has outstanding communication skills and a solid command of his back line. He is very confident with both his feet and hands and can distribute the ball efficiently and effectively."
Why did you come to Maryland? "Maryland is one of the top programs in the country. The staff has done an exceptional job at developing players to help them get to the next level. It is also my dream school."
BRIAN ST. MARTIN
MOUNT AIRY, MD.
BALTIMORE CELTIC/MOUNT SAINT JOSEPH'S
MIDFIELD/OUTSIDE BACK
Before Maryland: Starred for Mount St. Joseph's playing for father Mike St. Martin…scored 16 goals and had 10 assists…Team Captain…2021 High School All-American Game participant…two-time All-MIAA selection…2021 Baltimore Sun All-Metro pick…2021 First-Team All-State… Gaels were the 2020 Catholic League Champion…squad was undefeated in 2020 and earned a No. 2 national ranking from Top Drawer Soccer…played club soccer for Baltimore Celtic under Mike St. Martin…won the 2017 and 2021 Maryland State Cups with Celtic and won three straight National League championships (2019-21)…son of Mike and Lara St. Martin…brother Brett was a two-time team captain and two-time All-Big Ten selection at Maryland from 2018-21…sister Brooke was a three-time America East Champion swimmer at UMBC.
Head coach Sasho Cirovski: "Brian is an athletic and technical right sided defender, who can also play the defensive midfield role. His ability with his feet passing the ball and his knack for winning aerial duels will help him to compete at the college level. While he has similar qualities to his brother, Brett, I am excited to see Brian forge his own identity."
Why did you come to Maryland? "I decided to come to Maryland because they do a great job in developing players and are always competing for championships. Maryland is also close to home and is a great academic school."