Sacramento State women's soccer welcomes 8 new players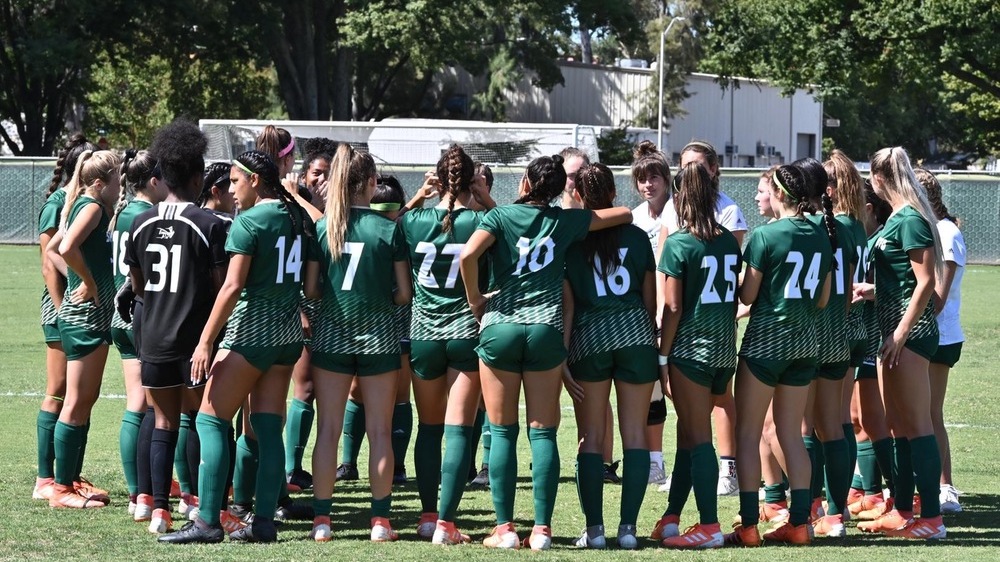 SACRAMENTO, Calif. – The Sacramento State women's soccer team and head coach Randy Dedini announced that eight new players will join the program's roster for the upcoming 2020 season.
The eight-member class includes six players from California and two from Hawaii. Seven are incoming freshmen while one is a sophomore transfer.
"We are extremely excited about our 2020 recruits joining our soccer family in this year's incoming class," said Dedini of his program's newcomers. "This incoming class is not only athletic, but they are very smart soccer players. Every player in this class has a high soccer IQ and will be able to adapt to our system of play and the demands of Division I soccer. We are excited to see the impact that they will have on our strong returning group of athletes."
Sacramento State Soccer Signees


Name
Hometown
Pos.
Previous School
Club
Emma Broers
Granite Bay, Calif.
D
Granite Bay HS
San Juan Soccer Club
Emily Davis
Elk Grove, Calif.
D
Franklin HS
San Juan Soccer Club
Jordan Goularte
Pinole, Calif.
F/MF
Miramonte HS
Cal Magic
Kalia Kalua
Kapolei, Hawaii
F
Kamehameha Schools – Kapalama
Hawaii Surf Soccer Club
Katie Price
Lodi, Calif.
GK
Louisiana Tech
Elk Grove FC
Sarah Smith
Brentwood, Calif.
D/F
Heritage HS
Diablo FC
Shylah Soon
'Ewa Beach, Hawaii
D/MF
'Iolani HS
Hawaii Surf Soccer Club
Heather Tarabini
Stockton, Calif.
MF
Bear Creek HS
West Coast Soccer Club
Meet the New Hornets
Emma Boers (@emmabroers)
Position: Defender/Outside back
Previous School: Granite Bay HS
Hometown: Granite Bay, Calif.
Club: San Juan Soccer Club
About Emma
High School: Varsity team captain for 2019-20 season…2019-19 Sierra Foothill all-league first team…2018-19 Seirra Foothill league champion…12-match unbeaten streak during '18-19 season…Also a NorCal Track finalist in in 4×100 and 4×200…Owns her school's 4th fastest 100 meter time.
Club: Two years with San Juan Soccer Club (2018-20), members of the Northwest ECNL…Won back-to-back Cal Cups in 2018 and 2019…Club teammate Emily Davis is also a Sacramento State commit.
Personal: Career goal of becoming a criminal psychologist for the FBI…Loves hiking…Was very involved with student government throughout high school.
Dedini on Emma: "Emma is a very intelligent defender/midfielder who has excellent fitness and the ability to play box-to-box. We feel Emma is a complete player who has the ability to compete for time immediately in multiple positions. Emma is a smart defender, but loves to push into the attack."
Emily Davis (@emilyd_1310)
Position: Defender/Centerback
Previous School: Franklin HS
Hometown: Elk Grove, Calif.
Club: San Juan Soccer Club
About Emily
High School: Three-time all-Delta League…Named Delta League Defender of the Year both freshman and sophomore seasons…Received the Franklin HS Student Athlete Award, maintaining a 4.0 while playing soccer.
Club: Four years with San Juan Soccer Club (2018-20), members of the Northwest ECNL…Won back-to-back Cal Cups in 2018 and 2019…Club teammate Emma Broers is also a Sacramento State commit.
Personal: Both her parents – Paula Davis and Gary Davis – played soccer at Sacramento State…Mother Paula is the program's all-time leading scorer (92 goals)…Is both left-footed and left-handed.
Dedini on Emily: "Emily is a left-footed center back who is excellent at building out of the back. She has a strong and accurate leg where she can build or skip lines when necessary. She is an intelligent defender who can make good choices under pressure and she can be dangerous on set pieces."
Jordan Goularte (@jgoularte30)
Position: Forward/Midfielder
Previous School: Miramonte HS
Hometown: Pinole, Calif.
Club: Cal Magic
About Jordan
High School: Played two seasons on Varsity…Was named Team MVP and recevied a First Team all-Diablo Valley Conference seletion following her senior season…Helped lead her team to the 2019-20 North Coast Section title and Northern California championship…During that season, scored 23 goals and had 10 assists in 20 games.
Club: Played for the Cal Magic under head coach Tony Neto…Spent time at the center forward, wing, and attakcing mid positions…Three of her teammates will also play Division I soccer in the Fall.
Personal: Interested in pursuing a career in criminal justice and law.
Dedini on Jordan: "Jordan is a target forward who will add a physical presence to our forward line. Her strengths are holding the ball and connecting passes, but don't sleep on her because she possesses deceptive speed to get in behind defenses and she's a proven goal scorer."
Kalia Kalua (@kalia.kalua)
Position: Forward
Previous School: Kamehameha Schools – Kapalama
Hometown: Kapolei, Hawaii
Club: Hawaii Surf Soccer Club
About Kalia
High School: Played four years on Varsity for Kamehameha Schools – Kapalama under head coach Missy Moore at the forward position…Had a career-year in 2019, earning a spot on the First Team all-state, Second Team Division I Conference Team, and a 2019 Division I Semifinal Impact Player…Helped her team win the 2019 HHSAA Division I State Championship.
Club: Played 15 years for Hawaii Surf Soccer Club under current head coach Shawn Kuroda, all as a forward…Was the league's leading scorer in 2013, '17, '18, and '19…Was the starting forward for the 2014 HYSA State Tournament.
Personal: Majoring in nursing with plans to work with children as a reigstered nurse…Club teammate Shylah Soon is also a Sacramento State commit.
Dedini on Kalia: "Kalia is a dynamic forward who will create and score goals for us. Her combination of speed, skills and intelligence will be a handful for our opponents. She is one of the best pure finishers we have ever recruited."
Katie Price (@knprice01)
Position: Goalkeeper/Forward
Previous School: Lousiana Tech Univ.
Hometown: Lodi, Calif.
Club: FC Elk Grove
About Katie
Previous School: Played one season for Lousiana Tech, appearing in three games…Recorded a 2-0-0 record and allowed just two goals, good for an 0.80 goals against average…Made 10 total saves, including five in a shutout win over Grambling State.
Club/High School: Played seven years with FC Elk Grove, including four with FC Elk Grove Navy as keeper…Played three seasons for Tokay HS at keeper and forward…Named all-conference keeper and Team MVP in 2016-17…Named Team Most Dedicated in 2015-16.
Personal: Majoring in Nursing…Played four years of basketball for Tokay HS, earning an all-conference Defensive Team selection (2016-17) and Team Best Defensive Player (2017-18).
Dedini on Katie: "Katie is a goalkeeper who plays and trains with a lot of passion. She loves the game and will bring competition and depth to our strong goalkeeper group."
Sarah Smith (@sarahdsmithh)
Position: Defender/Forward
Previous School: Heritage HS
Hometown: Brentwood, Calif.
Club: Diablo FC
About Sarah
High School: Played four years at Varisty HS under head coach Gary LaFleur…Played both defender and forward for the Patriots…Was an all-league Honorable Metion in 2016-17 and a two-time first team all-league selection (2017-18, 2018-19)…As the strating centerback, helped lead her team to a Bay Valley Athletic League Championship in 2017-18 after an 8-2 record…Also ran cross country during her senior season, earning a first-team all-league selection…Ran three miles in 19:24.1.
Club: Played eight years for Diablo FC and was a 2019 showcase finalist as a starting outside back.
Personal: Majoring in Health Science with a minor in Spanish…career goal to become an ER doctor and to become bilingual (Spanish)…Younger sister of former Hornet Kylee Smith.
Dedini on Sarah: "Sarah is is a versatile defender/midfielder with a high soccer IQ. She can play multiple positions for us and is a fierce competitor. With Sarah's strong fitness base and her ability to play box-to-box we expect her to compete for time as a wide back or midfielder."
Shylah Soon (@ddy.shylah)
Position: Defender/Centerback/Holding Mid
Previous School: 'Iolani HS
Hometown: 'Ewa Bech, Hawaii
Club: Hawaii Surf Soccer Club
About Shylah
High School: Played four seasons for the 'Iolani Radiers under head coach Kristin Masunaga…Spent her time at both the Center Defender and Holding Midfielder positions…Helped lead her team to back-to-back state championships in 2016-17 and 2017-18…Was the starting center mid in 2016-17 and starting center defender for the 2017-18 squad…Was named first team all-league and honorable mention all-state in 2018…Earned a second-team all-league selection and a third-team all-state selection in 2019.
Club: Played eight years for Hawaii Surf Club and spent most of that time as the starting center defender…Was team captain for the Club 2 Team and a 2017 and 2019 Runner Up in the Hawaii Women's League.
Personal: Career goal to work with high-school, college, or professional athletes to overcome and return from injury…Club teammate Kalia Kalua is also a Sacramento State commit…Attends 'Iolani HS, former high school of current Hornet Kylee Kim-Bustillos.
Dedini on Shylah: "Shylah is a strong physical player who will be an enforcer on our back line. She plays with grit and composure and will win the aerial battles in the middle of our defense. Shylah will help to solidify our defense for the next four years."
Heather Tarabini (@hxtarxbini)
Position: Forward/Center Mid
Previous School: Bear Creek HS
Hometown: Stockton, Calif.
Club: West CoastSoccer Club
About Heather
High School: Played Varisty for four years for the Bear Creek HS Bruins…Spent four seasons as an attacking midfielder under head coaches Kason Bartlel, Jeff Pappas, and Jose Granados…Was a two-time first-team all league selection in 2017-18 and again in 2018-19…Was named the SJAA Attacking MVP in 2018-19…Helped lead her team to three consecutive league championships in 2017 (10-0 record), 2018 (9-0-1), and 2019 (10-0) and was a starter in the midfield each season…Scored ac areer-high five goals in one game despite her team being down a player due to a red card…Scored 20 goals in 10 games during the 2018-19 season.
Club: Spent 13 total years with the West Coast Soccer Club in Livermore, Calif…Played center mid and forward for head coach Troy Dayak…Was the Champions league's leading goal scorer in 2019 and helpf lead her team to the Surf Cup Championship…Multiple of her teammates are also moving on to play Div. I soccer.
Personal: Majoring in Kinesiology with plans to move into physical therpay for athletes and sports injuries.
Dedini on Heather: "Heather is a very well rounded forward/midfielder who has a knack for scoring goals. She's quick, fast, crafty and has a rocket for a shot. Heather will be a great addition to our dangerous attack with her ability to stretch defenses and create something on her own."