USC women's soccer brings in 10 recruits for upcoming season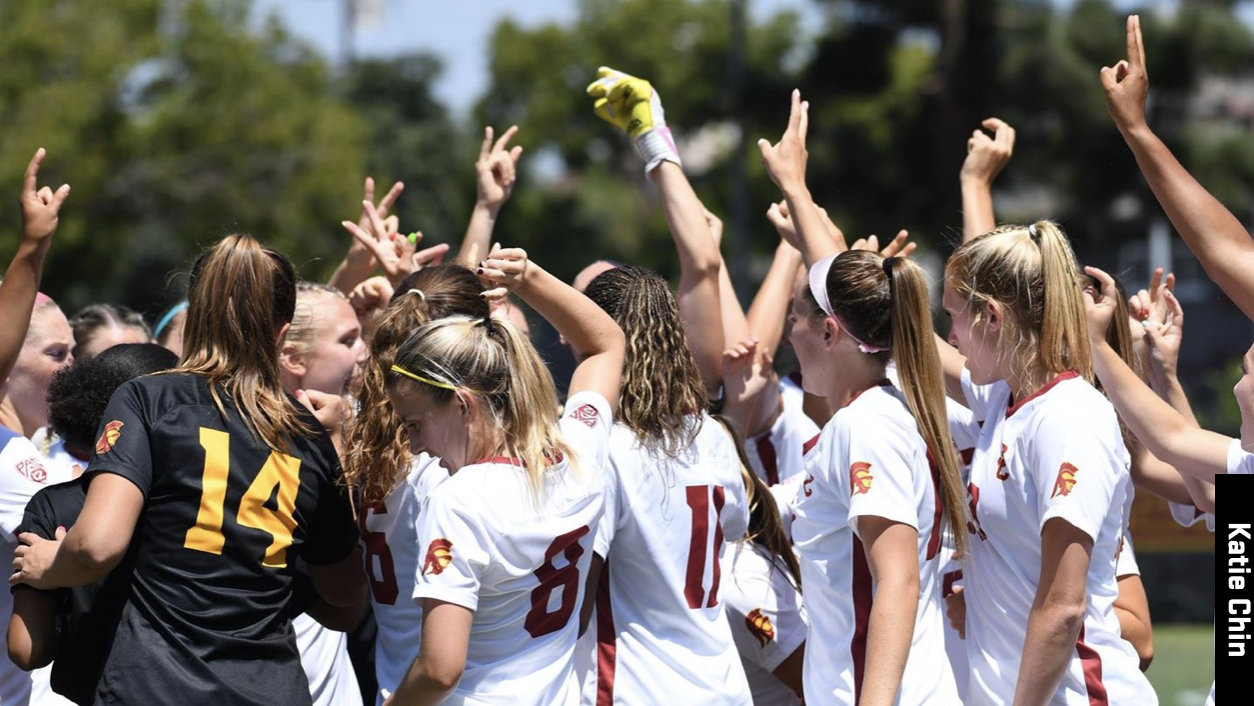 LOS ANGELES – USC women's soccer head coach Keidane McAlpine announced the program's 2020 recruiting class this week, as the Trojans welcome 10 new players for the coming season.
The class includes nine incoming freshman and one graduate transfer. The group boasts a range of experience from around the country, as well as internationally with a pair of Brazilian youth national team alums in the mix.
"This 2020 class has some really wonderful people in it," said McAlpine, who enters his seventh season at the helm for USC. "First and foremost, that is the quality that stands out for this group. Technically and tactically they definitely have strengths that will accent our team and help provide different tools, as well as create much needed depth. One of the lessons from last year's injuries was that we needed to re-tool our depth, and I think this class certainly does that and much more for us."
The group joins a USC squad that went 17-5-1 last season, reaching the quarterfinals of the NCAA Tournament and climbing as high as No. 2 in the national rankings. The Trojans graduated a wealth of experience and leadership with their senior class, but return the bulk of their offensive production, while also getting veteran midfielders Savannah DeMelo and Samantha Trinceri back after being out the entire 2019 season.
Here's a look at the 2020 class…
TRANSFER
Jennifer Westendorf
5-9 | Forward | Grayson, Ga. | Notre Dame/Grayson HS
Westendorf heads to USC after a standout undergraduate career at Notre Dame where she earned All-ACC honors as a freshman (2016) and sophomore (2017). In three seasons playing for the Irish (2016-18), Westendorf amassed 20 goals and 13 assists, leading the team in points as a freshman and finishing second on the team in points as a sophomore and junior. Prior to her time at Notre Dame, she started at forward for Brazil's U-20 Women's National Team at the 2015 South American U-20 Women's Championship, securing a slot at the 2016 FIFA U-20 Women's World Cup. As a prep standout in Georgia, Westendorf was named the Georgia State Soccer Gatorade Player of the Year her sophomore year and was also named the Georgia Class AAAAA Girls Soccer Player of the Year in 2015 after leading Grayson to a state championship. Westendorf graduated early from Notre Dame and took a year off before enrolling at USC and committing to play for the Trojans.
Head Coach McAlpine on Westendorf: "As a transfer and grad student, Jen brings us some experience to a relatively young group. She brings phenomenal goal scoring and set piece ability, as well as a good strike-rate from the flow of play, and she is excellent in the air. She's primarily a forward, but can play through the midfield, giving us some more options in attack."
Westendorf on why she chose USC: "I chose to play at USC this upcoming season for many different reasons. The recent success of the program was what initially drew me in. I was given this unique opportunity to play with such a great group of women and I did not want to pass it up. I also feel a sense of comfort and trust with the coaching staff, which has empowered me to make this decision to continue my soccer career. USC also offers a unique education experience that will allow me to strive for my goals both on and off the field."
FRESHMEN

Zoe Burns
5-2 | Midfielder | Issaquah, Wash. | Issaquah HS/Crossfire Premier
Burns is a standout from the Pacific Northwest, who earned United Soccer Coaches All-American status for Crossfire Premier in 2019. Burns was also named to the West Conference Best XI U-16 and U-17 teams in 2018, and was a part of U.S. Youth National Team programs from 2016-18. She played her prep soccer at Issaquah HS, scoring six goals and posting two assists in 17 games to earn All-Kingco honors in 2016.
Head Coach McAlpine on Burns: "Zoe is an extremely hard-working and versatile midfield player. She's creative, but also willing to do the dirty work. Her high soccer IQ will fit in well with our already talented midfield."
Burns on why she chose USC: "I love the rhythm, creativity, and character that this team plays with. The program shows great direction and tenacity, and I cannot wait to be a part of it."
Angeles Escobar
5-5 | Forward | Lancaster, Calif. | Eastside HS/CC Aztecs
Escobar was a goal-scoring machine during her prep career at Eastside HS, putting up a record-setting 181 goals over the course of four varsity seasons, including a staggering 60 as a freshman. In addition to her massive goal total, Escobar had 34 assists as well. She was named the Golden League Player of the Year all four seasons and led her team to two league titles. Also prolific on the club circuit with CC Aztecs, Escobar amassed 87 goals and 15 assists in 51 games played. Escobar has maintained a 4.0 high school GPA and is on track to graduate valedictorian of her class.
Head Coach McAlpine on Escobar: "Angie might have flown under the radar coming from a smaller club, but her game is very creative and skilled. She's a natural lefty, adding depth to our left side, while also bringing her creative flair to our team."
Escobar on why she chose USC: "The reason why I chose USC is because it will be a great place for me to grow, especially since I always wanted the experience of being at a big college and playing at a high level. Being here hopefully can open new doors for me in the future, all while still being close to home."
Alexa Gonzalez
5-3 | Midfielder | Riverside, Calif. | Ramona HS/Legends FC
Gonzalez comes to USC as one of the top midfielders in the state and the 43rd ranked player in the 2020 class according to Top Drawer Soccer. A soon to be graduate of Ramona High School in Riverside, she played her club soccer for Legends FC and earned Cal South Player of the Year distinction in 2019. She played prep soccer her freshman year at Notre Dame High School, but focused on club/academy soccer since then. Gonzalez earned Honor Roll distinction for her work in the classroom each of the last three years.
Head Coach McAlpine on Gonzalez: "Alexa is a skilled and versatile player who is going to be relied on for her mentality and no-nonsense approach to the game with tackles, heading and doing all the things necessary to be successful for our team."
Gonzalez on why she chose USC: "I remember ever since the first time I stepped foot on campus, I knew USC was my dream school. I really fell in love with the environment when I was there. USC is where many people strive to be and I am thankful to be living out my dream and playing the sport I love.
Talia Grossman
5-8 | Goalkeeper | Palo Alto, Calif. | Menlo School/MVLA
Grossman comes to USC as a prep standout from the Bay Area, where she was named the West Bay Athletic League Goalkeeper of the Year after leading Menlo to a CCS Division I Championship in 2019. She helped her team go 20-2-2 that year and posted a 0.50 goals against average for the season. Grossman has also been a member of the U-19 and U-20 Australian National Teams and played her club soccer for MVLA.
Head Coach McAlpine on Grossman: "Talia is a highly-competitive, multi-sport athlete who is a great leader. Talia's ability read the game, positioning and power make her a valuable addition to our already accomplished goalkeeping group."
Grossman on why she chose USC: "I've wanted to attend USC ever since my brother became a Trojan in 2015, and I first visited him in LA. I love the campus, the Trojan spirit, and the culture of the women's soccer program. And, academically, the blend of courses offered by Roski, the School of Cinematic Arts, and Dornsife perfectly align with my interests."
Anuhea Kāne
5-0 | Defender | Kapolei, Hawaii | Corinth Holders HS/NC Courage
Kane is an outside back who originally hails from Hawaii, but played her high school and club soccer in North Carolina. As a prep standout, she helped Corinth Holders to a 3A conference and regional championship, as well as a runner-up North Carolina state championship finish in 2017. Kane was team MVP, Conference Player of the Year and All-State first team during her prep career. On the club circuit, she helped the NC Courage to a No. 2 ECNL ranking and had multiple U.S. Soccer Youth Training Center invites along with playing for the ODP Region IV team. Kane enrolled early at USC to start the 2020 spring semester.
Head Coach McAlpine on Kane: "Anu is a technically sound player who has already impressed in her short time with us. Her situational play showcases her knowledge of the game, regardless of position."
Kane on why she chose USC: "I chose USC because it's one of the elite collegiate soccer programs in the nation, the coaching staff, and the location being closer to home. I also chose USC for being an overall great university, as it's recognized for having both high academics and elite athletics."
Emily Rhinehart
5-11 | Goalkeeper | Fallston, Md. | Fallston HS/Baltimore Armour/Pipeline
Rhinehart makes her way to Troy from the east coast, where she was a three-year varsity standout (freshman-junior) at Fallston High School and played her club soccer for Baltimore Armour/Pipeline. At Fallston, Rhinehart posted a 0.22 goals against average, leading the team to three straight regional titles, and earning All-Metro honors as a junior. Rhinehart also posted a 0.46 goals against average in club play.
Head Coach McAlpine on Rhinehart: "Emily is a goalkeeper who serves the ball well over distance, is quick in goal and a has good range as a shot-stopper. We are excited to add her focus and drive to our talent rich goalkeeping group."
Rhinehart on why she chose USC: "I chose USC because as soon as I got on campus and met the team and staff, USC just felt like home. This was especially great because USC is a top 20 school for pre-med and a top 10 school for soccer."
Katie Roditis
5-8 | Forward | Rancho Palos Verdes, Calif. | Peninsula HS/Beach FC
Roditis comes to USC after one year of varsity soccer at Peninsula High School and a successful club career with Beach FC. As a freshman at Peninsula, Roditis earned All-CIF honors, along with All-Bay League first team and Rookie of the Year. She was also named to ODP Regional Team IV and was invited to an id2 camp as a club standout.
Head Coach McAlpine on Roditis: "Katie is an extremely athletic and hard-working forward. She is relentless in her defensive pressure and willingness to attack back lines. That kind of tenacity will provide us with a strong option at multiple positions."
Roditis on why she chose USC: "I chose USC because it excels in both athletics and academics. After visiting the campus a couple years back, it just felt like home. To be able to play at such a high level and receive a degree at such a prestigious school is a dream come true."
Helena Sampaio
5-9 | Midfielder | Porto Alegre, Brazil | Colégio Marista Rosário/IMG Academy
Sampaio heads to USC with a long resume of success both in her home country of Brazil and at IMG Academy in Florida, where she spent her final two years of high school. For Brazil, Sampaio was an alternate on the 2018 U-17 World Cup roster and participated in U-17 national team training camps. She was named the 2019 Player of the Year at IMG Academy, leading the academy's U-19 team in assists. With Colégio Marista Rosário in Brazil, Sampaio led the U-17 team to a State Cup championship as the assists leader, was the leading goal-scorer in the 2016 High School Tournament, and led the U-15 team to a 2015 State Cup championship as the Tournament MVP.
Head Coach McAlpine on Sampaio: "Helena is a very good playmaker. Her passing is probably her biggest strength, along with her calmness on the ball and willingness to control the tempo. She will provide some phenomenal technical quality to our midfield."
Sampaio on why she chose USC: "I chose USC because of the welcoming environment and it was the best fit for me as an international student. It is a place that will help me get better as a person, athlete and as a soccer player."
Mary Shin
5-9 | Defender | Honolulu, Hawaii | Iolani School/Hawaii Rush
Shin was a three-year varsity letterwinner at Iolani School in Honolulu, helping to lead the team to HHSAA State titles in 2017 and 2018, and ILH runner-up finishes both years as well. In 2018 she was the '02 Honolulu Bulls team captain and was selected for the MISO Hawaii Girls All-Star team. She also played for the RUSH Select National Team in 2018 and 2019. Shin helped lead the Rush to Oahu League championships in 2018 and 2019, a MISO Women's League Championship in 2018 and a MISO U19 Gold Championship in 2019.
Head Coach McAlpine on Shin: "Mary is an extremely good leader and communicator as a center back. She is a true general of the defensive line with her organization, hard tackles and great presence in the air."
Shin on why she chose USC: "I chose USC for the prestigious academics, competitive soccer program, and the tight-knit Trojan community."