LSU Soccer announces four additions to 2020 roster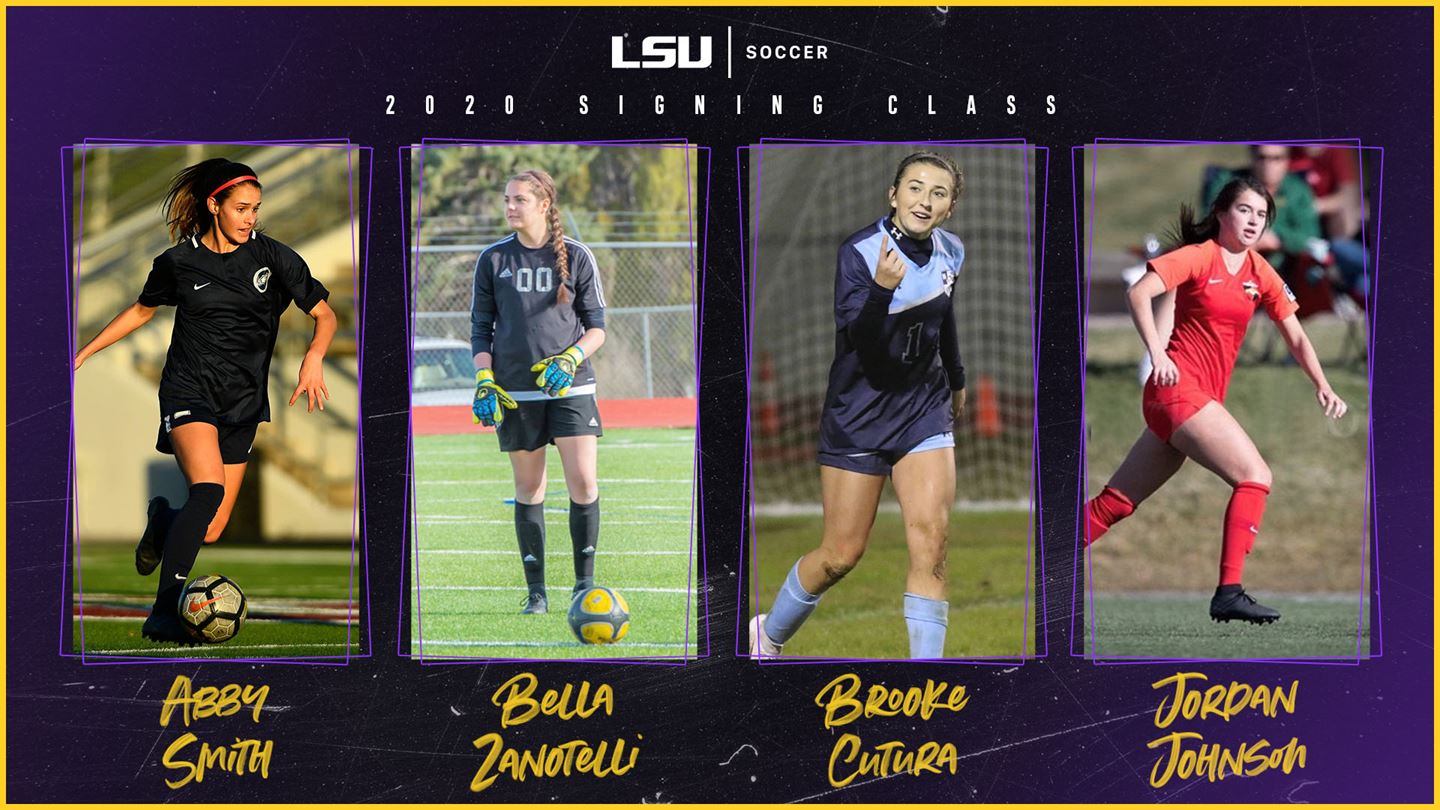 Baton Rouge, La. – LSU Soccer head coach Sian Hudson announced the addition of four student-athletes to her program on Wednesday.
Bella Zanotelli (Pueblo West, Colo.), Brooke Cutura (Pearl River, La.), Abby Smith(Flower Mound, Texas), and Jordan Johnson (Denver, Colo.) are set to join the program for the 2020 season.
"I'm really excited to be adding four quality players to our program," Hudson said. "I believe all four embody the traits that we are looking for in future players here at LSU. They are technically gifted, have a dedication to push themselves daily, and have a team first mentality that will benefit our team culture.
"As we lay the foundation for a new chapter in this program, I have high expectations for the 2020 class. I believe they will bring a new energy and excitement to the team. Our current squad has already made leaps and bounds of positive progress in our first few months together."
Bella Zanotelli | GK | Cheyenne Mountain HS | Real Colorado DA
Played with Real Colorado DA for club soccer … guided Real Colorado to a record of 32-10-2 the last two seasons … helped Real Colorado advance to the playoffs during the 2018-19 season … served as starting goalkeeper for Cheyenne Mountain High School during her freshman and sophomore seasons … she was named the Pikes Peak Athlete Conference Player of the Year following her sophomore season … Cheyenne Mountain High School MVP during her sophomore campaign … she registered 100-plus saves in each her freshman and sophomore season for Cheyenne Mountain … registered six shutouts during her sophomore season … 3x Honor Roll member in high school.
Hudson on Zanotelli
"Bella is a goalkeeper with great physical stature. She has outstanding reflexes, shot stopping ability, and has developed a sound technical base across all aspects of her game. Bella brings a charismatic personality to the team, but also a dedication and commitment to her position that will see her thrive as she transitions to the college level."
Brooke Cutura | F | Northshore High School | FC Tammany
Finalist for 2020 Louisiana Gatorade Player of the Year … helped FC Tammany to back-to-back Louisiana state titles in 2018 and 2019 … played in the USYS National League that past two years and racked up eight goals and 10 assists … played for the Chicago Fire Junior Elites in 2017 and had four goals and seven assists in six matches … 2019-20 St. Tammany Parish Offensive Player of the Year as a senior … selected to Louisiana's all-star team … first team all-district as a junior and senior at Northshore High School … led Northshore to Division I state title as a senior during the 2019-20 season as well as claiming the district title … she scored the game winner in the second overtime of the 2020 LHSAA state championship match to crown Northshore champions … amassed 44 goals and 46 assists during her junior and senior seasons as she led Northshore to a combined record of 41-8-2 the past two seasons … played varsity soccer in eighth and ninth grade at Pope John Paul II High School and was the team MVP in 2016 while being named to the first team all-district squad … 5x Honor Roll member in high school … member of the Humane Society, Environmental Club, and Next Generation Club in high school.
Hudson on Cutura
"Brooke is a fast, dynamic winger with a desire to run at defenders and put them on their back foot. She does an excellent job of getting quality crosses into the box and is always looking to stretch the opponent's backline by playing off the shoulder of the last defender. Her tireless work on the defensive side of the ball is another valuable apsect of her play. I am excited to see Brooke follow in her cousin Marlena's footsteps and keep the Tiger tradition alive in the Cutura family."
Abby Smith | CM | Flower Mound High School | Solar SC
Played club soccer for Solar SC … led Flower Mound High School to a district title and a No. 2 ranking in the 6A UIL Texas rankings as a senior in 2020 … she led Flower Mound to a 17-0-4 record before the 2020 season was postponed … 2x first team all-district honoree in 2018 and 2019 as a sophomore and junior … named Flower Mound's offensive MVP for the 2019 season … named to the honorable mention all-region squad in 2019 … garnered Newcomer of the Year in 2017 as a freshman for Flower Mound as well as being named to the second team all-district team  … member of Fellowship of Christian Athletes and the National Honor Society … also participated in groups such as Mu Alpha Theta, Circle of Friends, and the Science Nation Honor Society while in high school.
Hudson on Smith
"Abby plays as an attacking center mid or winger and shows great quality in the attacking third with her ability to score goals from deep positions and her late marauding runs in the box. Abby will add technical sophistication and composure in possession that will give us an added dimension to our attack."
Jordan Johnson | CM | Prairie View HS | Real Colorado National DPL
Led Prairie View High School to conference titles as a freshman and sophomore … named first team all-conference as a freshman and sophomore for Prairie View while also being named Team MVP … Prairie View registered a combined record of 28-3-1 during her two season playing for them … racked up 26 goals and 35 assists during her two years of high school play at Prairie View … played in 2016 ECNL Nationals, 2017 ECNL playoffs, 2018 ECNL playoffs, and 2019 DA Nationals as a member of Real Colorado … helped Real Colorado win 2019 state cup in Colorado … 3x Honor Roll member … named to the academic all-state first team as a freshman and sophomore.
Hudson on Johnson
"Jordan is a technically gifted player that loves to get the ball in deeper pockets and initiate attacks for her team through patient builds. Her vision allows her to play a wide range of well-placed passes that can unlock the oppositions defense."