Ryan Louis hired as Canisius College women's soccer head coach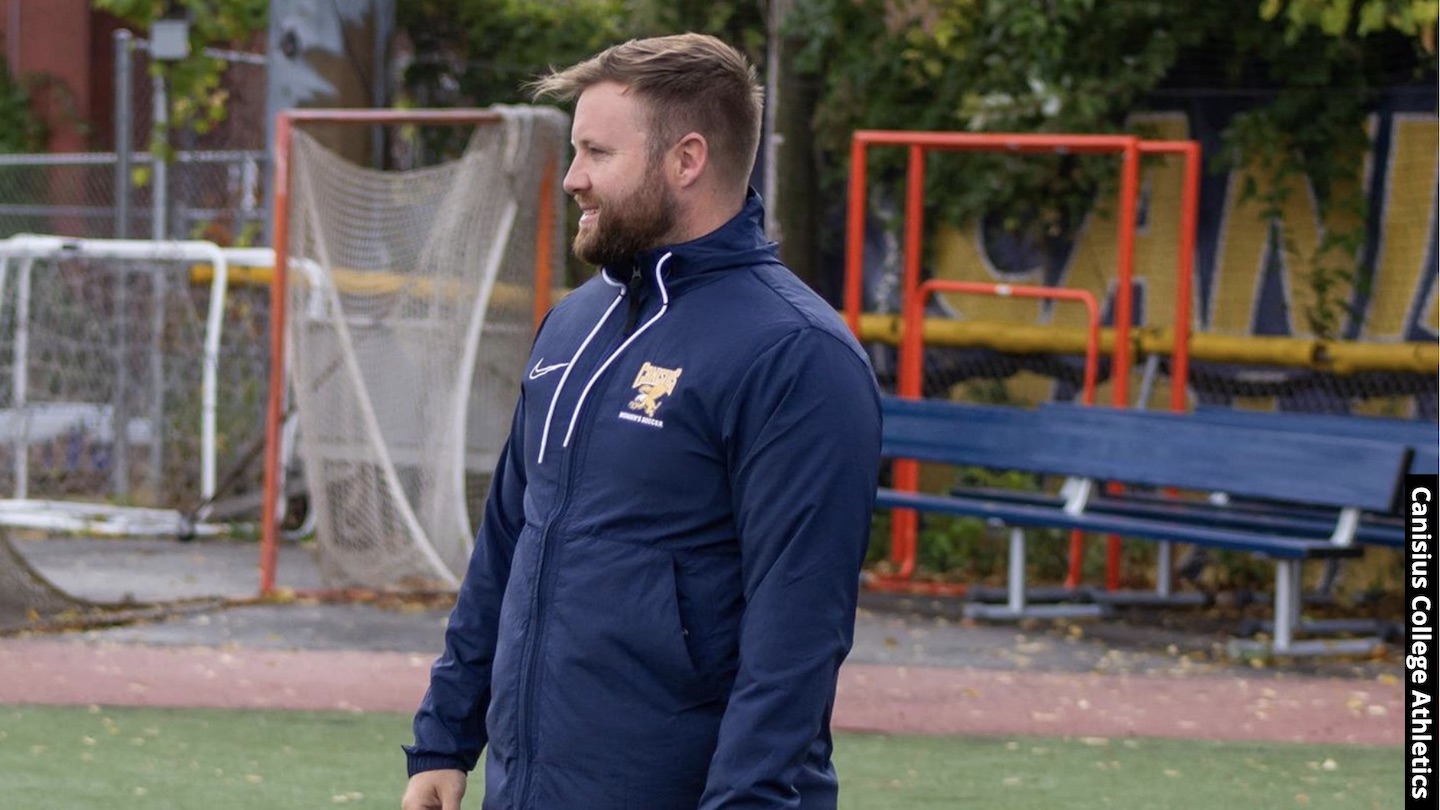 Canisius Director of Athletics Bill Maher announced that Ryan Louis (pronounced Louie) has officially been named the sixth head coach in Canisius women's soccer program history.
Louis served as the team's interim head coach for the 2020-21 academic year after former head coach Todd Clark stepped down in April 2020 to pursue other career opportunities.
"Ryan has done terrific work in an extremely challenging situation as our interim head coach, and I am pleased to be able to have him take over our women's soccer program on a full-time basis," Maher said. "The past 13 months have not been anything close to routine, and through it all, Ryan has stepped up and brought a sense of excitement and passion to the recruiting and development of the women in our program. He has earned this opportunity to help build the next chapter of women's soccer here at Canisius."
"It is an honor to be named the next head coach of the Canisius women's soccer team," Louis said. "I am especially grateful to Bill Maher and senior woman administrator Lisa Liotta for trusting me with this opportunity. My experiences coaching at different levels, recruiting, building relationships and developing players will serve me well in this new role. The team and I are eager and excited to build on the progress we made this past season."
No stranger to the Canisius women's soccer program, Louis served as an assistant on the Golden Griffins' staff in 2018 and 2019. Prior to coming to Canisius, Louis was an assistant coach, first for the men's program, then the women's soccer team, at Buffalo State College, where he assisted with day-to-day operations, opponent scouting and on-campus recruiting. In 2017, he was named to the United Soccer Coaches East Regional Staff of the Year, as he helped lead the Bengals to their first trip to NCAA Division III Men's Soccer Championship tournament in 34 years.
At the club level, Louis formally served as the technical director for GPS Buffalo, where he designed and administered a club-wide player development model for U6-U18 programs. While at GPS, Louis was honored as the GPS – New York Coach of the Year in 2015, and he later went on to lead the Boys 2003 regional team to the USYS National Championship in 2018.
A native of Southport, England, Louis earned his bachelor's degree in sports coaching from the University of Central Lancashire. He earned his master's degree in sport administration from Canisius in the fall of 2020.
Ryan's wife Emily (Marciniak) Louis, earned her bachelor's degree in communication studies at Canisius College in 2011, and is the donor relations manager at PUSH Buffalo. The couple has two children, Jackson (5) and Elias (11 months) and a lab-husky named Simon. The family resides in Amherst, N.Y.