North Carolina women's soccer program names Damon Nahas as associate head coach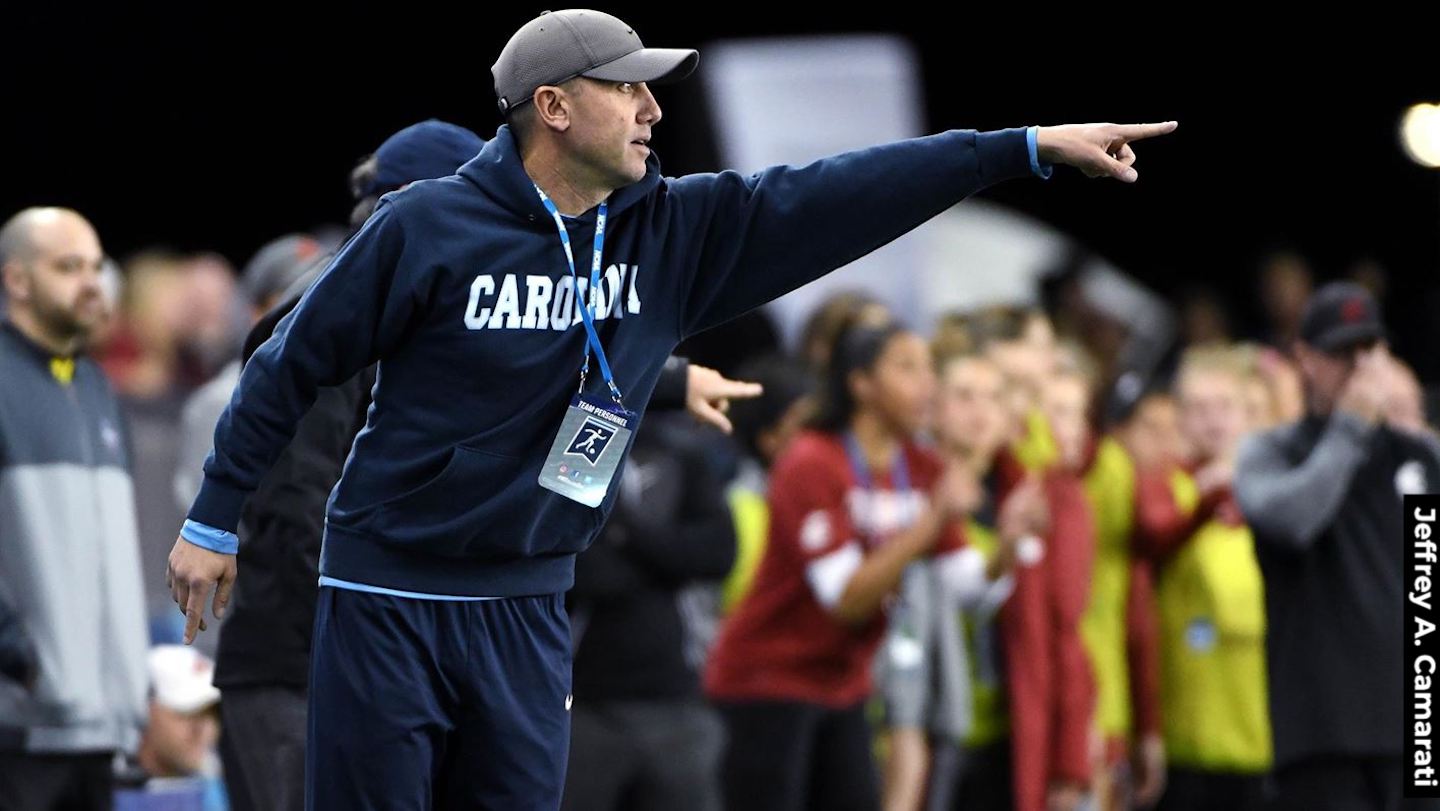 By: Aury St. Germain (GoHeels.com)
CHAPEL HILL, N.C. – After five seasons on Anson Dorrance's staff as an Assistant Coach, Damon Nahas has been elevated to Associate Head Coach.
"For me and my family, there is tremendous gratitude for this opportunity. I care greatly about what I do and those I have an opportunity to work with, the players, the coaches, the support staff" said Nahas. "This is something that will not change my approach. To me, it's still the same attitude and energy to give my best to Anson, the program, the alumni, and to the athletic department. Each day is another chance for me to learn from so many amazing people and work towards creating the best development environment, both on and off the field, for these extraordinary student athletes".
"I want to thank Anson, Director of Athletics Bubba Cunningham, and Senior Associate Athletic Director Larry Gallo; from day one, their support and belief in me has been unparalleled.  I also want to thank the UNC players, past and present, for their unmatched commitment to excellence, thank you for your support and trust in me. The future is bright, and I am excited to be a part of this amazing program and university."
Known as a technical and tactical master, Nahas arrived in Chapel Hill in the fall of 2015 and made an immediate impact. Over his tenure, he has helped lead North Carolina to a 90-14-8 mark, which includes three ACC regular season championships (2018, 2019, 2020), two ACC tournament titles (2017, 2019), and two appearances in the NCAA Championship final in 2018 and 2019.
"I have been coaching a long time and some of that time has been spent on sidelines recruiting and seeing where the American youth game is and it certainly continues to get better every year," said Dorrance. "One of my absolute joys was watching the standard Damon Nahas had set for his North Carolina youth teams when he was winning a Super Y national title and his 2 ECNL national championships."
"Back then, his teams fed many of the elite rosters in the ACC. Yes, we had our share playing for us at UNC; but so did Duke, Virginia and Clemson. His Duke player was the ACC defense of player of the year and his Virginia player was The ACC offense of player of the year; and ours were among the best on our roster. I had no choice but to invite this soccer player development genius into our environment," Dorrance continued.
When Nahas arrived on campus, he brought an extensive background from the previous 15 years in player development, club coaching and national team coaching to his duties in Chapel Hill.
In 2000, he developed a U7-U11 technical academy, Next Level Academy (NLA), which not only played a major role in his development as a coach but along with the NLA staff continues to be a leader in player development in the Triangle.  He served as the technical director of one of the most successful youth clubs in the country, the Capital Area Soccer League (CASL) in Raleigh since 2000.  He also served as head coach of the U.S. U15 Girls National Team from 2011-14 and began a stint as an assistant coach for the U.S. U17 Women's National Team in 2014.
Dorrance has had nothing but praise for Nahas since his 2015 arrival.
"Damon's work ethic has taken so much off my plate. He runs our sessions with the assistance of Chris Ducar and Heather O'Reilly; and his sessions are extraordinary. They are technical and tactical masterpieces, but also extraordinarily fun. His video sessions and match preparation are professional level. And his recruiting energy and ideas, along with Chris Ducar, are also bringing in one great class after another," said Dorrance.
Nahas specializes in player development and his expertise is apparent with the growth of UNC women's soccer student-athletes over his time in Chapel Hill.
During his tenure, Nahas has mentored numerous student-athletes that currently play soccer professionally.
His on-and-off the field guidance has provided student-athletes like Alessia Russo and Lotte Wubben-Moy to begin as an English footballers in the United States as a freshmen at UNC to playing in the Barclays FA Super League for Manchester United and Arsenal, respectively, in 2020.
His four-year commitment to student-athletes have resulted in the No. 1, No. 3, No. 11 overall picks in the 2021 NWSL draft in Emily Fox, Brianna Pinto, and Taylor Otto, respectively.
Nahas attended and played soccer at North Carolina State University from 1992-96 and then played professionally with the Wilmington Hammerheads and Capital Express.  In 2000, he joined the CASL staff where he helped develop and execute a technical curriculum for the coaching staff and players, primarily at the U9-U14 levels for both boys and girls.  During his tenure there he coached teams across all age groups and genders including squads which won two ECNL national championships, a U.S. Club national championship, a Super Y League national title, four state championships and two Disney showcases while having success in many other national tournaments.
Nahas began his coaching tenure on the national level with U.S. Soccer in 2011.  He was the U15 girls' national team coach from 2011-14, overseeing the program for up to five training camps per year while also scouting and selecting players eligible for the teams.  In 2014, he began a stint as the U17 WNT assistant coach, a position which included scouting players and assisting with training sessions with head coach B.J. Snow.  In 2014, Nahas was also invited to serve as an assistant for the full USWNT during various camps, where he conducted technical training sessions for the team.
Nahas is a native of East Northport, N.Y.  He and his wife, Nicole, have two sons, Crew and Grayson, and a daughter Harper.