JMU women's soccer announces updates to coaching staff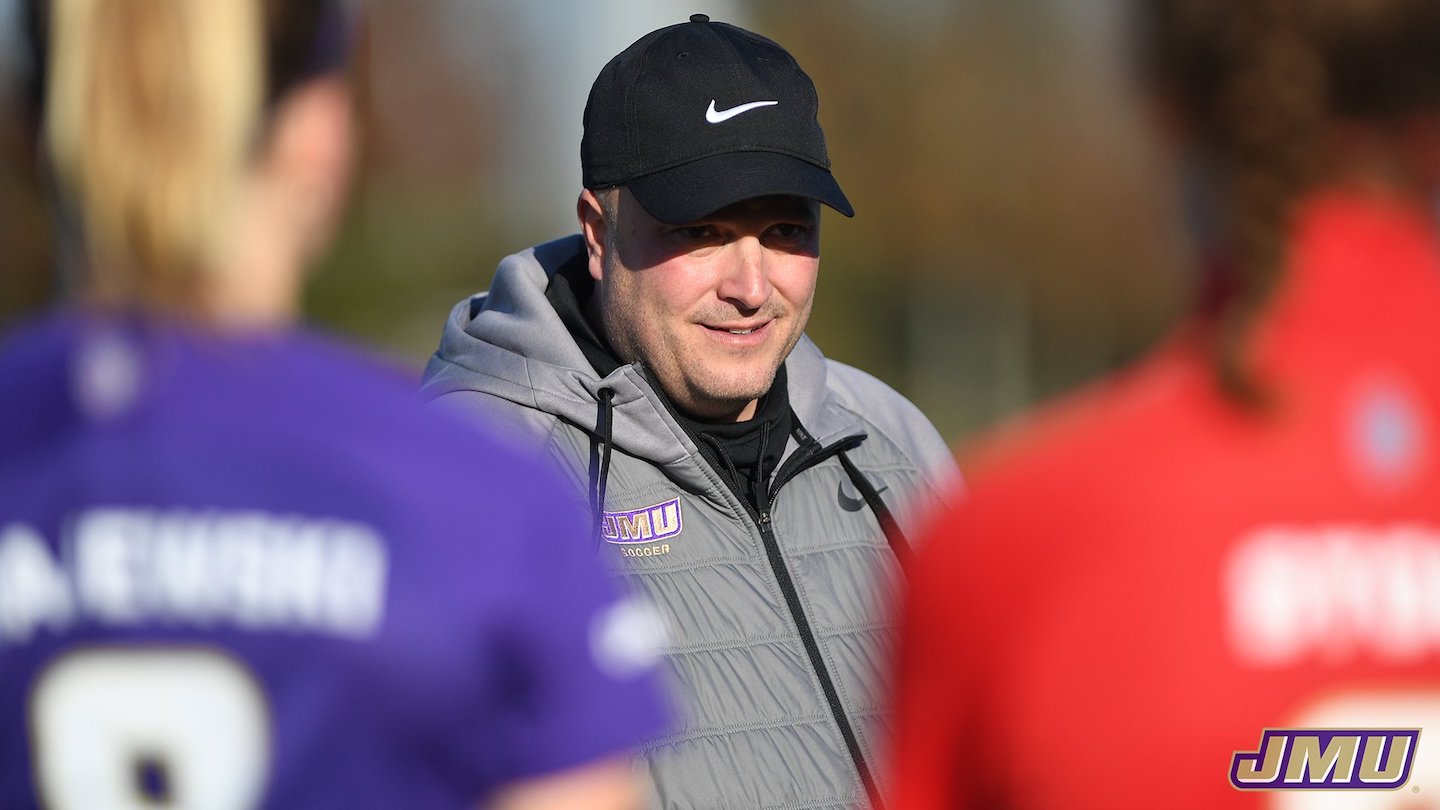 HARRISONBURG, Va. – James Madison women's soccer head coach Joshua Walters, Sr. has announced coaching staff changes prior to the Dukes' 2020-21 spring season, highlighted by the promotion of Colleen Boyd to Associate Head Coach.
In addition to Boyd's elevation, Walters has added JMU Hall of Fame member Nora Maguire White as the Dukes' Director of Performance Leadership and former JMU women's soccer standout Ashley Herndon as a Volunteer Assistant Coach.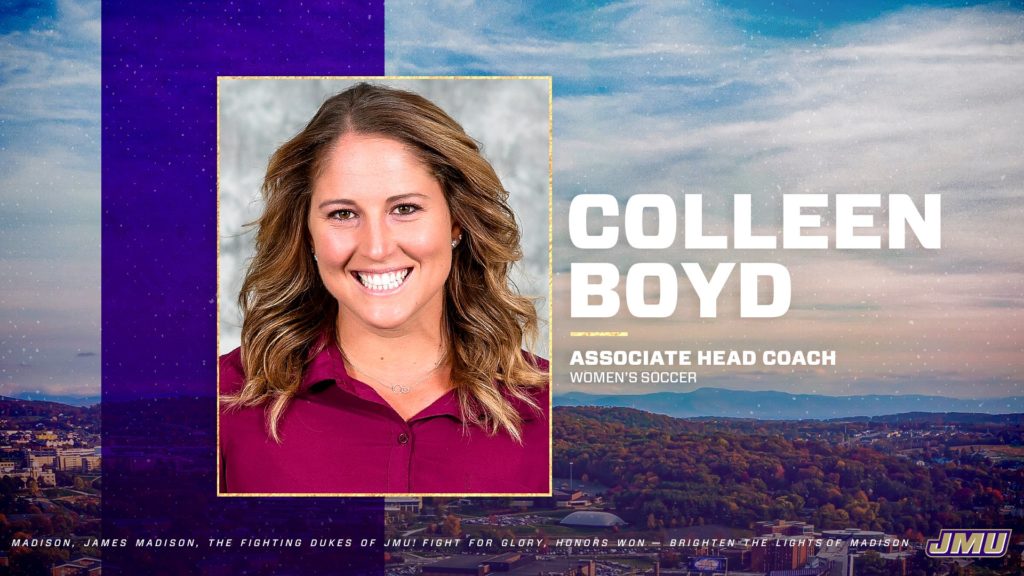 Boyd has been a crucial part of the Dukes' growth since arriving in Harrisonburg with Walters prior to the 2018 season. In just her first year, working primarily with JMU's goalkeepers, she helped the Dukes lead the league in regular-season shutout, highlighted by then-junior Hannah McShea setting the program record for solo shutouts by a junior with seven. McShea was named Second Team All-CAA in her first season as the Dukes' starting goalkeeper.
Prior to JMU, she found similar success at both Arizona State and Cal State Northridge and, in 2016, was selected for the National Soccer Coaches Association of America (NSCAA) 30 Under 30 program. Boyd was also a standout player at Oregon State, earning All-American and All-Pac 12 honors before ending her career with the most shutouts and lowest goals-against-average in program history.
"It's a genuine honor and privilege to be a part of the JMU Women's Soccer team," Boyd said. "As a staff, we are so proud of the success this program has achieved since we arrived in Harrisonburg three years ago. I would like to give a huge thank you to Head Coach Josh Walters for the daily opportunity to get to do what I love – I am so appreciative of his trust in me as I step into this new role and look forward to greater things to come for this program in the years ahead! Go Dukes!"
"I can't think of a more deserving person than Colleen to earn the title of Associate Head Coach," Walters said. "She is one of the top assistants in the country and I wouldn't be surprised if an AD tapped her soon to run her own program as she is more than ready. Colleen's growth mindset is something we all could hope to attain. As a goalkeeper she thrived in pressure situations and being uncomfortable to grow which I can clearly see as a coach that same mentality as she pushes herself and others around her to grow. Colleen is playing a massive role in who we will become as a team this year and the kind of soccer we will play."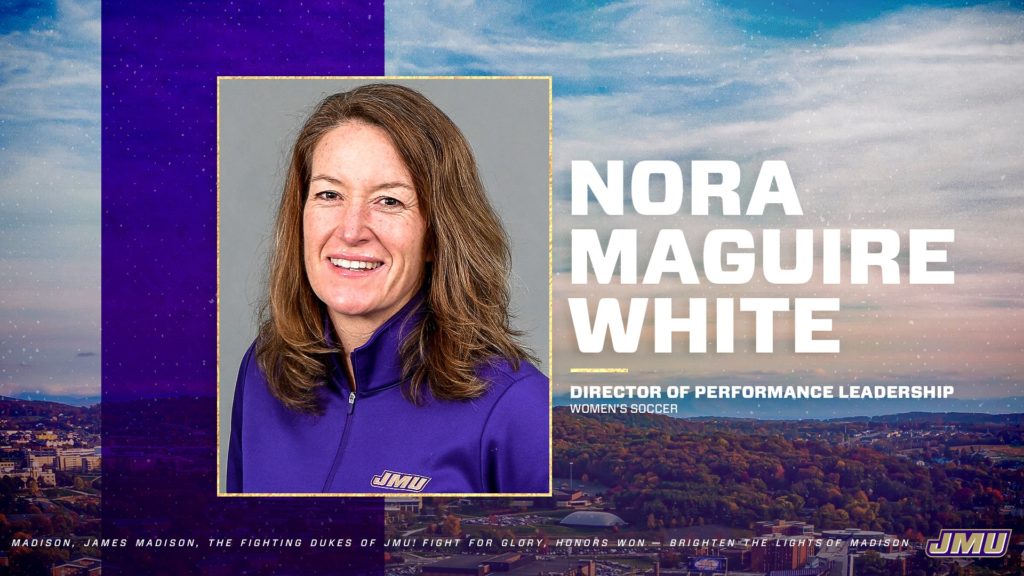 White officially returns to JMU after a Hall of Fame lacrosse career for the Dukes and continuing work in the athletics field with development of both athletes and coaches. While at JMU, she was a two-time All-American and three-time all-league selection, earning Player of the Year awards in two different conferences and playing on multiple national teams.
"I am ecstatic about combining my love for my alma mater, my long-standing friendship with Josh Walters and the experience I've developed over the last 30 years in coaching, player development, and coaching education in helping to build a high performance culture within the JMU Women's Soccer Program," White said.
"Nora will be the architect of our student-athlete-led team culture," Walters said. "Providing education, context and action to maximize our ability to perform on and off the field through development of personal/individual and team culture and values. She is able to connect our vision of the future to the soul of what JMU is: having a JMU Hall-of-Famer who is one of the best soccer coaching educators in the country join our staff is monumental in advancing our goals to be a top team nationally."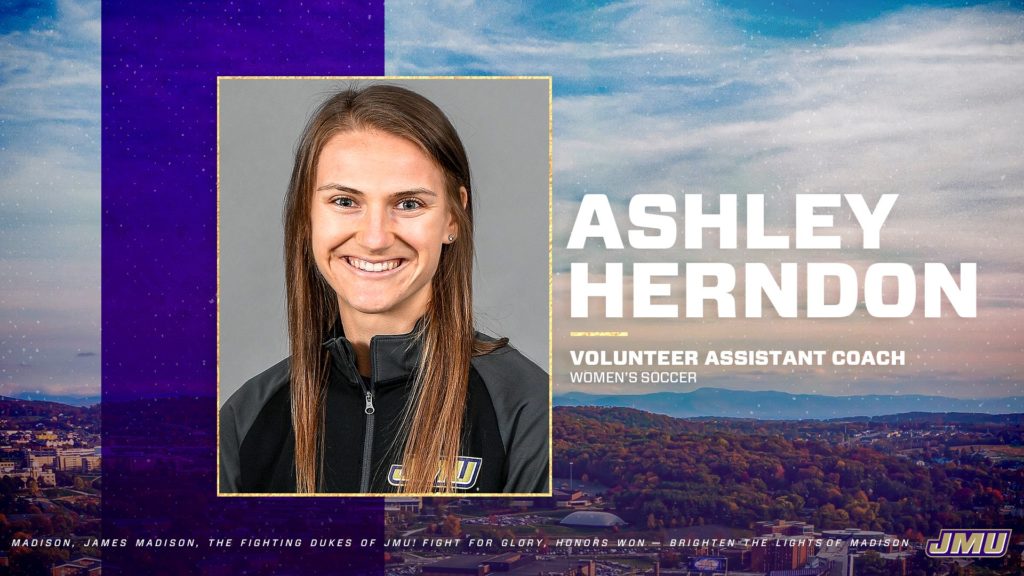 Herndon comes back to her alma mater as one of the most successful players in program history, having started every game of her career on her way to four straight All-CAA selections and the 2016 CAA Player of the Year award. After finishing her career in 2016, she still ranks fourth in program history in career goals (37) and points (101) and holds program records for game-winning goals in a season (8) and consecutive games with at least one point (9).
"Joining the JMU women's soccer staff is very special to me," Herndon said. "Ever since graduating, I have wanted to come back and be part of this program. I am only a couple weeks in and I have already learned so much about what happens behind the scenes and on the coaching side to build a successful program. I am enjoying it so much already and it feels great to be back at JMU!"
"Any program would be lucky to have a coach join their ranks with the professional playing background that Ashley brings, but what makes this so special is that she is one of the most decorated JMU Dukes in program history," Walters said. "I am honored that Ashley would choose to come back to join the staff at the end of her professional playing career. With her high level experience, I expect Ashley will catch on quickly to college coaching and help advance our player development. She will impact our players immediately, as she has already walked in the pathway that so many of them dream to follow."
The Dukes are set to open their 2020-21 spring season on Sunday afternoon, hosting Old Dominion in Harrisonburg at 3 p.m.