Michigan State women's soccer head coach Tom Saxton retires after 30-year tenure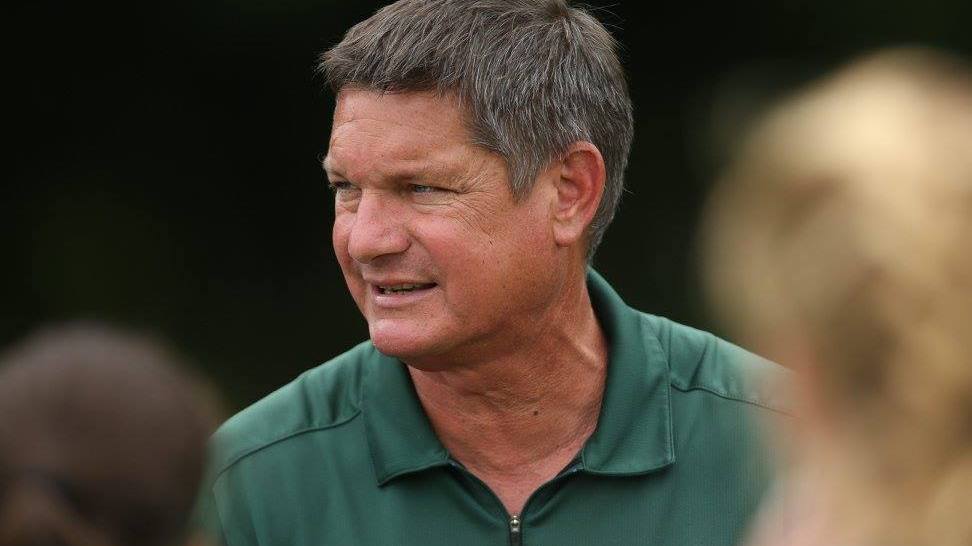 EAST LANSING, Mich. – Michigan State women's soccer head coach Tom Saxton announced his retirement on Thursday.
Saxton just completed his 30th season at the helm of the Spartans and was the longest tenured women's soccer coach in the Big Ten Conference. Associate head coach Tammy Farnum will serve as interim head women's soccer coach.
"It has been an honor and privilege to serve Michigan State University, my alma mater, for the past 35 years," Saxton said. "I have always felt that the people in the Spartan Family are what makes this place so special and I have had the opportunity to work with so many special people throughout my career. I want to first thank my wife, Suzie, and my three sons, Noel, Nick and Kellen. It is not easy to have a college coach for a husband and a dad, and I appreciate all their love and support through the years.
"I want to also thank my staff, longtime associate head coach Tammy Farnum, assistant coach Stacy DeLonge, current volunteer coach Madison Pollard, as well as all those who have served on our staff over the years. I deeply appreciate everyone's hard work, loyalty and support," Saxton added. "I am very proud of the truly special relationship that has continued between our women's and men's soccer programs for the past 35 years, and I want to sincerely thank my mentor, Joe Baum, for establishing the foundation, as well as all he's done for me personally. I would also like to thank our men's coach, Damon Rensing for continuing this special partnership and for his personal and professional support. I also appreciate all the men's staff members over the years for their friendship and hard work."
A life-long Spartan, Saxton earned three letters as a player before returning to campus in 1986 to assist legendary Spartan soccer coach Joe Baum with both the men's and the new women's program. Saxton was named the second head coach in the history of the women's soccer program on June 1, 1991. In 30 seasons, Saxton's career record stands at 274-252-56.
"Tom Saxton's name is synonymous with Spartan women's soccer as he has been a part of the program since its first season in 1986, including serving as head coach for the last 30 seasons. He's impacted the lives of so many women in a positive manner during that time, helping them excel athletically and academically, while preparing them for a successful life once they leave Michigan State," Michigan State Vice President and Athletic Director Bill Beekman said. "Spartan soccer truly is a family environment, and Tom's stability and continuity have played a large role in creating that culture. What he's accomplished as a player, an assistant coach and a head coach have left an indelible mark in the history of Spartan soccer. It will certainly feel different next year without him on the sidelines, but we all wish Tom, his wife Sue, and the entire Saxton family happiness as he enters retirement."
Spartan players have collected a total of 42 All-Big Ten honors, including MSU's first Conference Player of the Year, Karen Winslow in 1994, and Laura Heyboer, the 2008 Offensive Player of the Year.
Under Saxton's guidance, the Spartans have always found success in the classroom as well, receiving 375 Academic All-Big Ten honors since women's soccer was incorporated into the Big Ten in 1994. In 2021, Saxton's team had 21 players who were awarded Academic All-Big Ten honors. In 2016, captain Sarah Kovan was named MSU's 17th Rhodes Scholar.
A two-time Big Ten Conference Coach of the Year, Saxton, earned his 150th victory in the opening-round of the 2006 NCAA Tournament. It was MSU's first-ever NCAA Tournament win. Saxton's Spartans posted a 12-6-5 record in 2005, their sixth-straight season with double-digit wins. He attained his 200th victory against DePaul in the 2011 opener.
"All the members of our athletic department administration, our support staff, and especially my fellow coaches, have been so great to work with through all these years. There are so many special Spartans that have touched my life and inspired me and I am very thankful to them all," Saxton added. "Finally, and most importantly, I want to thank all the student-athletes whom I've had the opportunity to work with over the years. I am extremely proud of all their success academically, athletically and in our community. So many have become, and will continue to become, positive contributors to our society. I have indeed had the privilege to work with so many great young people. They have all truly enriched my life and for that I am eternally grateful."
A member of the 1993 NCAA Tournament Selection Committee, Saxton owns a national USSF License. He has always had a focus on service of the sport. He has been a member of the United Soccer Coaches College Ranking committees since 2010, as the Chair of the North Regional Ranking committee and the Big Ten representative to the national ranking committee.
Saxton and his wife, Sue, have three sons: Noel, Nicholas, and Kellen, who are all Michigan State graduates.