Big East Women's Soccer Players of the Year and All-Conference Teams unveiled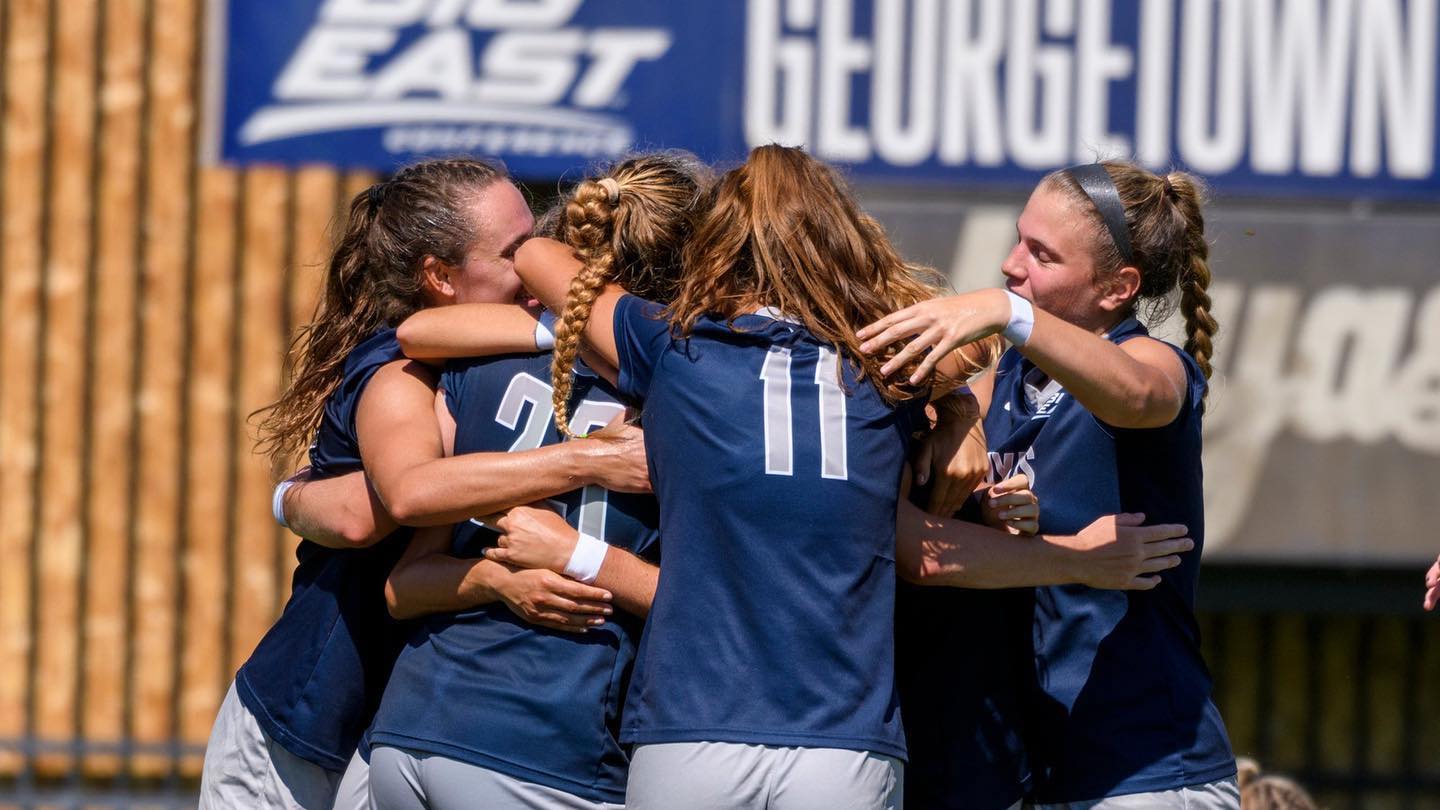 NEW YORK – With the BIG EAST Women's Soccer Championship beginning on Friday in Providence, R.I., the Conference's annual regular season awards were announced on Thursday.
Georgetown, which finished atop the East Division standings, claimed three of the six major awards as senior forward Jenna Menta was named BIG EAST Offensive Player of the Year, graduate student Daisy Cleverley was voted BIG EAST Midfielder of the Year and senior defender Kelly Ann Livingstone was tabbed BIG EAST Defensive Player of the Year. UConn redshirt-senior Randi Palacios and Butler redshirt-junior Stephanie Rodriguez were named BIG EAST Co-Goalkeepers of the Year, Providence forward Meg Hughes was tabbed BIG EAST Freshman of the Year, and Creighton, led by head coach Ross Paule, was voted BIG EAST Coaching Staff of the Year.
All-BIG EAST Teams and major awards were selected by a vote of the league's head coaches who were not allowed to vote for their own players or coaching staff.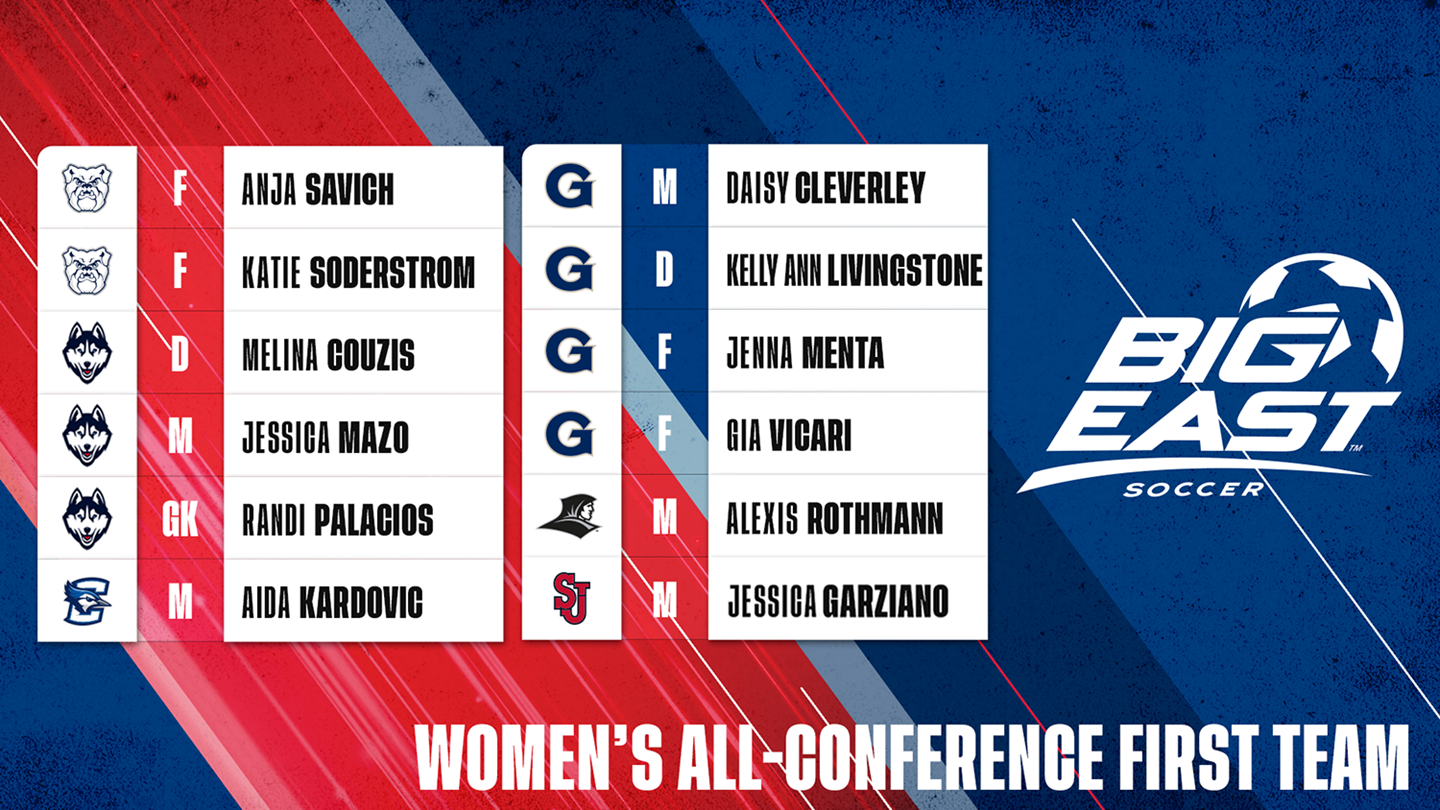 Over eight East Division matches, Georgetown's Menta tallied 11 points off three goals and five assists. Her five assists led all BIG EAST players in conference play, while her points tally listed second and goals fourth. Menta added two assists over the Hoyas' two non-conference wins as she enters the postseason with 13 points on the season. Menta is the second Georgetown forward to claim BIG EAST Offensive Player of the Year honors in the last three seasons, following Caitlin Farrell in 2018.
Cleverley becomes the eighth Georgetown player to garner BIG EAST Midfielder of the Year honors, all since 2010, including 2019 honoree Paula Germino-Watnick. In her first season on the Hilltop, Cleverley tallied two goals and an assist, all coming in East Division play. The graduate student transfer from California helped facilitate a Georgetown scoring offense which ranks ninth nationally.
Livingstone is the fourth straight Hoya to be voted BIG EAST Defensive Player of the Year following two-time honoree Meaghan Nally and Elizabeth Wenger. Livingstone anchors a defense which has surrendered just one goal over 10 matches this season, boasting a team goals against average of 0.108 to rank No. 2 among all Division I programs. Georgetown outscored its East Division foes by a 20-1 margin, outshooting them 133-35, including 58-14 on goal. The Hoyas have nine shutouts on the year.
Butler's s Rodriguez finished Midwest Division play with a 0.42 goals against average and .906 save percentage, collecting four shutouts and a 6-1-0 record. Among conference goalkeepers with at least 500 minutes in the cage, Rodriguez was first in GAA, shutouts and save percentage. Competing in the BIG EAST for the first time, Palacios tied Rodriguez for the league lead with four solo clean sheets, and was listed second among keepers with at least 500 minutes in GAA (0.58) and save percentage (.868). Both have been active in the box, with Rodriguez averaging 4.14 saves per game to Palacio's 3.67 per contest. Overall, Rodriguez enters the postseason with a 0.59 GAA and .850 save percentage, while Palacios shows a 0.47 GAA and .878 save percentage. The two will be on display in the BIG EAST Championship Semifinals as Butler faces UConn on April 16 at 5 p.m. ET.
Over 10 East Division contests, Hughes led the Friars and ranked third in the BIG EAST with 10 points. Her four assists in divisional play ranked second among all BIG EAST players, while her three goals listed fourth. Hughes finished her first season at Providence with a team-high 14 points off four goals and six assists, with the assists tally ranking second among all BIG EAST players.
Led by sixth-year head coach Paule, Creighton clinched its first BIG EAST Championship bid in program history. Picked to finish last in the Midwest Division, the Bluejays claimed runner-up honors with a 4-4-0 record, which included wins over the top two teams in the division's preseason poll – DePaul and reigning BIG EAST Champion Xavier. Creighton swept Marquette during the regular season to clinch the postseason berth.
Due to a tie in voting, a 12-member All-BIG EAST First Team was named, which included Menta, Livingstone and Cleverley from Georgetown, along with fellow Hoya Gia Vicari; Butler junior forwards Anja Savich and Katie Soderstrom; UConn's Palacios along with senior defender Melina Couzis and sophomore midfielder Jessica Mazo; Creighton redshirt-sophomore midfielder Aida Kardovic; Providence sophomore midfielder Alexis Rothamnn; and St. John's sophomore midfielder Jessica Garziano.
Additionally, 14 student-athletes were named to the All-BIG EAST Second Team, with the Hoyas leading the way with three selections: Lauren Gallagher (Grad., GK), Julia Leas (So., D) and Jenna Royson (Jr., D). Fellow BIG EAST Championship participants Butler (Rodriguez and Aliya Diagne, So., D) and Creighton (Ansley Atkinson, Jr., M; Skylar Heinrich, So., F) placed two apiece on the second team, as did tournament host Providence, with Hughes along with senior defender Christina Rodgers. UConn, which will also compete in this weekend's postseason tournament, had one player named to the second team (Yamilee Eveillard, Sr., F), as did DePaul (Morgan Turner, Sr., F), Marquette (Katrina Wetherell, Jr., M), St. John's (Zsani Kajan, R-Sr., F) and Xavier (Molly McLaughlin, Jr., M).
A total of 14 newcomers were named to the All-Freshman Team, with Hughes leading a pack of three Friars on the squad. She was joined by defender Avery Snead and goalkeeper Emma Bodmer. Butler (forward Alli Leonard, defender Caitlin O'Malley) and UConn (midfielder Lucy Cappadona, forward Jada Konte) also earned multiple All-Freshman Team slots. Creighton defender Maddie Radke, DePaul left back Grace Phillpotts, Georgetown midfielder Erin Martin, Marquette forward Elsi Twombly, St. John's midfielder Ava Collins, Villanova defender/midfielder Emma Weaver and Xavier forward Sonia Vargas rounded out the list of honorees.
BIG EAST Offensive Player of the Year
Jenna Menta, Georgetown, Sr., F
BIG EAST Midfielder of the Year
Daisy Cleverley, Georgetown, Grad., M
BIG EAST Defensive Player of the Year
Kelly Ann Livingstone, Georgetown, Sr., D
BIG EAST Co-Goalkeepers of the Year
Randi Palacios, UConn, R-Sr., GK
Stephanie Rodriguez, Butler, R-Jr., GK
BIG EAST Freshman of the Year
Meg Hughes, Providence, Fr., F
Coaching BIG EAST Staff of the Year
Creighton
All-BIG EAST First Team^
Anja Savich, Butler, Jr., F
Katie Soderstrom, Butler, Jr., F
Melina Couzis, UConn, Sr., D
Jessica Mazo, UConn, So., M
Randi Palacios, UConn, R-Sr., GK
Aida Kardovic, Creighton, R-So., M
Daisy Cleverley, Georgetown, Grad., M
Kelly Ann Livingstone, Georgetown, Sr., D
Jenna Menta, Georgetown, Sr., F
Gia Vicari, Georgetown, So., F
Alexis Rothmann, Providence, So., M
Jessica Garziano, St. John's, So., M
All-BIG EAST Second Team^
Aliya Diagne, Butler, So., D
Stephanie Rodriguez, Butler, R-Jr., GK
Yamilee Eveillard, UConn, Sr., F
Ansley Atkinson, Creighton, Jr., M
Skylar Heinrich, Creighton, So., F
Morgan Turner, DePaul, Sr., F
Lauren Gallagher, Georgetown, Grad., GK
Julia Leas, Georgetown, So., D
Jenna Royson, Georgetown, Jr., D
Katrina Wetherell, Marquette, Jr., M
Meg Hughes, Providence, Fr., F
Christina Rodgers, Providence, Sr., D
Zsani Kajan, St. John's, R-Sr., F
Molly McLaughlin, Xavier, Jr., M
All-Freshman Team^
Alli Leonard, Butler, F
Caitlin O'Malley, Butler, D
Lucy Cappadona, UConn, M
Jada Konte, UConn, F
Maddie Radke, Creighton, D
Grace Phillpotts, DePaul, Left Back
Erin Martin, Georgetown, M
Elsi Twombly, Marquette, F
Emma Bodmer, Providence, GK
Meg Hughes, Providence, F
Avery Snead, Providence, D
Ava Collins, St. John's, M
Emma Weaver, Villanova, D/M
Sonia Vargas, Xavier, F
^extra players added due to ties in voting