Big Ten unveils 2020-2021 all-conference teams and individual awards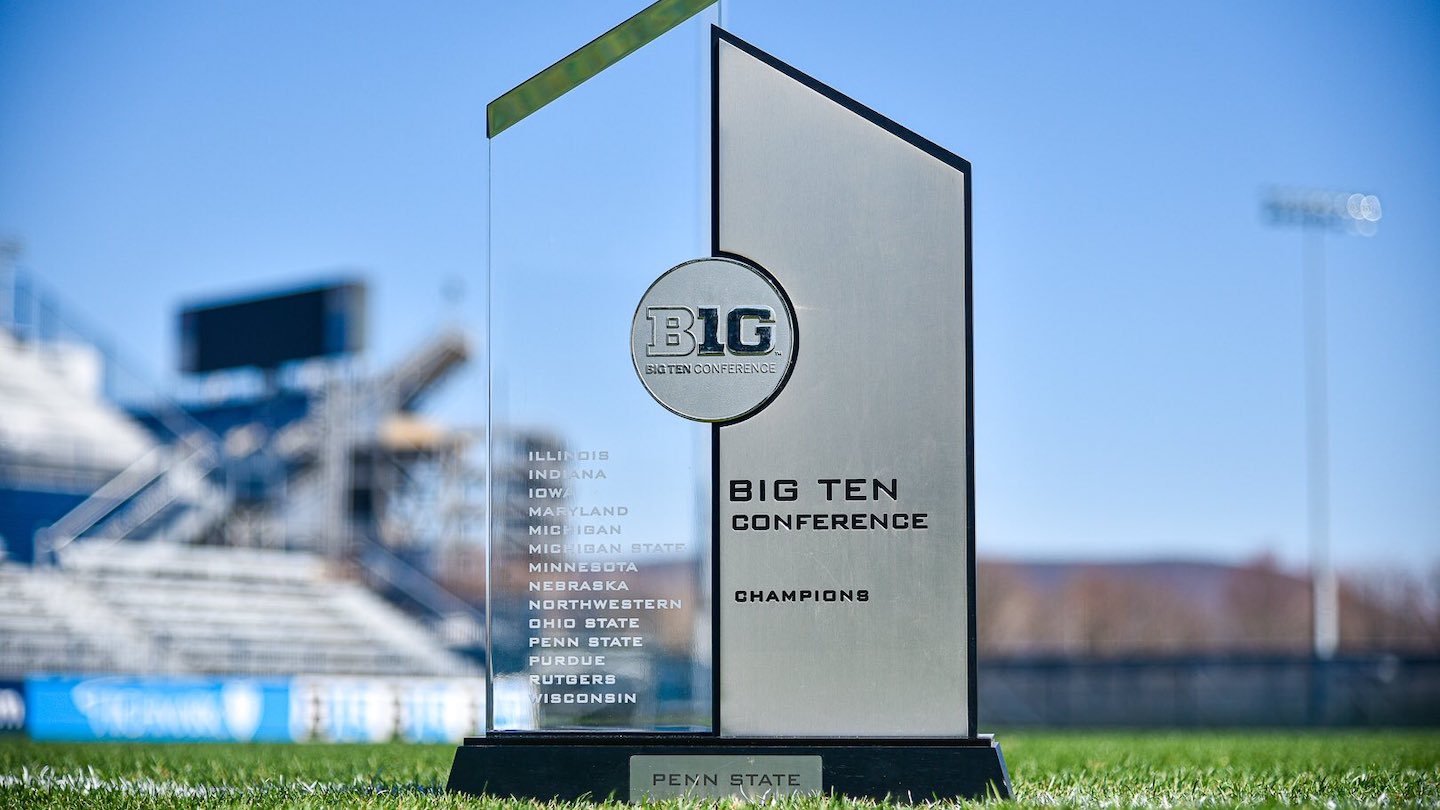 ROSEMONT, Ill. – The Big Ten Conference announced the 2020-21 Women's Soccer All-Big Ten Teams and individual honors today, with Big Ten Champion Penn State earning four individual accolades, according to a vote of the conference's 14 head coaches.
The Nittany Lions' Ally Schlegel was selected as the Forward of the Year, Sam Coffey collected Midfielder of the Year honors, Eva Alonso was chosen as Co-Freshman of the Year, and Erica Dambach was voted Coach of the Year. In addition, Ohio State's Izzy Rodriguez was named Defender of the Year and Peyton McNamara earned Co-Freshman of the Year accolades, while Wisconsin's Jordyn Bloomer was the Goalkeeper of the Year.
Schlegel, who is among seven Big Ten student-athletes on the 2020-21 MAC Hermann Trophy Watch List, leads the Big Ten in goals (11), game-winning goals (3) and points (27) this season, while tying for third in total shots on goal (22). The sophomore from Parker, Colo., is the second Penn State player to earn the Big Ten Forward of the Year award and first since Maya Hayes received back-to-back honors in 2011 and 2012.
[2020-21 Big Ten Women's Soccer All-Conference Teams/Individual Honorees]
Also a Hermann Trophy candidate, Coffey is tops in the Big Ten with nine assists and three game-winning goals this season, in addition to ranking third in goals (6) and points (21) and tying for sixth in total shots on goal (16). A top-10 finalist for the Senior CLASS Award and resident of Sleepy Hollow, N.Y., Coffey is the fourth Nittany Lion chosen for the Big Ten Midfielder of the Year award and second in three seasons, joining Christine Nairn (2012), Raquel Rodriguez (2014) and Emily Ogle (2018).
As a senior, Rodriguez has anchored the Buckeyes' defense this season, starting the past 10 games and helping Ohio State go unbeaten in eight of those contests, including three shutouts. She also scored the game-winning goal in the Buckeyes' 2-1 victory at Illinois on March 21. Originally from Canton, Mich., Rodriguez is the second Ohio State student-athlete to garner Defender of the Year honors and first since Morgan Wolcott in 2017.
Bloomer, another of the Big Ten's Hermann Trophy candidates and a finalist for the Senior CLASS Award, is the second two-time recipient of the Big Ten Goalkeeper of the Year and the first to do so in consecutive seasons (Rutgers' Casey Murphy was selected in 2015 and 2017). A three-year starter at Wisconsin, Bloomer leads the conference with seven shutouts and a 0.58 shutout percentage, ranks second with a 0.63 goals-against average, and is third with an .826 save percentage. The Hartland, Wis., senior is the third Badger named Goalkeeper of the Year, along with Michelle Dalton (2011) and Genevieve Richard (2014).
Alonso and McNamara are the second co-recipients of the Big Ten Freshman of the Year and the first since 1995, the second year the award was presented. That season, Indiana's Tracy Grose shared the honor with Ohio State's Jennifer Plante.
Alonso has emerged as an integral piece of Penn State's defense this season, as the Nittany Lions have allowed just two goals in their last six games and recently had a streak of 421 consecutive scoreless minutes from March 21 through April 11. A native of Villanueva del Pardillo, Spain, Alonso is the 10th Penn State student-athlete voted Big Ten Freshman of the Year and the second in as many seasons, following Schlegel's selection in 2019.
McNamara has been a dynamic offensive weapon for Ohio State this season, ranking seventh in the conference in goals (5) and eighth in game-winning goals (2) and points (12). A product of Norwalk, Conn., McNamara is the fourth Buckeye to be named Big Ten Freshman of the Year, along with Plante, Lisa Grubb (2001) and Lara Dickenmann (2004).
Dambach was chosen by her peers as the Big Ten Coach of the Year for the fifth time, having previously received the award in 2009, 2012, 2014 and 2018. She is the second five-time recipient of the honor, joining current Wisconsin coach Paula Wilkins, who has earned that distinction seven times (twice at UW following five selections at Penn State).
This season, Dambach has guided Penn State, which is up to No. 4 (and receiving two first-place votes) in the latest United Soccer Coaches poll, to a 10-1-1 record, including a 9-1-1 mark during the Big Ten slate. The Nittany Lions also won their 20th Big Ten title and are set to play host to the Big Ten Tournament semifinals and championship game later this week, as PSU seeks to become just the second school to earn back-to-back tournament titles (it also did so in 2000 and 2001).
Schlegel, Coffey, Rodriguez and Bloomer earned spots on the All-Big Ten First Team (Schlegel was a unanimous selection) and were joined by Michigan's Nicki Hernandez and Alia Martin, Ohio State's Kayla Fischer, Penn State's Frankie Tagliaferri, Rutgers' Amirah Ali and Gabby Provenzano, and Wisconsin's Maia Cella. The complete All-Big Ten teams, including the Big Ten All-Freshman Team, can be found below.
The Big Ten also recognized 14 Sportsmanship Award honorees. The students chosen are individuals who have distinguished themselves through sportsmanship and ethical behavior. These students must also be in good academic standing and have demonstrated good citizenship outside of the sports-competition setting. The complete list of honorees can be found below.
The Big Ten Tournament kicks off Thursday from Jeffrey Field in University Park, Pa., with semifinal action as host Penn State takes on Iowa at 5 p.m. (ET), followed by Rutgers against Wisconsin at 7:30 p.m. (ET). The Big Ten Tournament championship game will be played at noon (ET) April 18, also at Jeffrey Field. All three tournament games will be televised live on the Big Ten Network, as well as FOX Sports Go and the FOX Sports app.
The complete Big Ten Tournament bracket, along with additional information including the official tournament program, is available at bigten.org/wsoc and on Twitter @B1GSoccer.
2020-21 All-Big Ten Women's Soccer Teams and Individual Honors
Coach of the Year: Erica Dambach, Penn State
Forward of the Year: Ally Schlegel, So., Penn State
Midfielder of the Year: Sam Coffey, Sr., Penn State
Defender of the Year: Izzy Rodriguez, Sr., Ohio State
Goalkeeper of the Year: Jordyn Bloomer, Sr., Wisconsin
Co-Freshmen of the Year: Peyton McNamara, Ohio State/Eva Alonso, Penn State
First Team All-Big Ten
Second Team All-Big Ten
Third Team All-Big Ten
All-Freshman Team
Forward
Nicki Hernandez, Michigan
Emma Sears, Ohio State
Makena Silber, Illinois
Sammi Woods, Michigan
Kayla Fischer, Ohio State
Payton Linnehan, Penn State
Nneka Moneme, Rutgers
Peyton McNamara, Ohio State
ALLY SCHLEGEL, Penn State
Sarah Griffith, Purdue
Cameron Murtha, Wisconsin
Sam Kroeger, Rutgers
Amirah Ali, Rutgers
Midfield
Sam Coffey, Penn State
Raleigh Loughman, Michigan
Kendra Pasquale, Illinois
Sophia Boman, Minnesota
Frankie Tagliaferri, Penn State
Sarah Stratigakis, Michigan
Avery Lockwood, Indiana
Josie Aulicino, Northwestern
Maia Cella, Wisconsin
Katie Duong, Minnesota
Alyssa Baumbick, Ohio State
Becci Fluchel, Rutgers
Grace Walsh, Purdue
Defense
Alia Martin, Michigan
Anna Aehling, Indiana
Athena Kuehn, Minnesota
Joanna Verzosa-Dolezal, Illinois
Izzy Rodriguez, Ohio State
Oliwia Wos, Indiana
Hallie Pearson, Northwestern
Anna Aehling, Indiana
Gabby Provenzano, Rutgers
Eva Alonso, Penn State
Talani Barnett, Ohio State
Eva Alonso, Penn State
Sammy Kleedtke, Wisconsin
Emma Misal, Rutgers
Goalkeeper
Jordyn Bloomer, Wisconsin
Meagan McClelland, Rutgers
Hillary Beall, Michigan
MACY ENNEKING, Iowa
Unanimous selections in ALL CAPS
2020-21 Big Ten Sportsmanship Award Honorees
Jayna Fittipaldo
Senior
Illinois
Karlee Luker
Sophomore
Indiana
Diane Senkowski
Senior
Iowa
Hope Lewandoski
Senior
Maryland
Janiece Joyner
Junior
Michigan
Michelle Herring
Senior
Michigan State
Delaney Stekr
Junior
Minnesota
Theresa Pujado
Senior
Nebraska
Francesca Docters
Junior
Northwestern
Kayla Fischer
Junior
Ohio State
Kerry Abello
Senior
Penn State
Hannah Melchiorre
Senior
Purdue
Gabby Provenzano
Senior
Rutgers
Isabelle Verdugo
Sophomore
Wisconsin