UConn women's soccer signs 10 incoming freshmen, including 3 NEFC standouts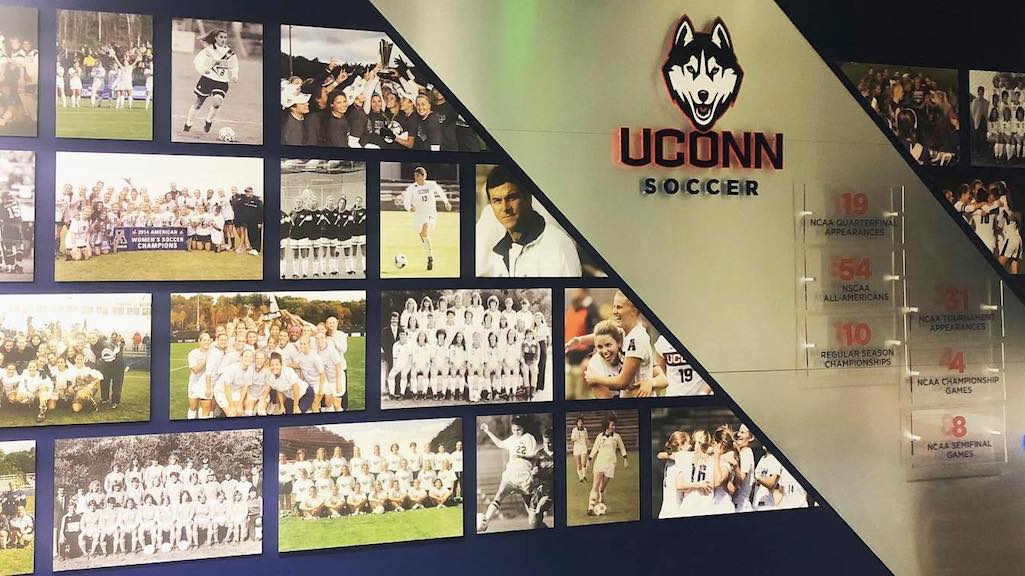 STORRS, Conn. – The UConn women's soccer team announced the addition of 10 incoming freshman to the class of 2025 on Monday morning.
Read up on all 10 incoming Huskies and what they have to say and head coach Margaret Rodriguez is saying about their arrival to Storrs.
Evelyn Arsenault | Defender | Ottawa Ontario
Mags on Evelyn – "Evey is a very composed and smart defensive player. She will look to impact our back line as a center back. Her strengths are her vision and ability to play out of the back, 1v1 defending and her communication and leadership skills. She has experience at the international level which will only help her transition to the college game very well."
Why I chose UConn: "I chose UConn because it has the perfect balance of athletic and academic excellence. The soccer team is extremely competitive, has a great sense of family and togetherness, and is led by an amazing group of coaches. I can't think of a better place to spend my next 4 years!"
Played for Ottawa South United club team. She received the 2019 EOMSS Junior Female Athlete of the Year after becoming first team to win the OPDL Shield, Cup and League in the same season. Was a two-time Ontario Charity Shield champion in 2018 & '19. Showed her leadership by being a team captain for the Ottawa South United Women's PLSQ in 2020 and captained the Ottawa South United GU17 OPDL. She was selected to train with Vancouver Whitecaps Girls REX in 2018. In 2019, she was the starting center back on WU17 Team Latvia.
Abbey Jones | Midfielder | Nottingham, England
Mags on Abbey – Abbey is a strong offensive minded player that will bring wealth of experience to our midfield or striker position. She is powerful on the dribble that can help set up goals and score goals.  She has experience at the highest level in England and we are excited to see her impact over here.
Why I chose UConn: "I am so excited to meet the rest of the UConn team, staff and play and train in world class facilities."
Abbey Jones represented England on their u-15, u-16 and u-18 youth national team camps.
Abby Kern | Defender | Middlefield, Connecticut
Mags on Abby– Abby is a fun player to watch. She is quick, technical and so competitive on the field. She has an engine that can get up and down our flank and will look to impact as an outside back.
Why I chose UConn:"As I begin my college career at UConn I'm excited about the the large school spirit and being able to compete at a division one level. I'm ecstatic about making friendships that could last a life time. Lastly, I'm thrilled to discover myself independently away from home."
Played three seasons at Saint Mary's high school in Stockton, Calif. Was a two-time All-TCAL performer during her time under head coach Michelle Coleman. Kern won Rookie of the Year honors in 2018 and was a Tri-City Athletic League MVP defender. Played her club soccer at Oakwood. Also lettered two season in cross country.
Sophie McCarthy | Midfielder | Walpole, Mass.
Mags on Sophie – "Macca is a strong addition to our program who is very versatile up the middle of the field.  She can play any of the three midfield positions and can also compete in the back line for us.  She has a range to her game and can distribute over distance easily and she can be a threat on goal coming from an attacking mid position.  She is very good with the ball at her feet and dominant in the air and we are excited to finally call her a Husky."
Why I chose UConn: "I chose UConn because I get the best of many things: a great academic opportunity, world class athletic facilities, a beautiful campus, while still being not too far from home".
Played her club soccer for the New England football club. She helped lead her club squad to a pair of NPL National Championships and a U.S. Club National Championship. Made the conference all-star team at Walpole high school under head coach Callum Maclean.
Peyton Pettiford-Rowan | Midfielder | Florence, Mass.
Mags on Peyton – Peyton is one of those players that makes the game work for her team.  She has an opportunistic mind on the field and is great at connecting in the final third. Her tactical speed coupled with her technical ability on the ball is what separates herself from others. She is versatile in any of our attacking positions out wide or in the middle.  She has deceptive speed and we are intrigued to see her impact our team and program over the next 4 years.
Why I chose UConn: "I grew up watching UConn Women's Basketball with my family so UConn was always on my list. The soccer team's chemistry and work ethic immediately stood out to me and I know that UConn will challenge me both academically and athletically."
Played for NEFC GA and helped lead the club to US Soccer Nationals U16 Championship in 2019. Was a two-time Massachusetts State Cup champion in 2018 & '19. Played for head coach Peter Albright at North Mount Hermon School. Earned NEPSAC All-Star selection during her junior year. Lettered two years in track. Competed in New Balance Nationals in 2019.
Yasmin Rosewell | Defender | Longmeadow, Mass.
Mags on Yasmin – Yaz is one of the most athletic players we are bringing in.  She will look to compete in our back line as either an outside back or center back.  She is fast, strong and very tough to beat 1 vs 1. She has the work rate and discipline to match her physical qualities.  She will be a great addition to our back line and we can't wait to see her continue to grow and mature in the game at this level.
Why I chose UConn: "The first time I stepped on campus I felt like I belonged. It was obvious how much the coaches and team valued unity and hard work and I knew I wanted to be part of that. I look forward to being part of this amazing team and community for the next four years."
Played her club soccer at NEFC 03 West Elite. During her time there, helped lead the team to the 2019 US Club Soccer National Championship. Earned two State Cup championships. Played four seasons under head coach Gina Pantuosco at Longmeadow high school. Earned 2020 All-State recognition while team captain. 2020 First Team All-Western Massachusetts. Lettered four seasons in track. 2018 States Divisional 4×400 relay Champion. Competed in the high jump and long jump.
Joyce Ryder | Midfielder | Marlboro, NY.
Mags on Joyce – Joyce is a powerful central player that can impact our game anywhere from a centerback to a center mid. She is dominant in the air and a very good playmaker. She is comfortable with both feet and will add a different dimension to our midfield or backline.
Why I chose UConn: "I fell in love with the campus energy the second I arrived for my first visit and it checked all of my academic boxes. Once I stepped on the soccer field for my first clinic, I immediately felt supported by both the players and the coaching staff. The coaching staff makes team bonding a priority while still creating a competitive environment. I picked UCONN because it felt like home and I look forward to making it my home for the next four years!"
Played club soccer at New York Soccer club. Led her to team to No. 10 national ranking in 2020-21 while serving as their team captain. Played for head coach Keith Walker at Marlboro high school for two seasons in 7th and 8th grade but couldn't play high school soccer due to club team obligations. Lettered four seasons for high school basketball team.
Mary-Katherine Ward | Goalkeeper | Holliston, Mass.
Mags on Mary Katherine – MK brings a great presence to the goal. Her size and athleticism enables her to cover a lot of ground, as well as dominate in the air. She has strong leadership qualities that will add to our back line and I am excited to see how she continues to develop here at UConn.
Why I chose UConn:
"I chose UConn because it was the best fit for me overall. The investment into the program, strength of the academic science field and relationships I formed with the coaches were big deciding factors."
Played for FC Stars of Massachusetts club team. Lettered two seasons for head coach Brielle Chadsey at Holliston high school. Was a two-time Boston Globe All-Star, All-Scholastic and took home Boston Globe D2 Player of the Year honors. United Soccer Coaches All-Region and All-New England performer. Won the school's first state championship and never lost a game in her two years at Holliston.
Samantha Wilkins | Goalkeeper | Holtsville, N.Y.
Mags on Samantha– Sam is a quick, explosive goalkeeper. Her strengths are 1 v 1 situations, as she is fast and confident coming off of her line. She has a strong work ethic and a great attitude. Sam will fit right into our goalkeeper unit.
Why I chose UConn: "With a perfect location, perfect academic programs, and an amazing soccer team, how could someone not want to go here? No matter which academic path I plan to go down, I can ensure that I am receiving an amazing education. When I first visited UConn, it had a very homey, welcoming feel to it. As I visited many other universities, nothing compared to my first visit at UConn. My heart was set before I even met the UConn soccer family. Once I attended my first ID clinic, I knew this was where I wanted to go. The bond the team had was truly remarkable. It is so clear that the coaching staff values building an unbreakable bond between the team. I am so beyond excited to continue my academic and athletic career at this school and I can't wait to see what the future holds!"
Played club soccer at New York Surf Soccer Club where she was the team captain. Was selected to play in the Gothia Cup in Sweden by a select team while playing at the club. Also played volleyball in high school. Received Scholar Athlete Award while playing for head coach Tom Anson at Sachem East.
Laci Lewis | Defender | West Haven, CT
Mags on Laci – Laci is a great addition to our roster simply put.  She is extremely athletic and is versatile on the field.  She currently is a center back but we feel with her athleticism she can impact anywhere on the flank from a forward to an outside back in addition to the center back roll. She is a player who has a ton of potential and once she in our environment consistently we know she will flourish.
Why I chose UConn: "As soon as I stepped on campus I knew that there was no comparison to the pride of being a Husky. The energy the soccer team brings to the field is unmatched and they're led by an amazing coaching staff that recognizes the value each player holds. I truly believe that the women soccer program and the academic opportunities offered at UConn will set the foundation for my future!
Played at Saint Joseph's High School in Trumbull, CT. The same high school as future teammate Jessica Mazo. She was named a 2020 All-State and All-FCIAC performer. Helped lead her team to 2020 FCIAC Co-Champs and 2017 FCIAC and State champions.