University of Illinois Chicago hires David Nikolic as women's soccer head coach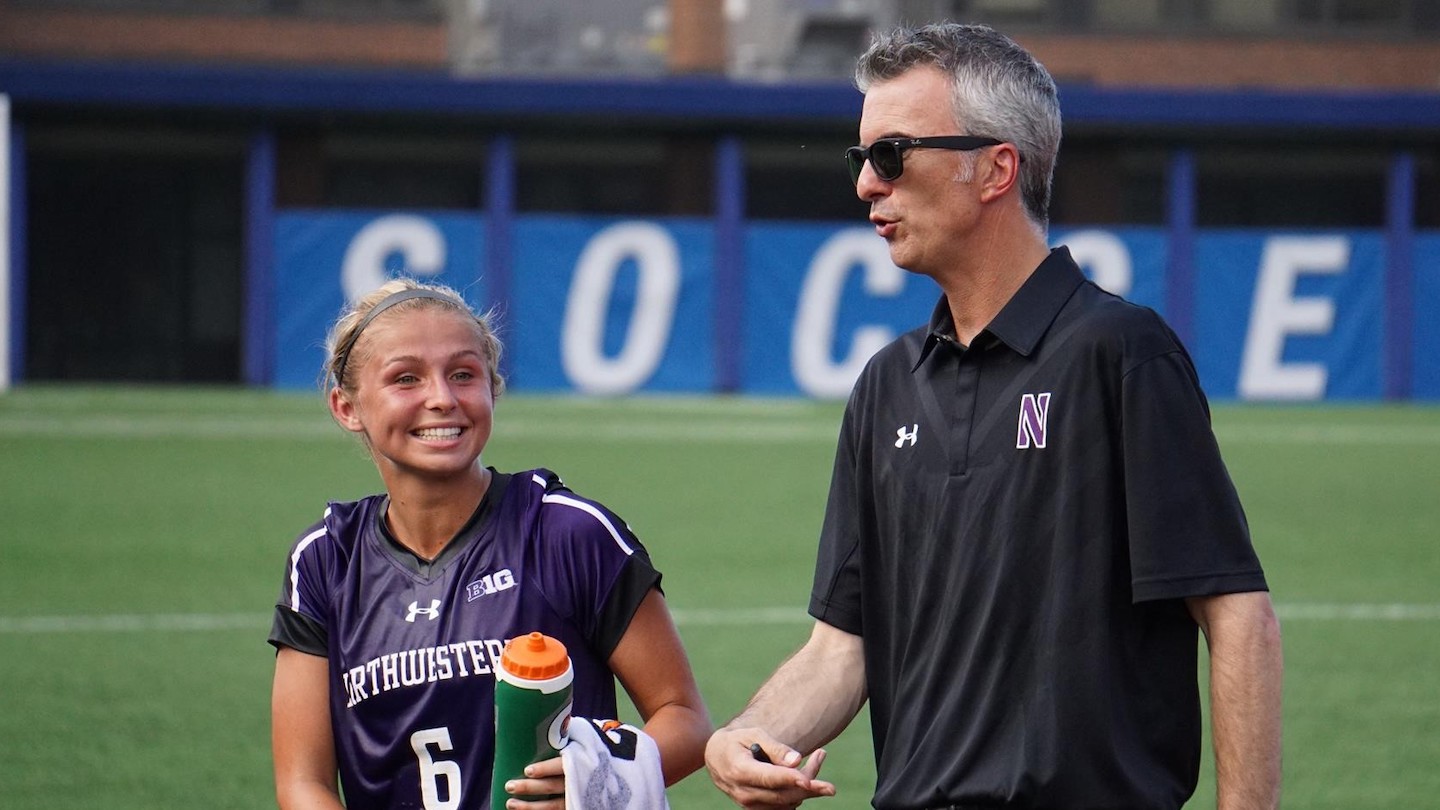 CHICAGO – A familiar name to the Chicagoland and Horizon League soccer communities, David Nikolic (NICK-o-litch) has been chosen as head women's soccer coach for the UIC Flames, subject to approval by the Board of Trustees and other applicable pre-employment assessments.
"David shares our vision for Flames Soccer to be the dominant program in the Horizon League," said UIC Director of Athletics, Michael Lipitz. "He is a program builder and proven winner who connects with his student-athletes and helps them realize their full potential. I thank Deputy AD Farrah Manthei and our search committee for their excellent work."
A coaching veteran of more than 25 years, Coach Nikolic comes to UIC after nine seasons as the associate head coach at Northwestern University. He helped the Wildcats earn four straight NCAA Tournament berths from 2015-18, including a Sweet 16 appearance in 2016. Northwestern also captured the 2016 Big Ten Regular Season Championship.
Prior to his tenure at Northwestern, Nikolic helped guide Milwaukee to 13 Horizon League regular season titles, 12 consecutive Horizon League Championships, and nine NCAA Tournament appearances. In that time, the Panthers amassed 225 total wins and a stellar 97-15-5 (.850) record in League play. He was named National Soccer Coaches Association of America (NSCAA) Great Lakes Regional Assistant Coach of the Year in 2011.
Nikolic takes the helm of a UIC program that has achieved a record of 17-9-2 over the last two seasons and reached at least the semifinal round of the Horizon League Championship in each of those campaigns.
"I am honored with the opportunity to represent the University of Illinois Chicago and the women's soccer program," said Nikolic. "It has been a dream of mine to lead a quality program and the dream has finally been realized.
"I was immediately impressed with athletic director Michael Lipitz's energy and passion regarding the women's soccer program and the UIC Athletic Department as a whole," said Nikolic. "I cannot wait to get started with Flames Soccer.
"Thank you to Farrah Manthei and the search committee as well for making me feel welcome from the beginning."
Northwestern broke through in a big way during Nikolic's fourth season on the bench, reaching the NCAA Tournament for the first time in 17 years. The following season, 2016, the Wildcats matched a program record with 16 victories and posted a record of 7-1-3 in conference play as they secured the first Big Ten regular season championship in program history. The team advanced to the Round of 16 for the first time since 1998.
Nikolic assisted in the development of All-American goalkeeper Lauren Clem in 2016 and a backline that registered 17 shutouts and a goals-against-average of .271 to lead the NCAA in both categories.
Three Wildcats entered the professional ranks in the National Women's Soccer League (NWSL) under Nikolic's guidance. Three-time All-Big Ten selection Kayla Sharples was drafted by the hometown club, Chicago Red Stars, with the 26th pick in the 2019 NWSL Draft. That same year, two-time All-Big Ten honoree Marisa Viggiano was drafted by the Orlando Pride with the 30th selection. A few picks later, at 33rd overall, Wildcat Hannah Davison was also nabbed by the Red Stars.
All told, Nikolic was on the bench for 82 victories at Northwestern, 37% of the program's all-time total, and four of the program's six NCAA Tournament bids.
"I would like to thank everyone at Northwestern University for the opportunity to represent the institution," said Nikolic. "For nine-plus years, it has been an amazing experience with fantastic people who I will always call friends. It is difficult to say goodbye, but an exciting new chapter starts now."
Before his time in Evanston, Ill., Nikolic was instrumental in building Milwaukee women's soccer into the Horizon League's dominant program. From 1994-2011, the Panthers amassed 225 total wins, posted an .850 winning percentage in league play and won 12-straight league championships. The Panthers earned nine NCAA Tournament berths and advanced in three of those years. In Nikolic's final season at his alma mater, Milwaukee posted a school record 19 victories and was ranked as high as 10th in the NSCAA top-25 poll, and ninth in Soccer America's national poll.
"This new journey would not have been possible if it were not for the friendship and relationship with Mike Moynihan these past 27 years," said Nikolic. "I thank him and his sister, Sue, for bringing me in to join them in 1994 as we started to build the program at Milwaukee. Mike's drive, thirst for learning and love of the game of soccer is infectious and I will rely on much of our past experiences to guide me as I go forward. I know that he is just up the road and still a phone call away and I plan to keep that bond intact."
Nikolic is a USSF 'B' licensed coach. He has served as head coach of the Chicago Red Eleven of the USL W-League, was the Region II ODP age group head coach (1992) in 2009 and 2010 and was a head coach in the Wisconsin State Olympic Development Program. Nikolic helped the ODP group become finalists in 1999, 2001 and 2003.
Additionally, Nikolic was the head coach for the Milwaukee Kickers Adult Men's Majors Team from 2004-08 and took the F.C. Milwaukee U-23 men's team to the national semifinal in 2001.
Nikolic earned bachelor's degrees in mass communication and history from University of Wisconsin-Milwaukee in 1992. He and wife Brittany have two sons, George (9) and Sebastian (7).
What They're Saying About David Nikolic:
Michael Moynihan, Head Coach, Northwestern University:
"After working with David for 28 years at the NCAA Division I level, I couldn't be more excited for him and the opportunity that lies ahead of him at UIC. UIC has a program that has been on the rise the past few years and still has tremendous growth potential.
David and I go a long way back, all the way back to U8 soccer growing up, and as long as I've known him, he has always exuded tremendous passion for soccer. Much more than being simply a fan, David is a lifelong student the game and lives and breathes soccer. Hundreds of players we have worked with over the years have benefitted from his coaching and his approach to the game. Quite a few have gone on to play in the professional ranks. Probably more important than counting those that have gone on to play pro though, is the passion for the game he inspires in all of them. Under his influence, many players have learned to love the game more deeply than they likely ever thought possible, and nearly all stay involved in the game after college at some level.
We have had tremendous success together, and now he is eager to execute his own vision for developing a program and helping his athletes reach new heights."
Janna Blais, Interim Combe Family Vice President for Athletics and Recreation, Northwestern University:
"Over the last decade David Nikolic has helped engineer a rebirth of Wildcats women's soccer, with a Big Ten Championship and multiple invitations to the NCAA Tournament. His commitment to the student-athlete experience has produced tremendous results athletically and academically and prepared them for success after graduation in professional soccer, and countless other pursuits.
David's previous experience in the Horizon League speaks for itself and he has undoubtedly earned this new opportunity. The entire Northwestern family is thrilled to see what the future holds for him and the Flames."
Marisa Viggiano, Orlando Pride Midfielder; Two-time All-Big Ten Honoree, Northwestern University:
"David is the perfect choice for UIC. I was lucky enough to play for him for four years, where he pushed me to become not only a better player, but a better person. He is committed to bringing out the best in each individual, on and off the field. He truly wants the best for each of his players. I can't wait to see the positive impact he has on the UIC women's soccer program, and I have no doubt he will take it to new heights."
Erin Chastain, Head Coach, DePaul University:
"David is an outstanding choice for UIC. I have so much respect for the work he has put in as an associate head coach and the positive impact he is able to have on the young women he coaches. This is a slam dunk hire for UIC and I would anticipate big things in the future for the women's soccer program."
Eric Bell, Head Coach, Texas Christian University:
"UIC hit a home run with the hiring of David Nikolic. He's well prepared for this opportunity and will do a fantastic job. He's a proven winner and recruiter. He will immediately put his stamp on the program and turn it into a winner within the Horizon League. I'm extremely happy for him and his family. Congratulations, David!"
Bob Gansler, Head Coach, 1990 World Cup U.S. Men's National Team:
"I've known David since he was a tiny tot. I saw him as a player, I saw him coaching all these years at the Kickers program and at Milwaukee where I also coached years ago. He knows the game and that's important. He knows how to teach and that's what coaching is, it's teaching. He's a people person. He has his priorities straight. He knows that these young ladies come to school to play soccer, yes, but it's really to help form themselves in terms of their future career and to grow as people. David will be an asset in all of those areas. He has the wherewithal to coach, to mentor and to help people grow. I'm happy for him, but I'm also happy for the university because he will serve UIC extremely well."