Loyola Chicago signs Evolution Soccer Club product Emma Irle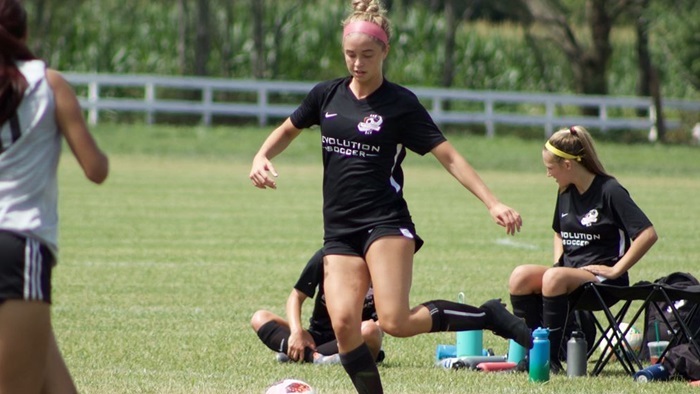 CHICAGO – Loyola University Chicago head women's soccer coach Barry Bimbi announced the signing of Emma Irle (Naperville, Ill./Naperville Central) to a National Letter of Intent.
Irle will join the Ramblers at the start of the 2021-22 academic year.
"We are excited to add Emma to our fall 2021 roster," Bimbi said.  "She is a perfect fit for us.  Emma excels in the classroom and also has the competitive edge that we look for in players.  She is an athletic defender that is comfortable with the ball at her feet, so she will be able to not only help us shut down opponents, but add to our attacking style."
Out of suburban Naperville, Ill., Irle has enjoyed a decorated career at Naperville Central High School under the direction of head coach Edgar Watson.  The 5-foot-6 defender, who has been named an All-State, All-Area, and All-DuPage Valley Conference (DVC) selection, is coming off a junior campaign in which she dished out seven assists.  During her time with the Redhawks, she's been a member of conference, regional, and state championship winning sides.
Irle has also excelled on the club level for coach Kieran Keane's Evolution Soccer Academy, for who she was credited with 12 helpers for last season en route to being tabbed a Best XI honoree in the Midwest Conference League.
"With help from both my family and the coaching staff, I chose Loyola because of the opportunities it provides me both academically and athletically," Irle stated.
Fresh off completing its third straight sweep of the Missouri Valley Conference regular season and tournament titles, Loyola (8-1-1, 6-1-1 MVC) opens play in the 2020-21 NCAA Women's Soccer Championship on Tuesday, April 27 when it battles Denver in a 2 p.m. (CT) kickoff at the Sportsplex in Matthews, N.C.