Big Ten regular season champion Wisconsin women's soccer signs 8 new Badgers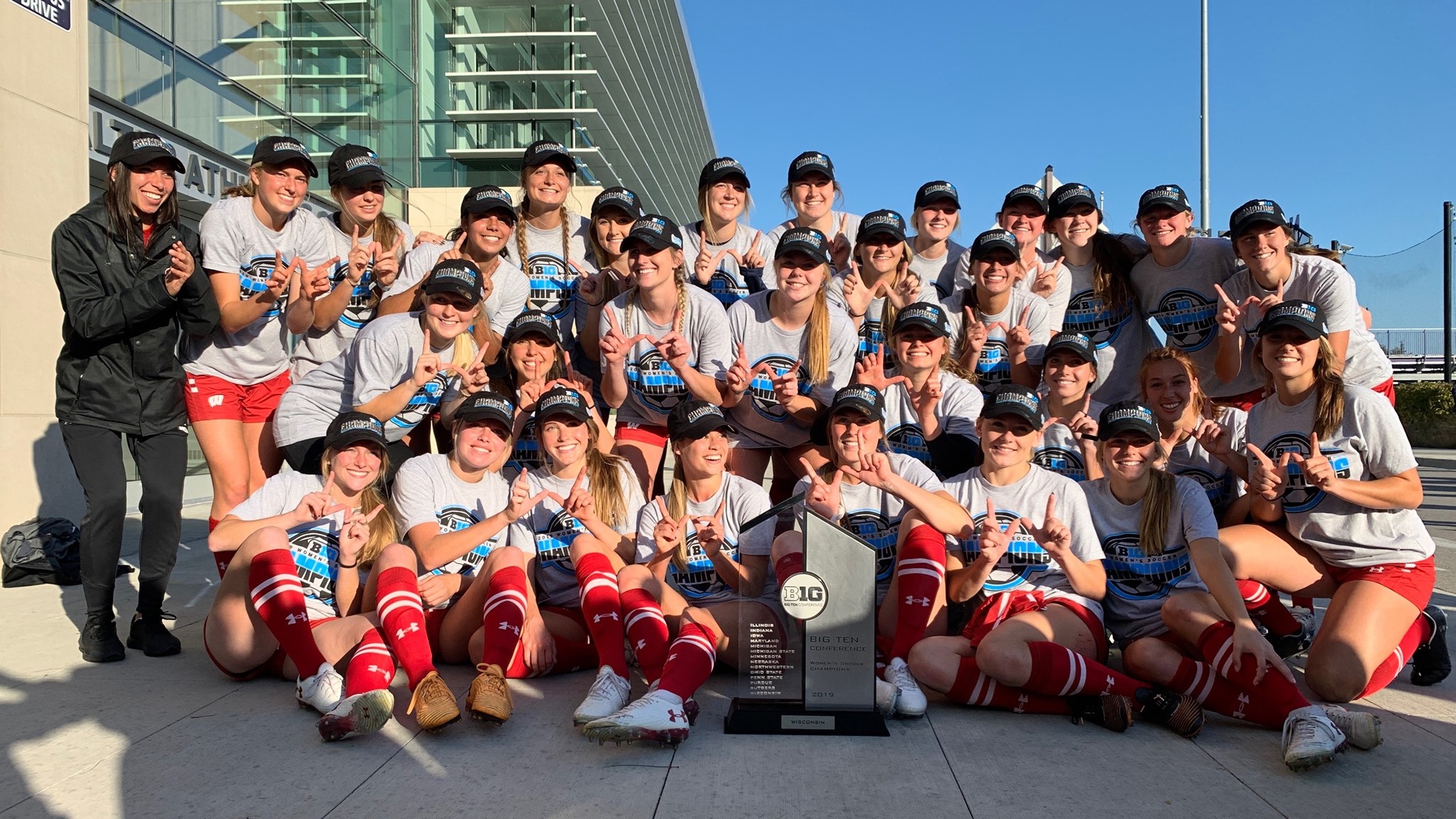 MADISON, Wis. – After one of the best seasons in school history, the Wisconsin women's soccer program welcomes eight new Badgers to the program for the 2020 campaign.
Joining the Badgers are Dara Andringa (Stillwater, Minnesota), Rachel Dallet (Whitefish Bay), Ali Fine (Medina, Minnesota), Jessie Hunt (Edina, Minnesota), Alex LaQuaglia (Arlington Heights, Illinois), Porter List (Excelsior, Minnesota), Sophia Romine (Romeo, Michigan) and Faith Rosenblatt (Cherry Hill, New Jersey).
"I think this is a very good class top to bottom, in terms of their abilities and successes at the club level," Wilkins said. "I think their success with their club teams really brings in a positive energy to our group in terms of being competitive and successful on the field. I don't think there's a class that's been better with their work rate than this class. They not only bring in a high work rate but they all know how to win."
Dara Andringa, Midfielder, Stillwater, Minnesota (Stillwater Area High School/Minnesota Thunder)
A midfielder from Stillwater, Minnesota, Dara Andringa looks to add to her family's incredible legacy at the University of Wisconsin. Her late father, Rob, led the UW men's hockey team to the 1990 NCAA title while her cousins Molly, Katy and McKenna Meuer all played women's soccer in Madison. Andringa played all four years at Stillwater Area High School, where she earned all-conference honors four times and gathered All-State honors her senior season. She also served as a two-time captain for the Ponies, leading them to sectional titles her junior and senior years and a conference title her junior season.
Andringa has experience participating in the ODP National Camps in Arizona and Florida. In addition, she suited up for the Minnesota Thunder in the Elite Clubs National League (ECNL), leading them tp the Midwest Conference title in 2018.
Off the pitch, Dara has received the Academic Achievement Award all four years in high school. She is intending on majoring in business and psychology at UW. She's the daughter of Rob and Christi Andringa, and she has an older brother, Jack, and an older sister, Carson.
Wilkins on Andringa: "She comes from the Minnesota Thunder, a very successful team not only in our region but on the national level. She has a huge family history here at Wisconsin with her dad playing on the national championship hockey team, three of her cousins playing on our women's soccer team and another cousin that played for our men's hockey team. On the pitch, she is a very consistent player in the midfield and will bring a lot of stability to the position. She also has a very competitive spirit, is able to win challenges in the midfield and has a drive to be successful. She has a lot of Badger pride and looks to make her own mark in our program.
Andringa's freshman-year goals at Wisconsin: "I want to play as much as I can, learn as much as I can, and contribute to the team on and off the field as much as I can."
Rachel Dallet, Midfielder/Forward, Whitefish Bay, Wisconsin (Whitefish Bay High School/FC Wisconsin)
A native of Whitefish Bay, Rachel Dallet is a midfielder/forward who played for FC Wisconsin in the ECNL. Dallet led FC Wisconsin to playoff appearances in 2016, 2017 and 2018 and was selected for the ECNL Player Development Program in 2018. During the shortened season this year, Dallet had eight goals in the team's first 11 games.
Dallet is a high honor roll student for all four years at Whitefish Bay High School. She intends to study biomedical engineering at UW. Dallet's parents are Rebecca and Brad Dallet, and she has two sisters, Abby and Ellie.
Wilkins on Dallet:" "We think Rachel is one of the best players in the state and plays for FC Wisconsin, one of the top teams in the state. In talking to her coaches, she's very effective as she finds ways to score, she finds ways to create opportunities for other people. We're excited to bring Rachel in as she has a high work rate, an ability to take players one-on-one and is a very dynamic player, especially in the offensive end. She's going to be a player that offers a lot for us."
Dallet's freshman-year goals at Wisconsin: "I want to start off by passing all of the fitness tests as those are in my control going in. Then I want to adjust to the environment and start to become comfortable all while earning playing time and giving 100 percent effort into everything. I want to take advantage of the amazing resources for student athletes and add something positive to the team."
Ali Fine, Midfielder/Forward, Medina, Minnesota (The Blake School/Minnesota Thunder)
A midfielder/forward from Medina, Minnesota, Ali Fine excelled at both the prep and club level as she played at The Blake School and for the Minnesota Thunder Academy. She ended her prep career at The Blake School with the most goals in school history despite missing a season due to injury. During her senior year, she led the Bears to a sectional title while also earning all-conference, all-state and all-tournament team honors as the team's captain.
Fine suited up for the Minnesota Thunder for three years, helping the Thunder to the ECNL Champions League each season and to the conference title her second year. She was clutch in 2019 as she led the Minnesota Thunder to the Gothia Cup title, scoring the game-tying goal in the semifinals before notching the game-winning goal in the championship game.
Fine is planning on studying kinesiology at UW-Madison. Her parents are Michael and Catherine Fine and she has two older sisters, Lauren and Alexis.
Wilkins on Fine: "Like Dara, Ali also has Badger history and pride as her father went to UW-Madison. She has a great ability to take people off the dribble and beat them which is exciting for us and will add another dimension for us out wide, which is something that we like to do. Ali creates great scoring opportunities but can get great crosses off from the flanks. She also played for the Minnesota Thunder and she has some different tools for us that will add different dimensions for us."
Fine's freshman-year goals at Wisconsin: "I want to be a contributing member of a very successful soccer program."
Jessie Hunt, Midfielder, Edina, Minnesota (Edina High School/Minnesota Thunder)
Midfielder Jessie Hunt arrives at UW-Madison after playing prep soccer for Edina High School and club soccer for the Minnesota Thunder. After earning all-conference honors her sophomore year for Edina, Hunt collected all-state accolades her junior year and helped the Hornets to their section quarterfinals. She was named a team captain her senior year, but unfortunately suffered an injury that sidelined her for most of the campaign.
For the Minnesota Thunder, Hunt was a part of the 2018 ECNL Midwest Champion team and helped the Thunder reach the ECNL quarterfinals in both 2017 and 2018. She also earned an invite to the US Soccer Region II ODP Camp in 2016.
Hunt has thrived in the classroom, as she's a three-time academic all-state award recipient and was a National Merit Commended Scholar. She is planning on majoring in biomedical engineering at UW. The daughter of Laura and Brad Hunt, Jessie Hunt has a brother, Ryan, and two sisters, Sarah and Chloe.
Wilkins on Hunt: "Jessie is another player from the Minnesota Thunder that has experience playing with Dara and Ali. Jessie brings great vision and a tactical awareness, she understands the game a lot. She has the ability to connect passes that connect players. Like Dara, she is willing to do the things to win balls in the midfield, which is something that we will need to help us defensively in the midfield. She has a great work rate side to side with the ball, is able to help connect the team with her play in the midfield and has a keen ability to switch the point of attack."
Hunt's freshman-year goals at Wisconsin: "I'm hoping to compete for playing time and also meet a lot of new friends, have fun and get better."
Alex LaQuaglia, Goalkeeper, Arlington Heights, Illinois (John Hersey High School /FC United)

Alex LaQuaglia, a native of Arlington Heights, Illinois, will join the Badgers' goalkeepers in the fall. LaQuaglia played for the FC United her senior year after suiting up for Sockers FC for three years. She led the Sockers to a runner-up finish in the central conference and a top-15 finish in the DA league. LaQuaglia also was named to the Illinois State ODP Team and gathered an invite to the U.S. Soccer Player Development Program.
LaQuaglia was a standout in the classroom, earning honor roll every quarter throughout high school while also taking AP and honors classes all four years. She has not yet decided on her major at UW. Her parents are Evan and Patrick, and she has one younger sister, Gabriella.
Associate Head Coach/Goalkeeper Coach Tim Rosenfeld on LaQuaglia: "We are excited to have Alex join the ranks of the goalkeepers in 2020.  Alex has played with two of the top club teams in the Chicago area. She began her youth career with the Chicago Sockers and has just finished up this year with FC United. Alex is a converted outfield player. She began playing soccer as a central defender before transitioning to the goalkeeper position. As such, she is very comfortable with the ball at her feet and will almost be a 'sweeper-keeper' in the back for us. Alex's temperament and personality are extremely well suited to the stresses of being a goalkeeper. I am excited to begin working with her and to watch her develop."
LaQuaglia's freshman-year goals at Wisconsin are: "I want to be the hardest worker in the room, be an encouraging teammate and learn all I can to better my athletic and academic career."
Porter List, Midfielder/Forward, Excelsior, Minnesota (Minnetonka Senior High School/Elite Girls Academy)
A native of Excelsior, Minnesota, Porter List is a forward that is the No. 3 ranked player in the Heartland Region by TopDrawerSoccer and appears in the IMG Academy 150 national rankings. She's played for the Elite Girls Academy since her sophomore year after spending her freshman year playing for the Minnesota Thunder.
List was a Minnesota State Cup Champion in 2016, was named to the ECNL All Conference Team in 2017-18, and was also selected to participate in the 2017-18 ECNL Player Development Program. In 2019, Porter was the ECNL Nationals North American Runner Up, the Nebraska State Cup Champion, and made the Nebraska State Cup's Best XI.
Currently, List's intended major at UW is undecided. Her parents are Matt and Melissa List and she has a younger sister, Avryn.
Wilkins on List: "Porter is another exciting attacking player for us. She has the mixture of vision and ability to take people one on one. She can play centrally or out wide as I think she will have the flexibility to play in an attacking role, out wide or up front for us. She is exciting on the ball, has some creativity and flair that we are looking for. Her ability to find small little spaces to find the ball, her movement is really good and she will add another attacking dimension that will complement our other freshmen, especially Rachel and Ali."
List's freshman-year goals at Wisconsin: "My goals are to make an impact on the field and to also make friends for life while playing at UW!"
Sophia Romine, Midfielder/Forward, Romeo, Michigan (Romeo High School/Michigan Hawks)
A midfielder/forward from Michigan, Sophia Romine shined for the Michigan Hawks in the ECNL as she was named the Phoenix ECNL Standout Player and the Seattle Standout Player in 2018 and was also named the 2019 San Diego Standout Player in the ECNL Players. In addition, she earned all-district honors and was given the Golden Ball Award for having the most goals and assists her freshmen year while playing soccer for Romeo High School.
In the classroom, Sophia received the All-Academic Award all four years for having a GPA of 3.5 or higher. When she is not on the field, Sophia is intending to major in physical therapy. Sophia's parents are Paul and Kim Romine. She has one brother, Josh, three sisters, Bella, Jenna, and Ava, and a twin, Alexa.
Wilkins on Romine: "Sophia comes from a very successful club team in the Michigan Hawks. When I talk about work rate, that's what I'm talking about with Sophia. What's exciting about her is that she can outwork opponents and her energy on both sides of the ball is what is going to make her very successful. After watching her for the last couple years, she has improved her finishing elements and is able to create and score goals and we're excited for her to join our group."
Romine's freshman-year goals at Wisconsin: "I want to reach the next level of soccer playing skills and be one of the best assets I can be to the team.
Faith Rosenblatt, Centerback, Cherry Hill, New Jersey (Cherry Hill East High School/PDA)
A native of Cherry Hill, New Jersey, Faith Rosenblatt will join the Badgers as a centerback after playing for the Player Development Academy (PDA) in New Jersey. She has played for PDA North in the ECNL since 2014 and has doubled her playing time by dual rostering on PDA South in the ECNL in 2014, 2015, and in 2019. During her time on the PDA North team, she was a National Premiere League (NPL) Northeast Regional Champion twice and a NPL semifinalist. Faith also played in the U.S. Soccer Development Academy from 2015-17.
Rosenblatt also excelled at the prep level at Cherry Hill East High School and was a captain for the Cougars her senior year. She was named an Allstate All-American in 2018 and played on Team Chastian in the 2019 Allstate All-America Cup in Orlando, Florida. She also played in the South Jersey Senior All-Star game in 2019.
She saw success off the pitch as well, earning honor-roll during all four years at Cherry Hill East High School. Rosenblatt is planning to major in nutrition and dietetics when she arrives at UW-Madison. She is the daughter of Richard and Joan Rosenblatt, and she has two sisters, Grace and Hope.
Wilkins on Rosenblatt: "Faith is our one defender in the group. She has good vision and her technical ability is very clean. She sees the field very well. Like the rest of the class, she is very disciplined and has a great work rate. With Faith, her vision, her understanding of the game and her ability to control the field from the back is very good. It gives us more depth in the back and she has good range serving, so that will allow us to open up our game."
Rosenblatt's freshman-year goals at Wisconsin: "I want make an impact on and off the field and to build the foundation for a successful college career. I hope to thrive as a student-athlete and continue to work hard under tremendous pressure."