Seton Hall women's soccer welcomes 5 transfers and 3 freshmen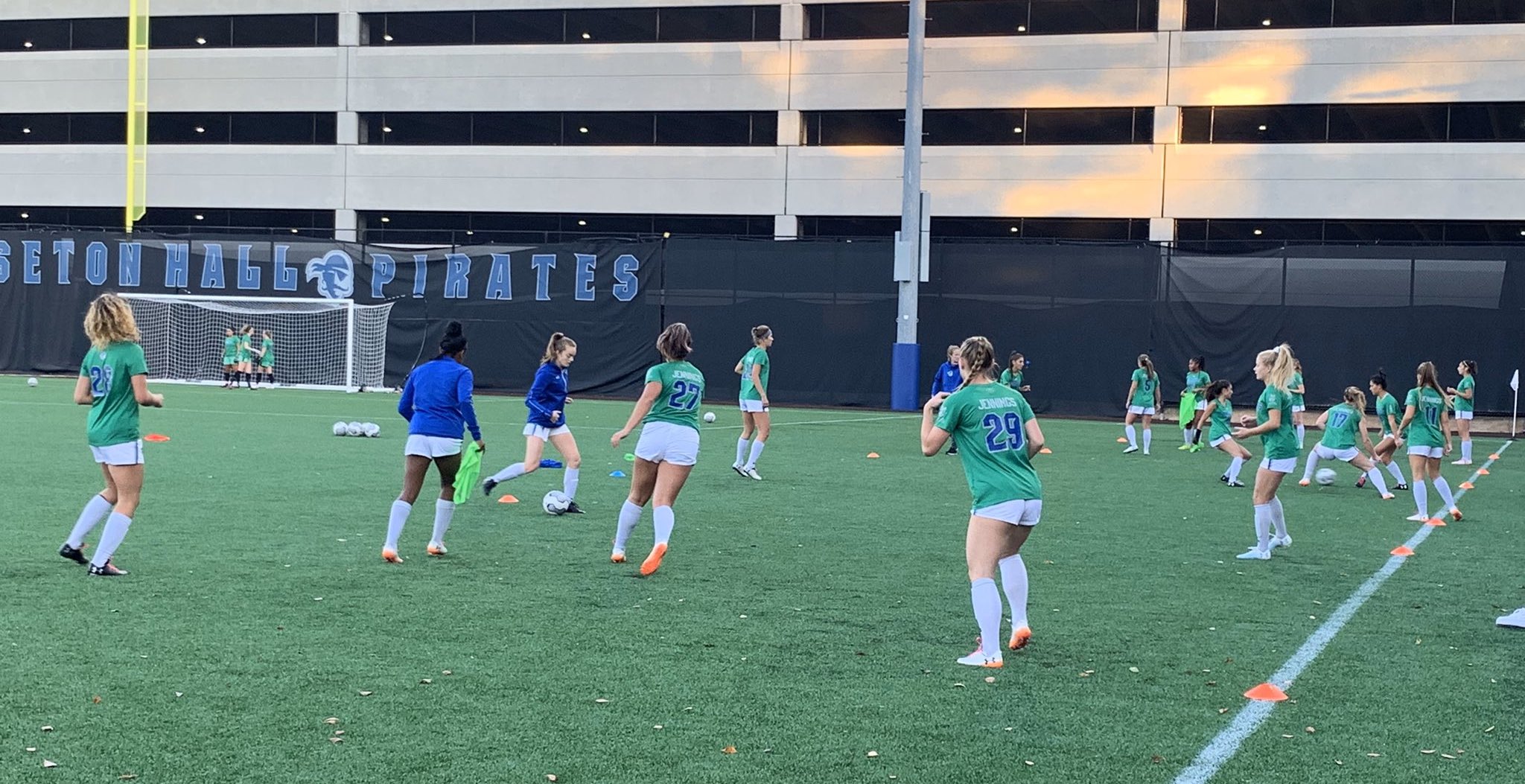 SOUTH ORANGE – Seton Hall head coach Ciara Crinion has officially announced the addition of eight talented student-athletes to the women's soccer program.
This year's class, Crinion's second with the Pirates, is made up of five transfers and three freshmen. The eight players in the group collectively boast elite experience at the high school level, club level and with their respective national teams.
Despite the BIG EAST's recent postponement of fall sports, these newcomers are expected to make an immediate impact alongside some key returning pieces for The Hall when play resumes.
Abbie Roberts | D | Bedfordshire, England | Rutgers/Harlington Upper School
Abbie Roberts joins the Pirates after playing her freshman season at Rutgers. The Bedfordshire, England native played in six games for a Rutgers squad that finished second in the Big Ten. She missed eight games due to being called up to represent the England National Team at the U19 European Championship. With the Lionesses, Roberts has appeared in 30 games – serving as captain 10 times – at the U15, U16, U17, U18 and U19 levels. Roberts also played for the Arsenal Women's FC U21 team and captained in the 2019 FA Cup.
Maille McDermott | D | Nashua, N.H. | Nashua High School South
Maille McDermott was a four-year letterwinner and a three-time all-state selection at Nashua High School South. McDermott's senior season saw her score 19 goals as South made its deepest run in the state tournament in school history. She played her club soccer for FC Stars in the nationally recognized Elite Clubs National League.
Grace Gordon | GK | Chester Springs, Pa. | Drexel/Shipley School
Grace Gordon, a goalkeeper with three years of eligibility, joins the Pirates after spending her freshman season at Drexel. Gordon prepped at the Shipley School where she was a four-time all-conference selection and a two-time All-Southeastern Pennsylvania pick. She played in three Friends League championship games, winning one in 2016, and was twice named team MVP.
Lauren Huff | GK | Brandon, Fla. | UMass Lowell/Newsome
Lauren Huff arrives in South Orange as a graduate student from UMass Lowell. With the River Hawks, Huff played in 15 games between the pipes with 11 starts and she made 58 saves. Huff also played in five games for a UMass Lowell squad that reached the finals of the America East conference tournament. She plans on enrolling in the business analytics graduate program at Seton Hall.
Riley Balser | M | Coral Springs, Fla. | Archbishop McCarthy
Incoming freshman Riley Balser brings strong high school, club and international experience as a midfielder to South Orange. Balser played a key role on Archbishop McCarthy's 5A state championship team as a senior and on Weston FC's U17 Florida Cup championship squad in 2018. On the international stage, Balser has played in multiple games with the Puerto Rico Women's National Team. She was invited to play in 2018 Caribbean Cup and she scored a goal in CONCACAF U17 qualifying against the Bahamas.
Mia Gish | M | Portland, Ore. | Jesuit
A mainstay within the U.S. Soccer development academy system the last three seasons, Mia Gish joins the Pirates from Portland, Ore., and the Portland Thorns' U-18/19 and U-17/18 DA teams. With the Thorns, Gish played in 51 games with 34 starts. Due to development academy rules, Gish only played one season at Jesuit High School as a freshman where she scored 10 goals.
Maria Garcia Lopez | F | Valencia, Spain | MidAmerica Nazarene
After two standout seasons as a forward at MidAmerica Nazarene University in Olathe, Kan., Maria Garcia Lopez is ready to play her final two seasons at Seton Hall. Lopez's rookie campaign saw her score 15 goals, register 10 assists and average 2.1 points per game, earning her 2018 Heart of America Conference Freshman of the Year accolades. As a sophomore, Lopez tallied 12 goals in 19 games with four game-winning goals and was a second-team all-conference selection. The Pioneers went a combined 29-9-1 in her two seasons on the pitch. A native of Valencia, Spain, Lopez prepped at IES Camp de Morvedre and played for Villarreal CF.
Naomi Welch | F | Livingston, Scotland | University of Stirling/James Young
An accomplished striker from Scotland, Naomi Welch joins the Pirates after starting her career at the University of Stirling. Welch played a key role on teams that won three Southeast Scotland League Cup championships and two Central Scotland League Cup championships. She's also played in three Scottish Cup finals, the top prize for women's football in Scotland. At the U16, U17 and U19 age levels, Welch has collected 19 caps for the Scotland National Team.