Navy men's soccer tabs Paul Killian as associate head coach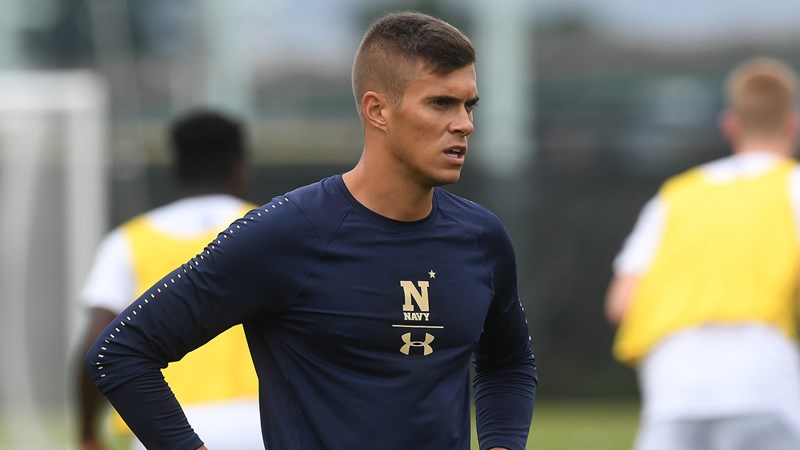 ANNAPOLIS, Md. – Navy men's soccer head coach Tim O'Donohue announced the promotion of Paul Killian to associate head coach on Thursday. O'Donohue also announced the addition of Brooks Wilson as director of operations.
Killian joined Navy as an assistant coach in 2016 and is set to begin his fifth season on staff for the Midshipmen. Killian has helped spearhead Navy's resurgence, which saw the Midshipmen post a record of 12-4-1 during the 2019 season. Navy finished third in the Patriot League standings to earn a spot in the league tournament a year ago and the Midshipmen also had the best start in program history since 1964 after winning 11-straight matches to start the 2019 campaign. Navy was also ranked three times in 2019 with its highest ranking coming on October 8 at No. 19 in the United Soccer Coaches National Poll.
"I would like to thank Mr. [Chet] Gladchuk, Mr. [Eric] Ruden and Coach O'Donohue for this opportunity," Killian commented. "The Naval Academy is a special institution and I take a ton of pride in representing this school on and off the field. We have an impressive group of student-athletes here and I am excited to be a part of our growth as a program."
Since coming to Annapolis, Killian has coordinated Navy's recruiting efforts, which included a top 30 national class in 2018 and the Midshipmen's Class of 2021 is ranked in the top 20 nationally by TopDrawer Soccer.
"Paul is a fantastic coach and recruiter. His work ethic and commitment to our program over the last four years have been unrivaled and Navy men's soccer is very lucky to have him," O'Donohue commented. "Paul has established himself as one of the top recruiters in the country and we are looking forward to a bright future in the coming years."
Killian has helped produce six United Soccer Coaches All-Region award winners since coming to Navy, which included a program-best five honorees in 2019. Since 2016, the Midshipmen have had 11 All-Patriot League award winners on top of boasting the 2019 Patriot League Defensive Player of the Year, Matt Nocita, and 2018 Patriot League Rookie of the Year, Jacob Williams.
Wilson comes to Navy after graduating from the University of South Carolina where he earned his degree in Bachelor of Science in Sport and Entertainment earlier this year. Wilson was previously an assistant coach at Dreher High School in Columbia, S.C. and South Carolina United FC. Wilson has assisted at Navy men's soccer summer camps in 2018 and 2019 while also assisting at camps at Winthrop and Appalachian State.
"I would like to thank Mr. Gladchuk and Coach O'Donohue for giving me such an unbelievable opportunity to join an NCAA Division I staff at one of the best institutions in the country, in such a beautiful place. I'm excited to join the staff and will help contribute as best as I can," Wilson said.
"We are very much looking forward to having Brooks on board as the director of soccer operations," O'Donohue said. "His passion for soccer is evident and he has an infectious personality.  His energy and enthusiasm are what excites me most and we look forward to getting started and bringing him in as part of the group."