Navy men's soccer brings in 7 recruits for upcoming season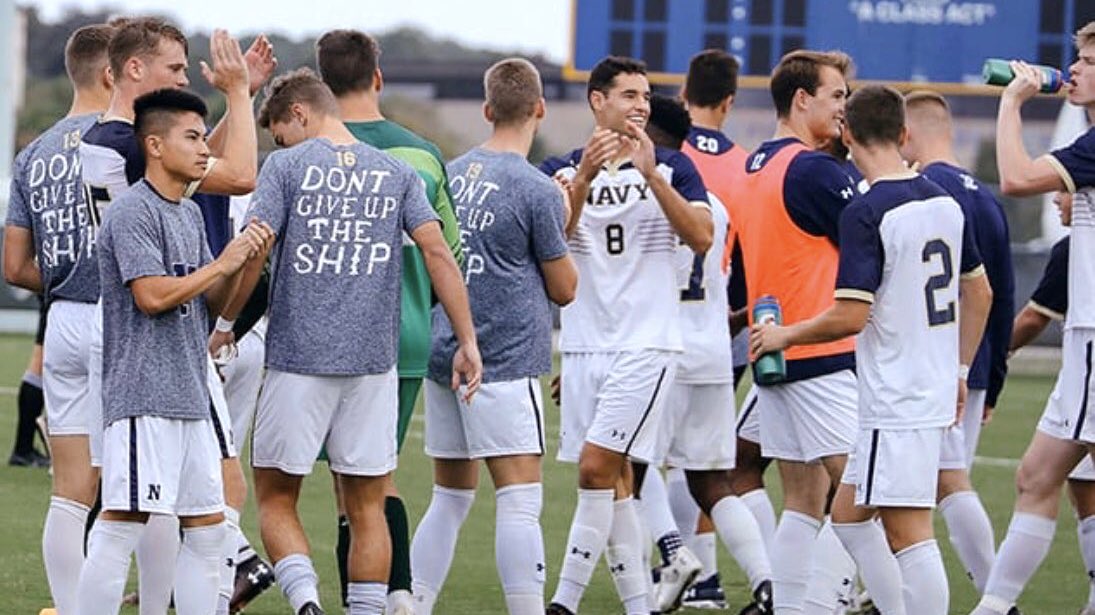 ANNAPOLIS, Md. – Head coach Tim O'Donohue and the Navy men's soccer program announced its seven-member incoming recruiting class on Monday.
Each of the seven individuals went through the Naval Academy's induction days last week as part of the Class of 2024 and are set to begin plebe summer training.
Each of the seven players that are set to join the Midshipmen this fall played for U.S. Soccer Development Academy clubs.
"Our staff is thrilled to welcome our 2020 recruiting class to campus," O'Donohue commented about the incoming freshmen. "These young men possess all the necessary attributes for success on and off the field in Annapolis. This is a talented group of players who will add much value to our program but more importantly they own the intangibles required to represent the United States Naval Academy."
Jason Aoyama | Midfielder | Narberth, Pa. | Harriton
He played for both FC Delco and the Philadelphia Union Academy … Attended YSC Academy as a junior … Graduated high school with distinguished honors … Played academy soccer with current teammates JD Wagner '23 and Zach Wagner '24 … Brother's Julien and Justin played soccer at Amherst College and his brother Jansen played at Colby College … Son of Takekazu Aoyama and Dana Aoyama.
"Jason is a dynamic player who possesses the ability to play a number of attacking positions," O'Donohue said. "His creativity on the ball and high work rate make him very exciting to watch. We expect Jason to make a big impact in Annapolis."
Christian Coelho | Midfielder/Defender | Katy, Texas | Texas Connections Academy
Coelho played for the Houston Dynamo Academy squad … He captained the U18/19 club during the 2019-20 season and was the U15/16 team captain during the 2016-17 campaign … Following the 2017 season, Coelho was also selected as the U15 Player's Player of the Year … While at Texas Connections Academy at Houston, he was a member of the National Honor Society, the National Society of High School Scholars and the National Academy of Future Scientists and Technologists … Coelho was an AP Scholar, a National Hispanic Scholar and on the High Honor Roll … He was teammates with fellow USNA Class of 2024 classmate David Jackson … He also played with Ivan Leon of Central Arkansas, Kaya Ignacio of Virginia and Edrey Caceres of Quincy … Son of Cale Coelho, Jr. and Neylane Ferrari Coelho.
"Cristian is a talented central midfielder who can dictate the tempo of the game. He captained the Houston Dynamo Academy and showcased his maturity throughout the entire recruiting process. His wealth of experience will enable him to make a big impact at Navy," O'Donohue stated.
Jake Granados | Midfielder/Defender | Colorado Spring, Colo. | The Village
Granados played for the Colorado Rapids Academy … He played in both Amsterdam and Panama City during his youth soccer career … Granados earned the Principal's Merit Scholar Award from 2017-20 … He was a member of the National Honor Society and a National High School Scholar in 2019 and 2020 … His brother Alex Granados played soccer for two seasons at Fort Hays State … Teammates of Shane Bryan (Colorado Mesa) and Kyle Bergmeier (Regis) … Son of Victor Granados and Barbara Granados.
"Jake is a very technical and skilled player. He has a high soccer IQ, which allows him to thrive in a number of positions across the field," O'Donohue mentioned. "Jake is well prepared for the college game, playing with the Colorado Rapids Academy for the majority of his youth career."
David Jackson | Midfielder | Cypress, Texas | iSchool High
Jackson played within the Houston Dynamo Academy … During the 2018 season, Jackson captained the Houston Dynamo U16/17 squad … He was a member of the National Society of High School Scholars … Jackson also played with Navy teammate Cristian Coelho (Class of 2024) at the Houston Dynamo Academy … His father Chad Jackson played soccer at Furman from 1989-93 and his brother Zach Jackson played soccer at Tulsa from 2014-16 and at Furman from 2016-17 … Son of Chad Jackson and Leah Jackson.
"David is another central player from the Houston Dynamo. He has a fantastic passing range and ability to break lines," O'Donohue stated. "He has continuously impressed our staff but I truly believe David's best years are yet to come. I am very excited to watch David compete this fall."
Baba Kallie | Forward | Coatesville, Pa. | The Hill School
Kallie played for the Penn Fusion where he helped the team win the 2019 Northeast League title … He also played for The Hill School and won the 2020 Maples League while also earning All-Area First Team honors and was named team MVP … During the 2018-19 season, Kallie played for Twin Valley High School and was selected All-County First Team and MVP … He also attended YSC Academy and played for the Philadelphia Union Academy team along with FC Delco … Kallie – who was born in Liberia – has lived in the three different countries … While in high school, he was a member of the student council and head of diversity … Played soccer with Navy teammate Zach Wagner '24 … Went to high school with Michael Eze of Georgetown baseball, Zayid Aziz of Georgetown football, Caleb Dorsey of Penn State basketball and Eric Galante of Fordham track & field … Son of Ismael Kallie and Assatu Kallie.
"Baba is a powerful forward coming in from The Hill School and Penn Fusion SA. He is comfortable with his back to goal but can also get in behind the opposing backline," O'Donohue said. "Baba's positive attitude and personality are infectious. Our staff is thrilled to welcome him to The Yard."
Sidney Paris | Forward/Midfielder | Oakville, Ontario | Abbey Park
Paris has played soccer in seven countries during his youth career and most recently played in Canada for the Toronto FC Academy and Vaughan SC … With Toronto FC, Paris played at the USSDA Playoffs and USSDA Championships in 2019 while also helping his club advance to the championship round of the Generations Adidas U17 Tournament during the 2019 season … In 2018, he was a part of the USSDA summer and winter showcases and the Dr. Pepper Dallas Cup … Prior to playing in Canada, he played for the Chicago Fire Academy club and the Chicago United Soccer Club … Paris played youth soccer abroad in Spain on the Real Madrid Club, La Fundacion, and also in the United Kingdom for the Ascot United Soccer Club … His father Theodore Paris was on the Georgetown diving team for three seasons and his cousin Gabriel Joseph played soccer for four years at Princeton … Son of Theodore Paris and Joelle Paris.
"Sidney is an electric attacking-minded midfielder coming to Annapolis from Toronto," O'Donohue commented. "He has competed for two of the top clubs in Canada, Toronto FC and Vaughan SC. We were thrilled to receive his commitment and look forward to having Sidney wearing the blue and gold for the next four years."
Zach Wagner | Defender | Medford Lakes, N.J. | Shawnee
Wagner was a member of the Philadelphia Union Academy club … Wagner also played abroad in Qatar with the Philadelphia Union … He played for FC Delco and attended YSC Academy … Wagner was teammates with Jason Aoyama and Baba Kallie who are also members of the USNA Class of 2024 and on the Navy soccer team … Older brother JD Wagner – who is also on the Navy soccer team – is part of the USNA Class of 2023 … His father Drew Wagner played soccer at East Carolina … Son of Drew Wagner and April Wagner.
"We have become very familiar with Zach because of his older brother, JD. We know we are not only getting a strong, competitive defender but also a great person. He has a ton of potential and will be a massive asset to our program and institution," O'Donohue concluded.
Navy is coming off of one of its best seasons in program history after going 12-4-1 in 2019, which began with 11-straight wins for the program's best start in history since 1964.