UC Irvine men's soccer adds 7 newcomers ahead of 2020 season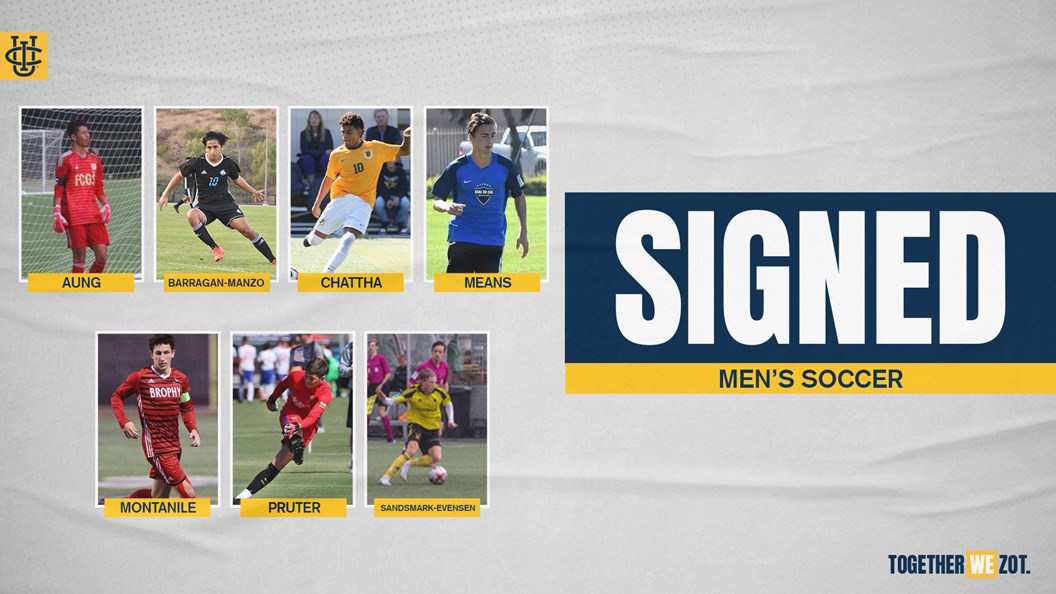 UC Irvine men's soccer head coach Yossi Raz and his staff are reloading for the 2020 season with seven new Anteaters joining the program of diverse backgrounds, locations, and skills.
Raz spoke of the class as a whole:
"We are very excited about the new additions to our program. Our newcomers are all talented individuals with great character who share a deep care unto others, a drive for academic success, and are all fierce competitors on the soccer field.
They are adding varieties of tools to an already diverse group currently in our locker room which will allow us to approach games slightly different moving forward. The coaching staff and I cannot wait to get on the field with them and start merging them to our game model.
I am certain that their future with us will be a successful one, and we will get to enjoy them both on and off the field."
| Student-Athlete | Height | Year | Position | Hometown | School | Club |
| --- | --- | --- | --- | --- | --- | --- |
| Cody Aung | 6-3 | Freshman | Goalkeeper | Santa Clarita, Calif. | Valencia HS | FC Golden State Academy |
| Juan Barragan-Manzo | 5-6 | Sophomore | Forward | San Diego, Calif. | San Diego SCPA / Cuyamaca College | SD Crusaders |
| Ashish Chattha | 5-10 | Junior | Midfielder | Fremont, Calif. | American HS / University of San Francisco | Silicon Valley Soccer Academy |
| Jake Means | 6-0 | Freshman | Forward | Moorpark, Calif. | Simi Valley HS | Simi Valley Eclipse |
| Case Montanile | 5-10 | Freshman | Midfielder | Mesa, Ariz. | Brophy College Prep | SC del Sol |
| Luke Pruter | 6-4 | Freshman | Goalkeeper | Redondo Beach, Calif. | Palos Verdes HS | LA Galaxy Academy |
| Victor Sandsmark-Evensen | 5-10 | Freshman | Midfielder | Nesøya, Norway | Norwegian High School of Elite Sport | Bærum SK |
Cody Aung | 6-3 – Freshman – GK – Santa Clarita, Calif.
Coach Raz and the squad are beefing up the goalkeeper position with a pair of keepers in this class starting with the 6'3″ presence from Santa Clarita, Cody Aung (KO-dee  OWNG). The keeper of Thai descent attended Valencia High School where he was not on the soccer roster, but focused primarily on academics where he excelled with a 4.0 GPA every year since junior high, four-year CSF honoree, Viking Valor award, and an AP Digital/Art Photography recognition award. Aung is engulfed in aerospace and nanoscience, a subject he was selected to represent his high school through UCLA, and something he's voluntarily taught to elementary school students.
On the soccer side of things, Aung's full catalog comes from his club soccer circuit that went through SCV Magic, Real So Cal, and Barca/Total Futbol Academy before landing with FC Golden State Academy where he's trained since 2015. He was part of the Dallas Cup Finalist squad in 2017, and blossomed in 2019-20 going undefeated with seven shutouts and just three goals allowed in the Developmental Academy season.
"UC Irvine is a prestigious school, and I truly believe that the environment within the academic and athletic sides will allow me to become the best person I can be on and off the field. I believe that my journey and everything I learn at the university will lead to a successful and healthy future. The athletic team is amazing, and the coaching staff provide all the factors that will help me become a better person and soccer player."
Juan Barragan-Manzo | 5-6 – Sophomore – FWD – San Diego, Calif.
The top scorer on the junior college level in California from 2019 will join the Anteater attack in the upcoming season as a sophomore after a year with Cuyamaca College. The 5'10" forward, Juan Barragan-Manzo (who-ON barr-AH-gawn-MONN-zoh), put home 26 goals and assisted on 12 more with over half of his 64 points coming in conference play for Cuyamaca who ended up as PCAC champions. He finished his high school career at San Diego School for Creative and Performing Arts after starting at Morse High School where he was two-time All-League First Team and League MVP as a junior. His club presence helped his hometown SD Crusaders produce Presidents Cup, Albion Cup, and San Diego Premier Classic titles culminating in a League Champions title in 2018.
Ashish Chattha | 5-10 – Junior – MF – Fremont, Calif.
Ashish Chattha (uh-SHEESH  CHAW-tah) has thrived in Northern California growing up in Fremont, Calif. and playing at American High School and with club Juventus Academy. Chattha even got a run with the U.S. Youth National Team before joining the University of San Francisco where he's enjoyed success in his first two years. He played in 14 matches as a sophomore starting 13 times where his five points (2 goals, 1 assist) tied for the team high. That coming off a freshman year where he had a goal and assist, each in WCC play, as part of his 15 starts in 16 total matches. Chattha has played over 1,100 minutes in each season, among the squad's top three totals, which even included 74 minutes in the match against the 'Eaters in 2018 on the Dons' home field.
"I was looking for a place where I can expand and improve my talents and UC Irvine is the right place. The coaching staff is amazing and the team has a winning mentality which makes it the right environment to play at or study at."
Jake Means | 6-0 – Freshman – Forward – Moorpark, Calif.
Jake Means (JAYK  MEENZ) is an imposing scoring presence, and backed it up last season as he was named Ventura County Player of the Year. The 6'0″ attacked rained down 32 goals with 11 assists in his senior year on Simi Valley High School's squad adding All-League First Team and was named MVP of the All-Star Game. He molded his style from over 10 years at club Real So Cal under coaches such as Jermaine Jones, Milan Radovic, and Terry Davila while also training with the U.S. National Team back in 2016-17, and added 31 goals in 2017 to lead the nation. Means praises the UC Irvine that he's join as an outstanding soccer program with an amazing reputation and great coaching staff as part of a prestigious school that he's honored to be part of.
Case Montanile | 5-10 – Freshman – MF – Mesa, Ariz.
One of the highest-touted members of this class is Francesco Case Montanile (CASE  monn-tuh-NEE-ull). Known by Case, the Mesa, Ariz. native recently earned Gatorade Player of the Year honor for the state of Arizona as a 5'10" winger for the back-to-back state champions, Brophy College Prep. He's put away 42 goals alongside 69 assists in his four-year high school career where he's brought home two Allstate Player of the Year, All-Region, and AZ Central POTY accolades each. He was invited to the Allstate All-Star Cup for rising elite high school players around the country during last year's MLS All-Star Game in Orlando under coach Brian McBride.
Montanile spent nearly 10 years with his club SC del Sol before joining up with RSL Arizona within the last year. He helped take his club to four State Cup titles. As a student at Brophy, he earned their Distinguished Student honor, and has been active in the community with local sports teams and service groups like Andre House. Now, he's on to UC Irvine which he describes as a school and program with a great location, awesome schooling, and a great up-and-coming soccer program and coaching staff.
Luke Pruter | 6-4 – Freshman – GK – Redondo Beach, Calif.
A Redondo Beach-native, Luke Pruter (LOUK  PROO-turr) joins the 'Eaters between the posts while also spending his childhood across the way in Kilkenny, Ireland. The 6-4 keeper has had an imposing presence within the LA Galaxy Academy including USL side LA Galaxy II with Barca Academy in Arizona prior. He's made an impact in all facets from a third place finish in the USSDA, strides volunteering for Seeds of Hope group, and the highest honor of Summa Cum Laude upon graduating from Palos Verdes High School.
His journey continues at UC Irvine because of its favorable location, family culture, academics, and the soccer program. He also has a strong love for economics and the stock market that fuels his desire to pursue a career as a hedge fund executive bank manager alongside a successful soccer career.
Victor Sandsmark-Evensen | 5-10 – Freshman – MF – Nesøya, Norway
Sandsmark-Evensen (VICK-turr  SANDS-mark-EV-inn-sinn) represents the lone international addition to the program in 2020 as a native of Norway and the city of Nesøya. He spent eight years for his hometown soccer club prior to joining the Norwegian High School of Elite Sport and Bærum SK club in 2013 where he played with the top squad that resides in Norway's 2. Division. The 5'10" Sandsmark-Evensen has honed his craft in the defensive third as a central midfielder and overall defender, and will join the Anteaters as a squad he thinks are going to achieve a lot together.