Marquette University men's soccer signs 7 freshmen and 5 transfers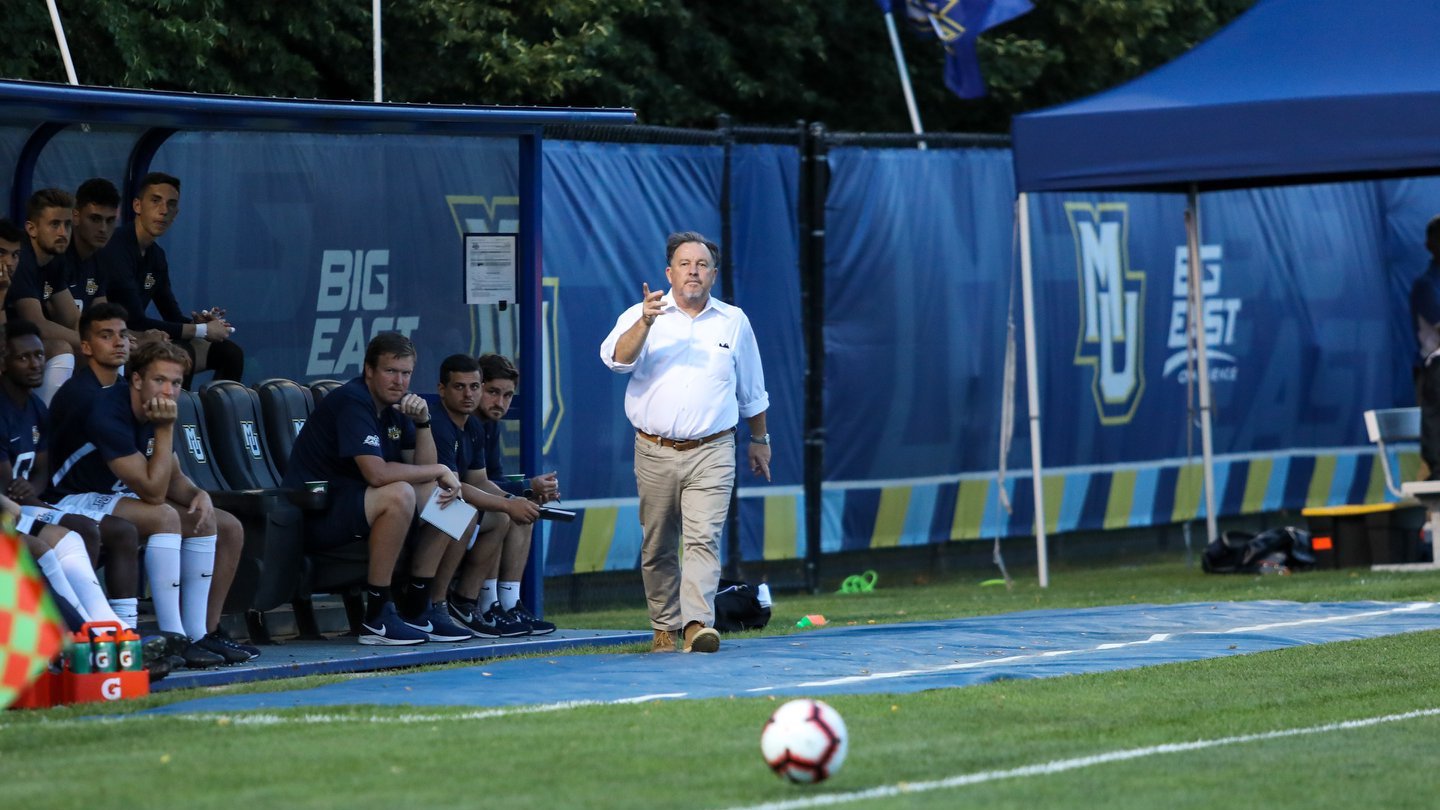 Head coach Louis Bennett and the Marquette University men's soccer program have announced 12 signees for the 2020 recruiting class.
The group includes seven freshmen and five transfers. Positionally, the team adds five forwards, three midfielders, two defenders and a goalkeeper.
"We're losing several guys from a very successful senior class," Bennett said. "Our staff worked hard to find a bevy of talented players who we can develop to step in and fill some holes in our roster. We're excited about the talent and versatility of this group."
The Golden Eagles will be looking to replace six seniors from last season including MLS SuperDraft picks Patrick Seagrist (10th overall, New York Red Bulls) and Luka Prpa (34th overall, Houston Dynamo). Leading scorer Josh Coan will also saw his eligibility expire. He signed with FC Tucson in the offseason (USL-1).
As a team, the Golden Eagles went 8-9-1 last season and made the BIG EAST tournament for the second year in a row. MU had four All-BIG EAST players including MLS picks Seagrist (first team) and Prpa (second team). Coan and fellow senior Connor Alba made the third team.
Freshmen:
Kacper Chrapczynski | Forward | Streamwood, Illinois | Lyons Township H.S.
Prior to Marquette:  Attended Lyons Township High School …is a teammate with fellow MU incomer, Joey Fitzgerald on United States Soccer Development Academy powerhouse Sockers FC of Chicago … In 2018-19, he was the fifth-highest goal scorer in the country, with 20 goals in 23 games … Recorded seven goals in 11 matches in 2019-20.
Coach Bennett: "Kacper brings speed, quickness and a sharp eye for finishing in the final third.  He is equipped to play either side of the field and whether it's goals, delivering assists or providing a constant threat to opponents, Kacper has performed at the highest U.S. Development Academy level. His tenaciousness, ambition and explosive movement indicate he will acclimate to college soccer and Marquette in a timely fashion."
Joey Fitzgerald | Defender | Western Springs, Illinois | Lyons Township H.S.
Prior to Marquette:  Three-year letterwinner at Lyons Township High School under head coach Paul Labbato … Competed for Sockers FC (USSDA) with incoming Marquette teammate Kacper Chrapczynski … Over the past two seasons, started in 33 out of a possible 36 matches, recording two goals.
Coach Bennett: "Joey is a prototypical Marquette attacking left back. His work rate, range and defensive acumen make him a great addition to our squad. He's a natural left-footed player who will provide quality competition on the left side from day one. He's a player that had several college choices and made the decision that Marquette was the best fit for the now and the future. Grit, determination and consistency, which are right in his wheelhouse, will be key for an early acclimation."
Jai Hsieh-Bailey | D | Oak Park, Illinois | Oak Park-River Forest
Prior to Marquette:  Four-year letterwinner at Oak Park-River Forest High School … Served as team captain as a senior … All-state performer as a senior and was also tabbed all-area and named to the all-academic squad … Two-time all-conference performer … Helped lead the Huskies to a pair of conference and regional titles … All-conference performer in baseball … Participated in the ODP state and regional teams and for Chicago Edge Soccer Club.
Coach Bennett:  "Jai's energy and athletic style of defending immediately stood out as one that would be well suited to the demands of our brand at Marquette. As we found out more about his work ethic, ambition and character, it was clear he would be a good fit in our system of play, our holistic school, soccer and social culture philosophy and the University's core values.  He's determined and dedicated to being an important part of our program and school.  We are excited that the important characteristics he displays on a daily basis will make him successful. He's a tough defender who can play as a central defender or as an attacking outside back."
Alan Kim | Forward | Cedar Rapids, Iowa | Kennedy H.S.
Prior to Marquette:  Four-year letter winner at Kennedy High School … Team co-captain final two seasons … All-state honoree as a junior in 2019 … Was named to all-conference and all-metro squads as a sophomore and junior … Also claimed academic all-state accolades … Helped lead Cougars to state quarterfinals in 2019 … Concluded prep career with nearly 30 goals … Played for Cedar River Soccer Association and team was state finalist in 2017-2018 … Also competed for Central Illinois United.
Coach Bennett: "Alan is a player that loves the game, studies the game and is constantly looking to get better through practice, training and game performance. He had an award-winning, memorable high school and club career. He fits in the school, soccer and social culture ethos at Marquette and will help continue drive the pursuit of excellence. He's a forward who does his best work wide, taking on players 1-on-1. He's explosive and quick with abilities to disrupt and put defenders on the back foot, making and taking goals."
Noah Madrigal | Forward | Peoria, Illinois | Peoria Notre Dame H.S.
Prior to Marquette:  Four-year letter winner at Peoria Notre Dame High School … Two-time United Soccer Coaches All-American … Also claimed IHSSCA All-State honors and First Team All-Big 12 Conference accolades in his final two seasons … Three-time Peoria Journal Star Player of the Year … Helped program to section title in 2019, with a 22-2 overall record … Team was ranked No. 1 in the country during the 2019 season for first time in school history … Concluded career with school-record 116 goals … Netted 34 goals as a junior and assisted on 10 other markers … Set personal-high with 41 goals and 14 assists as a junior … Played for FC United.
Coach Bennett: "Noah is a great recruiting class 'bonus ball.' He's a player that crafts goals and does all his best work in and around the opponent's box. He has scored goals at every level he's played and has a physical presence that adds something new to our squad. He joins a strong central striker's stable and is well positioned to fit right in and contribute. His ambition, work habit, craftmanship and opportunistic attitude in front of goal are great attributes for a striker and will be pillars of his success at Marquette."
Thomas Priest | Midfielder | Neenah, Wisconsin | Neenah H.S.
Prior to Marquette:  Four-year letterwinner at Neenah High School … Served as team captain as a senior … Concluded career with 65 goals and 32 assists … Helped lead Rockets to a pair of conference titles and a runner-up finish at the state tournament in 2019 … Fox Valley Conference Player of the Year in 2019 and co-MVP in 2018 … Named all-state, all-region and all-conference as a senior … Claimed all-state and all-league accolades in 2018 as a junior … Earned two letters in hockey … Played for FC Wisconsin and helped team to 2019 ENPL playoffs.
Coach Bennett: "Thomas is a well-decorated local player who is following in the footsteps of established Marquette soccer Wisconsin natives Zak Wegner and Alex Mirsberger. He is well known and respected, both at the club and high school levels. One of the best state and regional players coming out of the 2020 recruiting class, he was strong, robust, hardworking, playing numerous positions in high school. His versatility, character, leadership. stamina, dedication, determination and work ethic will dovetail into the demands of Marquette and our program. An important addition, Thomas will add strength and depth to the team."
Beto Soto | Forward | Houston, Texas | Houston Dynamo U19
Prior to Marquette: Played for the Houston Dynamo U19 team the past few years … Practiced with Houston Dynamo's MLS team in the summer of 2019 … In 2018, his team was named the USSDA Central Conference Team of the Year … Participated in the U.S. U16 National Team Camp in the summer of 2017.
Coach Bennett: "Beto can play across the front as an outside forward or as a second forward for us. In a similar framework to players in the past, he likes to attack and score goals. He had a ton of success with Houston Dynamo's DA team and he'll immediately provide depth and something we didn't have before."
Transfers:
In addition to the seven true freshmen, the Marquette staff has added five transfers to help fill the void of the departing upperclassmen.
"Our transfer additions are players that address our need for experience, depth and competition in some vital positions," Bennett said. "We've returned and added some great pieces to next year's squad. These additions will add quality and depth to an already solid, competitive, young and hungry squad in addition to specific knowledge of the game at high levels in their given positions."
Zyan Andrade | Midfielder | Rio de Janeiro, Brazil | University of San Francisco
Prior to Marquette: Played his freshman and sophomore years at the University of San Francisco … Started in nine of the 15 games he played in as a sophomore, in 2019 … Appeared and started in eight games as a freshman in 2018 … Prior to USF, attended Centro Educacional Podium in Brazil.
Coach Bennett: "What Zyan brings is a high quality of his play and he fits our need for versatility. He can be a very good center midfielder for us, in addition to playing several other positions on the field. He chose to come to us because we're a great school and in a conference that suits him. He has a lot of experience and will contribute immediately this fall."
Cristian Gennaro | Forward | Vigevano, Italy | Ottawa University (Ariz.)
Prior to Marquette: Played first two seasons at Ottawa University (Ariz.) before electing to transfer … As a sophomore, Gennaro set single-season program records in points (46) and goals (20) and ranked second in single-season shot percentage (.339) … Ranked in the NAIA top-15 in game winning goals (11th, 5), goals (12th), and total points (15th) … Led the Golden State Athletic Conference in points, goals, shots on goal (37) and game-winning goals … Was named a NCCAA First-Team All American, 2019.
Coach Bennett: "Cristian is an exciting attacking player who revels in going forward attacking opponents with the dribble or pass. He's a passionate, committed player who loves the game. Once he grasps our team's tactical ambition on both sides of the ball and recognizes how he can apply his skill set. I believe he adds an exciting dimension."
Chandler Hallwood | Goalkeeper | Halifax, England | Gannon University (Pa.)
Prior to Marquette: Played in 2019 at NCAA DII school Gannon University (Pa.) … Had a stellar year in net, logging 1,863 minutes in goal and finishing with an 18-3-0 record … Recorded the most single-season wins in a program history … Was named the 2019 PSAC West Defensive Athlete of the Year in addition to being named to the United Soccer Coaches All-Region First Team and PSAC West All-Conference First Team … Efforts also earned him a spot on the 2019 United Soccer Coaches All-America Second Team … Redshirted in 2018.
Coach Bennett: "Chandler is a powerful player that's good at defending crosses, making himself big at important times, while organizing defensive situations to keep games under control. He has an impressive array of collegiate honors, but his hunger and ambition to be at Marquette was what impressed me the most."
Matheus Pereira | Midfielder | Brasilia, Brazil | Marshalltown Community College
Prior to Marquette: Played two seasons at Marshalltown Community College in Marshalltown, Iowa … Was a member of two extremely successful teams, including the 2018 team that finished fifth in the country at the National Junior College Athletic Association (NJCAA) National Championship … Team went 18-2-1 and he was named NSCAA All-Region Second Team … In 2019, Marshalltown was the NJCAA North Central District runners-up … Pereira was named to the NSCAA All-Region Second Team, as well as collecting the Region XI MVP tournament award … Scored 10 goals to go along with 14 assists for his career.
Coach Bennett: "Matheus is an experienced, mature and successful midfield player. Capable of playing multiple positions, he has had two years of All-American college experience away from his native Brazil. His abilities align with, and will merge with, the existing players to form an exciting, creative, tough, and disciplined midfield group, that can be successful both sides of the ball. Matheus' passing range, possession ratio and turning ability, plus a tough edge will be an important addition to the team."
Harvey Read | Defender | Southampton, England | Rhode Island
Prior to Marquette: Played in 16 games as a freshman for Rhode Island in 2019 … Helped the Rams to a 14-4-3 (7-1 A-10) record and an Atlantic-10 tournament title in 2019 … URI 's season ended in the first round of the NCAA tournament with a 1-0 loss to Syracuse … Prior to college, was a member of Southampton FC (U8-U16), Stoke City FC (U18-U23) and Eastleigh FC.
Coach Bennett: "He's a central defender that brings a presence in the air and toughness in the tackle. He's a player that really enjoys battling and taking on challenges, also organizing and having captained several of his previous teams. He is ambitious to be a scoring threat on set pieces and has a dedication to keep clean sheet, so he's a good fit."