Reigning Ivy League champion Yale University unveils men's soccer signing class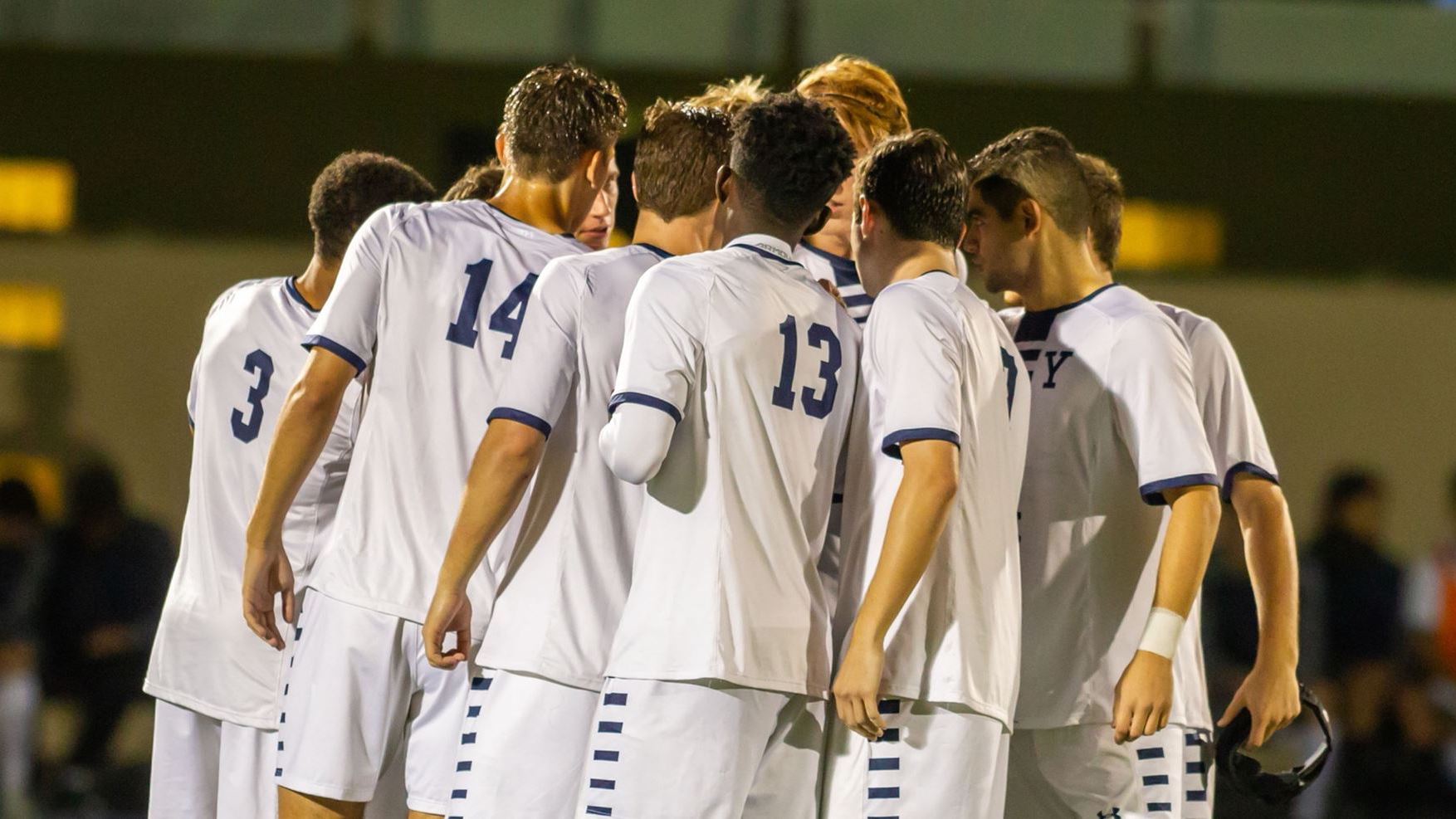 NEW HAVEN, Conn. – The Yale University men's soccer team is coming off a memorable and very successful 2019 season. The Bulldogs captured their first outright Ivy League title since 1991, matched the school record with 13 victories and earned the school's first NCAA Tournament appearance since 2005. The future appears quite bright as well. Kylie Stannard, the 5K Corral Head Coach of the Bulldogs, will welcome another very talented recruiting class, one that is again nationally ranked (No. 16) by Top Drawer Soccer.
The Class of 2024 features 10 student-athletes that excelled both on and off the field. In addition, Jules Oberg, a transfer from Williams College, has joined the program.
"First, I want to thank my assistants for their extensive time and energy in helping put this group together.  It's certainly one of the largest classes in the history of the program, if not the largest," Stannard said. "Outside of the time and investment we spend with our current student-athletes, there is nothing more important, or time intensive, than finding the next group of young men that we feel will represent our core values and continue to help further elevate our program to compete for a national championship.  Secondly, I want to thank our current and former players, administrators, admissions officers, financial aid staff and the entire Yale community for being invaluable in the process and showing exactly why Yale is such a truly special place…the people.
"I think this has potential to be a very special class.  They're talented, but most importantly, they have great character and a winning mentality, which is a testament to all their past and present coaches.  While it's an honor to be ranked the No. 16 class in the nation and it's a testament to the program, every class is measured after their four-year career.  We are losing a very talented and experienced group of seniors that achieved their goal of winning an Ivy League Championship and leaving the program in a good place.  This said, we have a fantastic and hungry group of returning players that are motivated to elevate the program further and this incoming class is going to push that group to be even better and hopefully leave an even better legacy of their own."
Here is a closer look at the Class of 2024:
High School: All-State and All-League selection at Kent Denver School… Named Coaches Association All State… Kent Denver posted a 74-2-3 record in his time there and won three state championships… Had 12 assists in his career and scored two goals.
Club: Played for Real Colorado DA, which finished first in Western Conference and was a top-10 DA in the nation… Helped Real Colorado advance to the ECNL Regional Finals.
Personal: Son of Jean-Marc and Valeria Alberola… Career ambition is attorney.
2 QUESTIONS FOR ALBEROLA
Biggest soccer influence? "N'golo Kante. I'm a huge fan of his play style in the CDM. His work rate and defensive intensity are unmatched, and I try to model his style in developing the attack. Also his personality, down to earth nature, and humility off the pitch is a big inspiration for me."
Why Yale? "When I first visited Yale, I instantly knew Yale was the place I wanted to be. The tremendous academic resources combined with the mentality, philosophy, and hard work of the team and coaching staff was why I felt so attracted to Yale."
Stannard on Alberola: "I first worked with Matias at a Georgetown camp, but he really grew on me after attending one of our ID camps and my staff and I were all able to get to know him even better. What impresses me most about Matias is his mentality.  He's humble, selfless, and works very hard. He's very coachable and wants to do whatever he can to help the team and be the best person and player he can be.
"Matias will add needed depth and competition at the central midfield position and has the ability to play in the backline, if needed.  He has a good frame that is still physically maturing, and his best days are ahead of him.  He values both sides of the ball and he's a worker.  He also has a very good passing range with good technique and has good positioning off the ball."

High School: Played his senior year at Phoenix Country Day School and was the Region Player of the Year… Scored five goals and added five assists in 12 games… Helped lead team to semifinals of Arizona 3A state tournament.
Club: Played for Phoenix Rising FC… Named to ECNL all-conference team as a midfielder.
ODP: Selected to Arizona ODP for two years (2017, 2018) and Region IV team (2017).
Personal: Son of Brian Brayboy and Dorris Warriner… Father was a wrestler at the University of North Carolina… Member of Boys Team Charity throughout high school and worked with a multitude of philanthropic organizations to give back to underprivileged communities in Arizona… Vice President for class at Phoenix Country Day… Lived in Fairbanks, Alaska, for one year before moving to Arizona.
3 QUESTIONS FOR BRAYBOY
Biggest soccer influence? "Yaya Toure is my favorite soccer player of all time. I started seriously paying attention to professional soccer around 2010, and I remember constantly seeing how popular Manchester United was at the time. Along with that, Manchester City started emerging as a quality club, so I became a fan of them in an attempt to be unique and after watching the dramatic ending to the 2011/12 season it was impossible for me not to love the club. I began watching them more and more and one player always stood out to me: Yaya Toure. The way he dominated the midfield and appeared to play so effortlessly with no one coming close to him is what captivated me. And then what really made me fall in love with him forever was the goal he scored against Crystal Palace during the 2013-14 season which just encapsulated the type of player he was. He's the reason I began playing as a midfielder (even though I am significantly smaller than him). He just made me fall in love with watching the game and cheering for City because it seemed as though every goal he scored was a work of art.
Do you have an idol or hero? "LeBron James. Mainly for what he has done off the court in giving back, being such a positive role model, and just being a good-hearted person overall. His success on the court has helped me idolize him even more."
Why Yale? "Yale encompasses everything I could dream of and more with it being a top-tier school academically without comprising an extremely high level of soccer. The opportunities available at Yale are uniquely superior to any other place and that was impossible to pass up, whether it be in the classroom alongside the best students in the world or on the soccer field working with a wonderful coaching staff and an extremely dedicated group of teammates."
Stannard on Brayboy: "Another player I worked with at Georgetown that also followed up with one of our ID camps and continued to grow on me and my staff.  What I love most about Quanah is his quiet feistiness.  He's not the biggest or loudest guy but he's never going to back down from the fight.  He's selfless, wants to be coached and will be a great teammate.
"Quanah will also add depth to our midfield and has the ability to compete centrally or wide.  He has good feet and likes to drive forward with the ball and draw opponents in.  He uses his size to his advantage by leveraging his positioning under the opponent's hips and is quite strong on the ball.  He looks to play forward and make forward runs.  Most importantly, he will do the work that's required on both sides of the ball."

High School: Played two years of soccer at Fort Worth Country Day School… Two-time all-conference selection… 2017-18 boys soccer MVP… Also ran track, swam and played football… Holds the swimming 50 freestyle school record… Part of the 4×200 track relay school record… Earned all-conference recognition in football… Recipient of school's Bill Curtis Award for best junior athlete… Captain of football team as senior.
Club: Played for Solar Soccer Club, which won U17 DA championship and was awarded the Golden Glove as the best Goalkeeper in the playoffs… Helped club finish third in the U16 USYS national championship… U16 USYS National League champion.
ODP: Played ODP in sixth and eighth grade.
Personal: Son of Quincy Edwards and Rachel Wittich… Volunteer at Wedgwood Academy, a small private school for children with learning disabilities… Hobby is ceramics, has made coffee mugs for his grandparents and has given hand-made to his family as Christmas presents.
3 QUESTIONS FOR EDWARDS
Biggest soccer influence? "Tim Howard. When I was younger, I didn't really know who he was. I made some really good saves in a game and someone was like `oh you're like Tim Howard.' From that point on I loved watching him play goalkeeper and loved watching what he did."
Do you have an idol or hero? "My parents. They work so hard to provide for me everything that I need. They give and expect nothing in return, they never complain."
Why Yale? "Yale is such an amazing opportunity. When I got on campus and met the coaches and the guys, I felt at home. It was just an amazing fit for me to allow myself to better myself athletically and academically because soccer is not forever but getting a degree from Yale is."
Stannard on Edwards: "Chris is one of the most positive young men I've ever met and constantly radiates joy and happiness which makes us all better. He's also a natural competitor and excels in four different sports…soccer, track, swimming, and as a wide receiver and defensive back on his high school football team. He helped lead his team to a USSDA National Championship during his junior year and he's only just scratched the surface with his soccer potential.
"Chris is immediately going to make our goalkeeping core better and will push Elian and Tom every day which is just going to improve everyone.  He will have great mentors to learn from with Elian and Tom and great coaching from Coach Schmid.  His raw potential is off the charts and once he dedicates himself to learning the intricacies of the position, he not only has the potential to be a starting GK at Yale, but he can be one of the best in the country."

High School: Played three seasons at Dexter High School and was a two-time first team all-conference selection… Named all-state and team MVP as a junior, his final season… Team won 60 games in his three seasons… Dexter advanced to regional finals in his junior season… Scored 17 goals and added 15 assists as a junior.
Club: Played for Michigan Wolves U19… Called to play up with Michigan Wolves 2001 team in USYS Regional Championships in 2019… Helped team win tournament and continued to play through USYS Nationals.
ODP: Played for ODP state team in 2018-2019.
Personal: Son of Jeff and Maria Harshe… Chair of Dexter High School NHS Tutoring Committee… Ranked first in class.
3 QUESTIONS FOR HARSHE
Biggest soccer influence? "Undoubtedly my parents and my little sister, Beanie, who have encouraged and challenged me to be the best I can be. I am also very grateful for the influence of my coaches, teammates, and opponents, who have all animated my love of the game."
Do you have an idol or hero? "If I named one, I'd have to name them all, and I have too many to name. I have been affected by the stories of countless athletes, authors, and other celebrities, but I am most blessed to be surrounded by real-life heroes who constantly inspire me."
Why Yale? "At Yale, I will have a unique opportunity to improve as a person, as a soccer player, and as a thinker. I am excited to spend college in the company of many of the most impressive people in the world."
Stannard on Harshe: "Sam came to a couple of our ID camps and grew on us each time we saw him here or with his club team.  However, I wasn't convinced until the last time I saw him play and was impressed with how he had continued to develop and mature as a player.  I have a lot of trust in his club coach, Lars Richters, who is a Yale men's soccer alum, and he believes in Sam a lot.  Probably his greatest attribute is his dependability and every coach loves to know what they will get on a day in and day out basis.  He's also very hungry to learn and get better.
Sam brings a lot of versatility which is always very useful.  He's primarily played as a center back or right back in the past year but was a life-long midfielder before that.  He is very athletic, fit, and loves playing both sides of the ball.  He will likely start by competing in the outside back and outside mid positions.  I think he's going to surprise a lot of people."
Academy: Two-time All-American playing with the New York City Football Club… 2019 NYCFC Academy Player of the Year…  Helped lead NYCFC to consecutive USSDA U19 championship and the 2017 Generation Adidas Cup championship… 2019 Golden Boot Winner for best player in U19 USSDA Playoffs…#19 ranked player in the nation according to Top Drawer Soccer & Top 5 for players that haven't signed professional contracts.
International: Played for the United States U17 team that won the 2018 Sport Chain Cup and participated in the 2019 U17 World Cup in Brazil.
Personal: Son of Guillermo Jasson and Ana Capella… Been involved with Saturday Night Lights, a soccer program in the city that meets on Friday and Saturday nights to try and keep children off the streets by playing fun games such as soccer or dodgeball.
2 QUESTIONS FOR JASSON
Biggest soccer influence? "Lionel Messi. He is the best player in the world, and the way he plays the game is amazing. I try to model my game after him and watch what he does. Over the years I have learned a lot from watching him play. He is similar to me in size as well, so I feel I can learn a lot from him."
Why Yale? "Yale is one of the best schools in the country to get an education. To add on to that, I can play soccer at a great program with a great coach that has been getting better every year. It made my decision pretty easy."
Stannard On Jasson: "Andres is one of the top 20 recruits in the nation and possibly the biggest recruit to ever come to Yale men's soccer. I knew he was serious about Yale when reaching out early in his junior year and also attending one of our ID camps.  This meant a lot and showed his genuine interest.  I remember seeing Andres as a scout for US Soccer when he was still 12 or 13 and before he went to NYCFC.  It's amazing to have watched his development these past few years and to now have the chance to work with him at Yale.  He's a special player and he knows how to win having been involved with a top club and coaching with NYCFC and having won back-to-back U19 USSDA National Championships.
"What's best about Andres is not his talent but his humility and work ethic.  With the loss of Miguel, we have high expectations for Andres competing for minutes right away.  That said, he understands that he needs to earn everything he gets and that starts by doing the work, performing, being a good teammate, and earning the trust of his coaches and teammates.  Andres has the ability to play out wide or central and will always find a way to get involved and make others better.  Most importantly, he has become even more dangerous and productive in the attacking third and wants to create and score goals."
Academy: Played two seasons for the United Futbol Academy, which was ranked No. 5 in the nation… Advanced to quarterfinals of USSDA playoffs… Also played for Atlanta United Academy and Georgia United.
Personal: Son of Marshall and Peggy Orson… Graduate of Druid Hills High School… Older sister plays soccer at Boston University… Match Club President, Cultural Cinema Club Founder and President and Chess Club member.
3 QUESTIONS FOR ORSON
Biggest soccer influence? "Ronaldhino. His natural ability and talent was absolutely
amazing to watch and the way he played with such joy and passion inspired my love for the
game."
Do you have an idol or hero? "My district's congressman, Congressman John Lewis, is my hero for the outstanding principles he has always displayed through his words and actions."
Why Yale? "Because there is no better combination of academics and athletics in the entire country. Between the residential college system, the fantastic coaching staff and the amazing history, I instantaneously loved everything about Yale. The soccer program is emerging as one of the best in the Ivy League under Coach Stannard, and I think it will be the best place for me to develop and compete for championships for the next four years."
Stannard on Orson: "Two years ago I wasn't sold that Jamie was someone that I felt could help our program.  However, he matured and developed immensely during his junior year and did very well at our ID camp last summer and also allowed us to get to know him better.  It says a lot about his character and competitive drive.
"Jamie has good size, moves pretty well, and has a good left foot.  He's very coachable and we like his ability to play as a center back or left back.  He's a physical defender and also reads the game pretty well.  With the loss of Justin Lobe as the first choice left back the past four years, the position is open and will be very competitive.  Jamie has the chance to be in that mix."
Club: ECNL All-American with Phoenix Rising FC… Named 2018-19 ECNL Southwest Conference Player of the Year… Selected to 2019 ECNL ID2 National Training Camp in the Bahamas… Phoenix Rising was the ECNL Southwest Conference Champions in 2018 and 2019, going undefeated both seasons… Club also captured 2018 Surf Cup and 2019 Dallas Cup titles.
Personal: Son of Tibor and Maya Pelle… Father played soccer at UCLA… Mother did equestrian at UC Davis… Member of Spanish Honor Society at Pinnacle High School… Attended the TOVO Academy in Barcelona, Spain. Lived soccer with the local residents, learned from speakers at Barcelona's Geneva School of Business, solidified his Spanish fluency and immersed himself in the Catalonian culture during the height of its political upheaval.
3 QUESTIONS FOR PELLE
Biggest soccer influence? "Johan Cruyff. He was not only one of the greatest players in history but also the most influential coach of the modern era. As a player, he had an unmatched mastery of time and space, and was always the smartest one on the field. These visionary qualities were rivaled only by his raw speed, agility, and versatility. As a coach, he built Barcelona's La Masia from scratch, in turn creating the everlasting system of `Total Football' that so many teams around the world try to emulate today."
Do you have an idol or hero? "I look up to my grandfather John Bohn because he embodies the principles of a `Renaissance Man.' He exhibits integrity, quick wit and is an intellectual giant who has been the conscience of some of the world's greatest leaders."
Why Yale? "The range and depth of academic programs that are offered, the worldwide alumni network, the many years of tradition behind the school, and the opportunities available after graduation made Yale an easy choice. Kylie Stannard and his staff are great coaches, and my future teammates are not only fantastic players, but interesting people. The program is a huge up-and-coming force to which I feel I can really contribute."
Stannard on Pelle: "Sandor might be one of the most underrated players in the nation.  I think he's going to surprise a lot of people.  We never doubted his attacking prowess but what sold me on Sandor is when I watched his team in the Dallas Cup final, he was 100 percent committed to his team's defensive tactical set-up and was fully bought in and doing the defensive work that was needed to help them win the championship.
"He will immediately come in and be one of our fastest players and he has great confidence and ability to take players on 1v1.  He's very good with both and it's rare to find someone that is confident cutting inside or outside and has a good shot and also a good crosser of the ball.  There is no question that Sandor has the potential to compete for minutes right away but will come down to his consistency on both sides of the ball."

Academy: Captain of U19 and U17 FC Westchester Academy clubs… Scored a team-high 15 goals for U17 club… Led team in starts and minutes played… Helped Westchester qualify for USSDA playoffs… Scored four goals in three playoff games… Helped team win 2018 New York State Cup.
High School: All-league and all-section tennis player at Horace Greeley High School… Helped tennis team to a pair of section championships.
Personal: Son of Steven and Luba Seidman… Father played soccer at Yale (Class of 1987)… Older brother Will play soccer at Yale (Class of 2022)… Volunteer at JCCA Cottage School… Horace Greeley Business Club member… Member of Horace Greeley Quiz Bowl team.
3 QUESTIONS FOR SEIDMAN
Biggest soccer influence? "My Academy coach Stephen Carson who played professionally in Europe for many years. He has used his experience from the game and knowledge to help me grow as the player and person I am today."
Do you have an idol or hero? "Steven Gerrard. He was the captain of Liverpool (the team I support) and was a complete center midfielder who was a leader and could effectively dominate the game with his all-around attributes. I try to emulate my game after his whenever I play."
Why Yale? "Yale provides me with the ideal balance of being part of an incredible current Ivy League winning Division I soccer program as well as having the opportunity of a world-class education. Both the Yale Soccer team and Yale College as a whole have a unique sense of community and tradition that I can't wait to be part of."
Stannard on Seidman: "With Jonathan and his brother, William, on the team, they will make the third set of brothers on the team, which is pretty cool and unique.  Jonathan has attended several camps in the past and it's been great to see his development each year.  He is a soccer junkie and has a great feel for the game.  He has excellent vision and a good passing range.  He reads pressure well, is confident on the ball and looks to play forward and impact the game.
"Jonathan will add much needed depth in our center midfield and help create even better competition.  Technically and tactically, he will be ready from day one and once he gets used to the speed and physicality of the college game, he has the potential to compete for minutes in the future.  He has a great mentality, so I think it's just a matter of when."

Academy: Scored 13 goals in 14 games for Beachside SC… Top goal scorer in East Region and No. 3 in the nation in 2018-19… Helped Beachside be one of 32 clubs in the nation to qualify for the playoffs in San Diego… Scored once or twice in each of the four games against the four MLS clubs in the Northeast… Played a year up on club's U16/17 academy team… Two-time MVP at UConn's Soccer Camp… Scored nine goals during the 2016-17 season.
Personal: Son of Gerard and Marina Van Spaendonck… Born in Singapore and lived in New York, Massachusetts and Connecticut.
3 QUESTIONS FOR VAN SPAENDONCK
Biggest soccer influence? "Erik Tammer. He's my cousin and played as a professional striker in the Dutch Eredivisie at FC Twente. He's currently an international scout for Ajax and has given me lots of insight and tips regarding the sport."
Do you have an idol or hero? "An idol of mine in the soccer world is Marcus Rashford. At such a young age he was able to seize his opportunity for one of the most prestigious clubs (Manchester United) in the world. I've seen many parallels between my game and his; he is definitely a player I try to emulate. He always has his mind made up, likes to go with speed and has a good eye for goal."
Why Yale? "For me, Yale gives me the best of both worlds regarding academics and athletics. As both a student and competitor, I want to take advantage of its elite academic resources and special community while still following my passion for soccer."
Stannard on Van Spaendonck: "Ollie was our first recruit in this large class and we couldn't have been more excited.  He came to a couple of ID camps at a young age and we had the benefit of seeing him regularly with Beachside since they are a local Connecticut team.  Ollie is not someone that initially stands out as a great athlete or soccer player, but make no mistake, he has many special qualities and has the potential to be a big-time player in the Ivy League and in the nation.  He will be one of the fastest players on the team immediately and his movement off the ball is smart and savvy beyond his years.
"He is coming off some recent injuries but has been progressing very well.  Once he gets back to full health and fitness, Ollie will be competing for minutes up top or out wide.  He has a rare combination of confidence when playing back to goal, running at players 1v1, and also making runs off the ball in behind the backline.  He is clinical around goal and has great composure and technique.  We are very excited about the attacking threat that Ollie can provide."
Academy: Helped De Anza Force win the Northwest Division of USSDA Academy in 2018-2019 season… Finished regular season undefeated and was ranked fourth in the nation… Helped De Anza Force Academy II finish in top 4 at 2018 MIC Tournament in Lloret de Mar, Spain…  Team won western regionals in May 2018 and finished sixth in the nation at NPL nationals.
High School: Played one season at Prospect High School… Played 15 games at left back and scored four goals… Team finished with a 9-4-2 overall record and was second in league.
Personal: Son of Seyed Zahiroleslam and Niloufar Nouri… Have been involved with Mom's Against Poverty (MAP) which was founded by family friends.  MAP is a non-profit tasked with helping children in poverty around the world.
3 QUESTIONS FOR ZAHIROLESLAM
Biggest soccer influence? "My dad.  He introduced me to the game when I was 2 years old and I have never stopped playing ever since. He has been at every training and game apart from a few in the last 14 years.  He showed that he believed in me to chase my dreams and always put me in the best positions to succeed."
Do you have an idol or hero? "Growing up my idol that I would always watch was Ronaldinho.  Playing on my favorite team, Barcelona, his flair and natural talent drew me to his style of play, and I knew I wanted to be a player that played with the same joy that he did."
Why Yale? "I chose Yale due to its stellar academic reputation as well as the fact that the soccer program was one on the upswing. I noticed the passion of the coaches to become a top program and felt that their vision was one I could help make a reality during my times here."
Stannard on Zahiroleslam: "Kahveh jumped out to us at the DA Playoffs last summer as the starting center forward on the #1 ranked U17 DA team in the nation.  He has a great frame that we think will only get stronger.  He moves well for his size and does a great job of occupying attention of one or two opponents and then finding the open teammate in space.  He can play with his back to goal and also has the ability to run into the channels and get behind the opponent.
"Kahveh will have a great mentor to learn from with Paolo Carroll but we also want him to compete with Paolo right away which will make them both better players and help the program.  Kahveh has immense talent and love for the game, and if he can push himself on a consistent basis to thrive on the competition, adapt to the physicality of the college game, and embrace the level of fitness and defensive work that is needed, the talent and potential is all there to be a big-time player in college, and possibly beyond."

Notes: Transfer from Williams College.
2019: Started all 17 games for Williams… One goal, two assists, four points… Goal was a gamewinner… Earned Third Team All-New England honors from the United Soccer Coaches Association of America… Named second team All-NESCAC.
2018: Had a stellar rookie season in Purple & Gold appearing in 18 games and starting 10…assisted on game-winning goal vs Babson in the 90th minute…Notched his first collegiate goal, a game-winner, against Curry in Ephs' 4-0 win…Featured at both center back and defensive center midfielder.
High School/Club: A three-year varsity player at the Berkshire School… Two-time NEPSAC Class A Champion (2014, 2016)… As a senior was one of the captains that led the team to a 20-0-1 record, resulting in a NEPSAC Class A Championship… Named to the NSCAA and USA Today All-American team in 2016… Played for Manhattan SC Villa, who won the 2016 US Club Soccer/NPL National Champions.
Personal: Son of Ulf and Sophie Oberg; has a younger brother named Paul.
Stannard on Oberg: "Jules has a very unlikely path to Yale and I give him a lot of credit for his persistence and desire to push himself to play at the Division I level and beyond.  We initially recruited him coming out of Berkshire, but it wasn't meant to be at the time.  He brings a lot of experience and great coaching from all the places he's been and that will help balance the loss of a very strong and experienced senior group.
"Jules helps fill the void left by four-year starter, Ryan Matteo.  With his maturity, we expect him to compete immediately in a central midfield role, but he also has the ability to play as a center back.  Jules has good size, a good soccer brain, a very good passing range, and looks to play forward.  As with all of our guys, he values both sides of the ball equally and will help us win duals."