James Madison University men's soccer unveils 13-player signing class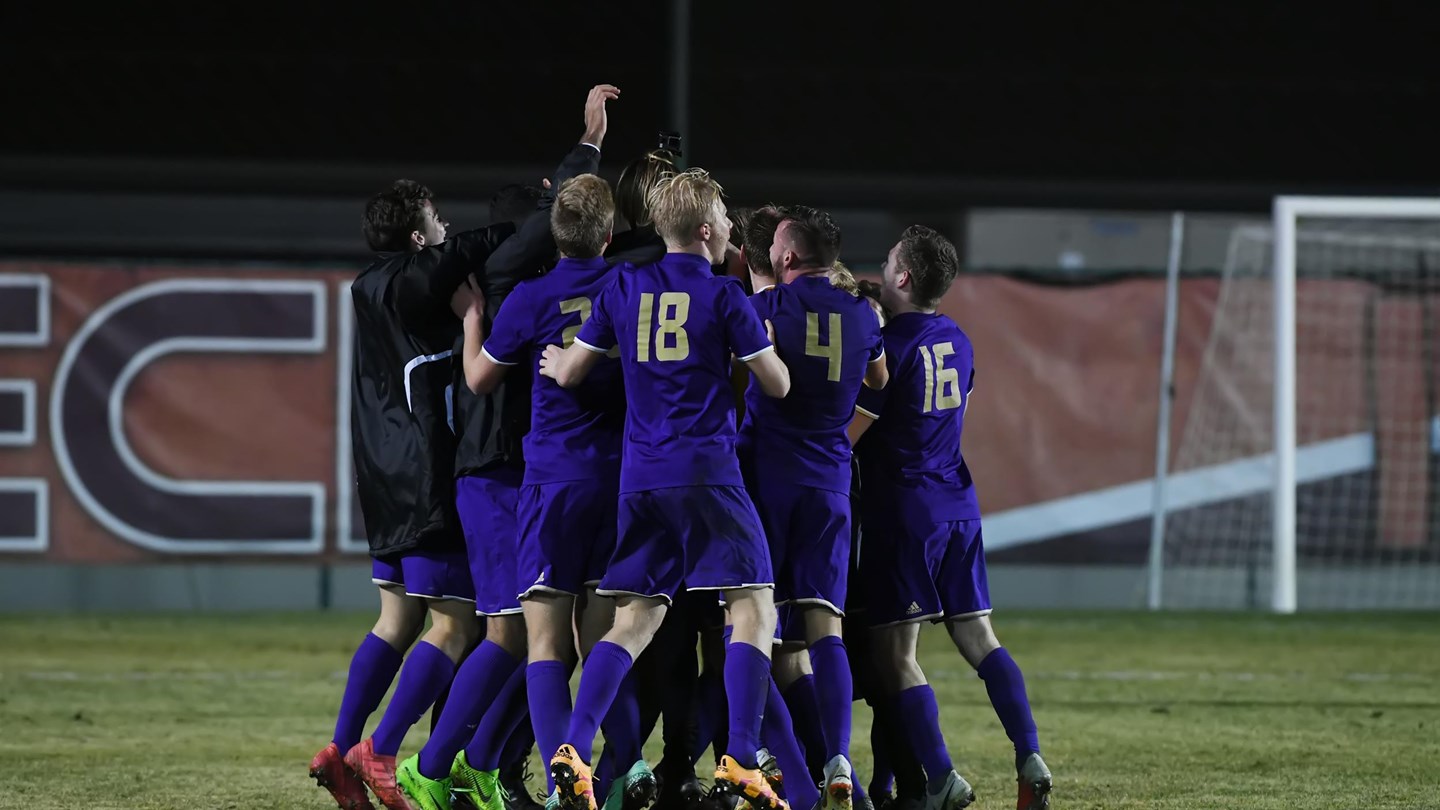 HARRISONBURG, Va. – On Monday morning, James Madison University men's soccer head coach Paul Zazenski announced his highly touted 2020 signing class.
The 13-person class, which has been ranked as high as 20th in the country by TopDrawer Soccer, consists of 12 freshmen and a transfer. The class is highlighted by an NJCAA national champion and All-American, a top 50 ranked recruit, two high school All-Americans, multiple academy captains, and two international players with national team caps.
"Our staff is very optimistic about the quality of player and person we are bringing onto campus this fall," said Zazenski. "This 2020 recruiting class is a bit unique in that we have recruited every field player position in a rather large class filled with almost every avenue of the recruiting landscape. All of these players bring the talent level to compete right away which will only add depth to our roster. It is nice that we have been recognized nationally for this class and we are confident that the future is bright with these student athletes representing JMU for years to come."
 
Alex Krakowiak
Position: Midfielder
Height/Weight: 5'11/155 lbs
Hometown: Richmond Hill, Ontario, Canada
Previous Club: Toronto FC
Scouting Report: Alex joined us in the spring and little did he know he would only have a month to adjust to college soccer. In that short amount of time we were able to see that Alex reads the game at a very high level and brings a great deal of maturity to the midfield. His background includes captaining Toronto FC's academy and earning caps with the Polish Youth National Teams at the U18 and U19 levels. He is eager to advance his game so we are excited to see how this ambition pays off in a JMU uniform
Jordan McMillen
Position: Defender
Height/Weight: 6'3/200 lbs
Hometown: Fairfax, Va.
Previous Club: NVUFC/BRYC Elite Academy
Scouting Report: Jordan is a Virginia product who is as athletic and competitive as a player can get. He was an All-State and All-American high school player, tallying 42 goals and 54 assists in his career while setting multiple school records at The Heights School. He was named 2019 WCAC Player of the Year, which is one of the best high school leagues in America. He is strong in the air and is dangerous going forward from a defending position. He also possesses one of the most accurate and powerful thrown ins you will find in any level of soccer. Jordan has all tools to be a great defender in DI soccer for years to come.
Luca Erhardt
Position: Forward
Height/Weight: 6'0/175 lbs
Hometown: Willstätt, Germany
Previous Club: Astoria Walldorf
Scouting Report: Luca was a heavily recruited forward coming from the JUCO ranks. He transfers to JMU after having won a JUCO championship with Monroe Junior College. It was there that he led all of JUCO with 31 goals and 68 points, earning First Team All-American status. His youth background includes the German U16 National Team and Borussia Dortmund Club. We have not recruited that many players who move off the ball as well as Luca. This movement creates chances on a regular basis and we are confident that he will get on the score sheet a few times for us here at JMU.
Josiah Blanton
Position: Defender
Height/Weight: 6'1/170 lbs
Hometown: Roswell, Ga.
Previous Club: Concorde Fire Development Academy
Scouting Report: Josiah is one of the highest profile players in the American youth systems. He has consistently been in the TopDrawer Top 50 players of the 2020 class and is a 4-star recruit. He helped lead the Concorde Fire development academy to a runner up finish in the 2019 academy playoffs, which was a huge accomplishment for a non-MLS academy. His rare combination of athleticism and positional versatility made him an excellent candidate for JMU men's soccer. His speed and 1 on 1 defending abilities are top notch and we are excited to see that translate to college soccer.
Axel Ahlander
Position: Midfielder
Height/Weight: 6'2/185 lbs
Hometown: Duken, Norway
Previous Club: Wang Toppidrett Tonsberg
Scouting Report: When you look Axel you would think that his game is based around his physical stature, but his game is actually quite the opposite. Coming from a very high level in Norway in which he was invited to the Statoil Talent Camp, Axel possesses all the technical and tactical abilities you could ask for in a midfielder. He is calm in every situation and can play multiple roles in the midfield depending on what the game calls for. An interesting fact about Axel is that his brother led the NCAA DI in assists at SMU in the 2019 season. Although certainly a different player than his brother, the family pedigree of high-level soccer is present. We are confident in Axel and what he brings to the table for the program.
Ethan Taylor
Position: Midfielder
Height/Weight: 5'8/155 lbs
Hometown: Virginia Beach, Va.
Previous Club: Virginia Rush Soccer Club
Scouting Report: It is rare to find players on the recruiting trail that convince you almost instantly. Ethan is one of those players that we just felt like was the perfect fit for JMU from day one. He loves the game and it shows when he plays through his movement and competitive nature. He is explosive in wide areas and will go at defenders with consistent success, as he has shown by scoring 53 goals in three years in his high school career. Having been an All-State player from the state of Virginia we feel like Ethan will be a player that has endless potential and we are excited to see how far he is willing to take his game.
Mason Christian
Position: Forward
Height/Weight: 6'2/190 lbs
Hometown: Fulton, Md.
Previous Club: Baltimore Celtic
Scouting Report: Mason is a hold up forward whose physical presence is hard to go unnoticed. What drew us to Mason was his desire to win and be a leader doing so. He has consistently captained his teams from the high school and club levels. This mindset abled him to be named a high school All-American and play in the 2019 High School All-American game in Florida. Mason also made history with McDonogh High School after leading them to an unprecedented 3rd straight MIAA State title, contributing 15 goals and five assists throughout his senior season.
Rasmus Strangholt
Position: Midfielder
Height/Weight: 5'9/158 lbs
Hometown: Hurup Thy, Denmark
Previous Club: Vejgaard
Scouting Report: Rasmus is another player in our class that brings a tremendous amount of experience from his background. Having played at a top level in Denmark with Vejgaard, Rasmus is well suited for the DI game and will no doubt have the intellect and maturity needed to impact things from an early point in his JMU tenure. He is very active in the midfield and is tenacious in his approach to hunting the ball. Rasmus was also involved in the Denmark national team identification process. His passing technique and accuracy are well above average and we are excited to have a player of his caliber roaming the midfield here at JMU.
Demitri Turner
Position: Midfielder
Height/Weight: 5'10/185 lbs
Hometown: Lorton, Va.
Previous Club: BRYC Elite Academy
Scouting Report: Demitri is solid and effective in all parts of his game. We were impressed with Demitri's abilities to connect every pass and break up passing lanes on the defensive side of the ball. He was a consistent leader for one of the best clubs in the state of Virginia, BRYC, and excelled with the Virginia Olympic Development Program for multiple years. During his sophomore year, he became a Virginia State Cup Champion with BRYC (along with Jordan McMillen). Demitri brings a lot of intangible qualities that oftentimes are overlooked. We are confident he will represent JMU men's soccer in the highest regard both on and off the field
Yanis Lelin
Position: Defender
Height/Weight: 5'11/165 lbs
Hometown: Madrid, Spain
Previous Club: CD San Fernando
Scouting Report: Yanis comes to us from Spain and can play a variety of positions both on the backline and midfield. He is a possession first player with an array of attacking qualities to go along with a very athletic frame. He will fit in perfectly with how we like to play on both sides of the ball. Yanis has seen and played with some of the best youth players in Spain, playing in CD San Fernando his senior year, and we are confident these experiences will pay off for him and us as he pursues college soccer at JMU.
Nate Corely
Position: Midfielder
Height/Weight: 5'10/155 lbs
Hometown: Ashburn, Va.
Previous Club: Virginia Development Academy
Scouting Report: Nate is a Virginia Development Academy player who we really saw trending in a positive direction throughout the recruiting process. There is a certain level of creativity that goes with Nate's game that is somewhat unorthodox, but very effective. He has an ability to create something out of nothing and will cover lots of ground throughout a 90-minute match.  Once again, his ability to play multiple roles was enticing to us and we are optimistic about his JMU future.
Chay Strine
Position: Defender
Height/Weight: 5'11/160 lbs
Hometown: Traverse City, Mich.
Previous Club: IMG Academy
Scouting Report: Chay has been a mainstay for IMG Academy, having captained the squad and recently being named their 2019 MVP. He is a simple player that tackles hard and makes those around him better. We love that he has been effective as a center back as well as a holding midfielder throughout his youth career. Chay has an exceptional soccer brain and plays within himself. His drive to become a better player daily was never more evident than him moving to Florida to pursue the IMG Academy. This mindset will fit in well with the culture we aspire to create.
Ian Graham
Position: Defender
Height/Weight: 5'11/170 lbs
Hometown: Columbia, Pa.
Previous Club: Philadelphia Union
Scouting Report: Ian is an excellent defender who was a consistent starter for a very high level Philadelphia Union academy team. His best attribute is being a lock down 1 on 1 defender. He is very dependable and consistent anywhere on the backline. There is no doubt his commitment to defending and his overall toughness as a player will be what we will expect out of him come this fall.