George Washington University men's soccer adds 7 to roster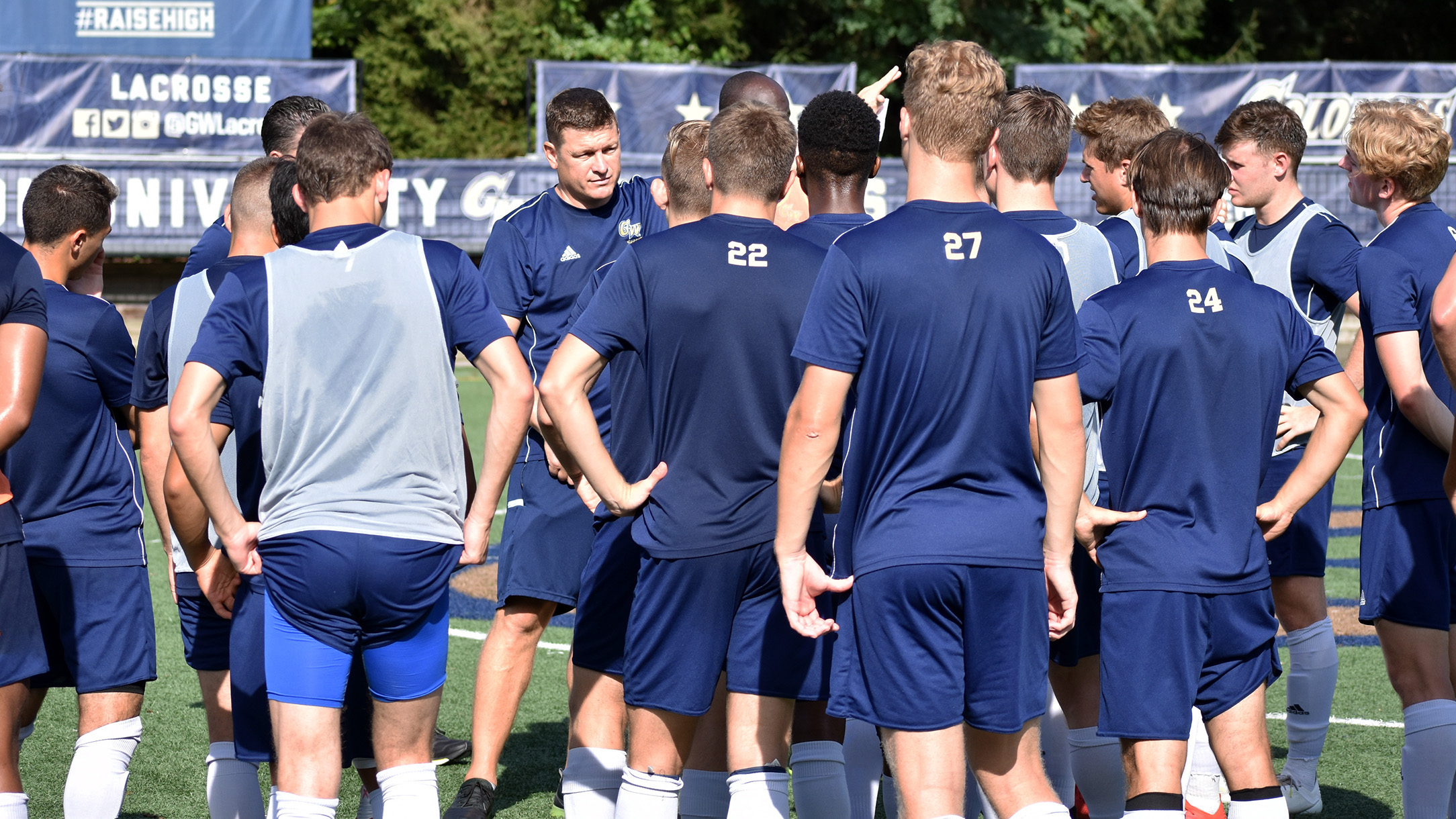 WASHINGTON – Seven newcomers have signed to join the George Washington University men's soccer team this fall, head coach Craig Jones announced on Wednesday.
The incoming class, with a strong mix of international and local talent, includes first-years Demi Amigun (Newark, N.J.), Carter Humm (Arlington, Va.), Aaron Kronenberg (Lindlar, Germany), Tim Neumann (Daun, Germany), Christian Rader (Middleburg, Va.) and Tobias Williams (Carlsbad, Calif.), plus graduate student Hrólfur Sveinsson (Hafnarfjordur, Iceland).
"We announce our incoming 2020 Class with excitement for the immediate impact this group is going to have on the program," said Jones, who will be entering his ninth season leading the Colonials. "We have added depth to the team on the field by recruiting student-athletes who have the character and commitment to be successful at GW in all they do.
"I believe this group has all the tools to manage the expectations, build on the program's successes academically and athletically, and continue to grow our team culture. We cannot wait to get back on the field and integrate our new class with our returning group come the fall."
Demi Amigun
Midfielder
Newark, N.J.
St. Benedict's Prep/Cedar Stars Academy
Enjoyed tremendous senior season at St. Benedict's Prep, helping the Gray Bees complete an undefeated 2019 season en route to New Jersey Prep A state title and No. 1 spot in TopDrawerSoccer's FAB 50 national rankings…Represented Cedar Stars – Bergen on the 2019-20 U.S. Development Academy circuit after previously playing club ball with Cedar Stars – Newark from 2015-2019…Honor Roll student and president of Youth Civic Action Club at St. Benedict's Prep.
Jones on Amigun: "Demi adds to our depth in the midfield. He has a good passing range and the athleticism to get forward to join our attacking options or dictate play in the attacking third."
Amigun on choosing GW: "When I visited, I fell in love with the school. I decided then that it's one of the best schools to continue as a student-athlete. The A-10 is a strong conference, and GW's political science major is one of the best in the country."
Carter Humm
Midfielder
Arlington, Va.
Washington-Liberty High School/Bethesda SC
Represented Bethesda SC on the U.S. Soccer Development Academy circuit in 2019-20…Previously represented Arlington Soccer Association, claiming State Cup titles in 2016 and 2017 with a top finish of third place at regionals…Selected to district, state and regional teams as part of Olympic Development Program…Named Washington-Liberty High School Student of the Semester.
Jones on Humm: "A dynamic attacking midfielder, Carter has a great work ethic and brings lots of energy.  His versatility will see him competing for a midfield or forward spot as a great addition to our offensive options."
Humm on choosing GW: "I chose GW over other schools because of its academic reputation, high-level soccer program and unique location in the nation's capital. I felt an immediate connection with the coaching staff that I hadn't felt elsewhere. They not only emphasized the importance of being a good soccer player but also developing you into a mature adult."
Aaron Kronenberg
Defender
Lindlar, Germany
Gymnasium Lindlar/SC Fortuna Koeln
Led SC Fortuna Koeln to the top of the U19 Mittelrheinliga table in 2019-20…Posted five goals in 23 games for the same club in 2018-19 before being named to the U18-U19 All-Star State Team…Started two seasons for FC Hennef 05 in U17 Mittelrheinliga, helping his club capture the league title in 2017-18.
Jones on Kronenberg: "Aaron is a great addition to our defensive options. A good 1-v-1 defender, he can play out wide or centrally and reads the game very well with the technical ability to allow us to move the ball out of the back."
Kronenberg on choosing GW: "For me, it came down to the combination of academics and soccer on a high-quality level. In addition, the communication with the coaches and the team was very good. I'm excited to be a part of the program."
Tim Neumann
Midfielder
Daun, Germany
Geschwister-Scholl-Gymnasium Daun/SG Alfbachtal
Played in Germany's top men's amateur league Verbandsliga Rheinland from 2018 to 2020 with SG Alfbachtal…Represented his state all-star team in the German Championship four times, serving as team captain…Two-time Rheinlandpokal state cup champion…Competed in the Regionalliga Südwest (second-highest German youth league) for two years, serving as a team captain and scoring eight goals.
Jones on Neumann: "Tim has such a great ability to read the game. An athletic box-to-box midfielder, he's comfortable playing on both sides of the ball and should challenge for a starting spot in a very competitive midfield area."
Neumann on choosing GW: "I chose GW because of the promising athletics program and the wide range of academic opportunities combined with the uniqueness of the D.C. area."
Christian Rader
Defender
Middleburg, Va.
Riverside High School/Loudoun Soccer Club
Received Second Team VISAA All-State and WCAC First Team All-Conference honors representing Paul VI Catholic High School in Fairfax, Va…Represented Loudoun Soccer Club in the ECNL…Helped his club squad to Club Champions League Gothia Cup title in 2018…Earned a place on High Honor Roll throughout high school.
Jones on Rader: "What I like about Christian is he's comfortable playing in a number of spots on the back line. He has such great presence on the field and always looks in control whether he's on the ball or in defending situations. He's someone who will give those around him confidence wherever he plays."
Rader on choosing GW: "I love the city and felt at home from the first minute I was on campus. I wanted to compete at the highest level in athletics and academics that I could, and I knew GW would give me the opportunity to do both."
Hrólfur Sveinsson
Defender
Hafnarfjordur, Iceland
Commercial College of Iceland/Throttur Vogum
Three-year captain of Fimleikafélag Hafnarfjarðar (FH) U19 squad, helping the club secure top-three finish in Iceland's top division each season…Part of FH men's Icelandic Championship win in 2016…Saw action in 57 games with Throttur Vogum men's team…Promoted with Throttur Vogum to the 2nd Division in Iceland in 2017 for the first time in the club's history…Voted Throttur Vogum Young Player of the Year for 2017 success…Attended Commercial College of Iceland.
Jones on Sveinsson: "Hrólfur is a robust defender who enjoys the challenges of competing in 1-v-1 situations. Definitely a great addition to our back line, he could prove to be a threat offensively in the air, as well.
Sveinsson on choosing GW: "I believe the school offers the best possible location with opportunities and an experience hard to find elsewhere. Being able to study in the nation's capital along with pursuing my passion of playing soccer with an ambitious program is an opportunity I could not pass up."
Tobias Williams
Midfielder
Carlsbad, Calif.
Carlsbad High School/Nomads Academy
Represented Nomads Academy on the U.S. Development Academy circuit…Participated in Generation Adidas Cup…Represented Cal South in Olympic Development Program and participated in regional U.S. National Team camp…Played first two prep seasons at Carlsbad High School, earning Rookie of the Year and Biggest Playmaker awards…Was the top club scorer four consecutive years with Carlsbad United and San Diego Galaxy…Also previously represented Carlsbad Lightning.
Jones on Williams: "Toby is an attack-minded player who loves to run at players using his speed and technical skills and will bring an end product to our offensive options. Playing out wide, his strength and work rate showed us he's willing to do the needed work to push for a starting place."
Williams on choosing GW: "I chose GW because it was the best combination of soccer, academics and location. Being right in the center of a major city like Washington D.C. is a massive advantage and will make for an amazing experience. My father also attended GW, so I knew that the school could offer me everything that I was looking for."