UCLA men's soccer team brings in 11 newcomers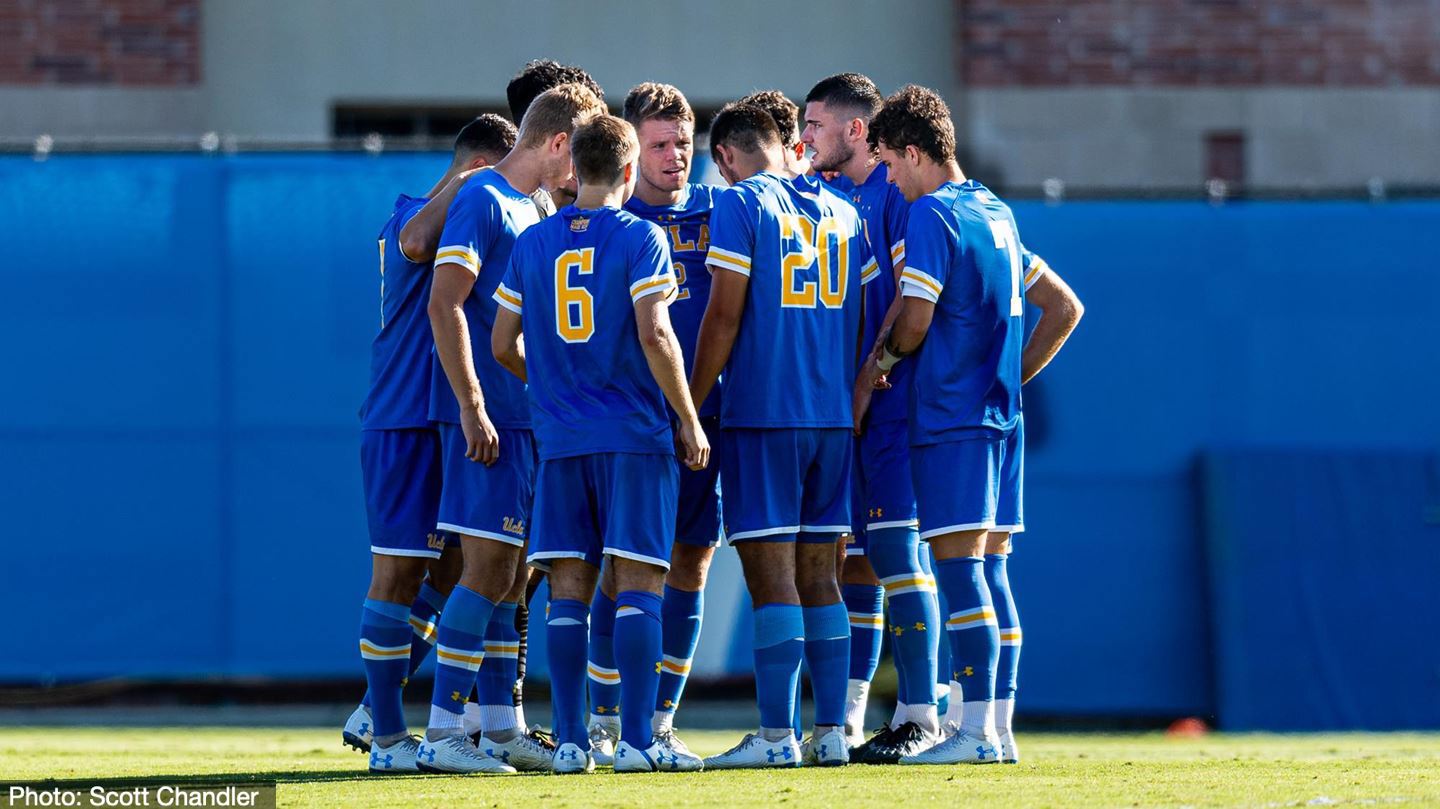 LOS ANGELES – UCLA men's soccer head coach Ryan Jorden on Tuesday morning unveiled the team's incoming class for the 2020 season, a group featuring 11 promising and decorated newcomers.
The newest group of Bruins features – by position – three forwards, three midfielders, four defenders, and one goalkeeper. The 11 newcomers are comprised of two transfers, three international students, four Elite Clubs National League alumni, and a pair of MLS Youth Academy products.
"I am very excited about the group of players that will be joining UCLA Soccer for 2020," said Jorden. "We have addressed many positional needs in this class, and have increased the overall athletic quality of the team. In addition to being a very technically and tactically astute group of players, we anticipate a very competitive team training environment that will benefit the program going forward."
"Coaches Matt Taylor and Eric Reed put in a tremendous amount of work to get this class signed and onto campus," said Jorden. "As Bruin alums, they understand the importance of tradition at UCLA, and we think this is a group that can buy into that heritage and continue driving this program forward."
Below are capsules on all 11 of the incoming Bruins, featuring bios of their amateur soccer careers as well as a short scouting report from Coach Jorden.
Kevin Diaz – Forward – Norwalk, Calif. – Cerritos College
Bio: An LA Galaxy Academy product, Kevin Diaz comes to UCLA after a productive two-year stint at Cerritos College. Diaz was named the South Coast Conference Offensive Player of the Year in both of his seasons with the Falcons, recording 39 goals and 29 assists for 107 points over 50 games. The Norwalk, Calif. native helped Cerritos to State and National Championships in 2018, and the squad finished the season ranked No. 5 nationally in 2019. A two-time Second Team All-America honoree in his junior college days, he enrolled early at UCLA and began taking classes during the current spring quarter.
Quick Scouting Report: "Kevin is technically gifted with a high soccer IQ. His balanced scoring and assist numbers show a player with a lot of ability and understanding of the game."
Ahmed Longmire – Defender – Las Vegas, Nev. – Utah Valley University
Bio: Ahmed Longmire enrolled at UCLA in spring 2020 after transferring from Utah Valley University. A former state defender of the year at Centennial High School in Las Vegas, Longmire was a mainstay in the back at UVU over the last two seasons, starting all but two games at center back for the Wolverines. A WAC All-Freshman Team pick in 2018, he went on to play every minute of the 2019 season en route to First Team All-WAC and Third Team All-Far West Region honors.
Quick Scouting Report: "Ahmed has top-level athleticism and has strong technical quality in his passing. His defending tactical insight and his competitive/psychological drive are his personal strengths."
Jose Contell-Lechon – Forward – Valencia, Spain – Valencia CF
Bio: A center forward/winger from Valencia CF's U-19 team, Contell-Lechon played in the UEFA Youth League against the top clubs in Europe, including Chelsea FC and AFC Ajax. Last year, he attended the Universidad Catolica de Valencia, continuing his academic pursuits while competing in the Division de Honor Juvenil, the top youth league in Spain.
Quick Scouting Report: "Jose uses his pace and strong technical quality to get behind opposing defenses and to hold up and link play from the front of the team. His work rate and pressing defensively will directly translate to collegiate soccer."
Grayson Doody – Forward – Hermosa Beach, Calif. – Beach FC /Loyola HS
Bio: A decorated forward out of South Bay, Doody is coming off a national championship season with Beach FC and received ECNL National Player of the Year honors in 2019. He was previously a member of the LA Galaxy Academy and was a decorated high school player at Loyola HS, earning First Team All-CIF accolades while helping Loyola to the State Regional Final.
Quick Scouting Report: "Grayson is an extremely quick player who has very good technique, a knack for scoring goals, and a strong competitive drive."
Pablo Greenlee – Defender – Los Angeles, Calif. – LA Breakers FC/Harvard-Westlake HS
Bio: Pablo Greenlee played for the LA Breakers, which was the top-ranked team in the ECNL this past season. Greenlee picked up plenty of silverware with the Breakers, including the NHB Cup Championship, Surf Cup Championship, and ECNL Showcase Championship. The Los Angeles native was a four-year starter at Harvard-Westlake High School in Studio City, Calif., earning Mission League MVP and Defender of the Year honors in 2019 while picking up Attacking Player of the Year recognition in 2020. He was a three-year All-Mission League First Teamer at Harvard-Westlake.
Quick Scouting Report: "Technically clean and very athletic, Pablo has an uncanny ability to solve problems on the field."
Tyler Kirberg – Goalkeeper – Peoria, Ariz. – Phoenix Rising FC
Bio: Standing 6'5″, Tyler Kirberg has been a standout at the club and ODP levels, most notably winning a USYS National Championship. He was also productive with the West Region ODP team, earning All-Tournament Team honors twice while also being named to the National Best XI at ODP Inter-Regionals. The Peoria, Ariz. native also spent one season with the Real Salt Lake Academy in 2017-18.
Quick Scouting Report: "Tyler has good technique, on-field communication, and ability to use his feet as a goalkeeper."
Tucker Lepley – Midfielder – Charlotte, N.C. – Sporting Kansas City
Bio: Tucker Lepley has been a member of the Sporting Kansas City academy for the past two years, playing on the first XI for the U17 and U19 clubs. He had begun to train and play with Sporting KC II over the last 12 months, starting numerous matches in 2019. Lepley was ranked the No. 26 midfielder in his class and the No. 69 player nationally in TopDrawerSoccer's IMG Academy 150. Lepley comes to UCLA with three caps at the youth level with the US National Team, as he was recently selected to the U17 National Team for the Nike Friendlies in Lakewood Ranch, Fla., a round-robin tournament featuring Turkey, the Netherlands, and the United State U16 and U17 squads.
Quick Scouting Report: "Tucker is a technically gifted, tactically astute, and incredibly competitive central midfielder."
Connor Manning – Midfielder – London, England – Hanworth Villa FC /Westminster School
Bio: A midfielder out of London, Manning has been selected to play on the Independent Schools FA National Team while also captaining his club side, Hanworth Villa FC. He was previously a member of Chelsea's Developmental Squad. He comes to UCLA from the prestigious Westminster School, a historic institution in London immediately next to Westminster Palace. In addition, his brother attends UCLA and is a sophomore on the club crew team.
Quick Scouting Report: "As a midfielder, Connor has very good technique, a strong tactical flexibility, and has a great ability to drive his team forward from different positions and score goals."
Tommy Silva – Defender – Tucson, Ariz. – Real Salt Lake Academy
Bio: Silva has captained both the U17 and U19 teams in the Real Salt Lake Academy over the past two seasons, helping his club to the USSDA Playoffs. He has also trained with and played in matches with the RSL Monarchs, Real Salt Lake's second team. Prior to moving to Utah, Silva was selected to both the Region IV and Inter-Regional ODP teams that traveled to Central and South America.
Quick Scouting Report: "Tommy's experience, work rate, and leadership will be strong attributes at the collegiate level."
Kasper Strom – Defender – Oslo, Norway – Norwegian Institute of Elite Sports/Stabaek IF
Bio: Kasper Strom comes to UCLA from the Norwegian Institute of Elite Sports, the same school that produced current Bruin defender Eirik Baekkelund. Strom primarily played center back with his club, Stabaek IF, winning a National Championship at the U17 level and captaining the U19 side. This past season, he played with Stabaek's second team.
Quick Scouting Report: "Kasper has top athleticism, a high technical quality of passing, and is a good tactical defender. His leadership, organization, and vocal direction will be qualities that allow for a successful transition to NCAA Division I soccer."
Andrew Valverde – Midfielder – Torrance, Calif. – Breakers FC/North Torrance HS
Bio: A decorated player at both the high school and club levels, Valverde was the CIF Southern Section Player of the Year last season at North Torrance High School, leading his team to a section championship. Valverde is a member of Breakers FC and has been part of the Cal South ODP, where he was selected to the West Region ODP Championships Best XI. He has represented the West Regional Team at the ODP Interregional Championships in each of the past three years, and has been selected to the ODP National Training Camp.
Quick Scouting Report: "Andrew is a smooth attacking player who loves creating chances for his teammates."