Dartmouth College men's soccer announces recruiting class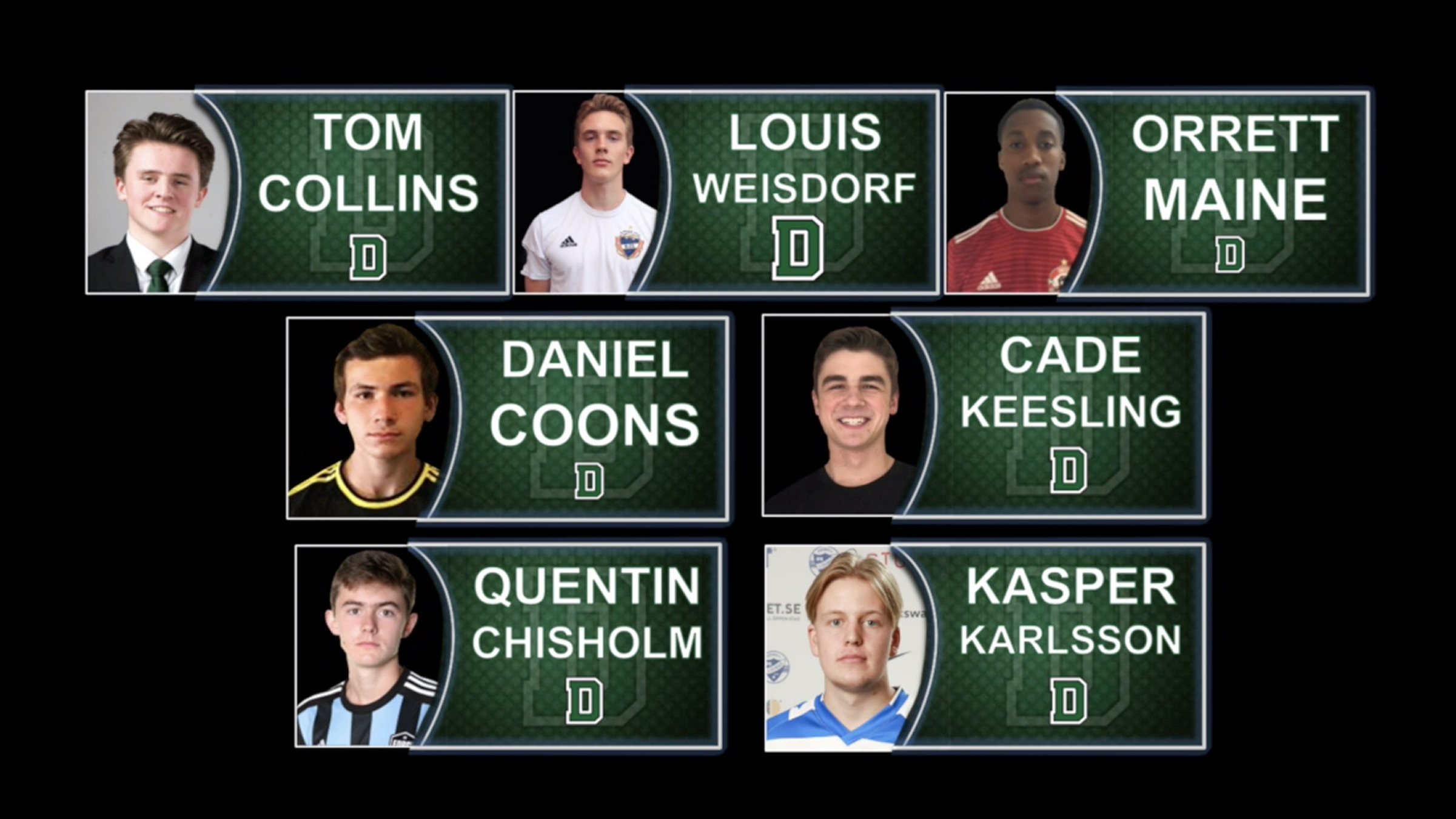 Mike Miezejeski / Dartmouth College Athletics
HANOVER, N.H. – Bo Oshoniyi, The Bobby Clark Head Coach of Dartmouth College Men's Soccer has announced the incoming recruiting class of 2024.
Quentin Chisholm, Tom Collins, Daniel Coons, Kasper Karlsson, Cade Keesling, Orrett Maine Jr. and Louis Weisdorf will be joining the Big Green in Hanover. To watch highlights of each player, Click Here.
"We are really excited about our incoming class," said Oshoniyi. "It's a balanced group that will help strengthen our roster moving into the 2020 season. Each recruit not only exemplifies a high level of play, but also carries the character and mentality we look for in our program here at Dartmouth. We are excited that they are joining our family and we can't wait to get them to campus."
Quentin Chisholm
Hometown / High School: Atherton, Calif. / Menlo School
Position: Forward / Midfield
Height / Weight: 6'1 / 165
Club Team: De Anza Force Academy
Accolades: Member of De Anza Force Academy 2016-2020 … USDA Final Four 2018-2019 … USDA DA Cup Quarterfinalist 2019-2020.
Oshoniyi: "What a story it is for us to have Quentin join our program. His mother graduated from Dartmouth and both his Father, Bill, and brother, Will, played for our program. We are excited to have Quentin continue the legacy. Quentin's ability to stretch the defense as a winger or forward makes him dangerous to any backline."
Tom Collins
Hometown / High School: Willingdon, England / Bede's School
Position: Midfielder
Height / Weight: 6'1 / 170
Club Team: Eastbourne Borough
Accolades: ISFA U14-18 … Sussex County FA U14-18 (South East County Championship U16) … Sussex Schools FA U14-18 (National Runners up U18).
Oshoniyi: "Tom was identified early on by our staff and then came over to attend our summer camps. His work rate and desire stood out immediately. Our interactions with Tom made it clear that he was the type of guy we wanted in our locker room. You are always looking for personality characteristics of guys who desire to play in the central midfield role and he is a guy who will help keep us organized and demand a level of work rate out of the teammates around him."
Daniel Coons
Hometown / High School: Upper Arlington, Ohio / The Wellington School
Position: Defender
Height / Weight: 6'2 / 170
Club Team: Columbus Crew SC Academy
Accolades: Captained team four out of five years with the Columbus Crew Academy … TopDrawer soccer top 150 for class of 2020 … US soccer training invitee … started all five years with the Columbus Crew … brother, Richard, played goalie for Crew SC Academy … father, Fred, played soccer and lacrosse at Brown … mother, Nancy, swam in high school.
Oshoniyi: "We identified Daniel early on in the 2020 recruiting process. He is a tough defender who brings a physical presence that is needed in the position. We were also very impressed with his passing ability into the midfield and over distance which allows us to build out of the back with confidence. We were sold when the Crew academy told us how much of a leader he is in the locker room."
Kasper Karlsson
Hometown / High School: Stockholm, Sweden / Hersby Gymnasium, Lidingö
Position: Attacking Midfielder
Height / Weight: 5'8 / 170
Club Team: IFK Lidingö
Accolades: Captain of the U12s, U13s, U14,s U15s, U16s, U17s … third place at Dana Cup in Denmark … fifth place at the U13s national championship … third in the National league for U14s … tallied the most points in league U16 … played in the Junior Allsvenska (highest league in the country) for both the U17s and U19s … finished 12th out of 14 with the U17s, 9th and 10th with the U19s … member of the senior team for IFK Lidingö in Division 2.
Oshoniyi: "Kasper stood out immediately with his ability to play in tight spaces. We wanted to add depth to our roster in the attacking midfielder role and Kasper fit exactly what we were looking for. His ability to combine in the final third and find penetrating passes will make for an exciting attacking team which is how we want to play."
Cade Keesling
Hometown / High School: Woodbury, Minn. / Woodbury
Position: Midfielder
Height / Weight: 6'0 / 165
Club Team: Maplebrook FC
Accolades: Varsity starter for four years, captain for last two … All-Conference and First Team All-State … All-Conference varsity football kicker … Maplebrook FC (formerly Twin Stars Academy) starter for four years … State Cup 2019 Champions … competing with Minneapolis City UPSL team … brother played soccer at Duke.
Oshoniyi: "Cade is an attacking player with a high level of technical ability. We wanted to sign a creative left-footed player who could keep us dynamic in our attack and Cade stood out in the recruiting process."
Orrett Maine Jr.
Hometown / High School: Atlanta, Ga. / Greater Atlanta Christian
Position: Midfielder
Height / Weight: 6'3 / 185
Club Team: United Futbol Academy
Accolades: USSDA National Quarterfinalist with United Futbol Academy U-17 team … starter for Jamaica U-17 Men's National Team at the 2019 CONCACAF Championship … member of 2018 Generation Adidas Real Madrid Select Team.
Oshoniyi: "Orrett brings a physical presence to the game. In the recruiting process, we really enjoyed his ability to disrupt play by winning tackles and battling for anything in the air. He can cover ground over distance and through his distribution, we feel he can play as a central midfielder or as a center back."
Louis Weisdorf
Hometown / High School: Copenhagen, Denmark / Gammel Hellerup Gymnasium
Position: Defender
Height / Weight: 6'0 / 175
Club Team: Boldklubben af 1893 (B93)
Accolades: B93 U17 Player of the Year – as voted by the coaches (2017) … B93 U17 & U19 Captain & Vice-captain.
Oshoniyi: "Louis plays as a left back who has an engine to get up-and-down. We were very impressed with his ability to take players on and get great services in the box for his teammates to get on the end of. He is another player who has great passing range in tight areas and will help us in our buildup phase as well."