DePaul University men's soccer welcomes 10 newcomers for 2020 season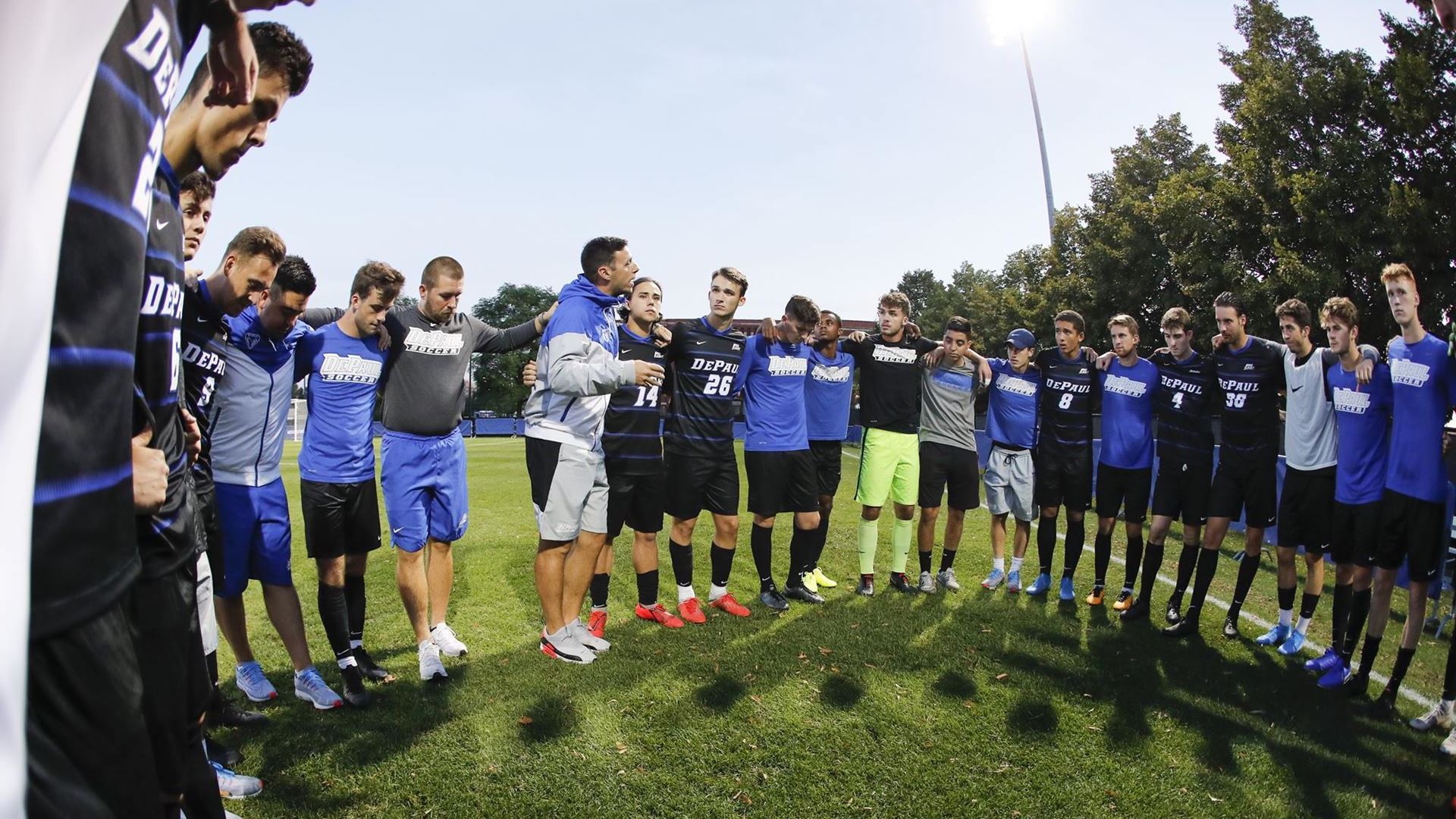 CHICAGO – DePaul University men's soccer head coach Mark Plotkin announced the incoming 2020 class on Monday. There will be 10 newcomers to the program and Plotkin is thrilled to welcome them to the Blue Demon family.
"I am thrilled to welcome this group of ten outstanding student-athletes to the DePaul community," Plotkin said. "Our staff worked diligently to put this class together and are so excited for this group to join us this fall.
"I want to thank Coach Keever and Coach Bushue for doing a fantastic job in identifying the right student-athletes for our program and in doing so, putting together our first nationally ranked recruiting class."
Gandhi Cruz is another Illinois product joining DePaul from the Aurora, Ill. He played at Metea Valley High School all four years and was the first in his school's history to be selected IHSA All-State. Cruz also earned All-Sectional and All-Conference honors. He was the starting varsity goalkeeper as a sophomore and racked up 327 total saves and 19 shutouts in 4,865 minutes on the pitch.
Cruz joined Eclipse Select SC in his junior year where he was a member of the squad that won the 2019 National Cup Champion and the State Cup Championship.
He plans to major in sports communication at DePaul.
"I chose to join the Blue Demon family because it felt like home and it was the only college that I thought everyone I would meet there would make me feel like I'm truly a part of a good family and good culture," Cruz said.
"I felt that with choosing DePaul I would succeed not only on the field, but also off the field. I know that the coaching staff and people in the athletic department will help me become a better athlete and person, and I can't wait to be a Blue Demon."
Marek Gonda will not have to travel far to Wish Field as a Schaumburg, Ill. native. The forward played for Sockers FC along with fellow incomer Omar Ramadan. He was ranked second in goal scorers, scoring 28 goals in 25 games, and seventh in goals per game, averaging 1.12 goals per game, both in 2018 and 2019. Gonda was also tabbed to the 2019 USSDA Boys Best XI in the Central Conference.
Gonda is undecided on his major but is excited to play in his home state.
"It felt like the right choice to stay in Illinois and I really like the campus as well as the city life," Gonda said. "I also am excited to see what impact I can bring to the program.
"I felt like DePaul has a great environment and a place where I can develop as a person and player for the future. Overall, DePaul felt like a second home for me and am excited for my 4 years at DePaul."
Jacob Huth will bring his talents to the Windy City from Marietta, Ga. The midfielder played for the United Futbol Academy (UFA) with a squad that advanced to the quarter finals in their playoffs last season.
At Walton High School, he earned a letter his freshman year and was a member of the team that made it to semifinals of their state championship. Huth was also nominated for a Raider Pride Award. The future Blue Demon plans to study business.
"The atmosphere around DePaul when I visited appealed to me very much," Huth said. "The coaches and future teammates I met with were people I could relate with and it almost made me feel at home.
"DePaul is known for their business program which I want to major in and I loved the idea of quarter system in place."
McKay LaHood is a defender out of Dunlap, Ill. He played for Peoria Notre Dame High School and for Central Illinois United with other newcomer, Santiago Rodriguez. Through his four years, he netted 20 goals for the Irish on the field. In 2018, his team was the State Runner-Up, falling to Crystal Lake South in PK's before being ranked the No. 1 high school team in the country in 2019.
He was named First Team All-Big 12 Conference in 2019. LaHood also earned a spot on the Peoria Journal Star All-Area First Team and was tabbed as Illinois High School Soccer Coaches Association (IHSSCA) All-Sectional in both 2018 and 2019.
In the classroom, LaHood was a member of National Honor Society and was listed to the honor roll. He plans to major in business.
"I am very excited to be in Chicago, play in the Big-East, and win big games," he said.
Kristian Malinich is a midfielder from St. Louis, Mo. who played with the St. Louis FC U19 Academy. He has played in the USSDA since his 14s year and was a national finalist in the U14 Championship. In 2019, his squad placed third in the USSDA Academy Championship.
At St. Louis University High School, he was his senior class representative on student council as well as earning first honors. He plans on majoring in finance and is thrilled to be attending DePaul.
"DePaul University provides me with the opportunity to study finance in an urban setting while also continuing to pursue my passion for soccer," Malinich said. "This combination has been a dream of mine ever since I was little and the thought of this long-held dream becoming a reality is truly incredible."
Tyler Moran will come to Lincoln Park from East Amherst, N.Y. The midfielder played club with the Empire United Development Academy where the squad qualified for the Final Eight of the 2020 Development Academy Cup. He was also a member of the 2015 team that qualified as a finalist in the 2015 Eastern Regionals.
Moran was an honor roll student in high school and also a member of National Honor Society. He is currently undecided on his major but excited for the future.
"I chose DePaul because of its high level of soccer and academics, the incredibly welcoming coaching staff, and its great city location," Moran said.
Ethan Turner will be joining the Blue Demons from Clarendon Hills, Ill. The goalkeeper previously played for FC United and attended Hinsdale Central High School. He plans on studying economics at DePaul and is ready for the next four years.
"I chose DePaul because I felt that it was a good fit for what I wanted to accomplish," Turner said. "I was looking for a university where I can grow myself and grow the program and team.
"I felt a good connection with the coaches and the school being close to home was a helping factor. Overall, I feel completely satisfied with my decision and ready for these next few years."
Omar Ramadan will join his brother, Youssef, as part of the men's soccer program out of Huntley, Ill. The midfielder played for Sockers FC with other future Blue Demon, Marek Gonda and a plethora of current and former Blue Demons.
He made 78 total appearances for Sockers FC over the last three years, starting in 72 of those matches. He scored seven total goals and was ranked in the Top 150 Players for the 2020 class by Top Drawer Soccer. Most recently, his team the Final Four of the U19 DA Championship.
Ramadan plans to major in either business or medicine but is unsure which direction he will go. What he is sure of, though, is calling DePaul his new home for the next four years.
"Straight away, I knew DePaul was the best fit for me," he said. "The competitive goals and hopes for the future of the program is something that I really admire and want to be a part of. Coaches Mark, Cole, and Tyler are great people and great coaches who have high hopes for the program and want to develop good players as well as good people.
"The environment at DePaul is something I feel will help me develop a lot in both of these areas. The school is close to home which is really important to me because I want to be near my family. My older brother Youssef currently plays at DePaul so it will be really awesome to play with him and always be with him on campus.
"The campus is basically in the city which is an amazing thing because you can always enjoy it as well as get a feel for what life after school may look like."
Santiago Rodriguez hails from Champaign, Ill. where he played at Champaign Central High School and for Central Illinois United with fellow incomer, McKay Lahood. The forward is the all-time leading scorer in history and owns the record for most goals in one season with 101. Rodriguez tallied 54 assists. He was a member of the Regional Champion squad his junior and senior year as well as Sectional Finalists.
Rodriguez himself was a two-time Gazette Player of the Year, the only player in history to win the award in back-to-back years (2019, 2020). He earned First Team All-Area and First Team All-Conference recognition his sophomore through senior year and was tabbed to the All-Sectional First Team his sophomore year. Additionally, he garnered All-State honors his junior and senior year and was named to the All-American Watchlist his senior year.
In high school, Rodriguez was named a Big 12 Conference Scholar Athlete 2016-2019 and won the IHSA Scholarship Achievement Award in 2018. He was inducted to the Spanish Honor Society and was a member for three years along with earning three academic letters. He is currently undecided on his major.
"[I chose to attend] DePaul because it is a great school with a fantastic program, all while making my dreams come true," Rodriguez said.
Omar Vincent Thompson, Jr. is a forward from Lewisville, Tex. who played for the Dallas Texans in the development academy for four years (U14-U18) and for Solar SC (ECNL U18) and Hebron High School his senior year. He was the leading goal scorer for the Dallas Texans U16/17 season as well as for Hebron.
During his U13 year, Thompson was a member of the US Futsal 2013 National Champion squad as well as the Premier SuperCopa Champion in 2014. Additionally in 2014, his U14 squad earned the Disney Showcase Champion and made the quarterfinals of the 2015 Donosti Cup in San Sebastian. The U15 Texans repeated in 2015 as the Disney Showcase Champion.
In 2017, Thompson's U16 team advanced to the Gothia Cup Quarterfinals as well as placing as the runner-up in the Iber Cup in Barcelona. His 2018 U17 squad was a quarterfinalist in the XXXIX Dallas Cup, only to be followed by being crowned the Las Vegas Mayor's Cup Champion as part of the U18 squad in 2019.
Thompson has trained internationally with Santos in Brazil, in the United Kingdom at Stoke City and at the Liverpool Academy.
At Hebron High School, the Texas native was invited to participate in the Academic Decathlon as well as being a dual credit student his junior and senior year. He plans to major in health sciences at DePaul.
"DePaul has everything I'm looking for in this next phase of life," Thompson said. "It is an excellent school in a fabulous city.  I love the reputation of the university and know that a DePaul education will take me far.
"I also love that DePaul is a part of one of the best sports conferences, the BIG EAST. The soccer team has a great coach and I was excited about DePaul the first time we spoke. I'm looking forward to being a Blue Demon in the fall."
Plotkin couldn't express his excitement more to build upon his first two years coaching at his alma mater.
"We expect this group to fit in right away and strengthen the culture of this program," Plotkin said. "They are all talented soccer players and more importantly, great people.
"We have a great group of guys currently on our roster that are excited for the addition of these ten young men. This group of incomers will raise the level of the program and have an immediate impact on the field, in the classroom, and in the DePaul community.
"Please join me in welcoming the newest members of the DePaul Men's Soccer family."