Syracuse University men's soccer adds 10 to recruiting class, bringing total to 14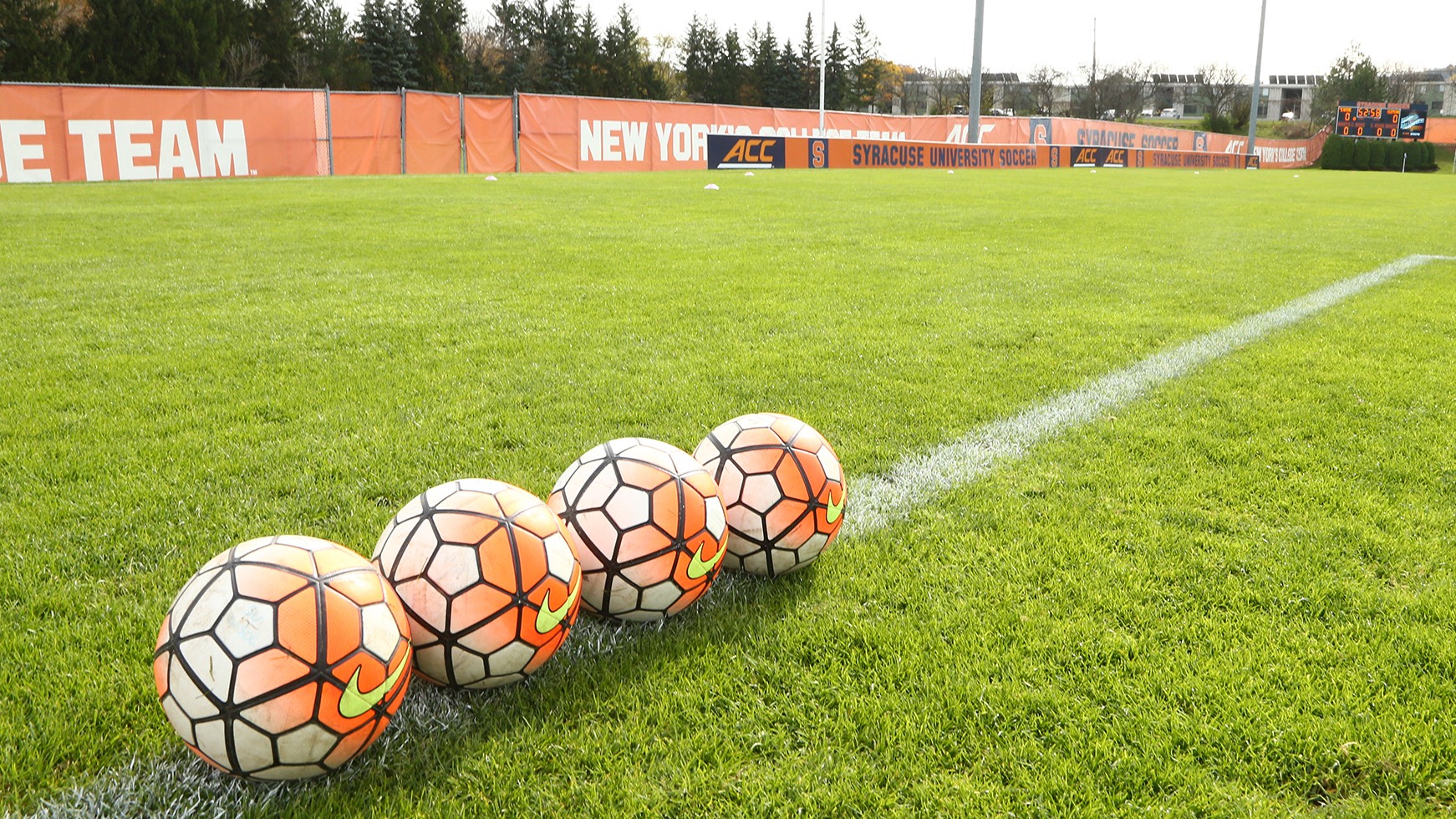 SYRACUSE, N.Y. – Syracuse University head men's soccer coach Ian McIntyre has announced the addition of 10 student-athletes to the 2020 recruiting class.
The Orange will welcome Stephen Betz, Kenny Clapp, Jack Coleman, Jackson Glenn, Maxwell Kent, Deandre Kerr, Jeorgio Kocevski, Abdi Salim, Tony Shaw and Russell Shealy.
"Our staff has worked tirelessly to identify and attract this exciting recruiting class to our Syracuse soccer family," McIntyre said. "We believe that we have successfully addressed important departures with a talented group of young men of the highest character. These young men have each succeeded on the soccer pitch and in the classroom. They understand what it takes to be a Syracuse soccer player and they will take tremendous pride in representing Syracuse University, while fully embracing the challenges and demands that we place upon our student-athletes. I cannot wait to get to work with this group and quickly integrate them into our program."
These recruits join Matt McDonell, Manel Busquets, Roque Viegas and Nathan Toledo, who enrolled for the 2020 Spring Semester.
Stephen Betz – Plainview, New York – Plainview JFK
Betz started his club career with Levittown Gunners FC and was an integral part of a squad that made a run to the national semifinals. During the last two years, he has competed for New York City FC in the US Soccer Development Academy.
"Stephen initially stood out a few years ago during our SU ID camp program.," McIntyre said. "We continued to closely monitor his progress and development. Stephen has always impressed our staff with his maturity, confidence and calmness on the pitch. He is a powerful left-sided player who possesses the ability to select and execute the correct pass at the right time. Stephen has a very high ceiling and I am excited to see him in a Syracuse shirt this fall."
Kenny Clapp – Baltimore, Maryland – Archbishop Curley
Clapp has starred as a fullback for both Archbishop Curley High School and Pipeline Soccer Club in the USYS National League. A two-time All-MIAA Conference Player and an All-State honoree, he has established himself as one of the region's best defensive players.
"Kenny is a talented player who excelled within our SU ID program and he has the athleticism, energy, and tenacity to contribute here at Syracuse," McIntyre said. "I feel that Kenny's best years are ahead of him, and he has the drive and physical attributes to succeed within the challenging ACC."
Jack Coleman – Endwell, New York – Maine-Endwell
Coleman led his 2019 Maine-Endwell High School team to an undefeated regular season under coach Beau Brinsko. He was recognized as an All-Region player during his senior year and finished his career with 90 goals and 43 assists. At the club level, he played a major role on his Binghamton United team as he led them to a 2019 New York State title.
"Jack is an athletic, technical player who combines extremely well with his teammates," McIntyre said. "He is a talented young man with an outstanding work ethic and drive. He possesses a contagious energy, personality, and passion that I love in players. Jack is excitingly unpredictable in the final third and our SU fans will enjoy watching him play this fall."
Jackson Glenn – Sykesville, Maryland – Century High School
Glenn captained his Century High School team to a 15-3 record and a 2019 State Championship, recording 11 goals and eight assists during his senior year. He is a defender on the successful Maryland United ECNL team and was selected to the ECNL Northeast Conference Select Team.
"Jackson is a versatile, athletic player who can comfortably play as a central defender or a wingback in our system," McIntyre said. "He possesses the drive, application, and quality to be successful here at Syracuse. He provides good balance to our team and he possesses a wonderful attitude and work ethic to complement his talent."
Maxwell Kent – St. Louis Park, Minnesota – Macalester College
Kent is a transfer from Macalester College where he played 58 games in three seasons before injury sidelined him prior to his senior year. Kent was a two-time USC All-North Region selection and a three-time All-MIAC Conference honoree. Kent served as team captain during his sophomore and junior years. He has also played the last three summers for Minneapolis City SC in the NPSL and was recognized as a NPSL North Conference Selection and Midwest Region nominee. Kent will be a graduate student at Syracuse with one year of eligibility remaining.
"Max is a terrific addition to our program who will immediately add personality, leadership and experience to our team and our locker room," McIntyre said. "Coming off an injury last season, he has worked extremely hard to secure this opportunity. He is a physical defender and a true competitor who has the ability and commitment to successfully compete at our level."
Deandre Kerr – Ajax, Ontario- J. Clarke Richardson High School
Kerr is an attacking midfielder for Toronto FC in the US Soccer Development Academy and has scored 14 goals and registered nine assists this season under Coach Danny Dichio. Kerr has been a member of the Canadian Youth National Teams at both the U15 and U17 age groups and represented Team Canada at the 2019 U17 World Cup in Brazil. Kerr started each World Cup game against Brazil, Angola and New Zealand.
"Deandre has the technical ability, creativity and athleticism to make an immediate impact at Syracuse University," McIntyre said. "He is an intelligent, dynamic player with the ability to both score goals and deliver the important final pass. He is a powerful player who enjoys individual matchups, but he can also stretch the game with aggressive runs without the ball from deeper areas. We look forward to quickly integrating Deandre into our team."
Jeorgio Kocevski – Liverpool, New York – Liverpool High School
Kocevski captains the USSDA Empire United team and is rated the No. 125 recruit by TopDrawerSoccer.com. He has led his Empire team to the knockout stages of the inaugural USDA Winter Cup in Kansas and has registered 21 goals and 28 assists during his US Soccer Development Academy career.
"It is important to keep talented players 'home' and Jeorgio is a good one!" McIntyre said. "He is always looking to get on the ball and he has the confidence, composure, and technique to impose himself on any game. We are excited to see Jeorgio in our Orange shirt this fall and help him to continue to evolve as a player."
Abdi Salim – Buffalo, New York- Buffalo State College
Salim is a transfer from Buffalo State College where he was selected as the 2019 SUNYAC Defensive Player of the Year, Rookie of the Year and a first-team All-SUNYAC honoree during his freshman campaign. Salim started in all 18 games for the Bengals in the 2019 season and will have three years of remaining eligibility at Syracuse. Prior to Buffalo State, Salim anchored and captained the Empire US Soccer Developmental Academy U17 and U19 teams playing alongside Jeorgio Kocevski.
"Abdi is an exciting prospect with the potential to become an elite defensive player at Syracuse," McIntyre said. "He is an athletic, technical player who will fit in very well with our style of play and complement our current players. He is a talented player who will embrace the challenge of successfully transitioning to competition in the Atlantic Coast Conference."
Tony Shaw – Vestavia Hills, Alabama – Vestavia High School
During Shaw's junior season in high school, he earned a slew of individual honors, earning spots on the All-Metro First Team, 7A All-State First Team, and All-State Overall First Team. As a senior, Shaw was named a High School All-American. At the club level, he played a major role in Vestavia Hills Soccer Club winning four state championships. Shaw also represented Gwinnett Soccer Association, which reached the 2019 NPL National Final.
"Tony is a player with an extremely high ceiling and a very bright future at Syracuse," McIntyre said. "His athleticism, technical ability and decision making on the ball allow him to play in a number of positions for us. He is a modern day soccer player who can cover ground and influence play on both sides of the ball. I am looking forward to watching Tony compete in our Orange uniform this fall."
Russell Shealy – Cartersville, Georgia – University of Maryland
Shealy was a member of the Maryland team that won the 2018 National Championship. In 2019 he started five matches and earned two shutouts against South Florida and Villanova. Prior to college Shealy played for Atlanta United in the US Soccer Development Academy and helped his team finish first in the Southeast Division. Shealy was rated by TopDrawerSoccer.com as the No. 102 recruit in the class of 2018.
"We are thrilled to add Russell to our GK group," McIntyre said. "He has the tools to be an elite goalkeeper within our conference. He is an experienced college goalkeeper who has already been part of a National Championship team. He has terrific feet, is an excellent shot stopper, and has a wonderful calmness and presence for a keeper of his age."
Matt McDonnell – Smithtown, New York – Boston University
McDonnell transfers from Boston University where he played in 56 games and scored 20 goals with 10 assists. He captained the BU team for his last two years and was recognized as an All-Patriot League honoree in 2017 and 2019. Prior to BU, McDonnell won a USYSA National Championship with Smithtown Arsenal. He will be a graduate student at Syracuse with one year of eligibility remaining.
"Matt is an experienced, talented player who will add something a little different to our attack," McIntyre said. "He is a physical, direct player who possesses the ability to score goals in a variety of different ways. Matt always makes life uncomfortable for opposing defenders and he has the (wonderful) knack of getting onto the end of service into the penalty area."
Nathan Toledo – Frisco, Texas – Lone Star High School
Toledo is a member of the USSDA FC Dallas U19 team and plays as a central defender. He captained the U17 FC Dallas Academy squad and was recognized on the Best XI Central Conference team during a year when his team finished as national runner-up.
"Nathan is a terrific player who has come through one of the very best MLS academies," McIntyre said.  "He is a player that is able to breakup play and then he can quickly transition into attack. He is a good individual defender who makes those players around him better. He is a smart player that connects the game extremely well, and he has the tenacity and the force of personality to impose himself onto a game."

Manel Busquets – Barcelona, Spain – Duquesne University
Busquets transfers from Duquesne University where he started 31 games and registered 11 goals and seven assists during the past two years. He was named to the 2019 All-Atlantic 10 First Team and the 2018 Atlantic 10 All-Rookie Team. He has also represented Kaw Valley FC in USL League Two.
"Manel possesses excellent balance, close technical control, and the ability to go past defenders," McIntyre said. "He is a direct, aggressive player who will provide us additional quality in the final third. He has a wonderful work ethic to complement his natural talent. I am looking forward to watching Manel continue to grow as a player here at Syracuse."
Roque Viegas – Sao Paulo, Brazil – Monroe College
Viegas scored 14 goals and registered 12 assists on the Monroe College Mustangs team that won the 2019 NJCAA Division I National Championship. Monroe College went 18-0-0 as it secured its first-ever National Championship. Prior to arriving at Monroe, Viegas played for the Red Bull Brazil Academy and last summer he played for the Treasure Coast Tritons of USL League Two alongside current Orange Christian Miesch and Kyle Gruno.
"Roque is a very composed, technical player who always seems to have a lot of time on the ball," McIntyre said. "He makes the game look very simple and is an intelligent player who brings other players into the game.  Roque will provide us an unpredictability in the final third and he has the ability to make a quick transition to life in the ACC."
Syracuse posted an 8-7-5 record in 2019 and earned an at-large bid to the NCAA Tournament where it advanced to the second round.