University of Wisconsin men's soccer team signs 10 newcomers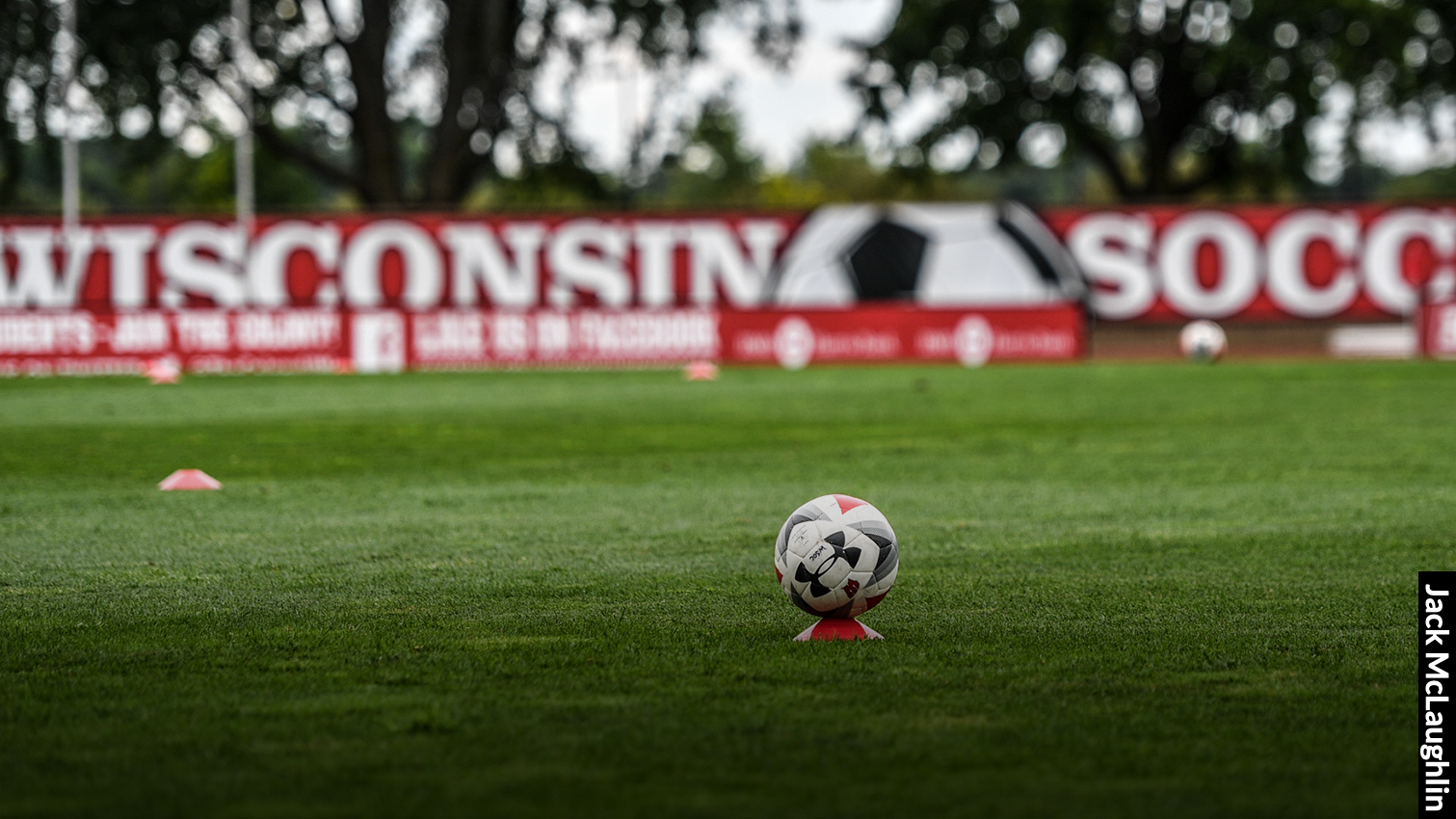 MADISON, Wis. – Head coach John Trask and the University of Wisconsin men's soccer staff are welcoming 10 student-athletes into the Badger program next fall.
The group includes Liam Bailey (Mission, Kansas), Murat Calkap (Demarest, New Jersey), Ethan Chung (San Juan Capistrano, California), Jack Finnegan (Hometown, Illinois), Dawson Gulley (Lee's Summit, Missouri), Moritz Kappelsberger (Rosenheim, Germany), Dylan McCrary (Melville, New York), Bennett Pauls (Menomonee Falls), Eliot Popkewitz (Verona) and Henri Tophoven (Brueggen, Germany).
"The staff has done an outstanding job of identifying players who will be a big part of Wisconsin soccer over the next four years," Trask explained. "Big compliments to assistant coaches Keith Tiemeyer, Aaron Hohlbein and Tim Boruff on this year's class. Each of these young men come from high-level soccer programs, have had memorable successes on the field and each has a high-level academic background. Their experiences will help each of them adjust to the rigors of being a Wisconsin Badger student-athlete. We look forward to assisting these student-athletes reach their athletic and academic potential in our highly competitive environment here at UW."
Liam Bailey
Liam Bailey stands 6-3 and joins the Badgers from Mission, Kansas. Bailey played for Rockhurst High School and Puma FC- Southampton Pro Academy.
As a freshman on his high school team, Bailey was an active player on the Missouri State Champion Runner-Up. In his sophomore year he helped the team to its seventh state title where he scored four goals and tallied five assists on the season. In his junior season, Bailey upped those numbers with 17 goals and 10 assists. He led his team to a third-place finish at state and was the only junior in the state of Missouri to be named first team All-State.
Bailey also participated in the St. Louis All-High School All-Star Game in 2018 and 2019 and was named MVP of Wisconsin's 2019 soccer camp.
He comes from a soccer family, as his dad, Bryan Bailey, played for Indiana and his sister Dorian played at North Carolina and now plays for the NWSL's Washington Spirit.
Why Wisconsin?
"I visited Wisconsin and it was the most beautiful place in the world. On top of that, it had great academics and I wanted to play at a top-tier Division I program. I also had a great camp experience forming strong relations with the coaching staff."
What are you most excited about for Wisconsin Soccer?
"I am excited to prove to not only myself, but others, that you do not need to come from the academy system to compete day-to-day at a top-tier soccer program. I am also excited to work with the coaching staff to improve as a player and help Wisconsin win the Big Ten.
Coach Tiemeyer – "Liam is an excellent student and fine soccer player. He has physical length that helps him as a ball winner and he also is a strong passer over varying distances on the field. Liam is accustomed to success following his time at Rockhurst High School in Kansas City, a very successful high school program led previously by Chris Lawson and now by Matt Darby. "
Coach Trask – "Liam is a player we identified during our summer camp program. He enjoyed tremendous success at Rockhurst and with his club team in Kansas City. Liam has the versatility to help us in many positions and it will be interesting to see where he finds a home on the field for us. With continued physical development through his work ethic, I feel Liam's future is very bright with the Badgers."

Murat Calkup
Murat Calkup joins the Badgers from the East Coast. The Demarest, New Jersey, native stands 5-11 and plays midfield. Calkup spent his prep career playing for Met Oval Academy under head coach Filippo Giovagnoli.
In his senior season, Calkup qualified for the Winter DA Cup where he finished second in his group and tallied three assists. His recorded five goals and 17 assists his senior year. Calkup also has some international touring experiences during his prep career, starting as early as 2011 and traveling to the Netherlands, England and Germany to participate in various training sessions, trials and games.
Calkup has also proven to be a hard worker in the classroom. He was named to the honor roll all four years of high school.
Why Wisconsin?
"I chose to attend Wisconsin because of the amazing sport's school spirit, the beauty of the city of Madison, and the amazing soccer coaching staff."
What are you most excited about for Wisconsin Soccer?
"I am most excited about bringing my talent to a new team and trying to win a championship for the school."
Coach Tiemeyer – "Murat is a very versatile, attack-minded midfielder from the New York/New Jersey area.  He has MLS Academy experience with NYCFC and has most recently played for the Met Oval Soccer Club in the US Soccer Developmental Academy.  He will be counted on to bring offensive sophistication the Badger midfield and will be an exciting player to watch in the coming years!"
Coach Trask – "Coach Halo and all the coaches at Met Oval have done a great job preparing Murat for collegiate soccer. He comes from a passionate soccer family and brings a love of the game to the pitch on a daily basis. He has all the tools to become a top level midfielder in the Big Ten, one who pulls the strings. We are extremely excited about his future."
Ethan Chung
Ethan Chung comes from San Juan Capistrano, California and Pateadores Academy, where he was coached by Teddy Chronopoulos.
As a freshman, the 5-6 Chung was a member of the Olympic Development Program for the Cal South Team and worked at the U.S. National Training Center. In his sophomore year, he helped his team reach the U16/U17 USSDA Playoffs. Chung also reached the U18/U19 DA Cup as a senior.
Chung spent some time playing internationally by touring England in 2013. In England, he played against Leicester City and trained with Manchester City and Everton where Manchester City gave him a tryout.
His father, Brian Chung, has been a part of college athletics as he wrestled for Wesleyan University. In his free time, Chung has given back to his community by building houses in Mexico, coaching kids between the years of 4 and 7 and also volunteering at a local kitchen to serve the homeless.
Why Wisconsin?
"I chose Wisconsin because I desired the top-notch combination of being able to grow as a soccer player through challenging situations and attending one of the most distinguishing universities in the United States."
What are you most excited for about Wisconsin Soccer?
"I am most excited to compete in the Big Ten and become lifelong brothers with the team."
Coach Tiemeyer – "Ethan is an energetic outside back whose experiences playing against some of the top players and clubs the US Soccer Developmental Academy has to offer will provide him with a great starting point for his collegiate career."
Coach Trask – "Ethan comes from the famed Pateadores Soccer Club in Southern California. Coach Chronopoulos and the staff at the Pat's have done a great job progressing Ethan's career. He has a maturity and toughness from playing in a very competitive part of the country, challenging top MLS Academies up and down the West Coast.  Ethan has shown the staff the hallmarks of Badger soccer – being competitive day-in and day-out, working to achieve goals."

Jack Finnegan
Jack Finnegan is a 5-10 forward from Hometown, Illinois. He played for his high school team at Brother Rice where he holds the school records for most goals scored in a season (44) and second most goals in his varsity career (101).
Finnegan served as a three-time captain for his high school team and was an All-State selection for two years in a row. He was a two-time team MVP, two-time team offensive player of the year and a two-time Daily Southtown First Team selection. In his senior season, he received an All-American Game invitation, was a United Soccer Coaches All-American Selection, Southtown Player of the Year and won the Tony Lawless Award for being the League MVP. He was also named the 2019-20 Illinois Gatorade Player of the Year.
Finnegan was formerly a member of Eclipse Soccer Club and now plays for FC United.
Why Wisconsin?
"I chose UW-Madison because of its great atmosphere and how well rounded it is with all it has to offer. The athletics and academics are world class and, in my opinion, no other school has a better campus. With the addition of the soccer program's coaching staff, I knew Madison was the place for me."
What are you most excited for about Wisconsin Soccer?
"I am very excited to do all that I can to bring Badger soccer back on top of the Big Ten and of course back to the College Cup. My family and I attended a few matches this year and just being at McClimon Complex made me anxious to get out there and prove to the staff that I can help the team."
Coach Tiemeyer – "Jack has most recently been playing for FC United in the US Soccer Developmental Academy following his outstanding high school career at Brother Rice High School in Chicago where he was named an All-American.  He will be counted on to be an offensive threat right away as a freshman due to his "nose for the goal."
Coach Trask – "Jack has all the tools to become a game changer for the Badgers.  Jack's combination of technique, athleticism and goal scoring ability have all us all very excited. Coach Matt Prunckle at Brother Rice and the coaches at the Eclipse Soccer Club have done a great job of not stifling Jack's creative flair. He has natural talents and we are excited about integrating him into the team."

Dawson Gulley
Dawson Gulley comes to Wisconsin from Lee's Summit, Missouri, where he played for Lee's Summit West High School. The 5-10 midfielder also played club soccer for Sporting Kansas City Academy.
Gulley finished his senior season of high school with a postseason run to a state championship but fell short in the semifinals match. In his senior year he was also recognized for being a five- year Sporting Kansas City Academy Player. For his club team, he was named to the USL's Swope Park Rangers 2019 Pre-Season Roster. He also took part in an international tour experience as part of the 2019 Generation Adidas Cup in Toronto. Gulley will be following in the footsteps of his uncle, Brian Dawson, who played soccer for the Badgers from 1988-92.
Gulley was a four-time academic letterwinner throughout high school and was also a member of National Honor Society.
Why Wisconsin?
"I chose Wisconsin for its nationally respected soccer program and coaches, as well as the beautiful campus and highly ranked academic institution."
What are you most excited for about Wisconsin Soccer?
"Competing in the Big Ten Conference, personally developing into a professional player and being a part of a premier collegiate program helping it grow into a national powerhouse."
Coach Tiemeyer – "Dawson is another experienced, versatile midfielder and wide back from the Kansas City area where he played for Sporting KC in the USSDA. He is an excellent passer with dogged determination to also defend the opposition. Dawson has very good positional sense and combines that with excellent athleticism. I fully expect Dawson to become a mainstay in the midfield during his time at UW."
Coach Trask – "Dawson has tremendous Badger roots, with both this parents being alumni and his uncle Brian being a standout performer for the Badger soccer in the early 1990s. Dawson brings MLS Academy experience from Sporting KC. He has performed at a very high level in the Academy and we feel Dawson's best soccer is still to come.  Dawson's engine, passion and versatility will allow him to compete in many places on the field for the Badgers. Though he has grown up in K.C., Dawson understands what the motion "W" and Wisconsin athletics are all about."

Moritz Kappelsberger
Duquesne University transfer, Moritz Kappelsberger is another new addition to the Badgers in fall of 2020. The defender is 6-4 and hails from Rosenheim, Germany.
During his two years in Pittsburgh with Duquesne, Kappelsberger started in every match and never left the field as a true freshman. He's scored three career goals and recorded one assist.
Kappelsberger played for Sebastian Finsterwalder Gymnasium. His club team in Germany was Spvgg Unterhaching.
Why Wisconsin?
"When I visited University of Wisconsin-Madison, the drive of the whole athletic and academic institution for greatness in all possible ways was clearly noticeable, which made my decision easy."
What are you most excited about for Wisconsin Soccer?
"Working and competing together with the team and trying to help as best I can to bring the Wisconsin soccer program back to the NCAA tournament where it belongs!"
Coach Tiemeyer – "I am excited to have Moritz join Badger soccer. He is a player I saw a few years ago while recruiting in Germany.  He most recently excelled as a center back at Duquesne University following an exceptional career at Unterhaching in the German Youth Bundesliga. Very strong in the tackle and in the air, able to communicate to teammates on the field and strong passing ability sum up Moritz's game."
Coach Trask – "Moritz brings valuable experience and quality as he joins us here at Wisconsin. Having played two years of Division I soccer (Duquense) Moritz understands the collegiate game and it has been a pleasure getting to know him through the recruiting process. Moritz brings a cultured left foot and physical abilities needed to be a top-level center back in the Big Ten. When his name appeared on the transfer portal we jumped at an opportunity to bring this natural leader into the 2020 Badger soccer team. Moritz will provide another experienced defender in our back line this coming fall."

Dylan McCrary
The Melville, New York, native joins the Wisconsin soccer team as a 6-0, 175-pound defender. McCrary spent his prep career playing for St. Anthony's High School and club teams Commack Great Danes and Albertson Fury.
McCrary had an impressive run at St. Anthony's as a captain on the varsity squad all four years. He led his team to a league title his freshman year and capped off his four years by winning another league title, but also a state championship. His individual accolades include all-league, all-state, Newsday Top 100 and Defender of the Year. His club team was New York State Champions and took third place at nationals in 2016. McCrary was a two-time EDP tournament Champion and also back-to-back defender of the year in 2018 and 2019 for his club team.
In the classroom, McCrary was a four year high-honor roll student and a member of National Honor Society.
Why Wisconsin?
"I chose to attend Wisconsin because there is no other place like it. It feels like home to me and the perfect place to reach my fullest potential in both my academics and athletics. This has been a dream for me to play at the highest level and Madison is just the place to be."
What are you most excited for about Wisconsin Soccer?
"I'm excited to be challenged every day and play the game I love. I look forward to make an everlasting bond with my teammates and become the player I can be."
Coach Tiemeyer – "Dylan is a strong center back with excellent ball-winning ability in the air and in the tackle, and also possesses a strong passing range.  Dylan stood out at our January ID Camp and will add depth to the defensive corps."
Coach Trask – "Dylan was identified through our College ID Camp and we are all very excited to have him choose Wisconsin for his athletic and academic career. He is a competitor who is comfortable on the ball in the back but ultimately takes great pride in shutting down his opponents. Having worked with many Albertson players over the years, I know that club does a tremendous job preparing young men for the challenges of collegiate soccer. We are predicting great things for this young man during his Badger career. "
Bennett Pauls
Bennett Pauls is a Wisconsin native who will stay home and play for the Badgers after playing for his high school, Hamilton, and club team, SC Wave. The 6-0 midfielder hails from Menomonee Falls, Wisconsin.
Pauls leaves Wisconsin prep sports as a highly decorated soccer player, being named a 2019 High School All-American and playing for the West Team in the All-American Game. In both 2018 and 2019 Pauls was named to the Wisconsin All-State team after leading his team to their first-ever state championship appearance in 2018. He was a two-time member of the Greater Metro All-Conference First team, two-time Sussex Hamilton High School team MVP and was also a team captain in his senior season. He completed his career with 46 goals and 14 assists.
Outside of high school, Pauls played for his club team SC Wave where he served as captain since 2016. He helped lead his team to four Wisconsin State Cup Championships in 2015, 2016, 2017 and 2019. On the national level, he was named to the 2019 ALL-USA Preseason Boys Soccer Team and has competed in the USYS National League since 2015. He also twice earned invites to the U.S. Soccer Training Center.
Pauls has shown success in his academics as well by winning the National Merit Letter of Commendation Award and the Hamilton Education Foundation "Academic Excellence Award. He was a member of DECA and a state qualifier in 2016, 2017 and 2018.
Why Wisconsin?
"I chose to attend Wisconsin not only to compete with a successful Big Ten soccer program but also because of the relationships that I developed with the coaches and the promising academic opportunities offered at such a prestigious university."
What are you most excited for about Wisconsin Soccer?
"I am most excited to compete with and against the best players in collegiate soccer every day, I believe the team is going to have a lot of success, and I can't wait to get started and help contribute. I am also excited to strengthen my relationships with my coaches, teammates and any other staff members."
Coach Tiemeyer – "Bennett is an outstanding, home-grown Wisconsin soccer player from Sussex Hamilton High School.  He has had great youth experience under the direction of Giuliano Oliviero, and his staff, at SC Waukesha (now SC Wave).  He's been a Wisconsin Youth Soccer State Champion, a high school All-American, and has played multiple seasons in the USYSA National League. We look forward to his continued development as an attacking player in midfield."
Coach Trask – "Bennett comes highly recommended to us from former Milwaukee Wave great Giuliano Oliviero and his staff at SC Waukesha. He can pass, score and win his individual duels, all of which are so important in modern day soccer. Bennett has shown excellent improvement since we first started identifying him as a potential future Badger. It is always great to have top players from the State of Wisconsin join our program here in Madison."

Eliot Popkewitz
Eliot Popkewitz comes from Verona, Wisconsin. He played for Verona Area High School under Chris Handrick and his club team, the Madison 56ers, was coached by Tim Brunner.
At VAHS, the 5-9 Popkewitz was a three-time captain, two-time Big Eight Conference Champion and was a two-time first team all-conference player. In his senior season he led his team to a Division I State Championship, was conference player of the year, all-area player of the year, first team all-state, and United Soccer Coaches Great Lakes All-Region player. He left his mark at Verona Area High School as the school single-season assist record holder (16) and the career goals record holder (40). He also took home the Wisconsin Gatorade Player of the Year his senior season.
In 2018 his club was the U17 Wisconsin State Cup Champions and in 2018 he was a U18 Wisconsin State Cup Runner-Up.
Popkewitz will be following in the paths of his UW graduate parents, Sara and Ian.
Why Wisconsin?
"I believe an education at Wisconsin is an experience that will prepare me to make an impact on the world. In addition, I have the opportunity to develop as a player in a hard-working, outstanding soccer program which prides itself on working to achieve excellence. Madison, being one of the most livable cities in the country, had everything a college student-athlete could want."
What are you most excited about for Wisconsin Soccer?
"I am excited to be able to train and play with players who share the same desire to be great at soccer. I love challenges and am very excited to continue to develop as a soccer player and as a Wisconsin student-athlete."
Coach Tiemeyer – "Eliot joins fellow incoming freshman, Bennett Pauls, as a homegrown Wisconsin soccer player. A left-sided player with excellent technical skills, Eliot has shown versatility and ability to move around the field to new positions. Eliot has received excellent coaching from Chris Handrick (Verona Area HS) as well as his 56ers coaches, John Reddan, Tim Bruner and Tony Wright. His continued development as a wide player, in the midfield or in the back, will be exciting to see."
Coach Trask – "Eliot is another Madison 56ers product who we are very excited about. Eliot possesses a passion for the game which is so important for a collegiate soccer player.  He has the technique and a clever left foot which is always useful in a soccer team. Eliot is aware of the challenges ahead, but he has had the opportunity to watch Badger soccer for many years. He has envisioned himself as a Badger for many years and we are excited he decided to choose UW."

Henri Tophoven
Henri Tophoven enters the Wisconsin program as a Division II transfer from Mercyhurst. Tophoven comes from his homeland in Brueggen, Germany and measures 6-1.
During his freshman season at Mercyhurst, Tophoven was named the PSAC Freshman of the year, Mercyhurst freshman of the year, All-PSAC second team and D2CCA All-Region second team. He followed up his collegiate debut season by helping his team to the PSAC Semifinal, ranking second on the team in points while leading in goals and was second in the PSAC in shots on goal. He also was named to the Dean's List and received the PSAC Scholar-Athlete Award.
Before college, Tophoven played for his club at 1.FC Mönchengladbach under the direction of Kevin Kreuzberg and Benedict Weeks. Tophoven was also a member of the regional select team Kreisauswahl for four years in Germany. He was a two-time invitee to Niederrheinauswahl, which was the Greater Regional Selection Team.
Why Wisconsin?
"I chose to attend UW-Madison because it was one of the best universities in the country, and I believe that with its academic level, professionalism and very good athletics programs, the school will be the perfect place for me to grow as an athlete and a person."
What are you most excited about for Wisconsin Soccer?
"I am most excited to play in the Big Ten Conference and compete against some of the best college soccer teams in the country. I cannot wait to be a Badger and play in front of the Wisconsin soccer fans. It would be my dream to win titles and trophies with the team."
Coach Tiemeyer – "Henri is another transfer to our Badger soccer program.  He is an outstanding attacking player, capable of scoring goals but also one who can assist others in the attack. Henri is an excellent striker of the ball and is positionally intelligent.  I look forward to Henri's arrival in Madison!"
Coach Trask – "Henri joins us from a very competitive Division II program. With his academy background in Germany, Henri will provide us another attacking option. His left foot can be magical, and it will be interesting to see where he finds himself in our attacking puzzle. Henri's maturity as a junior transfer will add strength to our group of upperclassmen who are so critical to success in the highly competitive Big Ten."