Michigan State men's soccer welcoming four Michigan natives to roster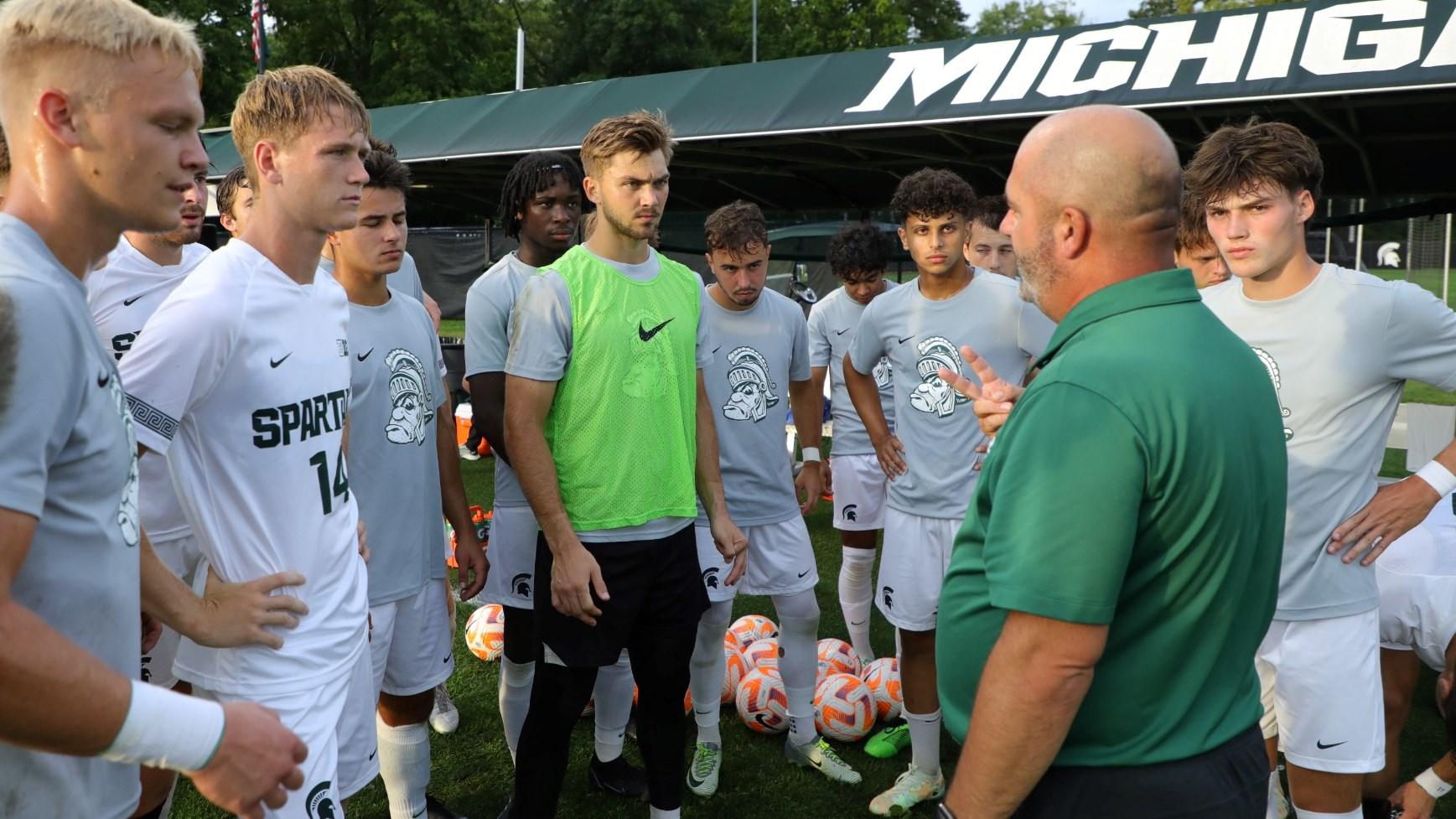 EAST LANSING, Mich. – Michigan State men's soccer head coach Damon Rensing announced the addition of four players as part of the 2023 recruiting class.
The Spartans will welcome freshmen Colin Arce (Utica, Michigan), Will Eby (Northville, Michigan), Myles Foster (East Lansing, Michigan) and Richie Ludwig (Clarkston, Michigan).
"We are really excited to welcome these four student-athletes to the Michigan State Soccer Family," Rensing said. "We have always valued talented soccer players who can compete at the highest level of college soccer, but have equally valued hard work, character, and being a good teammate. Colin, Will, Myles, and Richie possess all of these qualities. What's really cool about this class is that all four have Michigan State in their blood. They all have had a parent or both parents attend MSU. They've grown up Spartans, and it's great to see them have the opportunity to fulfill their dreams at MSU."
Colin Arce
Fr., M, 5-10, Utica, Michigan/Utica High School
Prior To MSU: Plays club for Vardar for coaches Mike Lupenec and Steve Arce … Is currently captain of the Vardar U-19 … As a junior, scored six goal and six assists … In 2021, Vardar reached the MLS Next playoffs, losing in the round of 32 … Son of Steve and Briget Arce … His father played soccer at Michigan State from 1998-2001.
Coach Rensing on Arce: "Colin is a technical center-mid who has very good vision and a high soccer IQ. He can play both deep in the midfield or further up the field. He has a very good range of pass. Colin is captain of his Vardar club team. His father, Steve, was a two-time first-team All- Big Ten midfielder here at MSU, so Colin is very familiar with the program."
Will Eby
Fr., D, 6-0, Northville, Michigan/Northville High School
Prior To MSU: Attends Northville High School … Plays for the Michigan Wolves for coach Will Thornton, where he is teammates with fellow Spartan signee Myles Foster … A captain for the 2022 Wolves team … Is currently captain of the Vardar U-19 … In 2021-22, was the top ranked defender by Michigan Prep Soccer …Last season, the Wolves qualified for the MLS Next Flex Event, finishing third in their division … During the 2020-21 season, the Wolves were knocked out of the playoffs in the round of 64 … Son of Brad and Maria Eby.
Coach Rensing on Eby: "Will is a versatile, athletic defender who can play either center back or as an outside back. He is a very good 1v1 defender and communicates extremely well to his teammates on the field. Will is also very competent at playing out of the back. He is captain of his Michigan Wolves club team."
Myles Foster
Fr., D, 6-3, East Lansing, Michigan/East Lansing High School
Prior to MSU: Plays for Michigan Wolves for coach Will Thornton, where he is teammates with fellow Spartan signee Will Eby … Competed in the MLS Next tournament for two seasons, as well as the GA Cup four-straight years … The Wolves also competed in the Copa Rayados … Son of Deon and Cathy Foster.
Coach Rensing on Foster: "Myles is a 6-3 center back or holding mid who has exceptional feet for his size. He is very comfortable playing out of the back while being pressed. He is very good at breaking lines and starting the attack from the backline. He has experience playing at an MLS Academy (Columbus Crew), which helps with the transition to the college game."
Richie Ludwig
Fr., F, 5-11, Clarkston, Michigan/Clarkston High School
Prior to MSU: Play at Clarkston High School for Ian Jones … His senior season, scored 21 goals with 20 assists, helping Clarkston earn a district title … The Clarkston Wolves also reached the regional finals … Two-time first-team all-state honoree, also earning All-America honors this season … Plays club for Nationals Soccer Union for his father, Rich … Son of Rich and Michelle Ludwig … Sister, Carissa, played soccer at Winona State, while his other sister was a gymnast at Western Michigan.
Coach Rensing on Ludwig: "Richie is a forward with great pace and the ability to not only score goals, but score big goals in big games. He is composed on the ball and also has the ability to set his teammates up to score as well. One of his best attributes is his off the ball movement and timing of runs into space. Richie is captain of both his high school and club teams."