Indiana men's soccer welcomes talented group of new Hoosiers for 2023 season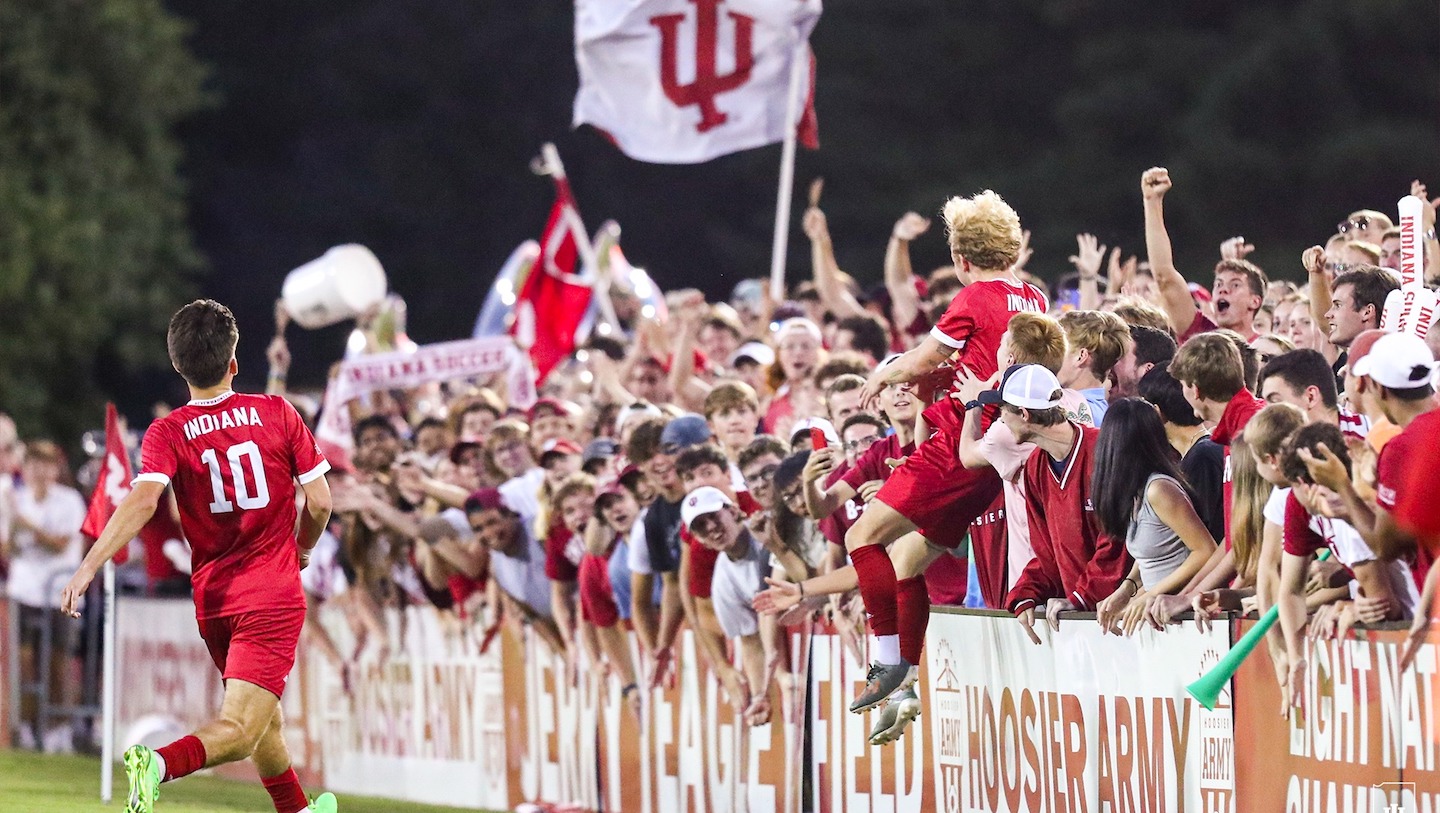 BLOOMINGTON, Ind. — Indiana men's soccer head coach Todd Yeagley announced the addition of 10 newcomers ahead of the 2023 season.
"I'm really excited to have this group of young men join us here at Indiana." Yeagley said. "We have great versatility with this group. We have every line of the field covered. Some [will be] immediate contributors, and some others might take time but, overall, great culture, great kids and excellent students. We think all of them are going to have a big impact here at Indiana."
TRANSFERS
Hugo Bacharach | Defender | 6-4 | Benicàssim, Spain | Colegio La Magdalena/Fairleigh Dickinson
Spanish defender Hugo Bacharach joins IU after three years at Fairleigh Dickinson, where he was selected first-team All-Northeast Conference following each season. As a junior, Bacharach was named the NEC Defensive Player of the Year after leading the Knights to NEC regular season and tournament titles to earn an automatic bid to the NCAA Tournament.
INCOMING FRESHMEN
Saed Anabtawi | Goalkeeper | 6-2 | Fort Wayne, Ind. | Fort Wayne Canterbury School
Indiana native Saed Anabtawi joins IU as a mid-year enrollee and will participate in the program's training sessions and exhibitions. Anabtawi comes to Bloomington from Fort Wayne Canterbury High School, where he totaled 27 shutouts and 294 saves in his career. Anabtawi is a two-time United Soccer Coaches High School All-American.
Alex Barger | Forward | 5-9 | 150 | Naperville, Ill. | Naperville North High School
Last season as a junior, Alex Barger was named the 2021-22 Gatorade Illinois Boys Soccer Player of the Year. The Midwest's No. 13 recruit according to Top Drawer Soccer, Barger played for Sockers FC Chicago and Evolution SC while earning four letters at Naperville North High School, where he sits No. 2 in career assists, with 42, and No. 7 in goals, with 43. Barger is a two-time United Soccer Coaches High School All-American.
EJ Dreher | Midfielder | 5-8 | 145 | Valparaiso, Ind. | Valparaiso, Ind.
Indiana native EJ Dreher is a mid-year enrollee for IU this spring. Dreher led his club team, Indiana Elite FC, to four state cup championships and a Super Y national runner-up finish. Dreher also lettered all four years at Valparaiso High School, where he scored 30 goals and tallied 34 assists. A two-sport athlete, Dreher also lettered in basketball at Valparaiso.
Josh Maher | Defender | 6-3 | 175 | Caseyville, Ill. | Althoff Catholic
Top Drawer Soccer rated Josh Maher as a four-star recruit as well as the No. 35 overall prospect in the nation. Maher was selected to St. Louis CITY SC's first team during its MLS NEXT Pro season in 2022 and helped the club to a western conference title. During his youth career, Maher also captained St. Louis CITY SC Academy's U17 team, as well as Saint Louis Scott Gallagher academy squads. Josh is the youngest brother of former Hoosier Jack Maher, now in Major League Soccer with Nashville SC, and Joey Maher, a current member of the IU program.
Clay Murador | Forward | 5-11 | 165 | Aledo, Texas | Aledo High School
Clay Murador is a three-sport star at Aledo High School in Texas, where he has lettered in soccer, football and track and field. A four-year letterwinner in soccer, Murador has totaled 44 goals and 15 assists for Aledo while winning two state titles in football and setting a school record in the 400-meter race with a time of 48.06. Murador also played for the Dallas Texans and led the club in scoring in each of its last two seasons.
Collins Oduro | Forward | 5-7 | 150 | Bibiani, Ghana | The Phelps School
The Philadelphia prep player of the year in 2022, Collins Oduro is coming off a 39-goal season last fall at The Phelps School, which he led to a 22-2 record – the best mark in school history – on its way to the Penn-Jersey Athletic Association title. Oduro played club for the Right to Dream Academy, which he captained and led to a Gothia Cup title in 2021.
Logan Oliver | Midfielder | 5-11 | 165 | Baltimore, Md. | YSC Academy
Logan Oliver joins IU after captaining the Philadelphia Union U17 team which won the MLS NEXT Cup title in 2022. In 2023 Logan was one of the few Academy players called up to play with Philadelphia Union II in MLS NEXT PRO. The Union were rated as the top academy in the country in 2022. Oliver is rated No. 134 in Top Drawer Soccer's 2023 club player rankings.
Justin Shreffler | Midfielder | 5-10 | 150 | Westlake, Ohio | Westlake High School
Justin Shreffler is a 2022 United Soccer Coaches All-American after leading Westlake High School to an undefeated regular season. A four-year Varsity letterwinner, Shreffler has totaled 46 goals and 30 assists during his career at Westlake. Shreffler also competed at Spire FC.
Lucas Wolthers | Forward | 6-1 | 180 | Hendersonville, Tenn. | Merrol Hyde Magnet School
Lucas Wolthers is the No. 2-rated South Region recruit and a top 150 recruit Nationally. Wolthers has seen academy action with Nashville SC, leading the club in scoring during the 2021-22 season. During the 2020-21 season with Tennessee United Soccer Club, Wolthers totaled 43 goals and 11 assists over just 23 matches.