Xavier men's soccer program expands 2023 signing class to 11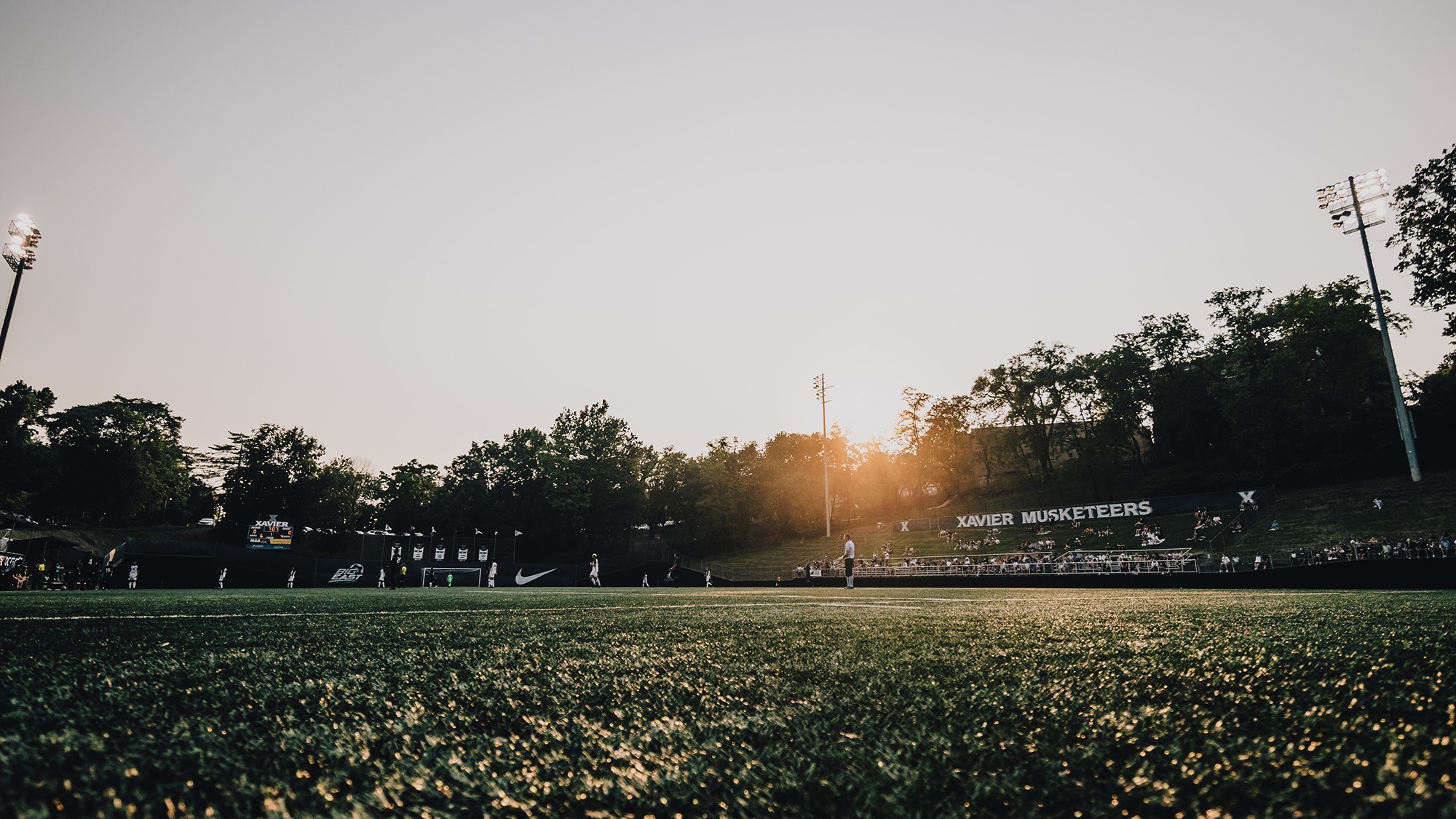 CINCINNATI – Xavier head men's soccer coach John Higgins announced the signing of 11 new Musketeers to the 2023 roster.
The two latest signings are Jabari De Coteau and Jaden Hancock, who join nine previously announced newcomers as members of the recruiting class.
"I'm delighted that we have been able to add this additional quality and character to an already great signing class," said Higgins. "Both players will come in and be an asset to the program in year one, but will be great program guys and represent the program the right way over the course of their four years."
See below for a look at each member of Xavier's incoming class for 2023.
| NAME | POS. | HT. | YR. | HOMETOWN/PREVIOUS SCHOOL(S) |
| --- | --- | --- | --- | --- |
| Jabari De Coteau | D | 6-1 | FR. | Brooklyn,N.Y./Williston Northampton School |
| Grayson Elmquist | F | 6-1 | FR. | Lake City, Mich./Lake City |
| Nicolas Fonseca | D | 6-1 | FR. | Mexico City, Mexico/Williston Northampton School |
| Cooper Forcellini | MF | 6-1 | FR. | Olathe, Kan./Blue Valley West/Bellarmine |
| Landon Friend | GK | 6-3 | FR. | Fort Worth, Texas/Keller Timber Creek |
| Jaden Hancock | MF | 5-11 | FR. | Redondo Beach, Calif./Redondo Union |
| Luke Kegerreis | D | 6-4 | FR. | Indianapolis, Ind./Roncalli |
| Michael Rogalski | D | 6-0 | FR. | Park Ridge, Ill./Maine South/Bradley |
| Matthew Senanou | D | 6-4 | SO. | Chicago, Ill./Neuqua Valley/North Carolina |
| Nathan Trickett | MF | 6-1 | FR. | Independence, Ohio/St. Ignatius |
| Guilherme Vivaldini | MF/F | 6-2 | SO. | Itupeva, Brazil/ The McCallie School (Tenn.)/North Carolina |
JABARI DE COTEAU
Was a four-year varsity letterwinner… helped his team post an 18-3-1 overall record in 2022… helped his team win the 2022 WNEPSSA Championship… helped his team post a runner-up finish at the 2022 NEPSAC Championships… earned All-NEPSAC honors in 2022… was named to the 2022-23 Boston Globe All-Scholastics Team… played club soccer with the Brooklyn Italians and the Gottschee Academy… brother, Justin, plays soccer at King's College (PA).
JADEN HANCOCK
Was a two-year varsity starter… scored 15 goals in 23 matches over his junior and senior seasons… earned All-Bay League and All-CIF honors in 2022… helped his team win the 2022 CIF Championship.
GRAYSON ELMQUIST
Played for the Indiana Fire Pro Academy… also played basketball for three seasons and football for one season… earned All-Highland Conference honors in basketball and football… won the 2022 USL Academy Playoffs with the Indiana Fire Pro Academy… also helped the team place fourth at the MLS Next Fest in Dallas and Flex in Maryland… helped the Michigan Fire Juniors U16 Team to a quarterfinal finish at the Michigan State Cup… helped the Traverse City Tbays reach the quarterfinals of the U13 Michigan State Cup… helped the U10 Mt. Pleasant Extreme to an undefeated season… sister, Emma, runs cross country at Alma College… father, Grant, played football at Central Michigan.
NICOLAS FONSECA
Played at The Williston Northampton in Easthampton, Mass… led his team to an 18-3-1 record in 2022… earned All-NEPSAC Honorable Mention Team honors… reached the NEPSAC Finals in 2021… won the WNEPSSA Championship in 2022… played club soccer for IDF (NC) in 2021, leading the team to the regional and national tournament.
COOPER FORCELLINI
Played at Bellarmine during the 2022 season… named to the ASUN All-Freshman Team… played and started in all 18 matches… ranked second on the team in points with six (two goals, two assists)… took 23 shots (10 shots on goal)… scored his first career goal vs Evansville on Aug. 25 in the team's season opener… had an assist vs Stetson on Nov. 5… posted a goal and an assist at Central Arkansas on Nov. 7 in the ASUN Tournament Semifinals… father, Shawn, played soccer at Rutgers.
LANDON FRIEND
Played for the Solar Soccer Club… helped the team defeat LA Galaxy in the 2022 GA Cup… was a three-year varsity letterwinner in soccer… helped his ENCL team win 14 Tournaments including two Vegas Cup Titles, two Bobby Rhine Invitational Titles and a Ken Smith Memorial Title… was a two-time Dallas Cup Qualifier… won the 2022 Jefferson Cup Title with his MLS Next Team… also advanced to the 2022 U17 GA Cup Quarterfinals and the 2022 U17 MLS Cup Qualifier.
LUKE KEGERREIS
Earned All-Circle City Conference honors and All-Indiana honors at Roncalli HS… played for the Fire Academy MLS Next and Indy Eleven U19s… also played for Columbus Express SC and Alliance FC… led Roncalli HS to a 14-3 record in 2021-22 and a Marion County Championship, the first title in program history… was on the 2022-23 Indy Eleven U19 East-Central Division Championship team… father, Keith, played tennis and soccer at Trine… mother, Sarah, played basketball at Butler and Western Michigan.
MICHAEL ROGALSKI
Played at Bradley from 2021-22… played in 31 matches, making 30 starts… logged 2,611 minutes… recorded three assists… took 10 shots (four shots on goal)… helped the defense post six shutouts… named to the MVC All-Freshman Team in 2021… named to the MVC All-Tournament Team in 2021… played for Sockers FC, helping his team win the 2017 Iber Cup in Spain and the 2017 US Club Soccer National Title… brother, Nicholas, plays soccer at Lewis University.
MATTHEW SENANOU
Played at North Carolina from 2021-22… played in three matches during the 2021 season… made his first career start at UNCW on Sept. 29, logging a season-high 64 minutes… added two shots (one on goal) during the 2021 season… helped the Tar Heels post a 20-3-7 (6-6-4 ACC) record in two seasons with two NCAA Tournament Appearances… played for Sockers FC in high school.
NATHAN TRICKETT
Led Cleveland St. Ignatius to the 2022 OHSAA Division I State Title and a 19-2 record… named to the 2022 OHSAA All-State Honorable Mention Team… recorded 30 goals and 32 assists in high school… also helped his team with the 2020 and 2021 OHSAA Division I State Titles, combining to post a 44-0 record during that span… was a three-year varsity letterwinner… sister, Christina played soccer at Central Florida and Cleveland State… brother, Matthew, played football at Minnesota… sister, Antonia, plays lacrosse at Akron.
GUIHERME VIVALDINI
Played at North Carolina from 2021-22… played in two matches, totaling 29 minutes… took one shot (at FIU on Sept. 3, 2022)… played for The McCallie School and for Chattanooga RedWolves Academy… led his HS team to the 2019 state title… led his team in both goals and assists in 2019 and 2021… was the only sophomore to make the TopDrawerSoccer All-America list in 2019… was named the Tennessee Gatorade Player of the Year… totaled 41 goals and 23 assists in three seasons of high school play.