Major college recruiting event coming up at 2023 Jefferson Cup Girls Showcase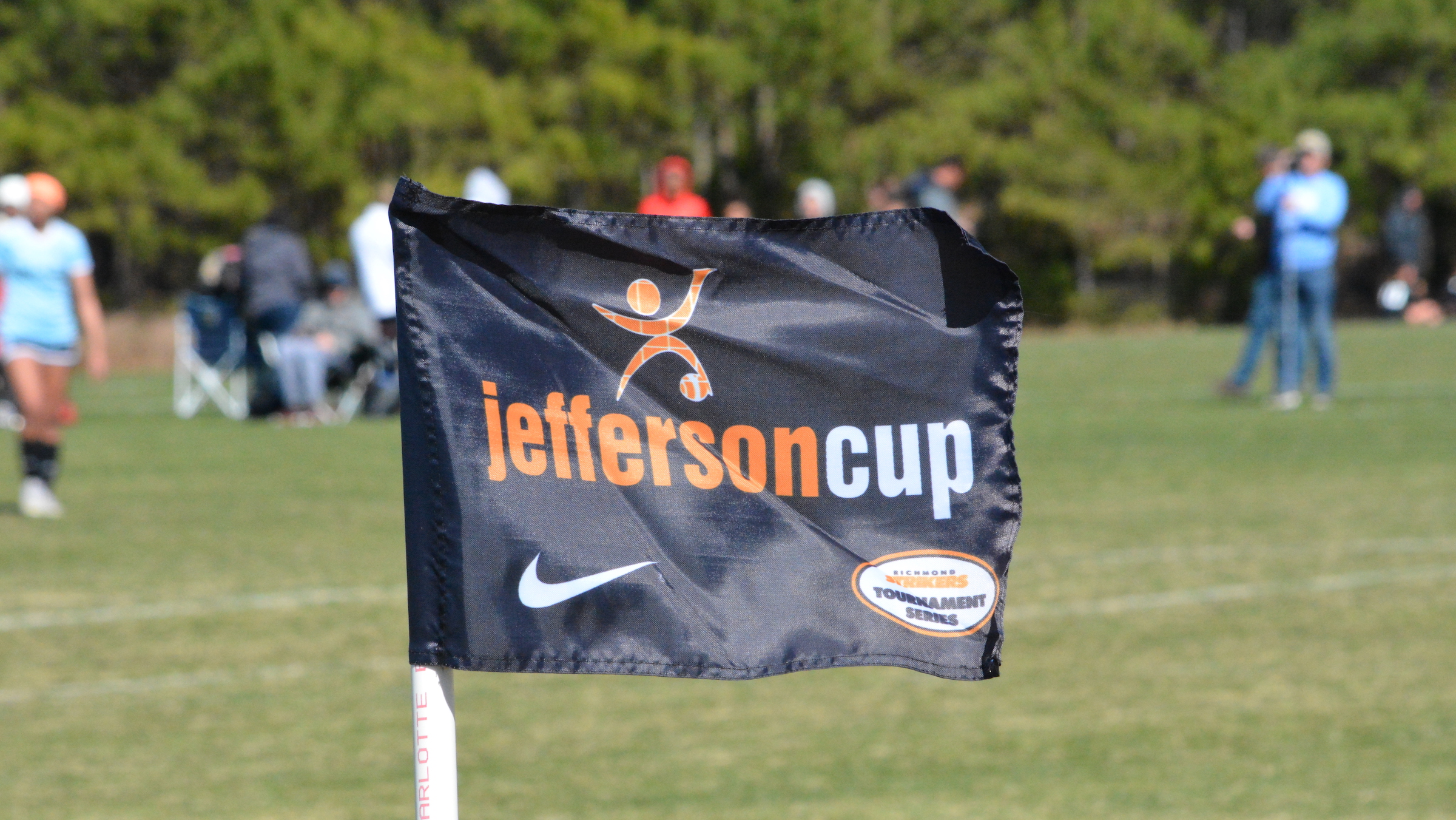 Follow the Jefferson Cup:
Twitter | Facebook | Instagram
Richmond, Va. – This weekend, more than 450 high level girls soccer teams will travel to Richmond, Virginia to take part in the 2023 Jefferson Cup Girls Showcase.
For over 40 years, the Jefferson Cup Girls Showcase has been one of the top youth soccer tournaments in the country. The event, hosted by Richmond Strikers Tournaments, will take place March 24-26. (College Coach List)
The Jefferson Cup is a four-weekend tournament that this year will see 1,744 of the top boys and girls youth teams from across the United States and Canada play for top honors and in the high school-aged groups hundreds of college coaches. The Girls Showcase is preceded by the Boys U9-U14 Weekend (March 4-5) and Girls U9-U14 Weekend (March 11-12). The Tournament will wrap up next weekend with the Boys U15-U19 Showcase (March 31-April 2).
In total, teams attending the Jefferson Cup represent clubs from 34 different U.S. states, along with several more from Canada and Puerto Rico.
The states represented include: Alabama, Arizona, California, Colorado, Connecticut, Delaware, Florida, Georgia, Illinois, Indiana, Iowa, Kansas, Kentucky, Maryland, Massachusetts, Michigan, Minnesota, Missouri, New Hampshire, New Jersey, New York, North Carolina, Ohio, Oklahoma, Oregon, Pennsylvania, Rhode Island, South Carolina, Tennessee, Texas, Utah, Virginia , West Virginia and Wisconsin.
Teams accepted into the tournament are highly-accomplished members of the nation's most competitive leagues, including the Elite Clubs National League (ECNL), Girls Academy, Elite Development Program (EDP), US Youth Soccer National League and US Club Soccer National Premier Leagues (NPL), among others.
Included in this year's competition are Soccer Vision Academy Girls 2008, A3 Soccer Rangers 2007G, Epic SC United 2006G, and TSJ FC Virginia 04/05G United South who automatically qualified by winning the Premier Division in their age group at last year's Capital Fall Classic.
The competition will have two different formats: a traditional tournament style format for the U15 age group with multiple winners across the fourteen divisions and a showcase style format for the U16-U19 age groups.
The Jefferson Cup features some of the nation's top natural grass playing surfaces in the country with over 32 synthetic turf fields, including the River City Sportsplex, which is one of the nation's largest turf complexes. (Field List)
Once again, the tournament will include multiple additional opportunities for players. Among these opportunities are the Jefferson Cup Players Combine, 'Own The Goal' Goalkeeper Showcase, and a set of free-to-attend college soccer games.
Both the boys and girls showcase weekends will host the 2nd annual Jefferson Cup Players Combine. Players from across the country will play in front of some of the top NCAA Division I, II, III, and NAIA college coaches in a series of short games to maximize recruiting opportunities. Each combine will feature three mini-games to be recorded via VEO. The VEO link will be sent to all participants as well as all college coaches attending Jefferson Cup that weekend. The Jefferson Cup Showcase weekends are two of the most highly attended soccer showcase weekends in the country. Over 300 college coaches are expected to attend the Girls Showcase weekend.
In the 'Own The Goal' Goalkeeper Showcase, goalkeepers will have enhanced opportunities to showcase their skills in front of college coaches. Each ninety minute goalkeeper session will include a variety of training scenarios with the aim of highlighting each keepers skills that might be overshadowed during a regular game.
At the Girls Showcase, attendees will again have the chance to watch some of the top college programs in the country face off against each other in a one-of-a-kind environment. Three college exhibition games will take place at Sports Backers Stadium during the Jefferson Cup Girls Showcase.
VCU will take on William & Mary on Friday, March 24 at 6:00 p.m. The following evening, there will be a doubleheader. On Saturday, March 25 the legendary University of North Carolina Tar Heels program will go up against the University of Virginia at 5:00 p.m. To finish things off, the University of Richmond Spiders will take on Navy at 7:00 p.m.
For more information about this year's tournament, view the Tournament Guide.