Jefferson Cup U9-U14 Girls Weekend sees teams from 40 clubs win division titles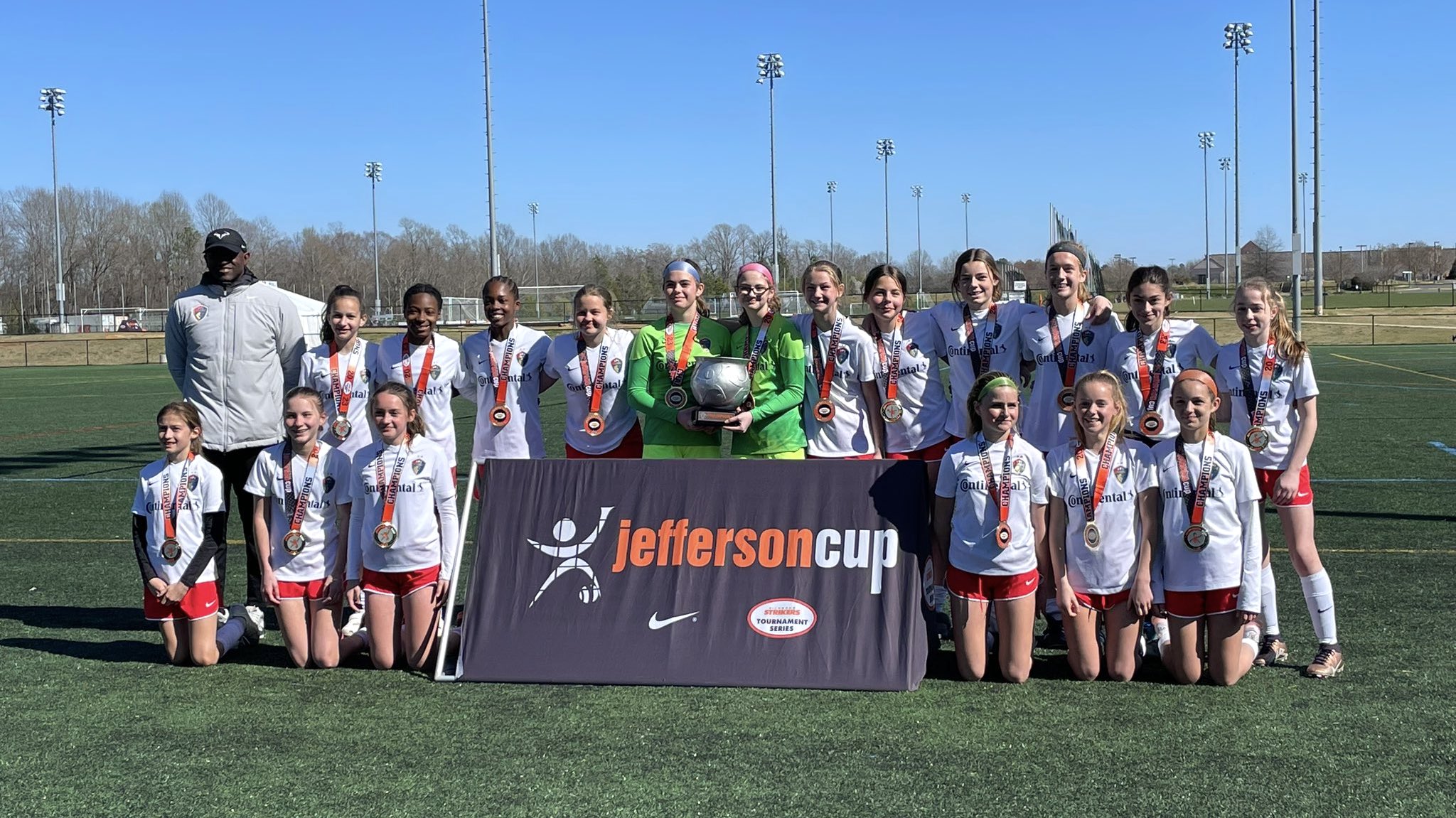 By Sean Maslin
SoccerWire Staff Writer
Follow the Jefferson Cup:
Twitter | Facebook | Instagram
Richmond, Va. – Division champions were crowned across 49 brackets at the conclusion of the 2023 Jefferson Cup U9-U14 Girls Weekend. The weekend saw competitive action across the six age groups, with over 430 total teams.
A total of 40 different youth clubs had at least one of their teams place in their respective bracket over the weekend, showcasing the competitiveness across all age groups. Nine of those clubs were able to secure two division championships.
The nine clubs that had multiple teams place first at this year's weekend were: NC Courage Academy, Virginia Valor FC, Springfield South County Youth Club (SYC), PA Classics, Jersey Shore Boca Jrs, Total Futbol Academy (OH), Match Fit Academy, Long Island SC and Next Level Soccer Association.
Attending teams traveled to Richmond from 22 different states, as well as multiple sides from Canada. The states represented at this Jefferson Cup Girls Weekend were: Alabama, Connecticut, Delaware, Florida, Georgia, Illinois, Kentucky, Maryland, Massachusetts, Michigan, Minnesota, New Jersey, New York, North Carolina, Ohio, Pennsylvania, Rhode Island, South Carolina, Texas, Virginia, West Virginia, and Wisconsin.
The tournament featured a diverse range of cross-league competition between members of the nation's most competitive leagues, including the Elite Clubs National League (ECNL), Elite Development Program (EDP), US Youth Soccer National League and US Club Soccer National Premier Leagues (NPL), among others.
See below for a full listing of champions and finalists from the U9-U14 Girls Weekend.
Champions and Finalists
U9
Championship Division
Champion: NTH Tophat Marietta Gold 14 (GA)
Finalist: SYC 2014G Academy (VA)
Elite Division
Champion: Richmond Strikers 14G Elite North Orange (VA)
Finalist: SAC 2014-Premier Blue (NC)
U10
Championship Division
Champion: SYC 2013G Academy (VA)
Finalist: McLean YS 2013 Girls Pre-ECNL (VA)
Elite Division
Champion: PA Classics Academy 13 F (PA)
Finalist: NCFC Gold North 13G (NC)
Superior Division
Champion: Jersey Shore Boca Jr FC Reign (NJ)
Finalist: SYC 2013G Blue (VA)
Platinum Division
Champion: Ole Impact FC Regional G2013 (CT)
Finalist: Match Fit Academy FC 13G Mercer Blue (NJ)
U11
Championship Division
Champion: Total Futbol Academy G12 Elite (OH)
Finalist: Loudoun Soccer 12G Pre-ECNL Red (VA)
Elite Orange Division
Champion: SYC 2012G Pre-Union (VA)
Finalist: Arlington SA 2012G Red (VA)
Elite Black Division
Champion: Match Fit Academy FC 12G Morris Pre-ECNL Blue (NJ)
Finalist: CSA Charlotte Elite 1 12G (NC)
Superior Division
Champion: Beadling 2012 Girls South Red (PA)
Finalist: Philadelphia Ukrainian Nationals 12G Black (PA)
Platinum Division
Champion: Pipeline SC 2012 Girls Black (MD)
Finalist: NTH Tophat 12 Marietta Gold (GA)
Classic Division
Champion: Match Fit Academy FC 12G Mercer Blue (NJ)
Finalist: Baltimore Bays 2012G Crush Premier (MD)
Premier Division
Champion: Virginia Valor FC 2012G Gold (VA)
Finalist: CSA North/Hville PE 12G (NC)
Juniors (9V9)
Champion: Cedar Stars Academy Lacey 13G Green (NJ)
Runner-Up: Old Line FC Girls 13 Black (MD)
U12
Championship Division
Champion: Penn Fusion Pre-ECNL 2011 (PA)
Finalist: Windy City Rampage 2011G BLK (IL)
Elite Orange Division
Champion: SJEB FC 11G Red (NJ)
Finalist: Coppermine SC West G2011 Premier I (MD)
Elite Black Division
Champion: New England Surf 11G Navy (MA)
Finalist: Loudoun Soccer 11G Pre-ECNL Red (VA)
Superior Orange Division
Champion: Virginia Valor FC 2011G Gold (VA)
Finalist: PDA South Pre ECNL 2011 (NJ)
Superior Black Division
Champion: PA Classics Academy 11 F (PA)
Finalist: Richmond Kickers Pre ECNL RL Elite Red 11 (VA)
Platinum Division
Champion: FC Westchester Blue G2011 (NY)
Finalist: CSA Charlotte Elite 2 11G (NC)
Classic Division
Champion: Pickering FC 2011G Black (ON)
Finalist: Match Fit Academy FC 11G Shore White (NJ)
Premier Division
Champion: Severna Park 11G-Green (MD)
Finalist: Hereford 2011 Girls Maroon (MD)
U13
Championship Division
Champion: Bethesda 1 2010 (MD)
Finalist: Penn Fusion ECNL 2010 (PA)
Elite Orange Division
Champion: CFC Arsenal Sky 2010 ECNL GU13 (CT)
Finalist: Fairfax Brave ECNL 10G (VA)
Elite Black Division
Champion: Baltimore Armour Academy 10G GA (MD)
Finalist: FC DELCO ECNL '10 (G) (PA)
Superior Orange Division
Champion: Century United 10G GA (PA)
Finalist: Match Fit Academy FC 10G Shore Blue (NJ)
Superior Black Division
Champion: NC Courage Academy 10G ECNL (NC)
Finalist: Alabama FC 10G ECNL (AL)
Superior White Division
Champion: Charlotte SA White RL G10 (NC)
Finalist: CSA Galaxy 10G (MD)
Platinum Orange Division
Champion: LISC Girls 2010 Academy (NY)
Finalist: STA 2010G GA (NJ)
Platinum Black Division
Champion: VA Reign 2010 Elite Girls (VA)
Finalist: NY Surf Elite 64 10G (NY)
Platinum White Division
Champion: Keystone FC 10G Premier (PA)
Finalist: Hamilton Elite FC 2010 Sand Sharks NL EDP (NJ)
Classic Division
Champion: Total Futbol Academy Elite 64 10G (OH)
Finalist: Arlington SA 2010G Red (VA)
Premier Orange Division
Champion: JIYSC 2010 Girls Red (SC)
Finalist: Boston Bolts West Impact NPL U13 Girls (MA)
Premier Black Division
Champion: Next Level 2010 Girls Elite (NJ)
Finalist: Medford SC Magic 2010 (NJ)
Juniors Orange Division
Champion: GSA 11G ECNL Dev 1 (GA)
Finalist: Match Fit Academy 11G Shore Blue (NJ)
Juniors Black Division
Champion: Marlton Chiefs Premier 2011 (11V11) (NJ)
Finalist: Real Jersey FC 2011 Pre-GA (NJ)
U14
Championship Division
Champion: PDA ECNL Legacy Blue 2009 (NJ)
Finalist: UFA 09G ECNL (GA)
Elite Orange Division
Champion: VDA ECNL U14G (VA)
Finalist: GSA 09G ECNL (GA)
Elite Black Division
Champion: NC Courage Academy 09G ECNL (NC)
Finalist: NJ Blaze Soccer 2009 (NJ)
Superior Orange Division
Champion: Chicago Rush United Phenoms G2009 (IL)
Finalist: Maryland United FC 09G ECNL (MD)
Superior Black Division
Champion: Beach FC ECNL G2009 (VA)
Finalist: UFA 09G RL Premier (GA)
Superior White Division
Champion: Real Jersey FC 2009 GA (NJ)
Finalist: Cleveland Force 09G ECNL (OH)
Platinum Orange Division
Champion: New York SC 09G GA (NY)
Finalist: Charlotte SA Blue RL G09 (NC)
Platinum Black Division
Champion: Jersey Shore Boca Jr FC O'Hara (NJ)
Finalist: YMS 2009 Girls Premier Celtic (PA)
Platinum White Division
Champion: LISC Girls 2009 Academy (NY)
Finalist: Markham FC 2009 ODPL Girls (Canada)
Classic Division
Champion: Metro ASA 09G GA (VA)
Runner-Up: NCFC Elite 09G (NC)
Titanium Orange Division
Champion: Coppermine SC North Girls 2009 Premier I (MD)
Runner-Up: NCFC Premier ECNL RL 09G (NC)
Titanium Black Division
Champion: Next Level 2009 Girls Elite (NJ)
Finalist: CISC ECNL RL South G (SC)
Premier Division
Champion: Voorhees SA Wildcats 2009 (VA)
Finalist: New York Surf G09 Academy (VA)