IUPUI men's soccer announces six-player signing class for 2021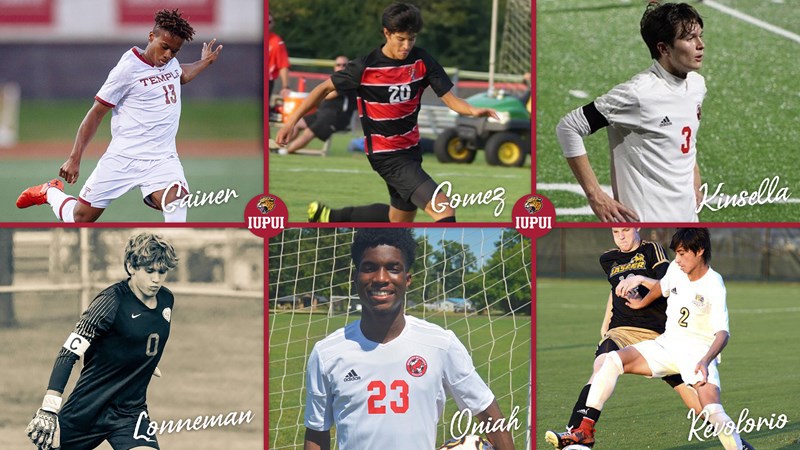 INDIANAPOLIS – IUPUI men's soccer head coach Brian Barnett announced the additions of six student-athletes for the Fall 2021 campaign. All six have Indiana ties as Barnett signed a graduate transfer and five true freshmen.
Tyler Gainer, a Carmel-native, returns to the IUPUI program after a three-year stint at Temple University. Gainer began his collegiate career with the Jaguars in 2017, appearing in 17 matches and making 16 starts.
In addition, Barnett welcomes the freshman quintet of: Josemir Gomez (Indianapolis, Ind./North Central), Gavin Kinsella (Munster, Ind./Munster), Luke Lonneman (Fishers, Ind./Hamilton Southeastern), Afamefuna Oniah (Munster, Ind./Munster) and Ecris Revolorio (Washington, Ind./Washington). The Jaguars will return nearly its entire roster from this past spring, including graduate Tommy Patacca and fifth-year seniors Gianni Catenacci, Cameron Haegele and Matthew Skaar.
Tyler Gainer – Carmel, Ind./Carmel (Temple Univ.)
5-7 I Defender I Indiana Fire Academy
Awards & Honors
-Began his career at IUPUI, playing the 2017 season for the Jaguars, appearing in 17 matches, making 16 starts as a true freshman
-Spent the past three years at Temple University, including playing in 13 matches and making 10 starts during the 2018 fall season
-Played for the Indiana Fire Development Academy U15/16 Team, starting 24 of 25 games
-Was also a member of Indiana's State ODP Team from 2011-2014
Barnett on Gainer:
"I am excited to welcome Tyler back to IUPUI as a graduate student. He has done exactly what you expect of anyone over the course of their undergraduate career – he has matured and developed as a model student, athlete and person. I look forward to his leadership and perspective in our locker room."
"Tyler was one of the first young soccer players I met when I moved down to Indiana  almost 10 years ago. We have stayed in contact as he has progressed and matured in his academic and athletic career. He has competed at a high level in his college career and that experience, along with his character, are intangibles that will strengthen any locker room. He has a winning mentality that's infectious and will be a positive influence to the younger players on the team. I'm so happy that Tyler is back in Indiana as I am sure that he will add a strong leadership component that any coach would welcome on their team!"
Jason Perry, Butler Assistant Coach
"Tyler has been a remarkable student-athlete since day one of getting to know him. He is always willing to put in extra work before and after training, both individually and with others. His drive to get better is a joy to see in a player. He is very technical and intelligent when reading the game, which makes him a versatile player. Lastly, he is an outstanding teammate that will push those around him to achieve their goals."
Mabuchi Kalua, Hoosier FC Coach
Josemir Gomez – Indianapolis, Ind./North Central
6-1 I Forward I Indy Phoenix
Awards & Honors
-Three-year varsity letterwinner at North Central High School
-Was a 2020 United Soccer Coaches All-American and two-time All-Region Team
-Was a two-time First Team All-State, First Team All-District and MIC All-Conference honoree
-Was named to the 2019 National League Great Lakes Conference Top Eleven
-Two-time ODP State team participant
Barnett on Gomez:
"It is fantastic to welcome another North Central High School and Indy Phoenix product to the IUPUI men's soccer family. Coach Little does a wonderful job preparing his players for the next level both as people and as players. Josemir is no exception – he is a strong and powerful target forward with a proven track record for scoring goals."
"We have been fortunate to have many elite players at North Central and Josemir Gomez belongs in that category. His technical skill, vision, distribution, and ability to finish, along with his size, separates him from other players. Combine these attributes with his desire to continue to improve makes him an impact player at the next level. IUPUI has signed an exemplary young man."
Jerry Little, North Central High School Boys Varsity Coach & Indy Phoenix FC Founder/Coach
Gavin Kinsella – Munster, Ind./Munster
5-11 I Midfielder I Millennium 03 Black
Awards & Honors
-Was a two-year letterwinner at Munster High School and played club soccer for Millennium 03 Black
-Named first team All-Northwest Crossroads Conference in 2020 after earning honorable mention honors in 2019
-Chosen to the NWI Times and Chicago Tribune All-Area teams in 2020
-Was Munster's Offensive MVP in 2020
-Two-year All-State Academic player and National Honor Society member
-Helped Millennium to the 2019 U.S. Club National Cup Midwest Regional title
Barnett on Kinsella:
"Gavin is a Munster High School, Millennium Soccer Association and Indiana ODP product. He is a dynamic wide player with a relentless work ethic and desire to improve as a player. I believe that IUPUI will provide an excellent environment for Gavin's overall development as a student, athlete and person."
"Gavin is a high IQ soccer player that understands game situations and he likes to attack and combine with teammates, which results in scoring opportunities for him and his teammates. He's an unselfish team player that will be great for the team's soccer culture. You can coach him up. He soaks everything in because he wants to be better to help his team. He will push the older players to work harder."
Jim Prasopoulos, Munster High School Boys Varsity Coach
"I have coached Gavin for the last eight years at Millennium SA and he has continuously shown each season that he can play at a high level and make an impact. With his work ethic, technical abilities and understanding of the game there is no doubt in my mind that he will have a successful collegiate career at IUPUI."
Vangel Nacovski, IUPUI Hall of Famer and Millennium SA
Luke Lonneman – Fishers, Ind./Hamilton Southeastern
5-10 I Goalkeeper I Indy Premier
Awards & Honors
-Three-year varsity letterwinner at Hamilton Southeastern and played club at Indy Premier
-First team All-Hoosier Crossroads Conference honoree in 2020 and Defensive Player of the Year while also earning second team All-District honors
-Helped HSE to the 2018 sectional title
-Was part of the 2018 and 2020 Mudsock Champions, including taking down the No. 1 team in the country
-Two-time Academic All-State pick
-HSE's team captain in 2020
-Helped Indy Premier to the Nike Challenge Cup title in 2018
Barnett on Lonneman:
"Luke comes from Hamilton Southeastern High School and Indy Premier Soccer Club. He will add immediate depth to our goalkeeping corps. He is a high character individual that pursues excellence in all aspects of his life. I am excited for him to make a positive impact on our team."
"As a former Jaguar, I am thrilled that Luke will be continuing his education and soccer career at IUPUI. He is an exemplary young man, with great passion and drive. I am excited to see what Luke and the Jaguars achieve in the coming years."
Joel Chalkley, Indy Premier Boys Director of Coaching
"I am extremely excited and proud that Luke will be joining IUPUI this fall. IUPUI is getting a player with extremely high character on and off the field. He is a team first player who loves to compete in everything. Luke always pushes himself to be the hardest working player and to help others challenge themselves as well."
Chris White, Hamilton Southeastern High School Boys Varsity Coach
Afamefuna Oniah – Munster, Ind./Munster
6-0 I Defender I Millennium 03 Black
Awards & Honors
-Earned six varsity letters in soccer and track at Munster High School and also played for Millennium Soccer Academy
-Earned First Team All-District and Second Team All-Conference honors as a senior after recording 13 goals and nine assists
-Was a Scholar Athlete and a four-year honor roll member
-Helped Millennium to the 2019 U.S. Club National Cup Midwest Regional title
Barnett on Oniah:
"Afam is a Munster High School and Millennium Soccer Association product. He possesses an elite level of athleticism and I look forward to his development as a left back in our program. Afam possesses a unique desire to develop as an individual in every aspect of his life and I am excited for him to bring that attitude to IUPUI as we continue to drive our program culture forward."
"Afam is a fast athletic player that is great with set pieces, especially corner kicks. He can dominate the left side of the field as an outside back or outside mid. He also does a nice job on the right side of the field. He will play 18 to 18 with great stamina. He's another great culture player. You can also coach him up. He will also push the older players."
Jim Prasopoulos, Munster High School Boys Varsity Coach
"Over the last three years while playing at Millennium SA, I have seen first-hand how much work Afam has put into developing his overall game. With his tremendous work ethic and athletic abilities, he will continue to grow as a player and excel at the collegiate level."
Vangel Nacovski, IUPUI Hall of Famer and Millennium SA
Ecris Revolorio – Washington, Ind./Washington
5-7 I Midfielder I Indiana Fire Academy
Awards & Honors
-Two-year varsity letterwinner at Washington High School and also played for Indy Fire Academy
-Named third team All-State in 2019
-Two-year BETA club member
-Also participated in the Indiana ODP program
Barnett on Revolorio:
"Ecris is a graduate of the newly formed Indiana Fire Juniors residency program. Kiki and his staff have done a great job accelerating these players' preparation for their next step as collegiate student-athletes. Ecris has elite technical ability and field vision in the center of midfield. I am excited to bring his strong work ethic, his desire to improve, and compete in pressurized environments to our program."
"Ecris is a creative player with a tremendous work ethic and engine to impact the game for 90 minutes. As a member of our Residency Program, Ecris has shown great character and maturity while living very independently, away from home for the past two years. He has appropriately prioritized academics and excelled despite the transition to online schooling. Ecris is a very talented soccer player who has also been an exemplary young man on and off the field for Indiana Fire Academy."
Kiki Wallace, Indiana Fire Academy Director
2021 IUPUI Men's Soccer Recruiting Class (as of 6/10/2021)
Name
Pos.
Ht.
Hometown
High School
Club Team
Tyler Gainer
D
5-7
Carmel, Ind.
Carmel
Indiana Fire Academy
Josemir Gomez
F
6-1
Indianapolis, Ind.
North Central
Indy Phoenix
Gavin Kinsella
MF
5-11
Munster, Ind.
Munster
Millennium 03 Black
Luke Lonneman
GK
5-10
Fishers, Ind.
Hamilton Southeastern
Indy Premier
Afamefuna Oniah
D
6-0
Munster, Ind.
Munster
Millennium 03 Black
Ecris Revolorio
MF
5-7
Washington, Ind.
Washington
Indiana Fire Academy