University of Michigan men's soccer announces 2021 recruiting class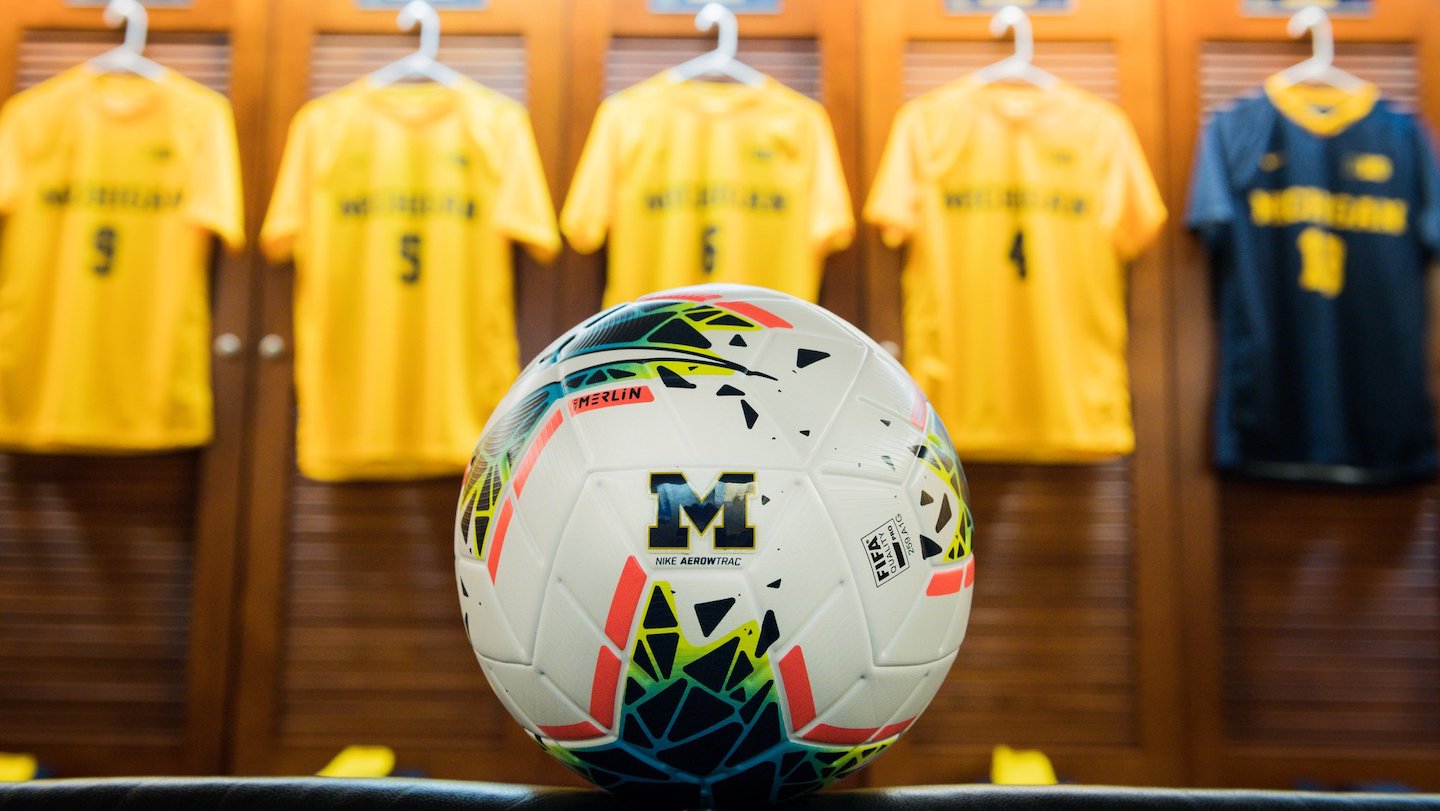 ANN ARBOR, Mich. – University of Michigan men's soccer head coach Chaka Daley announced the additions of five newcomers to the team's 2021 roster.
The class includes four freshmen – Laith Alhiyafi, Jason Bucknor, Hayden Evans and Michael Leon – as well as transfer student Uriel Zeitz.
"Our coaching staff is very excited about the incoming Class of 2025," Daley said. "During a very challenging recruiting window, these outstanding student-athletes have stood the test of time, and will be tremendous ambassadors of our program and its growing culture. We expect these young men to complement and impact our group upon their arrival on campus."
Laith Alhiyafi | Midfielder | 5-7/140 | Dearborn, Mich. (Fordson HS) | Vardar (MLS Next)
An attacking midfielder, Alhiyafi played for Al-Wefaq Soccer Club (Saudi Arabia) before returning to the United States to play with the Vardar Academy (2020-2021), and Michigan Wolves Academy (2019-2020), where he tallied six goals and two assists in 10 matches. In 2021, Laith spent time with the Columbus Crew Youth Academy (MLS). Laith will graduate in 2021 from Fordson High School in Dearborn, Mich.
Daley on Alhiyafi: "Laith is a dynamic 1v1 player who is comfortable on either wing. He has a relentless work ethic on both sides of the ball and possesses the speed and skill to cause real problems for the opposition."
Jason Bucknor | Defender | Weston Fla. (Cypress Bay HS) | Inter Miami/Fort Lauderdale CF (USL)
Bucknor spent the last two seasons with Inter Miami/Fort Lauderdale CF USL 2 team. Prior to that, he has been with the U.S. Soccer Development Academy since 2015 with Inter Miami Youth Academy and Weston FC, where it has reached the US Soccer Playoffs. The team competed internationally at the South Korea K-League Soccer Tournament. Bucknor graduated from Cypress Bay High School in 2020 and is currently completing his gap year.
Daley on Bucknor: "Jason is a versatile player, who we expect to compete and contribute immediately in numerous positions for our program. He is a high-level athlete and has excellent technique with both feet, which will help him adapt quickly to the rigors of the college game."
Hayden Evans | Goalkeeper | 6-4/200 | McLean, Va. (HS) | Salford City Academy, UK
Evans played with Salford City FC in Manchester, England, the last two seasons. The squad was the 2019-20 Northwest Youth Alliance Champion, reached the third round of the 2020-21 FA Youth Cup — the furthest in club history, and were the English Football League (EFL) Trophy Cup champion in 2019-20, winning at Wembley Stadium. He was named first team Match Day Squad at 16, first team debut in EFL Trophy Cup match at age 17 and was named first team Match Day Squad for every match in 2020-21. Evans attended Laurel Springs High School and the Landon School, graduating in 2021 while earning MVP and Athletic Conference Goalkeeper of the year honors and a place on the academic honor roll.
Daley on Evans: "Hayden is coming from an extremely competitive environment where he has gained some invaluable big-match experience. He has safe hands and very good fundamentals all around. At 6-4, he is a formidable presence for a goalkeeper of his age."
Michael Leon | Forward/Midfielder | 5-8/157 | Accra, Ghana (Hotchkiss Prep School)
A native of Accra, Ghana, Leon attended The Hotchkiss School and graduated in 2021. He is a three-time all-state selection in Connecticut, earned three all-New England Prep School Athletic Conference (NEPSAC) and three Western New England Prep School Soccer Association (WNEPSSA) all-star honors. Leon played three seasons with Black Rock FC and played for the Right to Dream Academy and spent time playing with New York Sports Club. A 2020 Bimbo All-America watchlist honoree, Leon has also trained with Manchester City (England) and FC Nordsjaelland (Denmark) in their youth academies.
Daley on Leon: "Michael is an exciting young player with real speed and skill. His movement off the ball and in behind will add another dimension to our attacking play and his ability and hunger to score goals will complement a talented group of returning players."
Uriel Zeitz | Midfielder | 5-9/155 | Bethesda, Md. (Columbia University)
The 2019 Ivy League Rookie of the Year, Zeitz transfers from Columbia University. A second-team All-Ivy selection, he played in all 17 matches, made 11 starts, and had 14 points on five goals and four assists. Zeitz ranked 16th in the NCAA in shot accuracy (.564) and was in the top five in the league in points and assists. Prior to Columbia, Zeitz spent six seasons with Bethesda Soccer Academy, a 2016 US Soccer Development Academy (USSDA) quarterfinalist. Zeitz was a US Youth National Team pool player. He graduated from Winston Churchill School in 2019.
Daley on Zeiti: "Uri is a dangerous attacking midfielder who joins us after a successful freshmen stint at a very strong Columbia program in the Ivy League. He can play anywhere underneath the strikers, and offers clever passing, incisive dribbling and has a proven eye for goal."